Buses from Salamanca to Madrid
Salamanca is a city in the western part of the autonomous community of Castile and León, Spain. Buses from Salamanca to Madrid depart every 30min on weekdays and every hour during the weekend. It takes an average of 2h 48min to cover the distance of 175km (109 miles). At least one of the buses leaves from a bus stop directly in front of Salamanca's train station and stops at Plaza de Castilla.
Salamanca to Madrid Bus Time: Daily Departures
With about 21 buses operating every day, the first departure to Madrid from Salamanca is at 7:00 a.m. The last bus leaves for Madrid at 6:00 p.m. Departures depend on the time of the day. The journeys are direct without any transfers along the way. The Salamanca to Madrid AVE Bus Connection is an excellent way of reaching Madrid from Salamanca as it's fast & comfortable. During your trip from Salamanca to Madrid, you can enjoy free Wi-Fi and power sockets for each seat. The bus from Salamanca to Madrid takes you via the A6 highway on a fully-dedicated bus lane which means that traffic jams are a thing of the past.
How long is the journey by bus from Salamanca to Madrid
The journey from Salamanca to Madrid takes approximately 3h 25min and 2h 15min on the fastest bus. The vehicles used during this journey are suitable for long-distance travel considering unique scenery to create a more enjoyable trip. This type of transport is safe and comfortable with good standards on the interior and exterior of the bus. They are equipped with air conditioning, toilets, reclining seats with headrests and food/drink services.
What are the departure and arrival stations for bus from Salamanca to Madrid
Departure train station: The departure station is located in the city center of Salamanca, and it can be found at Avenida de Portugal. The bus station has a capacity of 20 buses per day. it takes 19min to get from the bus station into Salamanca's Ciudad Vieja. The arriving bus station is located at Carretera de Extremadura, which is about 5 km away from the center of Madrid. It has an indoor waiting room which is clean, well lit and has the latest passenger information technology. This makes it a great place to arrive at or leave from. It is the only one in the network whose facilities include a sales counter to buy tickets for regional and suburban rail services. It also has an ATM, a ticket machine and a bicycle storage area. The subway platforms are 300 meters long and have four accesses for the safety and comfort of passengers, including two lifts.
Arrival train station: The arrival station is located in Madrid's district of Moncloa-Aravaca, which is also a very popular area because of its close vicinity to the center of Madrid. The bus station has a capacity of 25 buses per day. It is only 10min away from the center of Madrid by metro. The bus station has a capacity of 25 buses per day. The Moncloa-Aravaca bus station, located in the northwest of Madrid, is linked to the A-2 highway and Avenida de Los Poblados, two main roads in Madrid. Therefore, it is easy to access several destinations in Madrid and beyond. The station's facilities include bars and cafes, newsagents and bookstores, plenty of taxis and short-term parking spaces. The bus station also has a large shopping center, including shops, restaurants and bars.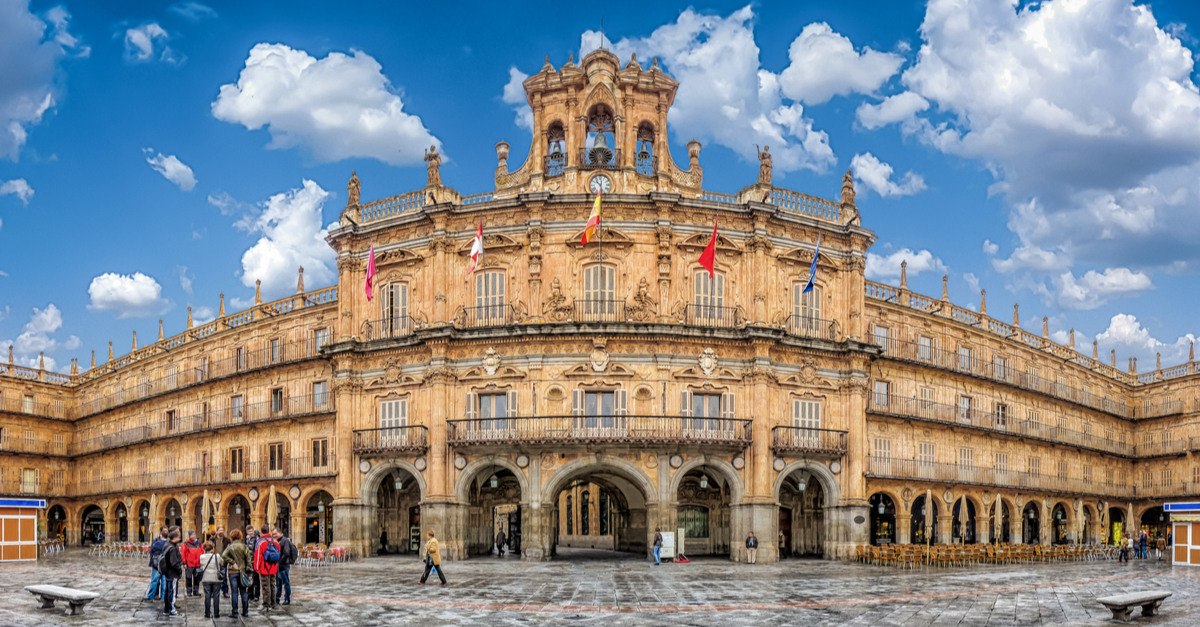 Salamanca Plaza Mayor. Source: Shutterstock
Which bus companies travel from Salamanca to Madrid
The primary bus operator from Salamanca to Madrid is Avanza Buses.The first type of bus is the Avant Class, a direct Avanza bus between Salamanca and Madrid. The second type of bus is the Alvia Class, a direct train between Salamanca and Madrid. Both types are long-distance buses with similar travel times, but the Alvia train has faster speeds between cities. The bus station is very well connected with other transport modes, such as trains and taxis. A subway station is a few steps away from the bus station, which can take you to all other transport modes.
Avanza buses from Salamanca to Madrid
Avanza is a long-distance bus company based in Madrid. Avanza uses both direct and non-direct buses. The main route between Salamanca and Madrid uses non-direct buses. Passengers must change at Palencia, Valladolid or Laguna de Duero to reach Madrid. Avanza buses from Salamanca to Madrid are available every day of the week. Avanza has a wide variety of buses, including the double-deck coach called 'autocaravana'. Also, a lot of Wi-Fi-equipped buses are available on routes from Salamanca to Madrid. High-speed Avanza O2 buses run on some departures, while other buses are the Avanza Sin Parar.
Bus from Salamanca to Madrid: Services on Board
The Avanza Bus Company, a successful company in terms of punctuality and travel comfort, offers its customers not only the best buses but also the best services. In first-class, you can enjoy your journey with all the comforts that will make your trip more relaxing and enjoyable. As well as enjoying an entire space from which to enjoy the landscape, you will also have extra legroom and a space for your luggage. In the second class, you will have a comfortable seat with a space for your luggage and a table that comes in very handy when you want to use your laptop or eat. You can also enjoy the landscape from the large windows.
In addition, Avanza has buses adapted for people with reduced mobility to travel comfortably and safely. In addition, they have luggage racks and heating so you can travel without discomfort. Avanza also has a trade partnership with the International Association of Assistance Dog Owners (ASADE). People who need to travel accompanied by their assistance dog have priority over other passengers in the allocation of places. Pets are also accepted, provided they are in a cage or basket. The luggage allowance on Avanza's buses is 30 kg in the bag rack and 5 kg under the seat. Bikes are allowed if there is no other passenger whose journey would be significantly affected by them. The bike should be placed in the luggage area.
How to find cheap bus tickets from Salamanca to Madrid
The best way to find cheap bus tickets from Salamanca to Madrid is to pre-book your bus tickets online because all the cheap advance bus tickets sell out quickly. Buses are available several times per day, but they do not always have enough seats available for clients every time.
To find cheap tickets from Salamanca to Madrid, you can be flexible with your travel dates. The more flexible you are with your departure date, the better price you will get for a bus ticket from Salamanca to Madrid. Choosing a connecting bus or slower journeys is also recommended, especially when you are not in a hurry. Although it is possible to find cheap single tickets from Salamanca to Madrid, having your travel schedule will also allow you to find suitable return tickets. You can even save on the trip back if you book return bus tickets online.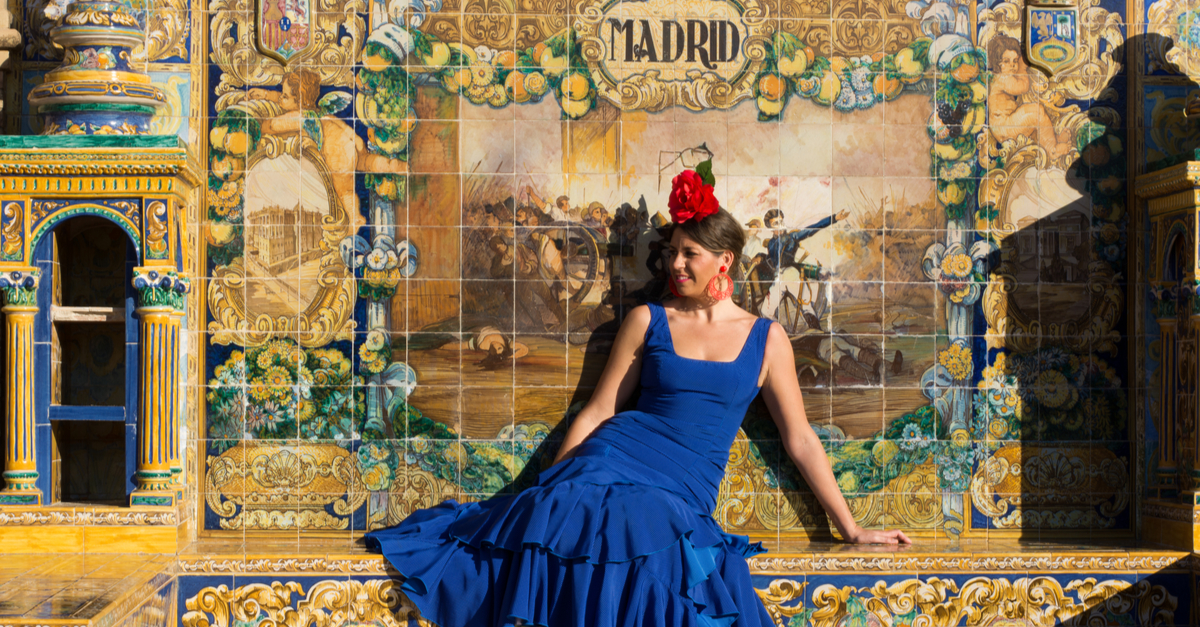 Madrid Flamengo Girl. Source: Shutterstock
To Madrid by bus: travel tips
Madrid is the capital of Spain. The city is famous for its art, cuisine, and nightlife; it's also located close to many other popular Spanish cities like Toledo, Segovia, Avila, Salamanca and Valladolid. It's a perfect tourist gateway into the country. The city is filled with museums, some of the more popular ones being the Prado Museum, a must-see for art lovers. Reina Sofia Museum has a huge collection of contemporary art.
At the same time, one can also check out Thyssen-Bornemisza's Museum, which has a less densely packed yet quality collection of modern Italian art. One cannot complete a visit to Madrid without trying out its famous dish, Jamon Iberico. It is Spain's answer to Italy's Prosciutto di Parma and France's Jambon de Bayonne. Madrid also has the best Sangria anywhere in Spain. Nightlife is one of the biggest attractions for tourists.
Madrid was once the hub of flamenco culture during the '60s and '70s means that there are so many dance clubs with live Flamenco music. Another popular thing to do at night would be sipping on some gin tonic next to Casa de Campo, which overlooks Madrid.