Train to Nottingham
Nottingham is a familiar name to those who have read the old "Robin Hood" stories, and just like those stories, this city is as exciting as it is full of history! Capital of Nottinghamshire, the primary rail station in town is Nottingham Station, which serves both inter-city trains to Nottingham from around the country as well as the local tram network which operates in town, making this station a very convenient central stop for getting around in the area. Nottingham's rail station receives trains arriving from a number of major cities across the United Kingdom, such as the capital London in the south, or Manchester to the north. Nottingham also sees trains continuing on to smaller cities such as Sleaford or even Boston to the east.
East Midlands Trains to Nottingham
East Midlands Trains serves the city of Nottingham every day of the week, arriving from such cities as Liverpool (Lime Street Station) or Manchester (Oxford Road Station) in the north, or London (St. Pancras Station) in the south. East Midlands provides Nottingham train routes in addition to managing the Nottingham railway station, located at the south end of the Nottingham city center.
Cross Country trains to Nottingham
Cross Country offers trains to Nottingham from cities such as Birmingham (New Street Station) to the southwest, sometimes connecting at Derby or Leicester, although direct routes are also available. Cross Country's routes to and from Nottingham are extensive, reaching as far as Cardiff in Wales or even north to Scotland. Nottingham trains are available from Cross Country every day of the week, sometimes with more than one arrival per hour and feature both direct and connecting routes.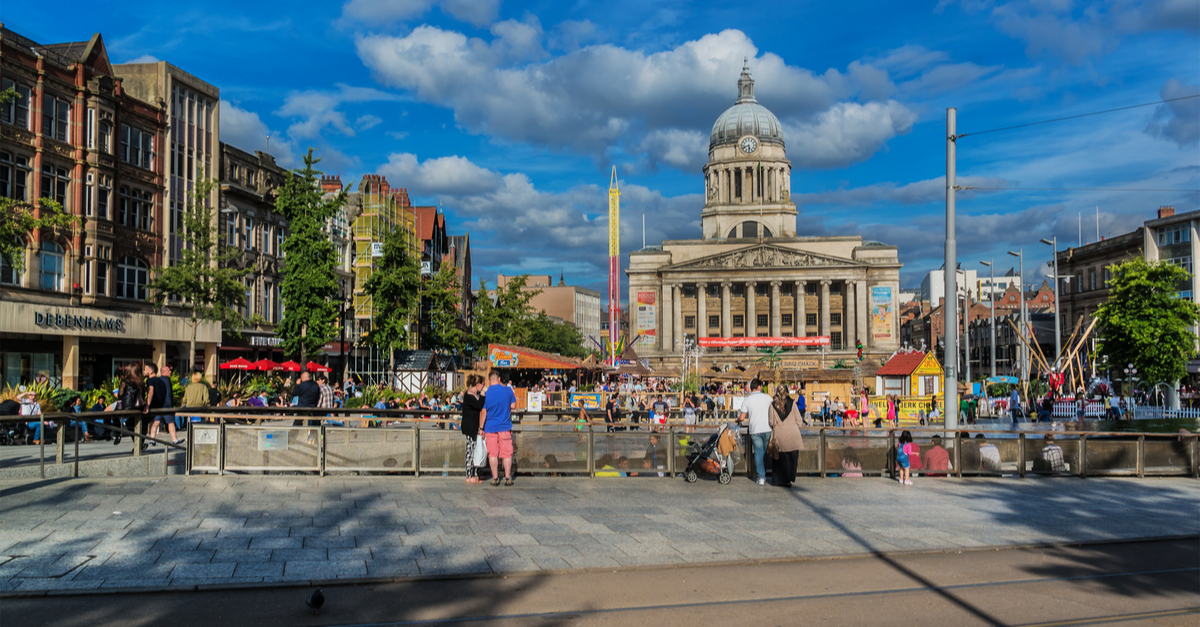 Nottingham by Foot. Source: Shutterstock
Main station in Nottingham
Trains to Nottingham arrive at the main Nottingham railway station which serves both intercity trains and the local tram network. The station offers amenities such as public restrooms and a number of retail shops in its beautiful atrium-style commercial area and is located in the south portion of the city center, between Station Street to the north and Queen's Road to the south. The main entrance to the station is from the west, near Carrington Street.
A multi-story parking garage is provided which can hold up to 800 vehicles at any one time, and a taxi pick up station is also available at the station, making for easy transportation to any address in the city. Trains to Nottingham most generally bring tourists who are eager to visit the famed nearby Nottingham Castle, only about a 15-minute walk across the Market Square from the station.
Onboard facilities Nottingham
Travelers who choose to take the train to Nottingham on East Midlands Trains will have the option of First Class or Standard Class seating, with free 4G WiFi available in both sections. Foldable bicycles may be brought onto East Midlands trains to Nottingham so long as they can be neatly folded and stored in the designated luggage area. If your bike will not fold as such, you will simply need to reserve a space for it on the train and pay a small extra fee. Service animals, such as seeing eye dogs, etc., are always welcome without cost on East Midlands trains.
Those passengers who may have reduced mobility can request additional assistance from the East Midlands staff both on the train and at the Nottingham train station (such as help with boarding or deboarding the train) after booking their ticket on Omio. For passengers on Nottingham trains provided by Cross Country, free WiFi is also available, and food and drink are provided from a station positioned at one end of the train. Both Standard Class and First Class seating is available on Cross Country trains to Nottingham and travelers with bicycles may reserve one of two free spaces provided for passenger bikes on the train.
If their bicycle is foldable, Cross Country does request that it be folded and kept in the storage area on board. Cross Country's Voyager, Turbostar, and high-speed trains each feature designated wheelchair spaces for passengers with reduced mobility, and service animals are always welcome onto any of the trains. The Voyagers trains also include a quiet car where passengers may work on their laptops or perhaps enjoy a quick rest on their way to Nottingham.
Train tickets to Nottingham: useful to know
When the time comes to book your next trip on Omio to Nottingham by train, it is good to know that both Cross Country and East Midlands Trains offer e-tickets which allow for reduced contact and waste. These tickets are available for single-journeys or even for seasonal passes. As a rule of thumb, when traveling within the United Kingdom by train, it is always a good practice to carry a government-issued photo identification (drivers license, passport, etc.) as some railway staff may ask to confirm passenger identity.
It is also a good bit of advice to consider booking your train ticket as early as possible in order to lock in cheaper prices before the trains fill up, especially during peak travel times. Thankfully, it's not only quick, but also easy to buy your train tickets to Nottingham on Omio, and now you can even save your electronic train or other tickets in your personal Omio account!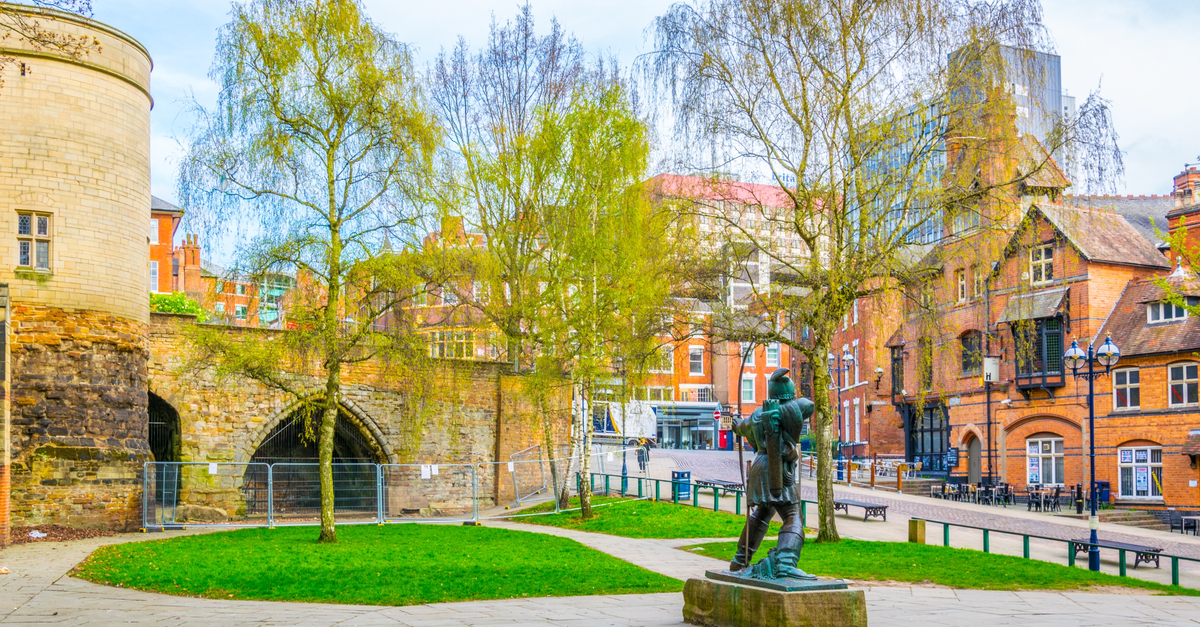 Nottingham Robin Hood . Source: Shutterstock
To Nottingham by train: travel tips
Of course, every traveler to Nottingham will want to explore the famous Nottingham Castle, located only a short walk from the main Nottingham railway station, but did you know that the city is also host to several modern cultural attractions, such as the annual Nottingham Goose Fair or the historic Lace Market (once the center of British lace making)? Visitors to this ancient city can also explore the amazing "Cave City" beneath Nottingham Castle where ancient storage and defensive caves can be toured by the public, beginning at Garner's Hill.
The best thing about Nottingham, however, is the public transit system! From Nottingham Station in the south part of the city center it is possible to tour the city by local tram lines or even on foot. Taxis are also available at the station, which can take visitors directly to any point in the city. And when your time in Nottingham is done, there are many inter-city trains which leave from the main station daily, able to take you almost anywhere in the United Kingdom!
No visit to Nottingham would be complete without seeing the famous Nottingham Castle! This beautiful Italian-style palace provides amazing views of the city and great opportunities to take a selfie next to the iconic bronze statue of Robin Hood himself! Within this castle visitors can also explore the Sherwood Foresters Regimental Museum as well as the Nottingham Castle Art Gallery. Of course, the castle isn't the only draw to Nottingham, with the Old Market Square recognized as the largest of its kind in England!
The nearby Nottingham Playhouse also features a unique art installation known as the Sky Mirror which provides an impressive reflective view of the skies above Old Nottingham. Whether it's the historical places, the modern shopping, or just the timeless beauty of Sherwood Forest Country Park, your time in Nottingham is sure to create memories that will last a lifetime. Why not book your train to Nottingham on Omio today and prepare for your next English adventure?