Train to London Heathrow Airport
London Heathrow is the biggest airport in the UK, and one of the busiest in the world. It's home to dozens of airlines and flies passengers to over 200 destinations worldwide.
There are four terminals at London Heathrow airport and they can be accessed by dedicated transport links, including TfL Rail and Heathrow Express trains.
If you want to learn more about the train schedule to London Heathrow, or have questions about London Heathrow train speed and ticket cost, you're in the right place.
Main Train Station at Heathrow Airport
There are three different train stations at London Heathrow Airport and these serve the airport's four active terminals: Terminals 2 & 3 (also known as Heathrow Central), Terminal 4 and Terminal 5.
You'll notice that terminal 1 is absent from that list, and that's because it closed down several years ago, with part of it being absorbed into terminal 2.
You can use these train stations to move from terminal to terminal (it's also possible to walk between terminals 2 and 3). You can also use the Heathrow Express to take a train from London Heathrow Airport to Paddington Station. If you're heading to the airport, the same Heathrow Express train can get you there from Paddington.
Company Operating in London Heathrow Airport
The Heathrow Express train is a spacious and fast Class 387. It's a high-speed train to London Heathrow terminal 5. It takes just 21 minutes to cover the full route from Paddington to terminal 5, and it also stops at the other terminals on the way.
The Heathrow Express hits a max train speed of 110 mph (177 km/h) and the service is run by Great Western Railway and Heathrow Airport.
TfL Rail is a little slower, with a top speed of 90 mph (145 km/h). Formerly known as Heathrow Connect, this service operates a half-hourly train schedule and provides a cheaper but slower solution for travelers and Heathrow employees.
If you're looking for a fast train from and to Heathrow, stick with Heathrow Express. If you're happy to wait and want a cheaper solution, TfL Rail is suitable.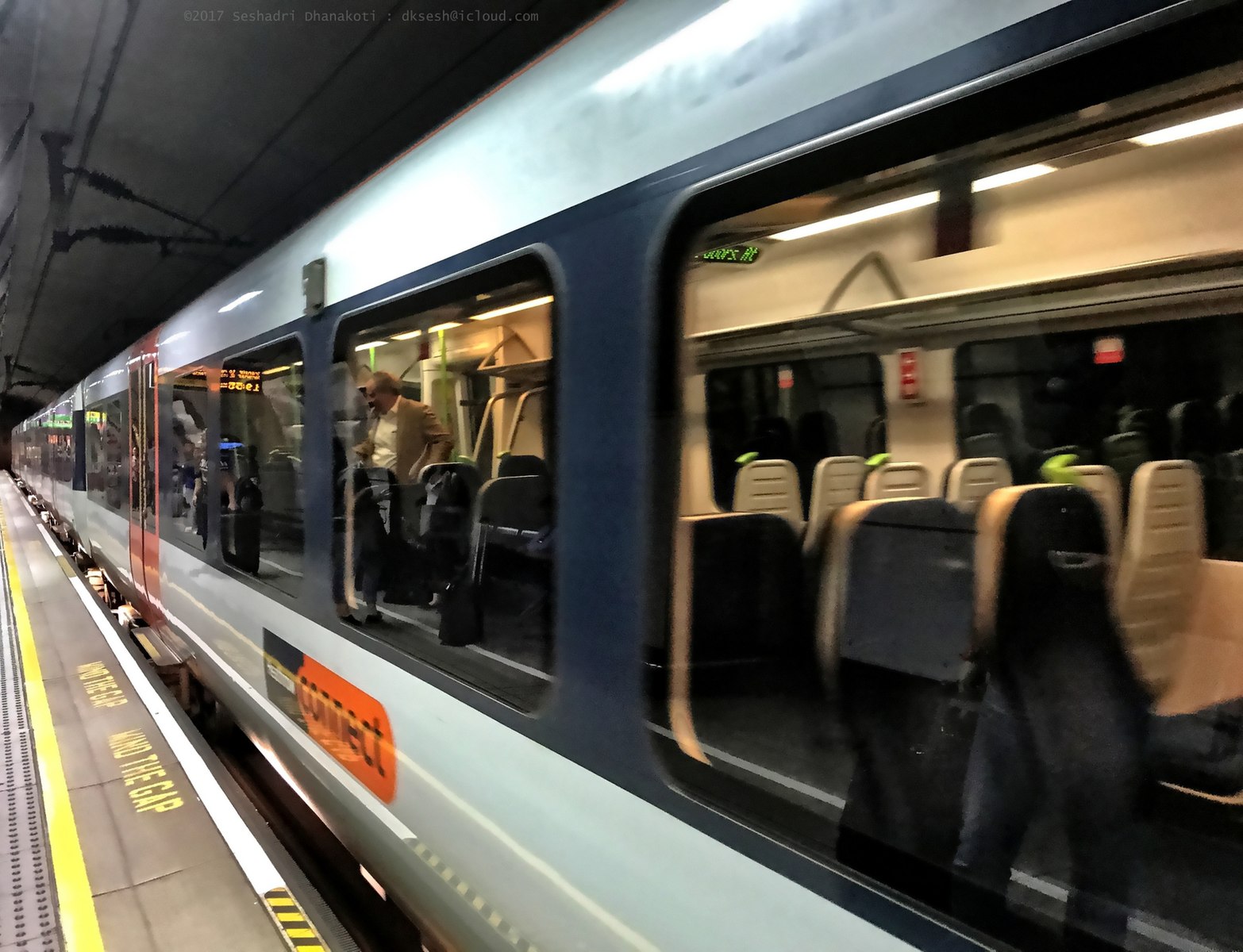 The Heathrow Express train from London Heathrow Airport to Paddington Station. Source:Flickr
Boarding your Train in London Heathrow Airport
Train journeys between Heathrow terminals are always free and fast. The trains are regular, so don't worry if you miss one. Just wait for the train to arrive, board it, and you'll be at your destination before you know it.
If you need to leave the airport and head into the city, look for the Heathrow Express train to Paddington Station.
Train Tickets to London Heathrow Airport: Useful To Know
Here are some quick questions to help you when using trains from London Heathrow to Paddington Station:
How Long is the Train Ride to London Heathrow? It takes 21 minutes to get from Paddington to London Heathrow using the Heathrow Express train. The train time is the same if you're going in the opposite direction and much less if you're stopping short of terminal 5.
Is There a Fast Train from and to London Heathrow? Yes, the Heathrow Express is as fast as you can get.
What is the Train Schedule from London Heathrow? The trains run every 15 minutes for the Heathrow Express and every 30 minutes for TfL Rail.
Where Can I Get Cheap Train Tickets for London Heathrow Airport? You will find everything you need at Omio.
Omio offers cheap train tickets to and from Heathrow Airport. These e-tickets will be added to your account for easy access. You can print them out or keep them on your phone. Once you get to the station, just scan the ticket or your phone and board the train! You can also use Omio to get other UK train tickets, including trains from London to Paris.
How to Get Around in London
London is one of the best-connected cities in the world. There are overground trains, underground trains, buses, trams, and those iconic black cabs!
The underground, known locally as "the Tube", is probably the best of these options. You can get single returns for less than $10 and there are half-price options for around $5. There are 270 stations throughout the city, so the Tube can get you where you need to go quickly, cheaply, and with minimal fuss.
Black cabs are handy as well, and you can flag these down wherever you are. They are more expensive, though, and will cost you around $10 to $15 for a 10-minute journey.
Best Destinations from and to London Heathrow Airport
The trains from London Heathrow Airport to Paddington Station will take you into the heart of the city. From there, you're only a few minutes away from many popular destinations, including the Alexander Fleming Museum. Hyde Park is also about 15 minutes away on foot.
How to Go to the Airport in London
London is home to half a dozen airports and these are served by numerous transport links:
How to Get to Heathrow Airport: The Heathrow Express from Paddington Station is the easiest way to get here. Check the train schedule to London Heathrow, board a train, and you'll be there in just over 20 minutes.
How to Get to London City Airport: Use the Docklands Light Railway (DLR) to get to London City Airport quickly. You can also take a dedicated bus that serves London City Airport.
How to Get to London Gatwick Airport: Gatwick Airport is 28 miles south of the city, so driving and parking in the long-term parking space is a good option. There is also a dedicated train service known as the Gatwick Express.
How to Get to London Stansted Airport: The cheapest way to get here is by bus, which can drop you off outside the airport. Alternatively, consider driving there yourself.
How to Get to London Luton Airport: A train will take you to Luton Airport Parkway, after which you can walk right in and start your journey.
How to Get to London Southend Airport: There is a train from London Liverpool Street that goes straight to Southend Airport Station. The trains run every 15 to 30 minutes.
How to Find Cheap Train Tickets to London Heathrow
Looking for a cheap train to Paddington Station or London Heathrow? You're in luck, as the Heathrow Express is very affordable. To avoid overpaying for these trains, always check to see if you qualify for senior or child discounts.
You may also want to look into acquiring an Oyster card, a type of contactless card that's used by the locals to get cheap train tickets to and from London Heathrow and other popular destinations.
Travel by Train to London Heathrow: Sustainable Journey
Finding the cheapest train tickets to and from Heathrow Airport is one thing, but you also want that journey to be sustainable. Travelers are becoming increasingly eco-conscious and want to be part of the solution and not the problem.
Fortunately, the Heathrow Express train is a very sustainable option. It means that fewer taxis are used, and as a train can accommodate dozens of people, that's dozens of taxi rides that are no longer needed. Heathrow Airport also has sustainable practices in place that help to reduce its energy consumption.
Night Trains from London Heathrow Airport
Heathrow Airport trains run throughout the day and night, which technically makes them night trains. Don't worry if you arrive at the airport late or need to catch a late flight, as these trains will still accommodate you.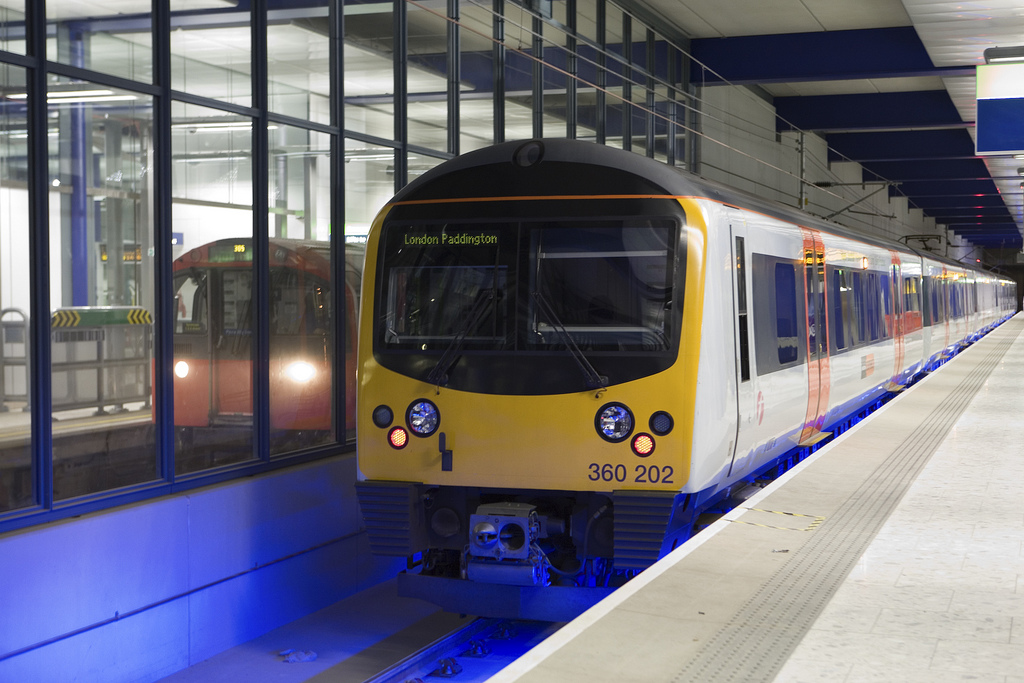 A train at terminal 5 of London Heathrow Airport. Source:Flickr
Trains from London Heathrow to London Paddington: Sustainable Travel
Taking the train is one of the most sustainable ways to travel. If you want to keep that up as you arrive in the city, consider renting one of the many bicycles dotted throughout the city, hop on a tram or bus, or use the Tube. Paddington is also very central, so if your hotel is nearby, you can access many great attractions, bars, and restaurants on foot.
To London Heathrow Airport by Train: Travel Tips
There's so much to see and do in London. It's a vast city full of star attractions, so regardless of how long you're staying, you will never get bored. Here are some top tips for your visit:
See London's dark history at the Tower of London
Try one of the many hop-on hop-off bus tours
Pay a visit to the National History Museum
Buy some gifts and other goodies at Borough Market
Enjoy a picnic at Hyde Park
Sample the delicious wares at Camden Market
Explore one of the city's Michelin starred restaurants
You can access most of these via a short walk, bus ride, taxi journey, or Tube journey from Paddington, which is where the Heathrow Express takes you. So, book your tickets, take a ride, and start your London adventure!
For more info on traveling around the UK, check out this guide from our online magazine The Window Seat.