Train to Malaga
Malaga is known for its beautiful coastline, vibrant nightlife, and rich history. The city is well connected to the rest of Spain through the country's extensive train network, making it easy for travelers to enjoy all that this coastal town has to offer. Direct trains from Malaga from Spain's capital city of Madrid take about 2h 30min to reach their destination.
Trains from Seville arrive in Malaga in about 2h, while trains from Valencia complete the journey in about 5h. It takes about 6h to reach Malaga from Barcelona on a direct high-speed train. Regardless of where you begin the journey, all visitors arrive at the city's main railway station, the Málaga-Maria Zambrano Station, which is located in the center of the city and close to the city's popular attractions including the beaches, the city's port, and the sights of the Old Town section of the city.
Renfe to Malaga
Train to Malaga are operated by Renfe, Spain's national railway company. Renfe operates a few different types of trains that travel to Malaga. The Alta Velocidad Española (AVE) trains are high-speed trains that run on medium- and long-distance routes. The AVE trains stop only at major towns and cities en route to their destination.
Most trips from Madrid, Valencia, and Barcelona are serviced by Renfe's AVE trains. Renfe's Avant trains are the fast regional trains that run on short- and medium-distance routes with limited stops along the way.
For example, the trains from Seville to Malaga are generally Avant trains. Renfe also operates its Cercanias Malaga commuter rail service that serves the greater Malaga area. There are two lines of the Cercanias. The C1 (Blue) line runs along the coast between the Malaga city center and the town of Fuengirola to the southwest of Malaga. The C2 (Green) line runs inland between the Malaga city center and the town of Alora to the northwest of Malaga.
Main train stations in Malaga
The main train station in Malaga is the Málaga-Maria Zambrano Station, which was fully renovated in 2007. The station is located in the southwestern section of downtown Málaga. The station serves Renfe's regional trains as well as their high-speed AVE trains. The local commuter rail trains, the Cercanias, use the underground level of the station. The station is well connected to other transportation options in the region. The city's main bus station is located next door to the train station, and the port is only about 1.25 miles (2 km) away.
The Málaga-Costa del Sol Airport (AGP) is only about 9min away from the station via the C1 (Blue) line of the Cercanias. Car rental counters are located in the station, and there is metered parking in the garage underneath. The Málaga-Maria Zambrano Station is more than a train station; there is a four-star hotel, the Hotel Barcelo Vialia, plus a 30,000 sq ft (2,787 sq m) shopping mall at the location that features over 120 shops, restaurants, bars, and a movie theater Travelers' amenities include a VIP lounge, train ticket offices and automatic ticket machines, a tourism office, ATM machines, and luggage storage.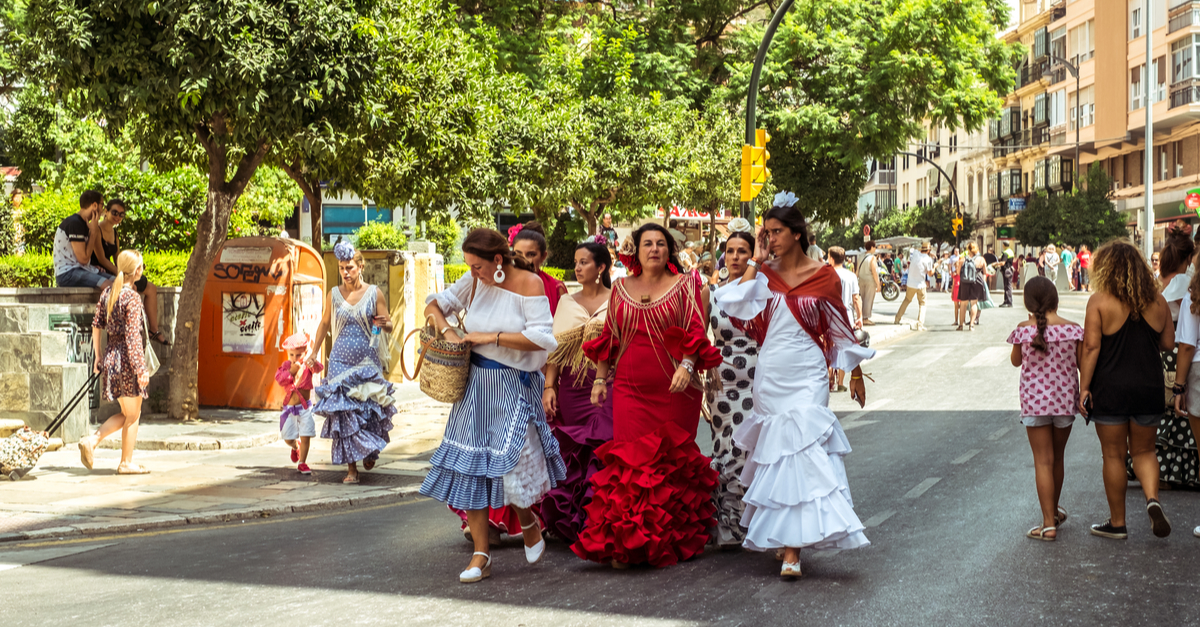 Malaga Dancing Street. Source: Shutterstock
Onboard facilities Malaga
Facilities onboard the train to Malaga vary by train type. Most trips to Malaga are service by Renfe's high-speed AVE trains or fast regional Avant trains. Both the AVE and Avant trains offer modern, air-conditioned cars with comfortable seats and restrooms in every car. Outlets are available at the seats for charging your devices. Renfe provides staff supervision for children aged 6 through 13 who are traveling alone, and most AVE trains are equipped with a children's play area.
AVE trains also have a coffee bar/beverage service and a restaurant or bistro car, while most Avant trains have vending machines that provide hot and cold drinks and snacks. AVE trains provide Wi-Fi and an entertainment portal through their PlayRenfe free app, where passengers can select from a variety of music and movies. The Cercanias trains are commuter rail-trail trains that offer comfortable seating for local trips.
Train tickets to Malaga: useful to know
When purchasing AVE train tickets to Malaga, you can choose from First Class (Preferente), Second Class (Turista), and Second Plus Class (Turista Plus). On the Avant trains, only Standard Class (Turista) tickets are available. All of Renfe's long-distance and medium-distance trains offer a range of fares from Promo (allows no refunds or changes) and Promo Plus (which allows limited changes and partial refunds) to Flexible (which is fully refundable and allows changes until the time of departure).
There are a few options for presenting your ticket when boarding train to Malaga. You can print out your ticket and bring it with you; you can print out your ticket at the station using the machines provided for this purposes (just print it out at least 15min before your departure time); or you can simply show your ticket on your mobile phone, provided that you can show the entire ticket on your screen. You do not need to present an ID with your ticket when you board, as the tickets are not associated with your name. When you arrive at Malaga, you can use your AVE or Avant train ticket to get a free Cercanias commuter rail ticket within 4h of your arrival at Malaga.
Redeem your Combinado Cercanías ticket by scanning your AVE or Avant ticket at one of the self-service ticket machines at the Malagas station. It's always best to purchase your tickets in advance to ensure you get the best price for your trip. With Omio, you can simply select the best ticket to suit your itinerary and pay online at your convenience. Once your tickets are purchased, you can store them in your Omio account so you can easily retrieve them when it's time for your trip.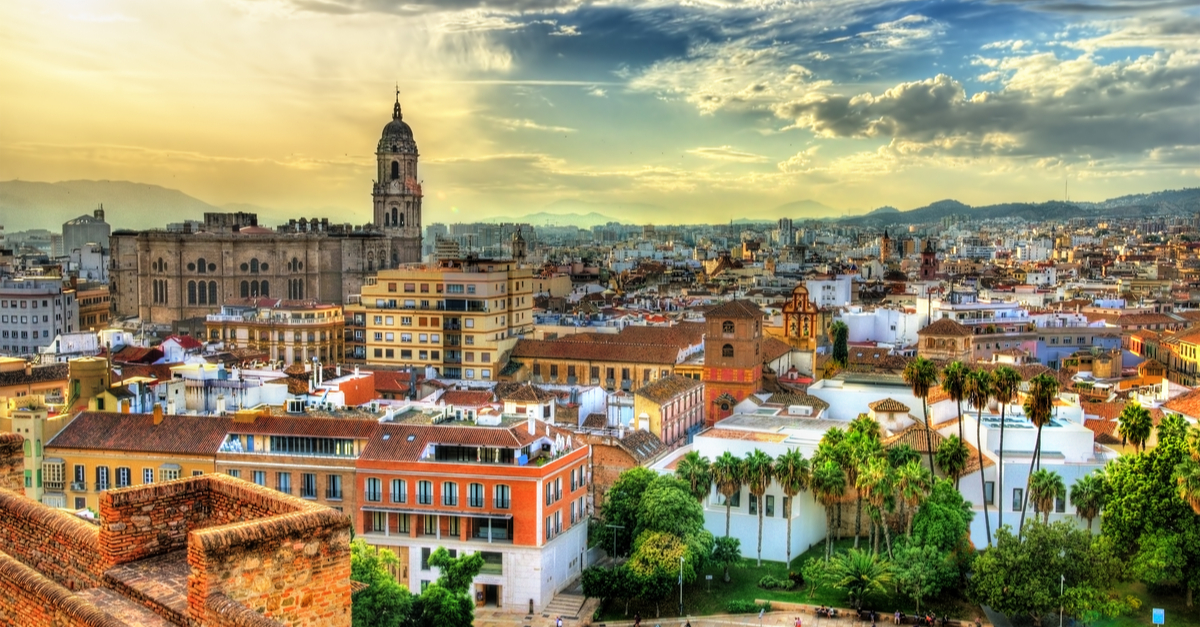 Malaga Aerial Colors. Source: Shutterstock
To Malaga by train—travel tips
Once you arrive in Malaga, you'll find it easy to get around. The relatively flat terrain makes walking from place to place a breeze. If you're in town to see the sights such as the museums, cathedrals, and famous Alcazaba citadel, you'll find most items on your itinerary in or near the historic center of the city known as the Old Town. If you prefer to get around by bus, you can get just about anywhere in the city easily using the city's EMT buses; there are about 45 bus routes in the city. If you're only planning to take one or two bus trips while you're in Malaga, you can purchase your ticket on the bus.
Be sure to bring exact change or small bills, as the drivers don't always have a lot of change for passengers. If you'll be using the bus for multiple trips, you can save some money by purchasing a book of ten bus trips (called a "bonobus") at a discount. More than one person can use the bonobus booklet, so a couple planning to take 5 bus trips together can use one bonobus booklet.
There are so many things to see and do in Malaga. Nestled along the coast of the Alboran Sea, Malaga has no shortage of beautiful beaches where you can relax and enjoy the sun and clear water. The Playa Malagueta is only a 10min walk from the port, making it convenient to get to the bars and restaurants of the downtown area when you are ready for a snack or sip. One of Malaga's claims to fame is that it is the birthplace of Pablo Picasso.
The artist's life and work are celebrated at the Picasso Birthplace Museum and the Museo Picasso Málaga, which features a large collection of Picasso's work. Other museums include the Museo de Málaga, which is actually two museums in one space: the Archaeology Museum and the Provincial Museum of Fine Arts.
The Centre Pompidou has exhibits that will please any aficionado of modern and contemporary art. Most European cities boast an impressive cathedral, and Malaga is no exception. The Baroque Catedral Nuestra Señora de la Encarnación is one of the city's most famous ecclesiastic structures. For a great view of the city, the sea, and the mountains beyond, visit the Castillo de Gibralfaro, which is the highest point in Malaga.
After all the sightseeing, visitors can relax in the thermal waters of the Hammam baths in the center of the city, or enjoy some tapas at one of the local restaurants. Be sure to sample some of the fresh-caught local seafood! If shopping is on your itinerary, take a stroll along the Calle Marques de Larios where the jewelry boutiques, clothing shops, and shoe stores are ready to tempt the tourists with their wares.