Trains in Denmark
Traveling by train in Denmark is a classic way of experiencing the stunning scenery that the Scandinavian country has to offer. The rail transport system runs far and wide, having approximately 1636 miles (2633 km) of railway lines. With electrification, some railway lines are high-speed, enabling a quick voyage for passengers or goods. The trains link major cities in Denmark and other cities in nearby countries. The popular rail company to run passenger trains throughout the country is the DSB, Danish National Rail Company. Other rail transportation companies include Arriva and Nordjyske Jernbaner, which serve the Jutland area. When it comes to ferrying goods, you'll find that DB Cargo services most of the trips, but it can also ferry passengers. Book through Omio and find the best deals and routes for your trip by train to Denmark.
Booking your train ticket with Omio for Denmark
Omio has a journey planner app that lets you smoothly plan a journey to Denmark by train. When making your trip reservation, the first thing to do is select your travel dates and destination region, whether it's Europe, Canada, or the U.S. You should now see precise information on the options you have, including the train types. Next comes payment, where you'll have to select between the multiple currency options available and input any personal discount cards you wish to apply. It's also possible to select between traveling a slower journey (cheaper cost) or a quick voyage (expensive). After selecting the option that you want, complete the booking process and access your ticket on your mobile phone.
Train companies in Denmark
DSB is the largest train company in Denmark and Scandinavia at large. It operates multiple passenger trains, which vary in locomotive power and number of stops. The S-trains run on metropolitan areas, and DSB also services Eurocity, long-distance Intercity (connect many cities), IntercityLyn (express Intercity), and regional trains (traversing eastern Denmark, western Denmark, and the Øresund Region). Arriva is another popular train company renowned for punctuality, and it serves about 17 percent of Danish's rail network. It has Intercity trains that link Denmark's Capital, Copenhagen, to other major cities and towns. Another rail transport company is CFL Cargo Danmark which operates the routes between Padborg and Frederikshavn, Nyborg and Esbjerg, and Odense and Naestved.
Popular international routes by train
The Omio app and website are convenient and affordable booking platforms if you wish to travel between Denmark and other European nations. You'll find that the common international routes begin or end at train stations in Copenhagen and Aarhus. The ICE high-speed train links Copenhagen to Hamburg, Malmo, and Oslo via Gothenburg. The most popular international route from the country's second-largest city, Aarhus, is a railway connection to Germany via Intercity trains.
When arriving by train in Denmark
When your journey by train to Denmark comes to an end, here's some information that will come in handy. The Danish life comprises a culture of politeness, whereby first encounters necessitate polite greetings. Normally, people greet each other with a handshake and make introductions on a first-name basis. However, do not be the one to initiate a conversation with a local since the Danish culture finds that to be somehow disrespectful— let the local initiate the conversation. In Denmark, taxes are quite high compared to other European countries. The happy Danes opt to pay high taxes so that the government delivers free social services. So, don't fret if you spend a lot of money on souvenirs or food.
Train Provider in Denmark
DSB is the primary railway company in Denmark that has been operational since 1885. It runs various train types, with most being regional and intercity trains. Regional trains have various stops over shorter distances, transporting passengers from Copenhagen to cities like Kalundborg, Rodby, Naestevd, and, Holbaek. Intercity trains go on longer journeys, connecting Copenhagen to far-away cities such as Aarhus, Fredericia, and Aalborg. The company also runs cross-border Eurocity trains, linking international travelers to cities such as Hamburg, Germany. Arriva is a train company that manages over 40 trains in Denmark. It usually operates Intercity trains from cities like Copenhagen and Zealand to major towns. Common routes are Aarhus to Copenhagen and Copenhagen to Stockholm. For CFL Cargo Danmark, you can journey north-south between Frederikshavn and Padborg or west-east from Esbjerg to Nyborg.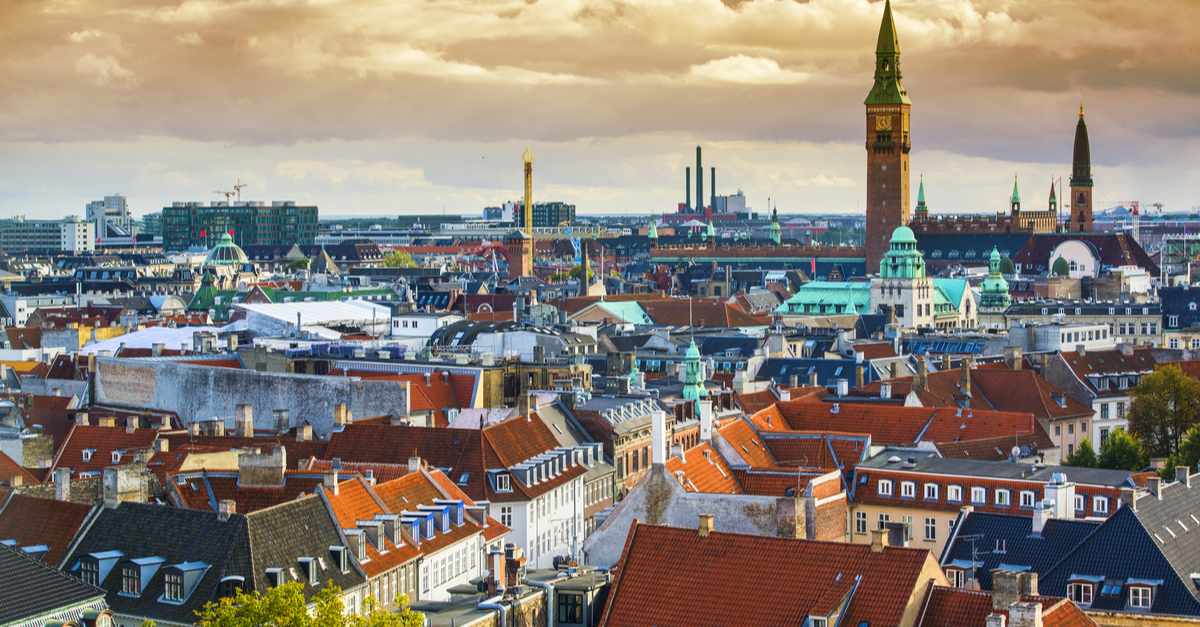 Denmark Copenhagen. Source: Shutterstock
Main train stations in Denmark
Copenhagen Central Station is Copenhagen's largest railway station sitting at Bernstorffsgade 16, Copenhagen 2004, Denmark. Station amenities include free Wi-Fi, luggage lockers, shops, restaurants, disabled access, and parking. Public transport that links Copenhagen to the city center includes metro lines M3 and M4, regional buses, taxis. Lying at Banegårdspladsen 1, 8000 Aarhus, Denmark, Aarhus Central Station is the main train station that serves Aarhus. It features free wireless internet, luggage lockers, restaurants, shops, disabled access, and parking slots.
You can use regional buses, taxis, and tram lines 1 and 2 to get to the city center. Aalborg railway station, which sits at John F. Kennedys Pl. 3, 9000 Aalborg, Denmark, is the primary train station in Aalborg. Some resources available include disability access, shops, luggage lockers, and parking spaces.
The public transit means that will take you from the train station to the city center include the line 17 bus and taxi. Esbjerg Station lies at Jernbanegade 35, 6700 Esbjerg, Denmark. It has resources like shops, food joints, and a parking area. Regional buses and taxis are options you have to travel from the train station to Esbjerg's city center. Roskilde Station, the main railway station serving Roskilde, sits at Jernbanegade 1, 4000 Roskilde, Denmark. It features various amenities, including parking spots, shops, and eateries. Local buses and taxis are transportation options that link Roskilde railway station and the city center.
Popular journey in Denmark
According to our data, DSB is the company that handles most train to Denmark voyages. One common route includes trains from Copenhagen to Aalborg, with the average travel time being about 4h 45min and cost starting from around 67,63 € ($82). Another popular journey is beginning a train voyage from Copenhagen to Esbjerg, whose prices start from roughly 61,03 € ($74) and rides last about 3h 05min. We've found train rides from Aalborg to Esbjerg to be quite common, whereby the average trip cost is from 65,15 € ($79) and train time is about 4h 11min. Omio users frequently travel between Copenhagen and Fredericia; train prices begin from approximately 55,25 € ($67), and the trip time averages 2h 01min. Trains from Esbjerg to Fredericia are also quite common, with prices starting from approximately 23,92 € ($29) and the voyage taking about 1h 05min.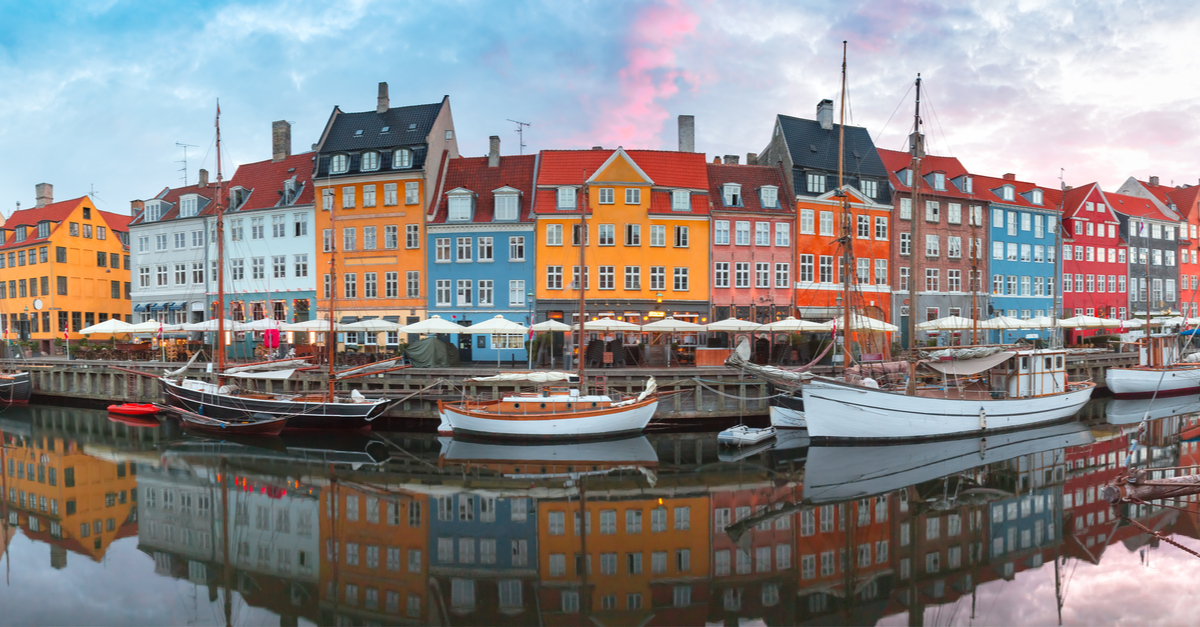 Denmark Nyhavn. Source: Shutterstock
Popular train routes from Denmark
Denmark's train network journeys to other European countries. One common trip includes trains from Copenhagen to Hamburg that lasts about 4h 49min and costs roughly 31,34 € ($38). Another common international train route is between Copenhagen and Malmo, lasting about 0h 39min and costing approximately 13,20 € ($16). Trains between Copenhagen and Oslo, starting from approximately 92,37 € ($112) and having a trip time of about 7h 43min, are also popular. A trip between Copenhagen and Stockholm can cost about 31,34 € ($38) and take a duration of roughly 5h 32min. Train journeys from Aarhus to Hamburg are also common, with prices starting from around 31,34 € ($38) and the journey lasting about 4h 55min.
Good to Know
Booking a train to Denmark is seamless through Omio. You'll have various options to select the one that best suits you. Note that some trains require that you make a seat reservation. Multiple train routes accept rail passes, making traveling between many cities affordable. You'll also find various trips that allow mobile ticketing hence eliminating the hustle of printing your ticket.
To Denmark by train—travel tips
Denmark is a fun travel destination that'll leave you happy, literally. Take a train to Denmark and see stunning landscapes with beautiful animal species, such as the spot where Kattegat and Skagerrak Seas meet at Grenen. The city is also home to a top-notch beer industry and so is a welcome place for beer-lovers to sample varieties of the drink.
If you love music, you should visit Denmark during summer when music festivals hit the country. Here, you'll get to experience sounds from world-renowned artists from dawn to dusk. However, Denmark will give you a spectacular view of snowy landscapes if you're a winter person. Any fashionista will love Copenhagen. It's no secret that the Danish people are stylish, with renowned designers taking the world by storm. You'll find elegant stores and boutiques that sell stylish clothes, including secondhand pieces.
Denmark is a favorite for bikers. Its flat terrain, specially designed cycling bridges, and long bike routes are bound to give you the best biking experience as you explore surrounding panoramic views. You'll also want to tour Denmark if you're a culture buff. The country is home to old museums that feature unique pieces. Visiting Denmark will let you discover why the city is among the happiest nations globally. Its tranquil atmosphere and the "hygge" culture are among the many reasons that make it a favorite tourist destination.