Trains from Munich to Prague
A direct train ride to Prague from Munich takes you across 185 miles (299 km) of track. This long trip takes about 5h 37min on the fastest train from Munich to Prague, and the journey can be much longer if there are stops along the way. There are multiple opportunities to catch the train from Munich to Prague, since about 17 trains make this journey every day, offered by Deutsche Bahn (DB) and Alex. You can buy DB and Alex train tickets using the Omio app.
Munich to Prague Train Time: Daily Departures
Around 17 daily trains are available from Munich to Prague. DB and Alex are the only train providers on this route, offering direct and connecting services between Munich and Prague, with departures from early morning until late night. The first train from Munich to Prague departs Munich Hauptbahnhof at around 4:44 a.m., and the last train of the day starts its journey around 10:38 p.m. A couple of night trains are also available on this route, but most trains operate during the day.
How long is the journey by train from Munich to Prague?
The journey's duration varies greatly, depending on the nature of the trip. When the trip is direct, the average journey time is 5h 38min. However, service providers have various options with different stops along the way. The number of stops during the journey increases the duration, with some trips taking up to 14h 3min. The change location of the train connection also affects the time, which is evident when comparing trains with a similar number of stops but varying durations.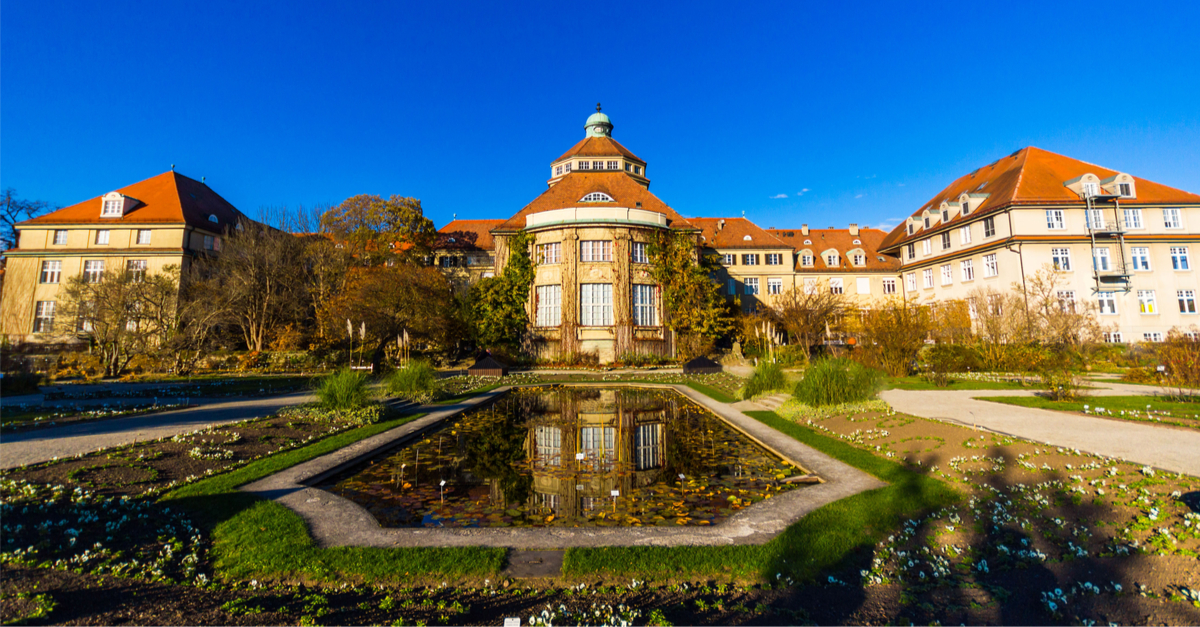 Nymphenburg public garden in Munich. Source: Shutterstock
What are the departure and arrival stations for trains from Munich to Prague?
Departure train stationMunich Hauptbahnhof is located in the city center, where you can opt to walk to the station or use other means of transport such as the metro, trams, buses, or taxis. This station has a first-class lounge run by Deutsche Bahn, offering wine, free coffee, snacks, and Wi-Fi. ATMs are also conveniently located within the station.
Arrival train stationPraha Hlavni Nadrazi is the main arrival station and is located right in Prague's city center, making it easily accessible on foot or via bikes, trams, taxis, or buses. As a ticket holder, you will be granted access to the great Czech Railways lounge on the underground level of the station, where you can enjoy beverages and snacks. The lounge also has a kids' corner where the children can have fun as they wait for the train.
Which train companies travel from Munich to Prague?
Two train companies offer trains from Munich to Prague: Deutsche Bahn (DB) and Alex. Alex trains are direct, while DB trains include some transfers en route. The DB train routes can include from two to as many as five changes. Alex's direct trains to Prague are faster than their DB counterparts, taking around 5h 38min. DB trains take different durations, depending on the number of changes and how long the changes last. DB travel times range anywhere from 6-14h. You can read more about DB and Alex trains in the Omio magazine, Window Seat.
Night trains Munich
Night trains are available every day of the week. The latest train leaves Munich close to midnight and arrives in Prague early the next day, with a few changes along the way. There are no direct night trains to Prague; passengers will experience at least two changes during this trip.
Alex trains from Munich to Prague
Alex provides direct high-speed trains from Munich to Prague that cover the distance in about 5h 38min. About six Alex trains are available daily. However, these services are not available at night.
DB trains from Munich to Prague
Deutsche Bahn does not have any direct trains to Prague, so at least two changes are required for each trip. The journey's duration varies depending on the number of changes scheduled on the trip, making DB trains slower than Alex trains. The longest DB train on this route takes about 14h 3min. DB trains are available throughout the day, and they even offer some night trains, with about 11 options every day.
Trains from Munich to Prague: Sustainability travel
DB has adopted a green transformation plan to improve sustainability for all their services. Their goal is to shift their energy sources entirely to renewable sources by 2038. They are recycling as much as possible and reducing their consumption of unnecessary resources. Other measures include noise reduction and the creation of new habitats for animals they displace during the construction of new railroads and infrastructure. Alex also plans on improving their sustainability levels by incorporating more renewable energy sources and replacing dirtier energy sources, as well as updating their trains to more environmentally friendly models.
Trains Munich to Prague: Services on Board
DB offers both first- and second-class tickets, with access to a bar and cafe serving drinks and snacks. Passengers can bring all their luggage onboard free of charge as long as it fits on the provided racks. Pets smaller than a house cat can travel for free, while larger pets will incur a small fee. Large dogs need a separate ticket and should be muzzled and leashed for the duration of the trip. However, service dogs for the visually impaired do not need muzzles or their own ticket. If you'd like to travel with your bike, you will need to make a reservation and pay an additional fee. Alex trains also offer free luggage areas. Travelers can use the racks above the seats or the multipurpose areas for larger bags. Bikes with tire sizes of 20 inches or smaller are allowed onto the train for free, as well as any foldable bikes. For passengers traveling with children, Alex provides childrens' play areas on the train.
Alex trains offer only second-class seats for the trip from Munich to Prague. Your ticket covers up to three pieces of luggage, which you can bring on the train for free. Pets are also allowed onboard. Alex trains are wheelchair-accessible, and the train crew will also assist disabled passengers on the train. You can bring your bike and sports gear on this trip, but they must be stored in the baggage car. Amenities offered on Alex trains include free Wi-Fi, power outlets, onboard restrooms, and air conditioning, and food and drinks are served on most Alex trains.
How to find cheap train tickets from Munich to Prague
To get cheap train tickets to Prague from Munich, book your tickets in advance. You are likely to get better deals, such as upgrades, when you reserve your seat about a week in advance. Also, be willing to change your preferred travel date. This flexibility allows you to choose the dates with the best ticket prices. It is also common for ticket prices to be lower for connecting trains with slower journeys than direct trains.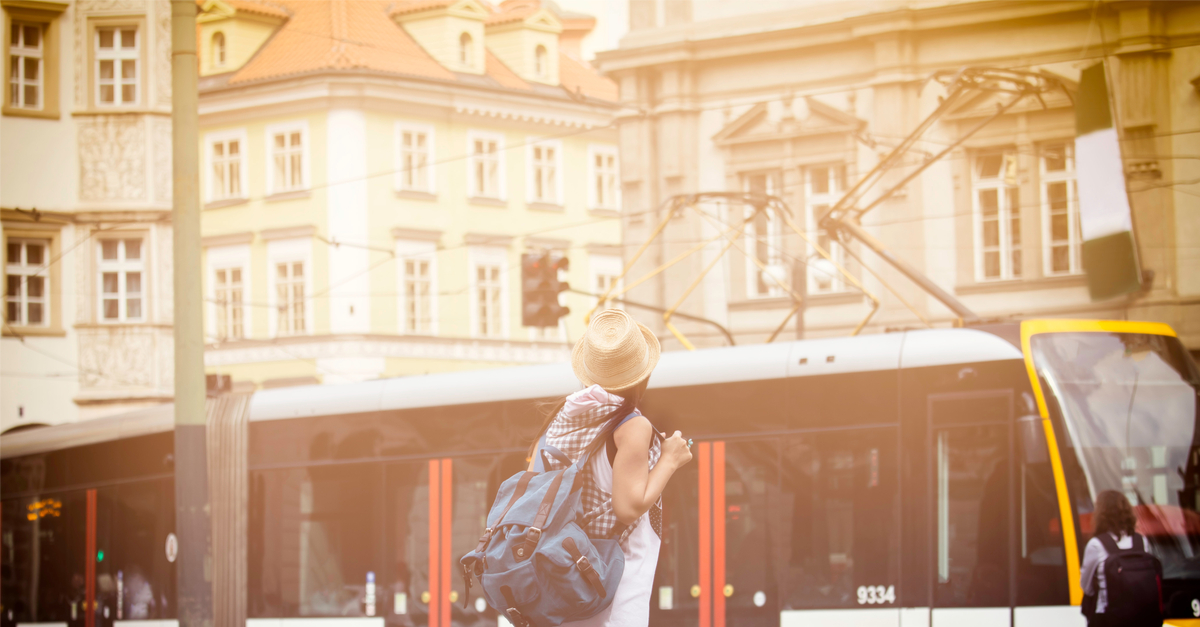 Tourist with tram in the city of Prague. Source: Shutterstock
To Prague by train—travel tips
Prague has become one of the most-visited destinations in Europe. The steadily growing popularity of Prague can be attributed to the ease of access to the city and its many attractions. Prague Castle is one of the city's most-visited sites. Beautifully manicured lawns surround the castle, and within its walls, you can explore the Old Royal Palace, St. Vitus Cathedral, Powder Tower, St. George's Basilica, and the Golden Lane. Charles Bridge, another of Prague's landmarks, is one of the most popular bridges in Europe, with its many beautiful statues. If you're looking to enjoy the beautiful New Town Prague, head into Wenceslas Square, home to the National Museum and several architectural treasures and one of the top free places to visit in the city. Prague's other treasures include:
Clementinum
Old Town Square
St. Vitus Cathedral
National Gallery
Prague Zoo