Flights from London to Edinburgh
Flights from London to Edinburg are a convenient and fast way of traveling between the two cities. London lies about 402 miles (647 km) from Edinburg, and the average direct flight takes 1h 20min. Several airlines provide flights on this route, but the most popular airline is British airways daily there are about 45 scheduled flights from London to Edinburg.
London to Edinburg: daily departures
Daily, London schedules about 45 flights from London to Edinburgh. This means that weekly there are about 319 flights between the two cities. Weekends and holidays schedule more flights than average days. Omio provides you with all the possible schedules for travelers to get the most convenient schedules.
How long is the journey by flight from London to Edinburg
The average flight from London to Edinburg takes 1h 20min but the fastest flight can take 1h 17min. flights with stops take longer, and the duration of the journey varies depending on the number and duration of stops. Travelers can get on one-stop flights from London to Edinburgh with a stop via Amsterdam taking 3h 30min.
What are the arrival and departure airports for flights from London to Edinburgh
Departure airport: Flights start their journeys in London, and they can depart from London Hathor airport, Stansted, Gatwick, or Luton Airport. London Heathrow Airport provides multi-faith prayer rooms, smoking areas, postal services, toilets, showers, and several charging points. There are cash machines, several shops, lounges, hotels spas, restaurants, and shops.
London Heathrow lies west of central London, and travelers can get to the airport via Piccadilly line on the Tube, taxis, Heathrow Express train, easy Bus coaches, and National Express services. London Stansted Airport features an escape lounge for first-class and business-class travelers. The airport also features several airport hotels, a parking lot, a variety of shops and restaurants, and car rental services. The airport also features currency exchange services and a travel information center. Travelers can get to the airport by National Express and Easy bus coaches.
You can also get to the airport via the London Liverpool Street train. London Gatwick airport lies about 30 miles (48 km) south-central of London. The airport features several shops, restaurants. There are also lounges, a lost and found area, currency exchange services, a prayer room, car hire services, a charging station, and luggage services. The airport provides several buses to the lower South Terminal. Travelers can also get on trains from the Airport to Reading, Bedford, and Brighton. London Luton Airport sits 1.5 miles (2.4 km) east of Luton Town. It features several facilities like restaurants, bars, shops, luggage storage, and check-in desks.
Arrival airports: Flights arrive at the Edinburgh Airport. The airport provides a lounge for first-class and business-class travelers. It also provides luggage storage and luggage services. It offers a prayer room, currency exchange services, several shops, and restaurants.it also features duty-free shopping options. The airport lies about 8 miles (13 km) from the city center. The Airlink bus service 100 provides services between the airport and the city every 10min. the Lothian bus number 35 and N22 provides services to and from Edinburgh airport travelers can also get taxis and private airport transfer services to and from the airport.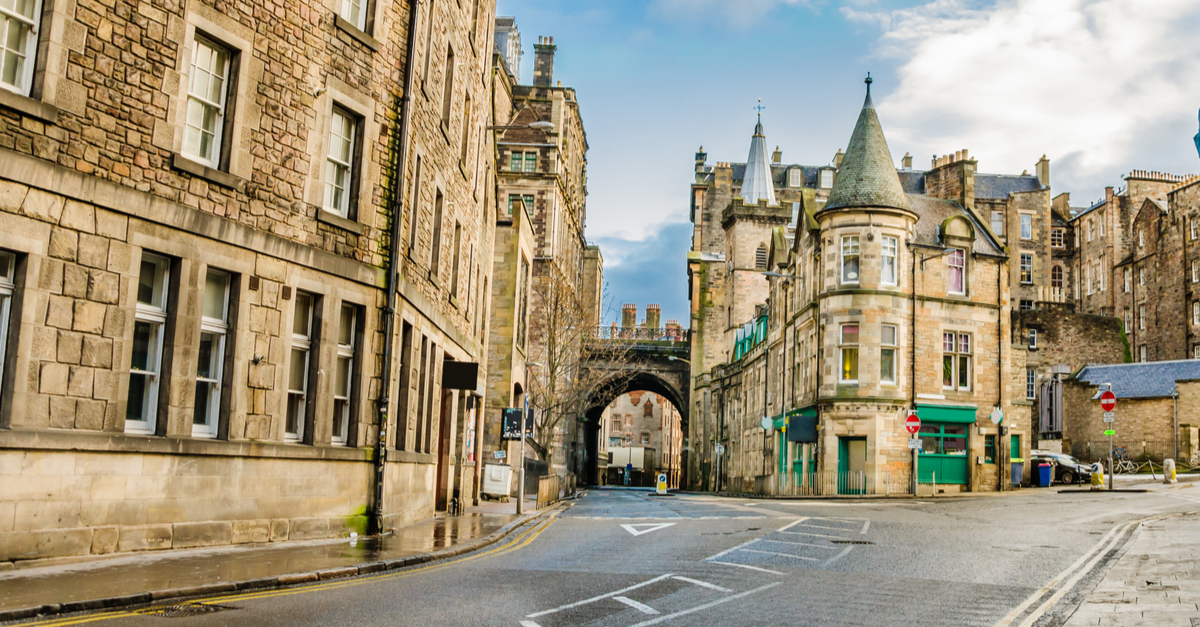 Edinburgh Old Town Street Empty. Source: Shutterstock
Which airlines travel from London to Edinburg
The main providers from flights from London to Edinburg are British Airways and easyJet. British Airways provides more flight services from London to Edinburg. They both provide direct flights from London to Edinburgh as well as connecting services.
British Airways from London to Edinburgh
British airways provide up to 25 daily flights from London to Edinburgh. Travelers can expect minimal delays with British Airways from London to Edinburg. British Airways only provide direct flights from London to Edinburgh.
easyJet from London to Edinburgh
easyJet airways provides four daily flights from London to Edinburgh. easyJet is popular for its budget-friendly prices. easyJet only provides direct flights between London and Edinburgh.
Flights from London to Edinburgh: Services on board
British airways provide four travel classes, including first-class, business class, premium economy, and economy. First-class travelers get the most exceptional comforts, including luxurious fine dining and private suits. Travelers also get access to the premium lounge and private concierges through security check-ins. Business-class travelers get lounge access, seats that convert into full flatbeds. They also get complimentary snacks and beverages along the journey. The difference between economy and economy premium is that premium Economy provides wider seats, extra legroom, and priority boarding. They also get separate cabins and an extra luggage allowance.
British airways luggage allowance lets travelers bring one cabin bag under 51 lbs (23 kg) and less than 22*18*10 inches (56*45*25 cm). They can also bring one hand luggage under 51 lbs (23 kg) and 16*12*6 inches (40*30*15 cm). Business-class travelers and Economy Premium class travelers can bring two bags for free. British Airways provide mobility aids and transport for wheelchairs. Their cabin crews also help you find your seat, store your hand luggage, and moving between seats and washrooms. easyJet features business and economy classes.
Business travelers get more legroom, lounge access, priority boarding, and extra luggage allowance. Travelers can bring onboard one small cabin bag with a maximum size of 16*12*6 inches (40*30* 15cm). Travelers on easyJet with reduced mobility have to contact their carriers before their travel date. A Special Assistance team will provide them to move around the airport, the plane, stow cabin bags, and retrieve luggage and any mobility equipment.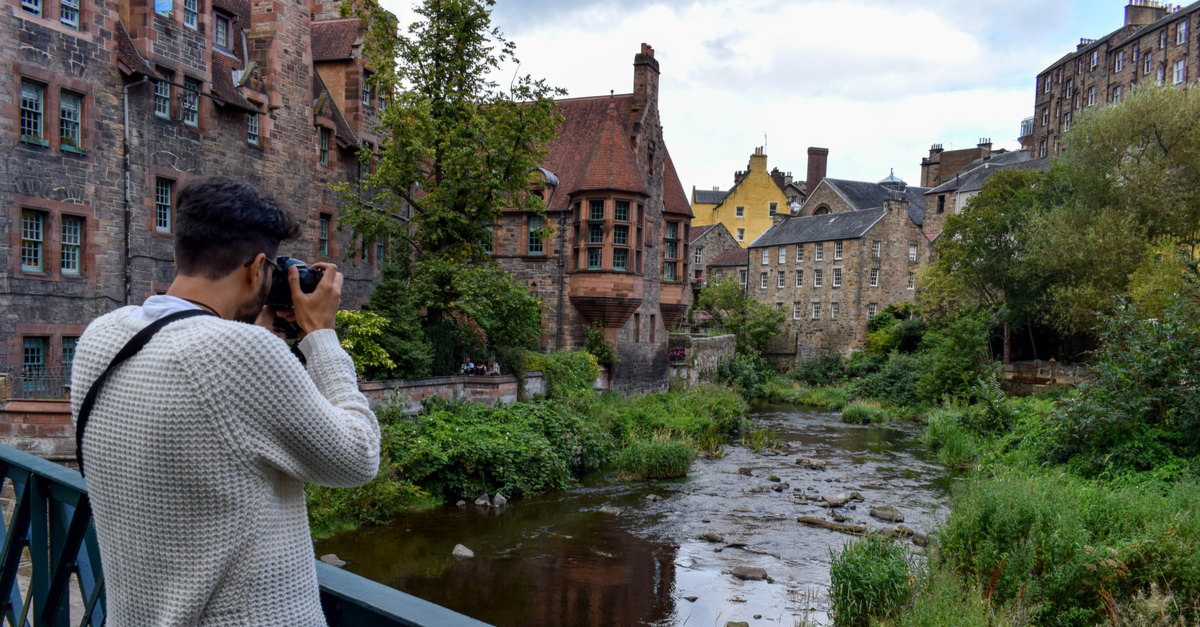 Edinburgh Tourist Dean Village. Source: Shutterstock
How to get cheaper flight tickets from London to Edinburgh
If you are looking for cheaper flight tickets from London to Edinburgh, consider booking tickets in advance. Flight providers often release tickets a few months before their travel dates. If you buy your ticket a few months before the departure date, you are likely to score a cheaper flight ticket.
Flexibility also helps when it comes to finding cheaper flight tickets. If you are flexible with your journey dates, you will likely score a cheaper flight ticket instead of a fixed schedule. Finally, consider getting on flights with connecting services to score cheaper flight ticket deals. Flights with stops along the journeys often cost cheaper than flights with direct services. If time is not a factor, consider getting on flights with stops along the journey to Edinburg.
To Edinburgh by flight- travel tips
Edinburgh, Scotland's compact hilly capital, is a medieval Old Town and elegant city with lawns and neoclassical buildings. The city features several historic sites, and visitors will find plenty of activities to do. History lovers can soak in some history at the National Museum of Scotland. It features two contrasting buildings, a Victorian Place with glass and iron and another made from sandstone with a striking circular tower.
A guided tour of the facility showcases the art and history of old Scotland. Families, thrill-seekers, and fun lovers will love a tour to Camera Obscura and World of Illusions. The facility offers a fascinating labyrinth with a maze of mirrors, magic galleries, and plasma balls in optical and old-style illusions. The camera obscura sits within the Victorian rooftop chamber, and it offers breathtaking city views visible from pinhole technology.
Nature lovers will love a visit to t Arthur's seat, the highest point of Holyrood Park. The viewpoint offers spectacular city and landscape views. The Salisbury Crags offers a series of 151-foot climbs adjacent to Arthur's Seat. The park also showcases ancient cultivation terraces, well-preserved farming practices in Scotland, and the medieval St Anthony's Chapel ruins.
The Royal Botanic Garden is another ideal destination for nature and outdoor lovers. The expansive green space boasts an impressive collection of about 12 200 plant species. They include exotic orchids, alpine houses, terraced moorland gardens, and an extensive arboretum with giant trees from China, the Himalayas, and North America.
Outdoor lovers can also visit Prince Street and its gardens. Price Street offers vibrant gardens, elegant shops, small shops, cafes, and fountains. The street also houses the New Register House that houses the Scottish National Archives Nature lovers can also visit the Edinburgh Zoo, which boasts a diversity of creatures from all over the globe. Some of the animals' sightings visitors spot include chimps, wallabies, pandas, amphibian species, and insects. They also provide animal interaction opportunities and a great garden ideal for family fun.
Science enthusiasts can visit Dynamic Earth, a multimedia presentation of the Earth's history. It features hi-tech gadgetry and special effects and natural events like volcanoes, tropical rainstorms, and glaciation. The science center houses an ultra-modern tent with a 360-degree show dome and a 4d flight simulator.
Edinburg is popular for its cultural history and landscapes and is a world-famous scene with outstanding restaurants. Edinburgh's restaurants feature the finest and freshest fares made with international and local ingredients. Aizle is a neo-bistro that features an intense focus on seasonal ingredients. Fhoir provides fancy drinks and meals in a Scandi-Style restaurant with creative modern dishes. Treat your taste buds to Kanpai's sushi or ikura shirakatis during your visit to Edinburgh.