Trains from Salzburg to Vienna
Travelers will find it easy to take comfortable and cheap train rides from Salzburg to Vienna. Salzburg is about 156 miles (251 km) away from Vienna, and high-speed trains traveling from Salzburg take about 2h 22min to make the trip. The slower trains can take up to 4h 19min; however, this total travel time includes transfer stops made at Linz or Wels Central Station. More than 50 trains make the trip from Salzburg to Vienna daily.
Salzburg to Vienna Train Time: Daily Departures
You can choose from more than 50 trains traveling from Salzburg to Vienna every day. The earliest train headed for Vienna departs Salzburg early in the morning. The last train leaves around 10:12 p.m. and arrives at Vienna around 5:39 a.m. the following day. The trip duration depends on the type of train you board. The fastest trains can take less than 4h 30min to get to Vienna. Keep in mind that some trains make long transfer stops along the way. The peak travel hours on this route happen between 3:00 a.m. and 11:00 a.m. approximately.
How long is the journey from Salzburg to Vienna?
The trip duration from Salzburg to Vienna depends on the type of train you board. High-speed trains, most of which offer direct trips without any stops, can take less than 2h 30min from Salzburg to Vienna. The slower trains can take anywhere from 4h to 7h 11min. The variation in travel time depends on the number of transfer stops the train makes along the way. Some trains have a 4h 41min-long layover stop in Linz before proceeding to Vienna.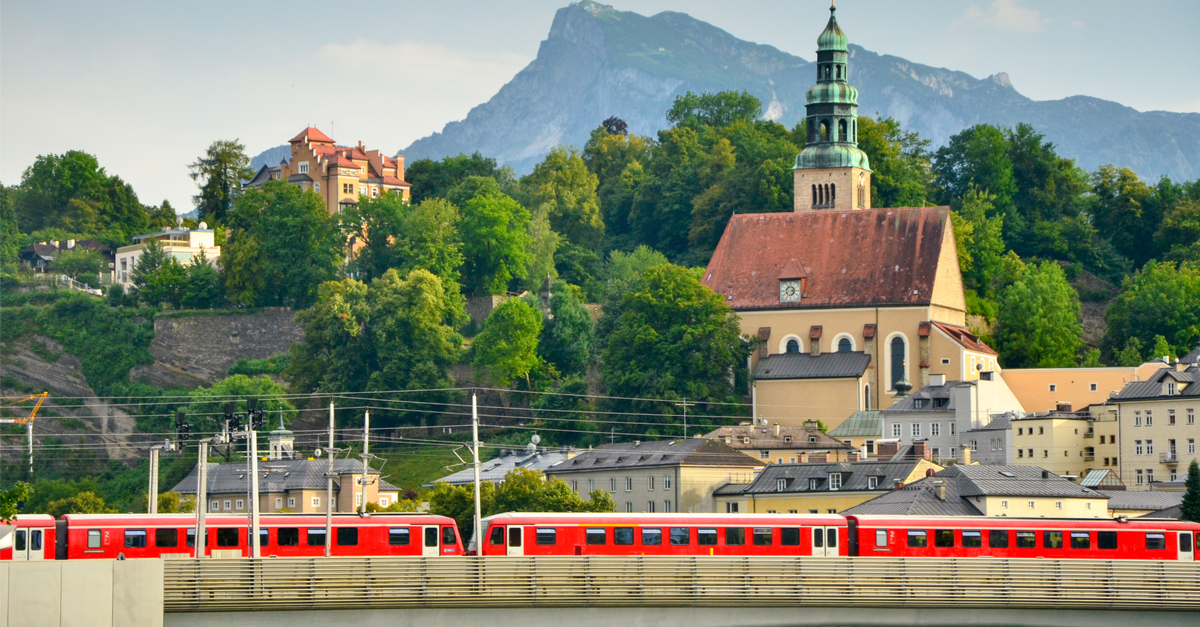 Train with views of Salzburg. Source: Shutterstock
What are the departure and arrival stations for trains from Salzburg to Vienna?
Departure train stationPassengers traveling from Salzburg will book their trains from Salzburg's main station, also known as Salzburg Hauptbahnhof. It is the main train station in Salzburg, serving as a connection point for both local and international trains. The train station is within walking distance from the city center. Bus rides to the train station from Salzburg Airport take around 19 minutes. There are several shops and fast-food restaurants within the train station, including Burger King. Passengers traveling with first-class tickets can relax in the first-class lounges, where they enjoy free drinks and snacks as they wait to board the train. The Salzburg main station also provides free Wi-Fi and luggage lockers.
Arrival train stationAll trains arriving in Vienna end their trip at the Vienna Central train station. It is a fairly big station, with links to both local and rapid transit lines. Located close to the city center, it's just a five-minute walk via the underground walkway. Plenty of taxis and underground tram services also link the train station to the rest of the city, and the station has parking for both cars and bicycles. In addition, designated parking for the disabled is available. You'll find plenty of restaurants and shopping options within the train station.
Which train companies travel from Salzburg to Vienna?
All trains operating the Salzburg to Vienna route are operated by ÖBB and Westbahn railway companies. ÖBB is Austria's national train company. A government-owned company, it also operates buses and freight wagons, in addition to serving international rail routes connecting Austria to other countries such as Germany, Italy, and Switzerland. Westbahn Railway Company is a private entity that also offers train service from Salzburg to Vienna. In addition, the train company offers bus service through FlixBus bus company.
Night Trains Vienna
If you prefer traveling at night, you can board one of the 10 trains that depart from Salzburg's main train station between 7:00 p.m. and 10:12 p.m. The last train that leaves Salzburg at 10:12 p.m. arrives in Vienna at 5:39 a.m. the following day. This train usually makes a 4h 41min transfer stop in Linz. If you are in a hurry, make sure to book one of the faster direct trains, which can get you to Vienna in under three hours.
ÖBB trains from Salzburg to Vienna
ÖBB is one of the most reliable train companies in Austria. Besides trains, the company also offers connecting transport services to other destinations from the train station. The company has both high-speed trains, known as Railjet, and Inter-City Express trains, all of which offer long-distance rides. Passengers traveling with ÖBB can choose to travel in either first, business, or economy class coaches. Total travel time will depend on the type of ÖBB train you board and the number of stops it makes along the way.
Westbahn trains from Salzburg to Vienna
Westbahn provides some of the cheapest and fastest train rides from Salzburg to Vienna. Most of their trains offer direct trips with no stopovers along the way. However, Westbahn only provides second-class coaches. Every day, more than 15 Westbahn trains leave Salzburg for Vienna. These trains take less than three hours to travel from Salzburg to Vienna.
Trains from Salzburg to Vienna: Sustainability travel
Traveling by train is one of the most environmentally friendly means of transport. Both Westbahn and ÖBB have adopted modern ways of noise protection, waste collection, and waste management to help make the environment cleaner. In addition, ÖBB has done an impressive job in ensuring the areas around the rail tracks are safe for both flora and fauna. Most railway tracks and stations across Austria are now powered by green energy.
Trains from Salzburg to Vienna: Services on Board
ÖBB allows registered assistance dogs and small pets kept in their recommended transport containers onboard free of charge. However, you will be required to pay an additional fare for bigger pets that cannot fit in a transport container. Passengers are also allowed onboard with several pieces of luggage, as long as it all fits in the storage space. First-class coaches on ÖBB have free Wi-Fi, extra legroom, adjustable seats, and access to power outlets. Most Westbahn trains also provide free Wi-Fi in their coaches. Both Westbahn and ÖBB trains are easily accessible, complete with wheelchair and stroller support. In addition, the coaches have accessible restrooms and baby changing facilities. Passengers can also purchase drinks, meals, or snacks from the bistro located inside the train.
How to find cheap train tickets from Salzburg to Vienna
It is possible to find cheap tickets if you set your travel dates a few weeks or months in advance. Most train companies also offer group travel packages, which are cheaper than buying solo travel tickets. You can purchase tickets when they go on sale to take advantage of cheaper prices. Both Westbahn and ÖBB also offer discounted ticket prices for senior citizens and children younger than 15. Get more travel stories and tips on Omio magazine The Window Seat.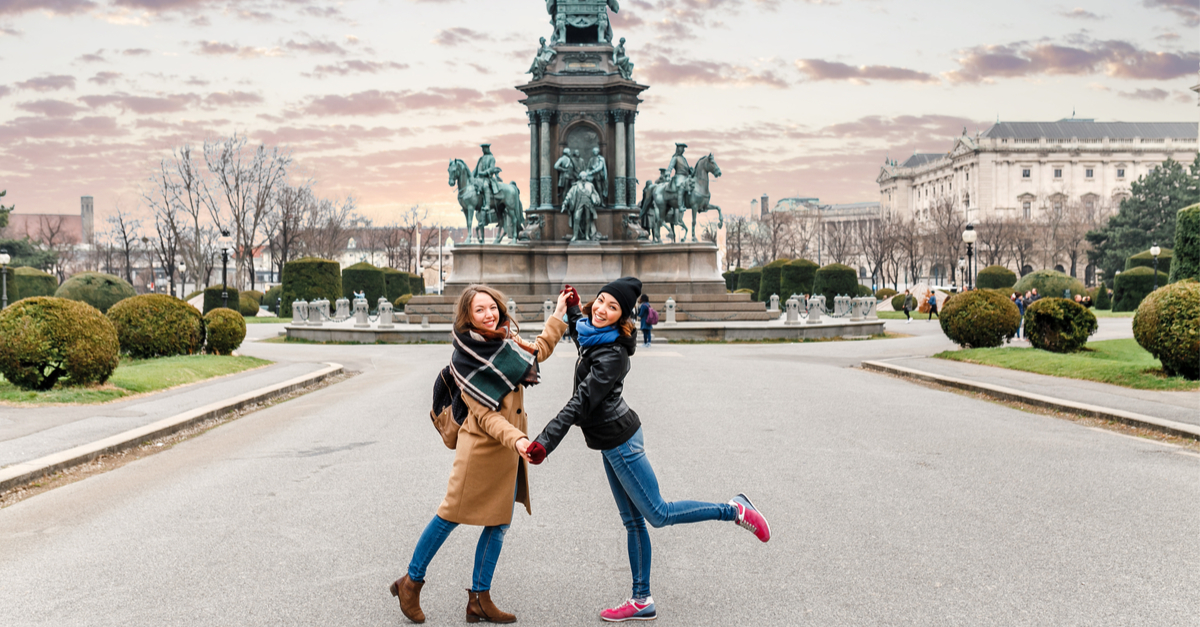 Friends visiting Vienna. Source: Shutterstock
To Vienna by train—Travel Tips
Vienna has excellent architecture coupled with convenient transport systems that make touring the Austrian city easy. There are also plenty of tourist shops and amazing restaurants that serve classic Austrian dishes within the city center. Vienna is quite a large city with plenty to do and see; you can take a guided bus tour that takes you through some of the top attractions within the city.
Take a walk around the Imperial Schönbrunn Palace and Gardens.
Visit the legendary St. Stephen's Cathedral.
Take a tour around the Hofburg palace.
Tour the amazing Vienna Zoo.
Visit Prater Park.