Trains in Kansas City to Chicago
Traveling the Kansas City, MO to Chicago route via train is one of the best ways to reach Chicago conveniently. Chicago is the number one populous city in Illinois and the third most populous in the United States. A train covers at least 412.58 miles (665 km) and takes approximately 9h 55min as of Kansas City towards Chicago. Considering the huge numbers of tourists visiting Chicago, it is vital to book your ticket with Amtrak in advance to avoid inconveniences. Amtrak is the primary operator in this route and is well-known for well-scheduled departures that ensure you arrive at your destination on time.
Booking your Train Ticket with Omio for Kansas City to Chicago
Traveling out of Kansas City, MO, to Chicago via train is an affordable and convenient way to make your trip. If you are looking to save on last-minute fares and get flexibility in your travel date, you can turn to the midweek schedules that are less busy and cheaper. However, with Omio traveling by train between these cities has been made easier. We compare and combine rail journeys for small and big routes. Our experts work out the average travel time and cost, making it easier for you to organize and budget for your trip. We are an independent platform, which means the displayed train results are unbiased. We are happy to advise you on how to use our services.
Train Companies in Kansas City towards Chicago
Amtrak is the leading company operating trains between Kansas City, MO, and Chicago. The company operates two main routes: the Amtrak Southwest Chief service that is the fastest, and the Amtrak Missouri River Runner, which operates the other. Amtrak strives to provide the best possible services to all travelers and has built an excellent reputation over time. The train company ensures that its trains are convenient enough to suit the needs of all travelers. You can use Omio to help you plan your trip and book a train on time to get a train ticket that won't delay your schedules.
Popular International Train Routes with Omio
Omio uses advanced mapping technology that allows you to find the closest train station to your ideal location. We present the most efficient routes to your chosen destination, thus saving you money and time. Besides the Kansas City – Chicago route, we also serve some international routes to suit your travel needs. Our most popular international routes include London to Brussels, Paris to London, Rennes to Paris, London to Leeds, Rome to Florence, Manchester to London, and more. We understand that planning your journey is not an easy task, and that's why we work out the complicated aspects of the journey and give you time to enjoy the best bits of the travel.
When Arriving by Train in Chicago from Kansas City
Once you arrive in Chicago, you should not expect a much different time zone because the two cities have equivalent time zones. You can call a friend during your normal hours, and it will be the same time in Kansas City as it is in Chicago. You'll also realize that Chicago is an ideal city for finger-licking food. Chicago is famous for specific dishes, but there is more delicious food in this city. You will notice that Chicago deserves the reputation of a segregated city but is also highly diverse. The city's population is evenly distributed between Hispanics 29%, non-Hispanic whites 32%, and non-Hispanic blacks 33%. Chicago also has significant tall skyscrapers, with Willis Towers having been the tallest building globally from 1974 to 1998.
Train Provider in Kansas City and Chicago
Traveling by train allows you to see everything there is to see between these two cities. Amtrak is the primary train provider along this route. The company is popularly known for providing train travel services that accommodate every traveler's needs. Amtrak has 14 departures every week for these routes. These are approximately two everyday schedules and 60 trips each month. Similar to other modes of transport, train transport between Kansas City and Chicago varies depending on demand. Amtrak trains serving the cities are increased when it is high, and when it is low, they are reduced. This is why if you need ample space and extra legroom when traveling, you should consider getting your train ticket with Omio on Friday.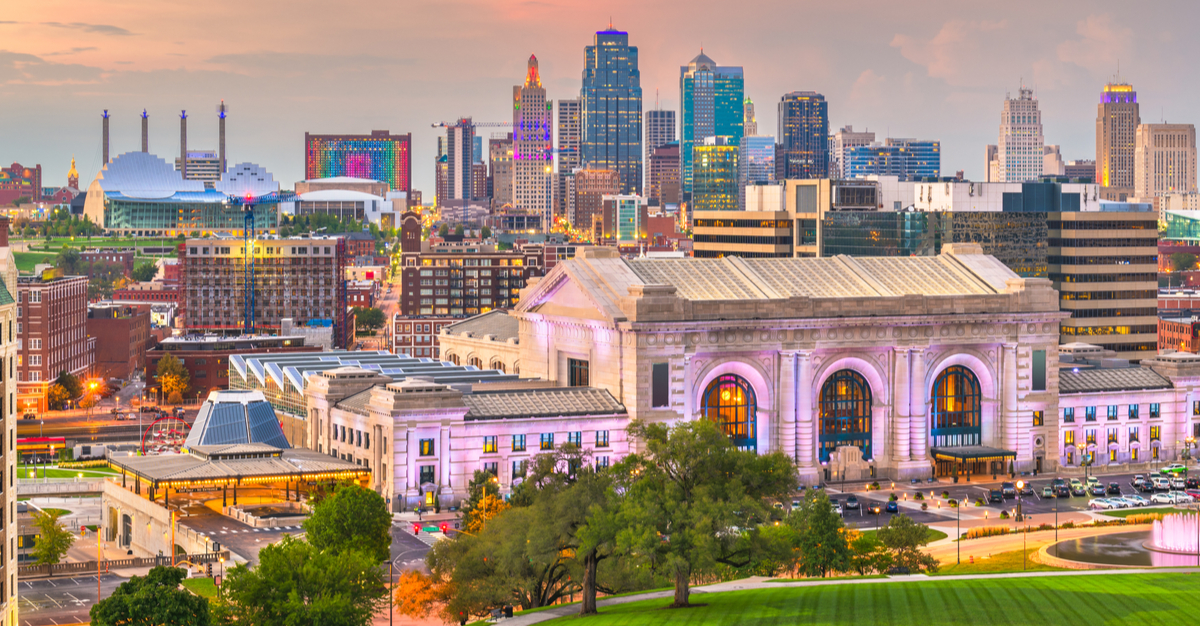 Kansas City Purple. Source: Shutterstock
Main Train Stations in Kansas City and Chicago
If you are traversing from Kansas City to Chicago, you will board the Amtrak train at the Kansas City Union Station. This is one of the largest functional train stations in Missouri. It hosts reliable train travel and hosts top-rated traveling exhibitions as well as educational activities. The station is conveniently located at 30 West Pershing Road within Kansas City. The best thing about the train station is that it has tons of payphones, ATMs, elevators, vending machines, ticket sales office, and is wheelchair accessible. In Chicago, you'll alight at Chicago Union Station. This station has both commuter and urban rail lines. This way, you can easily access your final destination from the station. The station also has a reliable ATM, metropolitan lounge, restrooms, and vending machines.
Popular Journey in Kansas City to Chicago
With the Omio app, you can easily travel out of Kansas City, MO, en route to Chicago and other cities in the United States. Some of the most popular destinations include La Plata, Salt Lake City, Fort Worth, St Louis, and New York City. Traveling by train from Kansas City, MO to La Plata takes 2h 12min, and the price is $41. From Kansas City to Salt Lake City takes 40h 37min, and the ticket price is $295. Traveling from Kansas City to Fort Worth takes 22h 54min, and the train ticket is $110. From Kansas City to St. Louis takes 5h 40min and the price is $60 while from Kansas City to NYC takes 35h 52min, and the price is $147.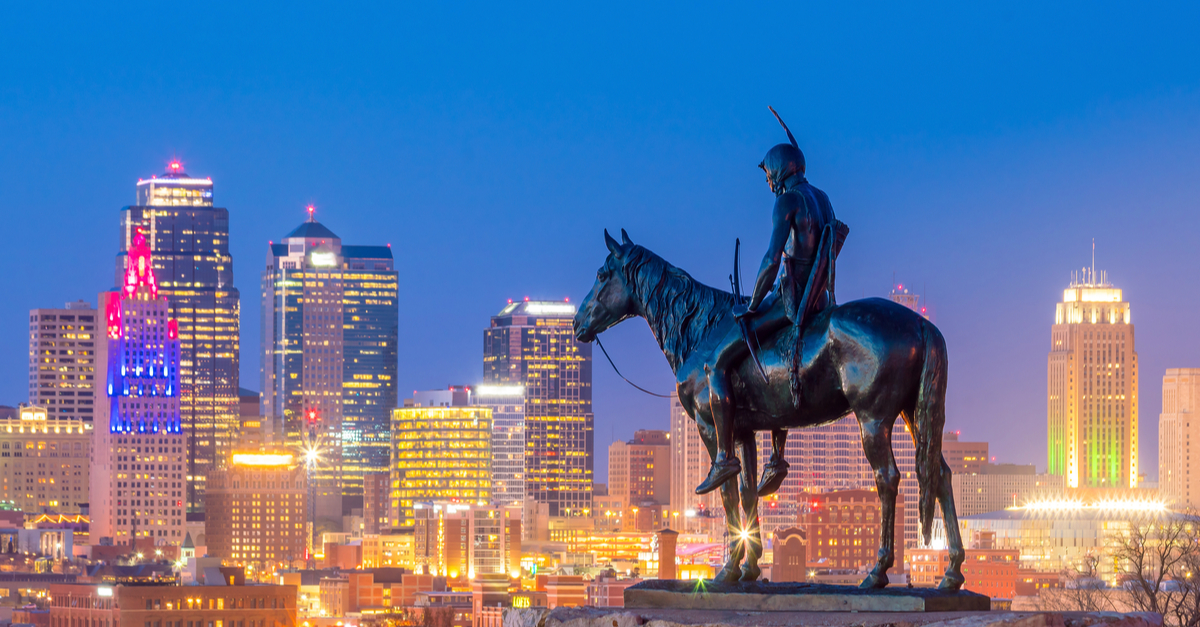 Kansas City Statue Night. Source: Shutterstock
Popular Routes in Kansas City and Chicago
Apart from routes from Chicago to various states in the United States, Omio serves other international routes. The popular international route is London to Paris. Amtrak train departs from Paddington Station in London to Gare de Lyon in Paris.
Good to Know
Traveling to Chicago out of Kansas City by train takes an average of 9h 55min, the time expected to cover 413 miles (665 km). However, the time taken can vary depending on various dates, holidays, and weekends. It's fun and comfortable traveling by train because you can enjoy seeing multiple amazing sceneries in the environment. However, it takes longer than taking a flight.
To Chicago by Train-Travel Tips
Chicago is one of the best cities in the world. The city is home to top-rated museums that are globally known and worth visiting. Depending on your love for museums, you may want to spend your time in one of them when visiting this city. If you are looking to visit many museums, you can purchase a Chicago CityPASS that allows you to save money and avoid long lines. Some of the best museums include the Chicago History Museum, The ART Institute of Chicago, Adler Planetarium, and Oriental Institute Museum. By visiting these museums, you can understand this city deeply. You can also grab the advantage of free museum days.
If you love eating, Chicago is your safest bet. The city is famous for its wide range of iconic dishes from the best restaurants in Chicago, including Superdawg Drive-In, Smoque BBQ, and Parachute. You can try out the Chicago-style hot dog, deep-dish pizza, or Italian beef sandwich, and your stay in Chicago will be worthwhile. To explore the city, you can do several things in this city such as walking through Millennium Park, go to Navy Pier to enjoy various attractions and parks, and later after dusk; you can watch the water show at Buckingham Fountain. Chicago City also hosts major league teams such as MLB, NBA, WNBA, NFL, NHL MLS, and NWSL. So, if you love baseball, basketball, football, ice hockey, or soccer, you'll always feel entertained as you watch these games. Finally, you can have a wonderful picnic at the blue waters of Lake Michigan.