Trains from Stuttgart to Paris
Trains from Stuttgart to Paris are fast, efficient, and cheap. Moreover, a train ride to Paris gets you to the heart of Paris, saving you traffic, parking, and commuting hassles. Paris lies about 311 miles (500 km) from Stuttgart, and the average train journey takes 3h 29min. There are about 19 trains that leave Paris for Stuttgart on a daily basis. The main provider for trains from Stuttgart to Paris is SNCF and Deutsche Bahn.
Stuttgart to Paris Train Time: Daily Departures
Daily, 19 trains operate the Stuttgart-Paris Route. This leaves over 100 weekly options for travelers to select the most convenient ride. The first daily train departs Stuttgart at around 5:51 a.m. and arrives at Paris at around 9:51 a.m. The last daily train leaves Stuttgart at about 8:55 p.m. Departure time varies depending on the day of the week and the season of the year. The Omio platform provides all schedules available for trains from Stuttgart to Paris so that travelers can choose the most convenient option.
How long is the journey by train from Stuttgart to Paris?
The average train travel time from Stuttgart to Paris is 3h 29min. The fastest train can cover the distance in 3h 13min. The slowest train takes 4h 3min with a stop at Mannheim Hbf. The duration of the journey is typically affected by the number of layovers along the journey and how busy providers are.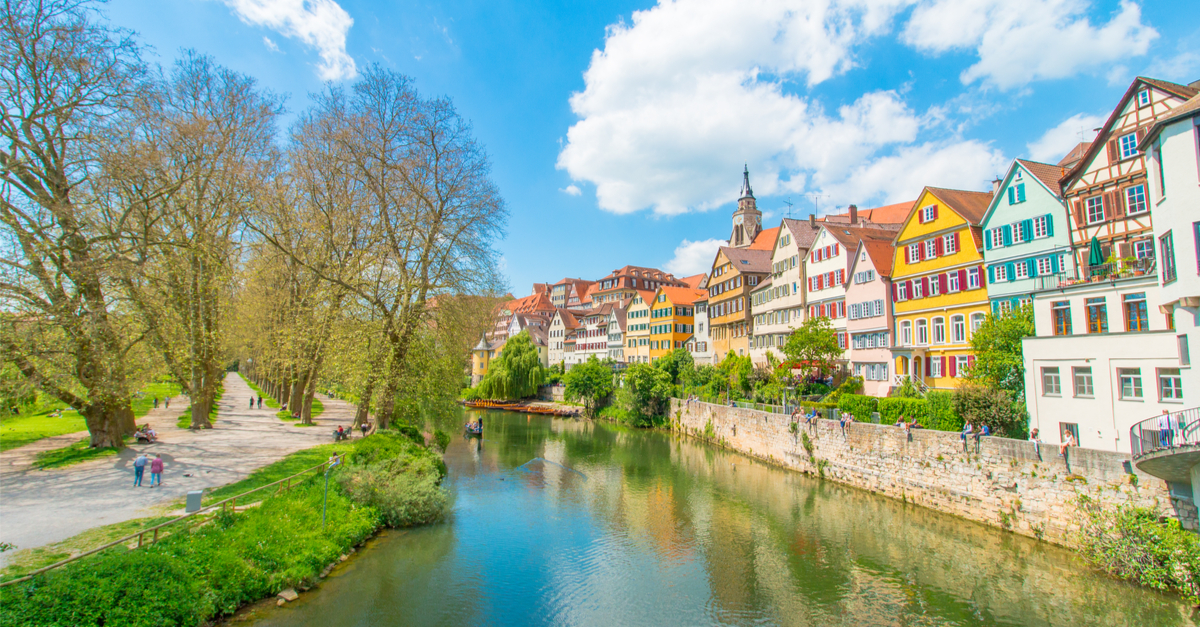 Tuebingen in Stuttgart city. Source: Shutterstock
What are the departure and arrival stations for trains from Stuttgart to Paris?
Departure train station: Trains from Stuttgart to Paris start their journeys at Stuttgart Hbf train station. It features an information center, a travel center, and a mobile service by station staff with red caps. The station provides luggage lockers and a lost and found area for travelers with lost luggage or who need storage services. First-class and business-class travelers will find a DB lounge with excellent seating, attentive service, and stylish decor. It also features several washrooms, concessions, a ticket office, and vending machines. The station offers free Wi-Fi for travelers' entertainment while waiting. The Stuttgart station caters to the needs of reduced mobility travelers with step-free platforms, tactile handrail labels, and personal assistance for travelers needing extra assistance. Travelers can get to the station with several public transport options. Train lines MEX16, RB13, and RE90 stop at the station. S-Bahn lines S1, S2, S3, S5, and S6 have stops at the station as well. Alternatively, travelers can get to the station via subway with lines U12, U15, U5, U6, and U7. Bus lines 40, 42, and 44 are another alternative.
Arrival train station: Trains arrive at Paris Gare de L'Est train station, and it features a ticket office that operates daily from 6 a.m. to 9 p.m. It also features a lost and found area and storage lockers for travelers who need luggage help. A first-class lounge operates on weekdays from 6 a.m. to 9 p.m. with facilities for first-class and business-class travelers. Travelers can find free Wi-Fi for their entertainment. The station also features a car parking area. The station offers several means of getting from the station to other locations in Paris, including a taxi stand for travelers that prefer private transfers. Alternatively, travelers can take the Metro train to other destinations. The station is wheelchair accessible with accessible water fountains, washrooms, and ticket offices.
Which train companies travel from Stuttgart to Paris
Trains from Stuttgart to Paris are operated by SNCF and Deutsche Bahn. Deutsche Bahn is a German-based railway company that operates services in Germany and Italy, and provides more train rides from Stuttgart to Paris. SNCF is the official operator for French railway travel.
Night trains in Stuttgart
Deutsche Bahn provides sleeper couchettes and seated coach trains for easier night travel. With sleeper trains, travelers can choose between Economy and Deluxe rooms. Sleeper trains provide a washbasin, showers, and toilets. Travelers get snacks and a bottle of water alongside a breakfast of their choice as well. They also get personalized services from the train crew. Couchette cars have four to six beds and are ideal for groups and families traveling together. Travelers get blankets, sheets, and fresh pillows. Couchette cars feature private compartments and women-only sections for women traveling alone.
Deutsche Bahn Trains from Stuttgart to Paris
Deutsche Bahn provides the most trains from Stuttgart to Paris. Their trains operate at an average speed of 200 mph (321 km/h). Deutsche Bahn trains provide 12 daily trains from Stuttgart to Paris, including two with direct services. They also provide one-stop train rides with layovers at Karlsruhe Hbf.
SNCF trains from Stuttgart to Paris
SNCF operates major train routes in France, including the TGV trains. TGV trains operate at an average speed of 186 mph (300 km/h). They operate seven daily and direct trains from Stuttgart to Paris.
Train from Stuttgart to Paris: Services on Board
TGV trains offer first-class and second-class travel. First-class travelers have spacious seats that recline and come with armrests and drop-down tables. Seats can also come with a fixed table with lamps. All first-class seats are fitted with power charging outlets as well. First-class travelers also get at-seat meals, quieter spaces, free daily newspapers, and seat reservations. Trains from Stuttgart to Paris have free Wi-Fi for travelers' entertainment. They have no luggage restrictions, and they come with designated luggage areas like overhead racks, spaces between seats, and at the ends of the car. The train also provides café bars with a wide variety of drinks and meals.
Trains also have restrooms and baby changing facilities. Pets are welcome on board for free, provided they are placed in confined pet carriers. Reduced mobility travelers can find accessibility services on board like low resistance wide entrances, ramps, enabled washrooms, and designated spots for travelers in wheelchairs. Travelers can bring bikes on board free of charge, provided they can fully fold to avoid inconveniencing other travelers. Omio Magazine offers travelers advice on the best travel experience from Stuttgart to Paris.
Trains from Stuttgart to Paris: Sustainability Travel
Compared to all other means of transport, trains are the most sustainable. They only represent two percent of the transport sector emissions. They also have low energy consumption, equivalent to a tenth of the fuel that small cars and aircraft consume. Trains occupy minimal space in the environment, and they provide the most space for individuals on board. Trains also have a longer lifetime and can last 50 years without investing regularly in non-renewable energy and spare parts.
How to find cheaper train tickets from Stuttgart to Paris
Travelers that need cheaper train tickets from Stuttgart to Paris should consider buying tickets in advance. Ticket sellers often release tickets a few months before their scheduled dates. The earlier you buy these tickets, the cheaper they will cost. Also, consider being flexible with your schedule. With a flexible schedule, you can easily land a cheaper train ticket deal instead of a fixed schedule. Trains with stops often have cheaper tickets than trains with direct faster services. If you are not in a hurry to get to Paris, consider getting on a slower train.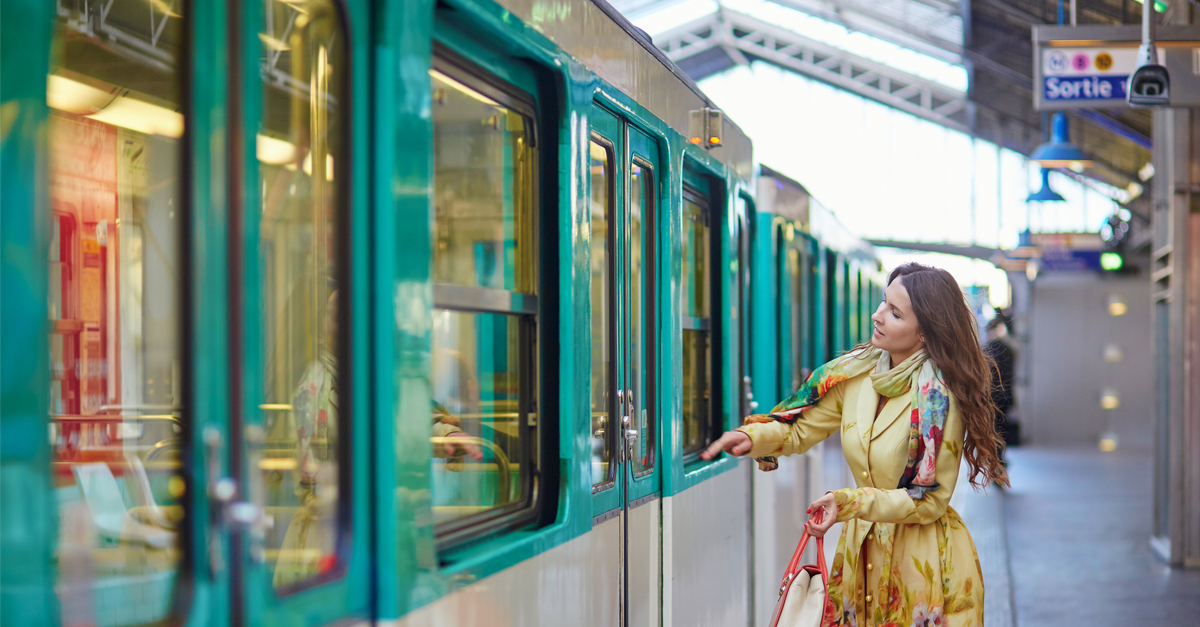 Parisian womain in metro. Source: Shutterstock
To Paris by train – travel tips
Popular for its café terraces of Saint-German Boulevard, Paris sits on the banks of the Seine River. It attracts numerous visitors with its popular Notre-Dame Cathedral. It also houses the Eiffel Tower, making it a popular romantic destination. The Eiffel Tower is an innovative structure with masterful architectural designs. Musee du Louvre is ideal for history lovers and it displays over 35,000 artwork pieces, including antiques and European paintings from the 15th to the 19th century.
Place de Vosges is another ideal destination for history lovers. It is oldest square in Paris was constructed from 1605 to 1612. It features Renaissance architecture with asymmetrical designs and uniform houses of pitched slate roofs, red brick, and stone detailing.Charm and history lovers can visit the Palais Royal: This spot is a hidden getaway at the city's center. It comprises 60 pavilions, a lively garden, and a courtyard. It also offers lush tree shade grounds, the Jardin du Palais-Royal, and contemporary sculpture installations.
Arc de Triomphe
Avenue de Champs-Elysees
Cathedrale Notre Dame de Paris.
Parc de La Villette .
Parc des Buttes-Chaumont