Bus from Bari to Battipaglia
When looking for buses from Bari to Battipaglia you will find that there are roughly six choices on a daily basis. Buses you will find on this journey of 103 miles (166 km) can make the trip in around 4h although there is one bus that requires two transfers along the way that will take around 6h to make the trip.
Bari to Battipaglia Bus Time: Daily Departures
Every day of the week you will find buses to Battipaglia from Bari that begin departing Bari at around 7:30 a.m. After that, the next bus departs at around 12:45 p.m., and then there are a couple of buses just after 4:00 p.m. and two more that depart just after 6:00 p.m. Most of these buses are direct routes that will make the trip in around 4h but the bus departs in the middle of the day will require two transfers during the trip and thus your trip time on that route will be around 6h.
How long is the journey by bus from Bari to Battipaglia?
This journey by bus covers a distance of around 103 miles (166 km) traveling to the west through the south of Italy. Most of the choices for buses that you will find on this route are direct buses that make the trip fairly quickly although there is one bus that requires two transfers along the way that will lengthen your trip time but most of that extra time is due to long transfers.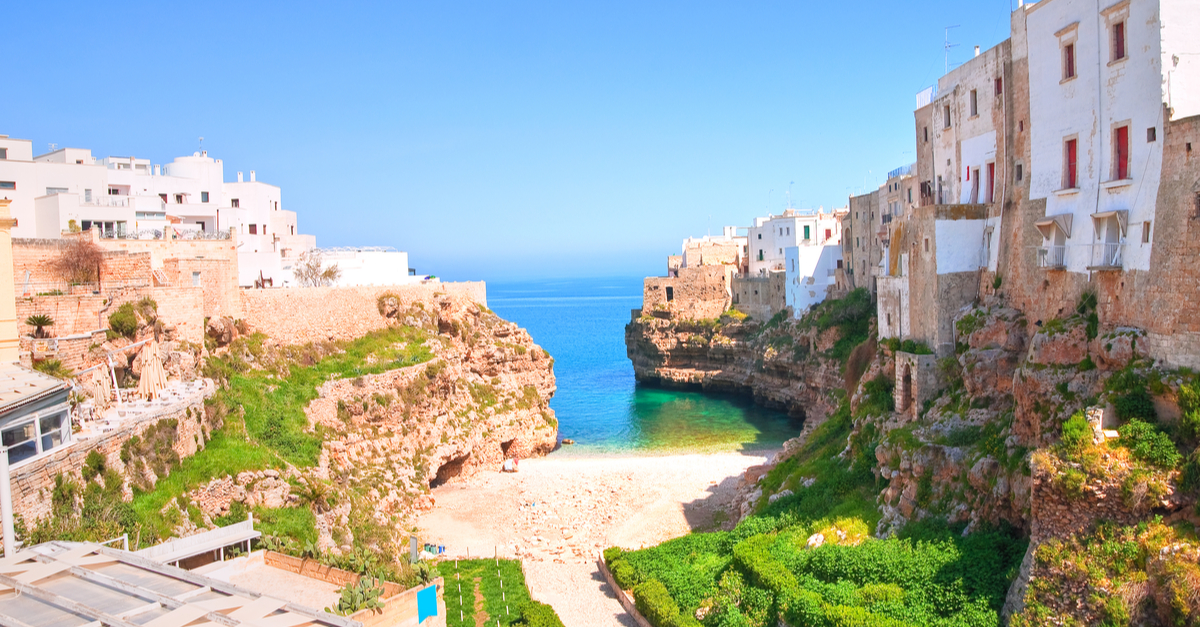 Bari Seaside. Source: Shutterstock
What is/are the departure and arrival stations for bus from Bari to Battipaglia?
Deaprture bus station: Bari Stazione Centrale on Via Guiseppe Capruzzi. This is precisely the type of station that most travelers can find scattered throughout Italy because there are both train and bus routes that make stops at the station. The station has a great location right in the center of the city so your journey to the station from practically any part of the city is not going to be very long. Many visitors to the city often spend their time near the waterfront and to get from that area to the station takes about 10min by car to to travel to 0.8 miles (1.3 km). although there is no public transportation to make this trip, because of the great location of the station there are quite a few places that are an easy walk from the station. Some of the amenities that you will find when you reach the station include things such as public restrooms, a luggage storage area, an information booth, as well as ticket offices and machines. In addition, you will also find plenty of food and beverage options both inside and around the station.
Arrival bus station:Battipaglia, Rotonda di fronte Ospedale. A very nice feature of this station that sits in this small Italian town is that it sits just to the south of the center of the city and in fact, it's only 0.3 miles (0.5 km) from the heart of the town. This is a simple yet convenient station that offers travelers things such as benches to wait for buses, public restrooms, as well as ticket machines. One thing that you will surely not want to miss when you visit the station is to sample some buffalo mozzarella cheese that you will find in plenty of shops right around the station and is a signature food of this town.
Which bus companies travel from Bari to Battipaglia?
Both Bus Miccolis and Trenitalia offer buses on this route. Trenitalia only offers one option on this route the departs at around 12:45 p.m. and this is the longest journey on this route. Because this company also offers a large train network throughout Italy, you'll often find that their buses are a great way to make your way to one of their train offerings. Bus Miccolis has the other five options for buses on this route and all of their buses are direct routes that make the trip in about 4h.
Trenitalia buses from Bari to Battipaglia
This company offers one departure every day that leaves the station in Bari at around 12:45 p.m. This is the only choice on this route that requires transfers and the trip time you will find on this route is roughly 2h longer than all others mostly due to the fact of long transfer times especially in the city of Benevento. While this is the longest of the trips, it is also the only trip that departs in the middle of the day and still arrives early in the evening at the destination.
Bus Miccolis buses from Bari to Battipaglia
Of the six options offered for Bari to Battipaglia buses every day five of them have this company as the provider. One of the best features of their offerings is that all of their buses are direct routes and thus they will make the trip between these two cities in roughly 4h on all these routes. They also offer a wide selection of departure times starting at around 7:30 a.m. and concluding at around 6:20 p.m.
Traveling by bus is a sustainable journey
If you have begun to take a hard look at all of your travel decisions in the hope of being a more environmentally friendly traveler, traveling on routes like this by bus rather than driving yourself is a great first step. When so many travelers make a trip like this in one vehicle as opposed to everybody hopping in their own car making the drive themselves the environmental impact of the trip is substantially reduced.
Bus Bari to Battipaglia: Services on Board
The bus offered by Trenitalia offers one class of seating that they refer to as their second class. Some of the features that travelers will find on their buses include items like onboard restrooms, free Wi_Fi, air conditioning, and power outlets that you will find on the bus to charge your electronic devices. When you travel on one of their buses you can bring a carry_on bag onboard the bus and you can also put two bags underneath the bus and all these bags will generally ride free of charge. Pets can also travel for free on the bus when they travel in an approved pet container. If you have a collapsible bicycle that is roughly the size of any other piece of luggage it can travel under the bus free of charge as well. Bus Miccolis also has one class of seating on their buses yet they still have some great amenities to offer their travelers. This includes features such as onboard restrooms, air conditioning, free Wi_Fi, plenty of spots to charge your electronics, and most of their buses have televisions to keep you entertained during the journey. Just as with the other provider you can generally bring a bike or a pet on board the bus free of charge. Both bus providers make sure that those passengers that have disabilities or limited mobility will have a similar experience to all other passengers. For any reason they cannot they will provide free transportation to a companion traveler to assist any disabled travelers in their journey.
How to find cheap bus tickets from Bari to Battipaglia?
If you are looking for a great way to save some money on your bus journey, one of your best options is to try to book well in advance of the day you are going to take a bus trip. This is an excellent way to try to find specials and discounts afforded passengers on any given route. Don't forget to try and be flexible in the days and times that you travel because when you research different days to make your trip you may find that there are some that are less in demand than others and they will offer fares that can often be quite a bit lower than the high demand days. As a general rule if you are willing to take journeys that take longer to make or require more transfers you can sometimes save money this way as well.You can check out the Omio Magazine to pick up tips on how to travel more efficiently.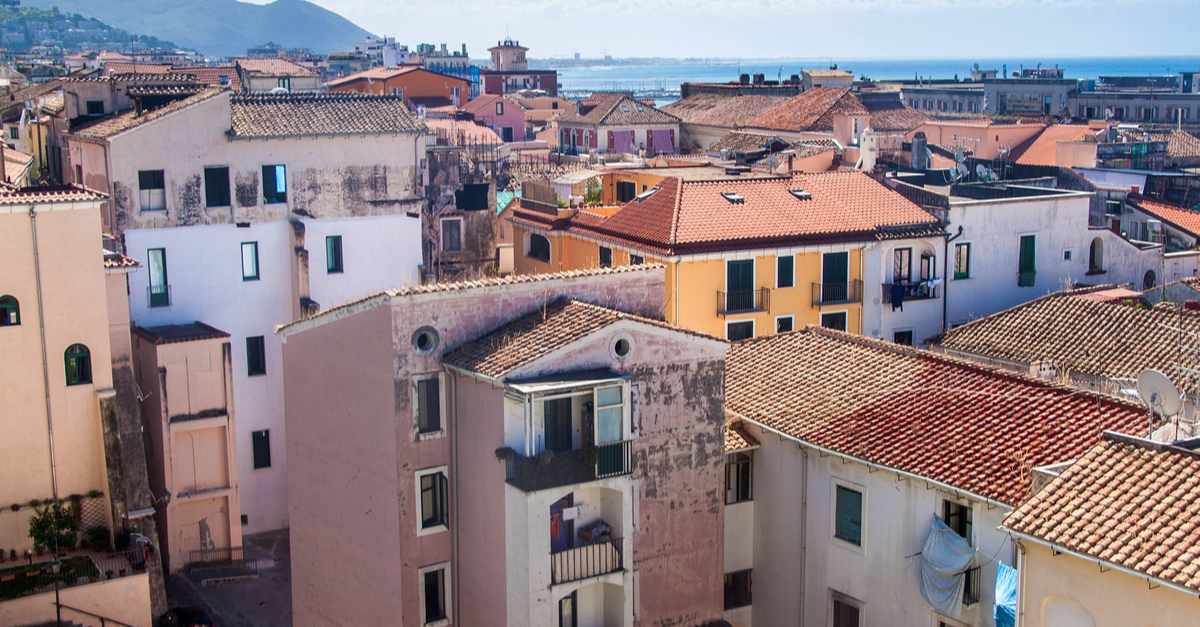 Battipaglia Oldtown. Source: Shutterstock
To Battripaglia by bus—travel tips
This is a very modern city that sits at the crossroads between the Cilento and Salerno Coasts. The city is well known as a place where people come to live in peace and quiet and then commute to work in larger cities such as Naples or Salerno. One of the hallmarks of this town is the amazing choice of cheeses you will find throughout the city and you can easily spend an afternoon sampling all different types of mozzarella while you are here. The city also has a large and bustling shopping center that makes a great place to spend an afternoon browsing some great stores. Some of the spots that you will definitely want to see when you visit the city include:
Il Castelluccio
Aquafarm
National Archeologic Museum
Tusciano
Isola Verdae Acqua Park
Ermice
Salerno War Cemetary