Bus to Frankfurt
Considered to be one of the most popular cities in Europe, Frankfurt is known for being the economic and financial capital of Germany. You will find that there are quite a few bus stations in this city, including Frankfurt Central Station and Frankfurt Airport, which are two of the most popular stops in the region.
As Frankfurt is such a large business and travel hub in both Germany and Europe, there are many domestic and international buses that arrive in this town. Those that would like to book a bus to Frankfurt can choose from a selection of different departure cities, including Berlin, London, and Paris.
Frankfurt
One of the largest cities in Germany, Frankfurt is the economic center of Europe. A truly global city, Frankfurt enjoys visitors from all over the world and as such has a bustling and vibrant cultural life. Perhaps the center of this is Zeil Street in the heart of the city. Arguably one of the most famous and busiest shopping districts in Germany, Zeil is home to top designers, great bars and popular urban restaurants. Recently undergoing a huge redevelopment that saw a number of the roads in the area widened and a great many buildings improved, the area has been given a new lease of life. With a breathtaking new shopping arcade that boasts one of the most exciting, contemporary designs in Europe it really should not be missed.
FlixBus to Frankfurt
When you book a bus to Frankfurt, there is a good chance that your journey will be operated by FlixBus. FlixBus is a German company, and ever since it was created in 2011, it has become one of the largest transport providers not only domestically, but throughout Europe. By working in conjunction with a variety of regional bus providers, FlixBus operates journeys to over 2,500 different destinations throughout the world.
If you will be traveling to Frankfurt via FlixBus, you can expect your coach to arrive at Frankfurt Central Station, otherwise known as Frankfurt am Main, Hauptbahnhof Fernbusse.
National Express to Frankfurt
Those that will be booking Frankfurt buses that depart from the United Kingdom will likely have a journey that is serviced by National Express. National Express is the main bus operator of the United Kingdom and it operates numerous domestic journeys, as well as international trips to major cities throughout Europe.
In addition to buses, National Express also offers trains and trams. Like buses to Frankfurt that are operated by FlixBus, journeys to this city that are provided by National Express will typically arrive at Frankfurt Central Station.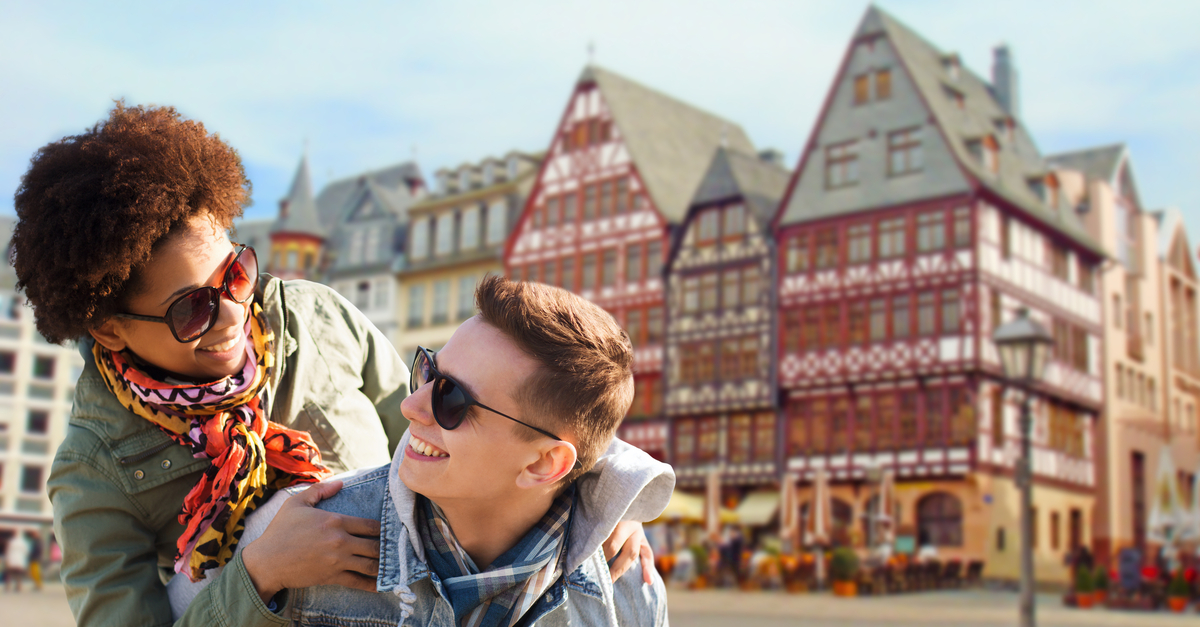 Frankfurt Selfie : Shutterstock
Main bus stations in Frankfurt
Buses that arrive at the destination of Frankfurt generally will do so at Frankfurt Central Station. Frankfurt Central Station is the largest and busiest station in the city, and it can be found approximately 1.9 miles (3 km) southwest of the city center. If you plan on traveling to the city center from Frankfurt Central Station, you can do so by driving, which will normally take you between 5 and 10min depending on what traffic is like at the time.
You can also use public transport, such as bus line IC2023, and this journey will typically last between 15 and 20min on average. This station has a variety of services and amenities that you can access once your bus has arrived. For example, there are public restrooms that are available for passengers, as well as outlets to charge your personal electronic devices, and drinking fountains.
The station has several stores that sell light refreshments and travel essentials in case you are in need of anything once your journey has ended. If you would like to sit and relax after a long day of traveling, there are several seating areas. You can also access free and unlimited Wi-Fi to help keep you connected during your trip.
Onboard facilities Frankfurt
When you travel to Frankfurt with either FlixBus or National Express, you are guaranteed to have access to a few different facilities during your trip. For example, almost all of the buses that are operated by these two companies have their own toilets on board. Depending on the specific bus that will be used for your journey, you may also be able to purchase snacks and drinks during your voyage.
With your ticket, you will have access to a spacious and comfortable seat that has plenty of legroom and reclines. Unless otherwise stated, your bus will be equipped with its own Wi-Fi connection that you can use to keep in touch with loved ones and stay entertained during your travels. FlixBus has its own entertainment system that passengers can access for free, and it's known as FLIXtainment Onboard Entertainment. You can access this by connecting to your bus' Wi-Fi and going to FlixBus' official website.
Once you are connected, you can choose from a variety of free entertainment, including films, television shows, and games. National Express has its own entertainment portal as well, and it's called VUER. Like with FlixBus, once you connect your device to your bus' Wi-Fi, you will be able to access VUER and its content, which includes movies, television shows, and sports content.
Bus tickets to Frankfurt: useful to know
Whether you're traveling with FlixBus or National Express for your bus to Frankfurt, you have a few options for how to present your ticket. You can always choose to print your ticket out directly and present this to your driver during boarding. If you would prefer, you can simply use a digital version of your ticket instead, as both companies allow this.
If you opt for this choice, you will receive your reservation via email and can show the document on your smartphone when boarding. The ticket will have its own barcode that your coach driver will scan. No matter what type of ticket you use, keep in mind that you will be required to show a valid form of identification that matches the name on your ticket in order to board your bus.
Documents like passports and government-issued driver's licenses are accepted as valid identification. Booking buses through Omio is an easy and straightforward process that will take you just minutes. You can even store your tickets directly through your Omio account.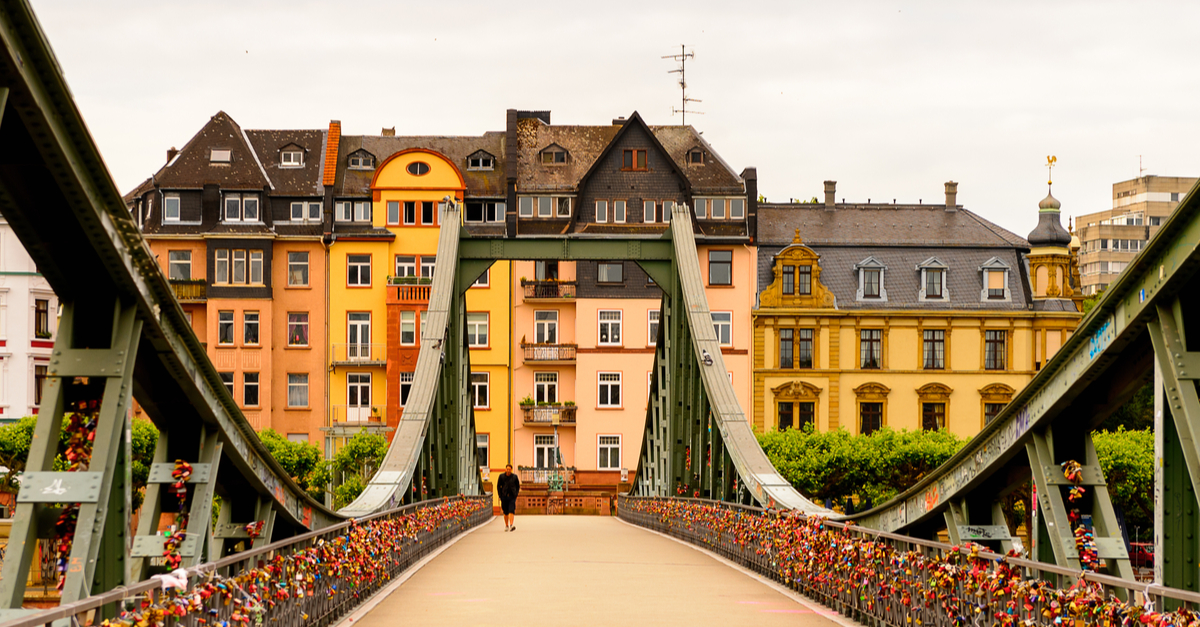 Frankfurt Bridge : Shutterstock
To Frankfurt by bus - travel tips
Visitors head to Frankfurt for a variety of reasons, including to see the city's main attractions and for business. Whether you're enjoying the city's new architecture, going to a famous museum, or shopping, you'll find something to do in the region. Frankfurt has a large public transportation system that makes it easy to travel throughout the city and between its neighborhoods.
The underground system is known as the U-Bahn, and there are also many buses and trams to choose from. No matter where you stay in the city, you'll usually be just next to public transport, but the city center is known for being particularly well-connected.
No matter what your interests are, there's something for you to see and explore during your stay in Frankfurt. Art enthusiasts will want to spend some time at the Städel Museum, which features pieces that date all the way back to the 14th century. Learn more about the region's plants by going to the Palmengarten, a botanical garden that is kept in several large greenhouses.
To see some impressive views of the city and surrounding region, head to the top of the Maintower, a large skyscraper that offers panoramic views. See some of the city's famous architecture and learn more about its history by taking a tour of the Frankfurt Cathedral.
Those that want to do some shopping during their stay in Frankfurt can head to Zeil, a street that is in the city center and lined with a variety of large shops and local boutiques. Spend some time outdoors at the Frankfurt City Forest, which has a diverse selection of walking trails, a visitor center, and several ponds, making it a convenient place to have a picnic and enjoy some fresh air while still being in the city.