Bus from Foggia to Rome
When looking for buses from Foggia to Rome you will find there are five daily departures every day of the week. On average, the journey takes around 4h 45min to cover the 158 miles (259 km) of this trip.
Foggia to Rome Bus Time: Daily Departures
On a daily basis, there are five different departures for Foggia to Rome buses. The first of these buses is a very early departure leaving the station in Foggia just after 1:00 a.m. Beyond that, you will find a couple of departures in the morning hours and then a couple more in the early evening hours. Most all the buses on this route are direct with the exception of the bus that leaves at around 5:00 p.m. that requires a transfer in the city of Candela.
How long is the journey by bus from Foggia to Rome?
This bus trip that travels northwest through Italy is going to cover around 158 miles (259 km) during the journey. The quickest trip that you will find on Foggia to Rome buses is around a 4h 20min ride and the longest is going to take around 5h. Of the five buses that make this trip four are direct routes and only one requires one transfer along the way.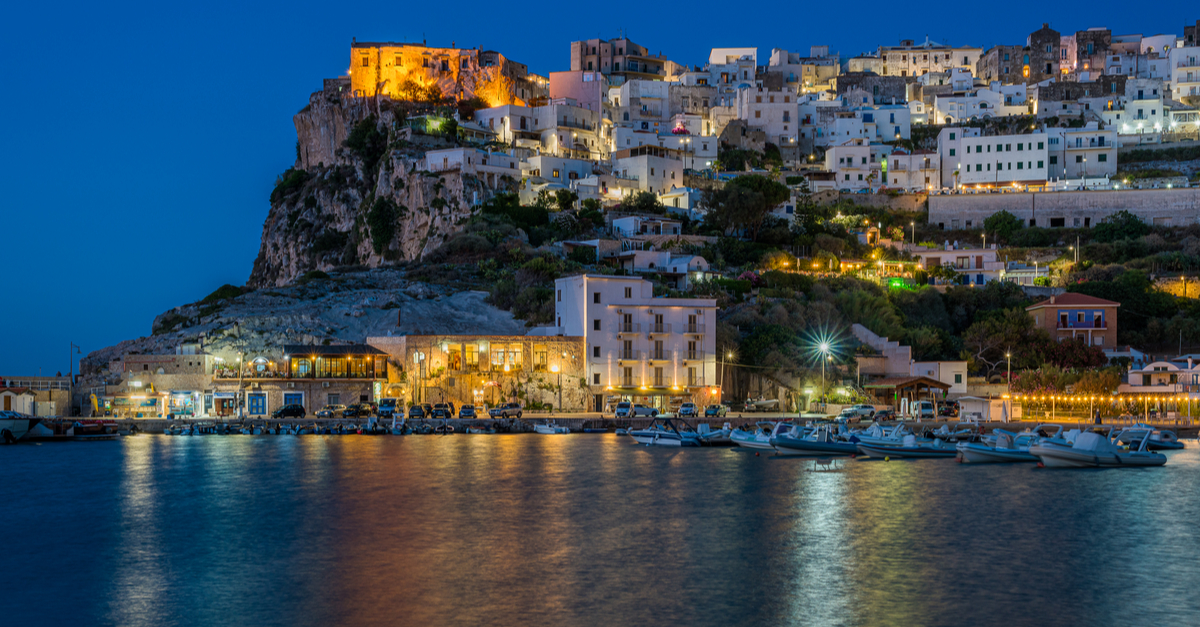 Foggia Marina Night. Source: Shutterstock
What is/are the departure and arrival stations for bus from Foggia to Rome?
Departure bus station: Foggia Nodo Intermodale. The station has a location northeast of the city center. When traveling to the station you will find it around .75 miles (1.2 km) away. No public transportation is available to take you to the station from the center of town but you can take a taxi there in around 2min. Another option is to make the short journey on foot in around 13min. The station itself offers waiting rooms for buses plus it has an information office and a ticket office. In addition, there are restrooms at the station as well as some choices for drinks and food with a location just outside the station.
Departure bus station: Foggia Stazione Ferroviaria. This is the main station in Foggia and houses both bus and train routes. It is important to remember that the Nodo Intermodale has a location adjacent to this station so they are in roughly the same spot. As with that station, no public transportation is available to make the trip to the station. That said there are taxis that can make the trip to the station in around 13min. The station offers things such as ticket machines and counters, restrooms, plus you can find eating choices just outside the entrance of the station.
Arrival bus station: Autostazione Tiburtina. The station's location is in the northeast part of the city and you can to the center of the city from the station by bus in around 20min. Some of the amenities travelers will find upon their arrival on Foggia to Rome buses includes restrooms located conveniently within the station. There is a small cafe here that makes a great place to pick up a quick snack or drink after your journey. With a location adjacent to the train station it makes it a perfect hub for travel to other parts of Italy.
Which bus companies travel from Foggia to Rome?
Two of the largest providers of buses in Italy operate buses on this route and they are Marinobus and Itabus. Marinobus has three departures with one being the late_night bus that leaves at around 1:10 a.m. and they also have a departure at around 10:00 a.m. and one at 5:00 p.m. and that final departure will require a transfer along the route. Itabus has two direct buses every day with the first leaving at around 9:10 a.m. and the second one leaving at around 6:05 p.m. Both of the buses from Itabus are direct buses.
Marinobus buses from Foggia to Rome
Marinobus is going to offer three different Foggia to Rome buses every day including one that serves as an overnight bus that departs at around 1:10 a.m. from Foggia and this is also the quickest trip along this route. Their other buses depart at around 5:00 p.m. and this one is going to require one transfer along the way. Their other bus that departs at around 10:00 a.m. is a direct route.
Itabus buses from Foggia to Rome
Itabus offers two different buses to Rome from Foggia on a daily basis. Their first bus departs the station in Foggia at around 9:10 a.m. and their second bus departs at around 6:05 p.m. Both of their buses are direct routes and each has a travel time of 4h 40min.
Traveling by bus is a sustainable journey
For travelers concerned about the environmental impact of their travels, traveling by bus is a great way to minimize that impact. Having so many passengers in one vehicle making a trip such as this is going to substantially lessen each travelers carbon footprint for the trip. Specifically, on this route, Itabus has a fleet of buses that are some of the most fuel_efficient you will find for buses in Italy.
Bus Foggia to Rome: Services on Board
Marinobus offers one class of seats on their buses. The seats you will find on their buses are comfortable lounge chairs that will make the trip fly by. Passengers can use the Wi_Fi on the bus plus they can bring a personal bag on the bus. Travelers can also bring of up to two extra bags on the trip and all of these bags ride free of charge. Riders can bring a bicycle on the bus in place of one of these pieces of luggage. Pets can ride on these buses at no cost in a pet carrier. Itabus has one class of seating on their buses as well. They offer comfortable, reclining seats that feature a USB port, a light, and an electric socket at every seat. The buses have toilets and free Wi_Fi plus there are vending machines on the bus. You can bring your bike with you for an extra fee and you can bring a pet with you free of charge. Both bus providers offer comparable services for passengers with limited mobility or disabilities. If these passengers need additional assistance each of these providers will provide free transport to a companion to help in travel.
How to find cheap bus tickets from Foggia to Rome?
If you are looking for ways to save money on your bus travel the different options on this route highlight one great way to do just that. As you research the options you'll find for this route you will see the different providers offer different prices for the route plus there can be different prices based on the time of day of departure as well as whether or not there are transfers or not. Another good tip for saving money is to try to book as far in advance of possible of the day you plan on travel. This gives you the best chance to find any possible discounts or specials that might be available for your route. Another good idea is to be flexible in what day that you travel as you will often find there are days that are in less demand that may afford you a cheaper bus ticket.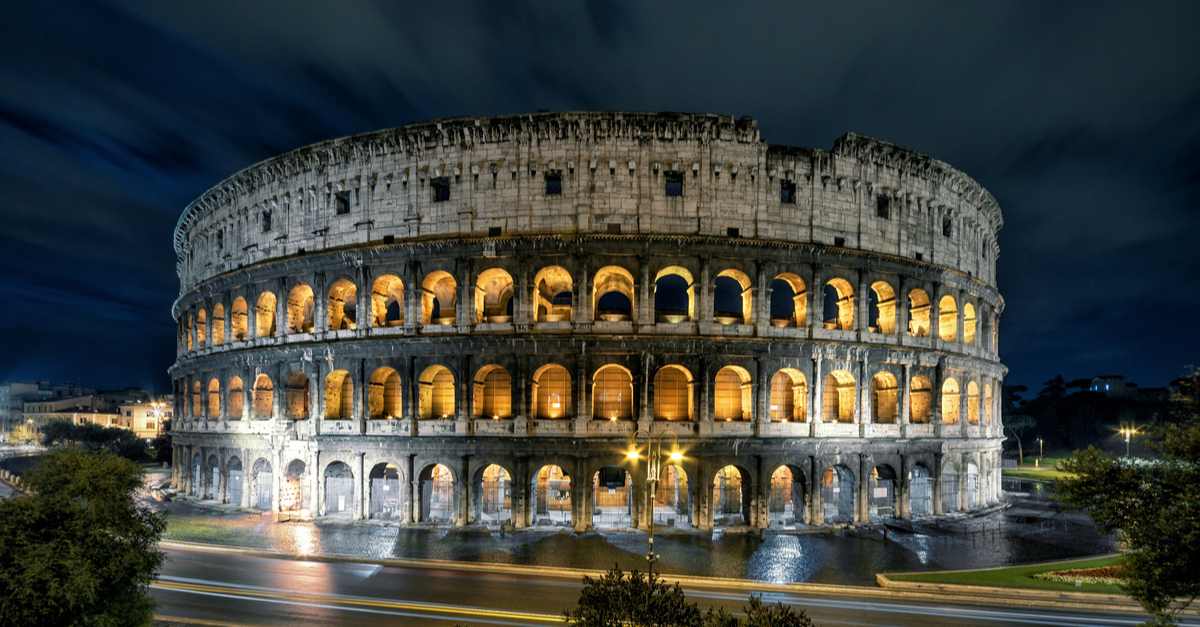 Rome Arena Night. Source: Shutterstock
To Rome by bus—travel tips
Rome is a city with a vibrant history and is an important and influential capital of Europe. Because of this, it is a city that is quite popular with visitors from around the globe. Visitors that come to Rome often feel like this is several cities in one. This is due to the fact that there is the ancient city of Rome which can be seen when you visit the iconic Colosseum as well as several other historic artifacts and amphitheaters found throughout Rome. In addition, there is the grand and modern city of Rome that offers several churches, fountains, and squares, that most visitors know about when thinking of Rome. To top all that off, visitors will find many fashionable and chic restaurants, bars, boutiques, and signature hotels in the city. Some of the places you need to visit when in Rome include:
Trevi Fountain
Roman Forum
Pantheon
Vatican Museums
Sistine Chapel
Piazza Navona
St. Peter's Basilica