Bus from Foggia to Milan
The trip that you will find on buses from Foggia to Milan covers a distance of around 421 miles (679 km) and the trip can take anywhere from 8h 50min to over 12h. There are about five departures every day on this route.
Foggia to Milan Bus Time: Daily Departures
There are just about five departures on a bus to Milan from Foggia every Day of the week. The first Foggia to Milan bus of the day leaves right after 10:00 a.m. and the final bus of the day will be just a little after 11:00 p.m. This trip covers a distance of about 421 miles (679 km) and on average, the trip will take around 10h or so. Mose of the buses are direct although there are a couple that have one transfer along the route.
How long is the journey by bus from Foggia to Milan?
The journey on this bus from Foggia to Milan will cover a distance of about 421 miles (679 km) through the Italian countryside as well as a variety of towns and cities. The buses that require transfers will do so in either Bologna or Lesina. The quickest bus from Foggia to Milan will take around 8h 50min and the slowest of these Foggia to Milan buses takes about 12h 5min.
Foggia Ity View. Source: Shutterstock
What is/are the departure and arrival stations for bus from Foggia to Milan?
Departure bus station: Foggia Nodo Intermodale. The station has a location that is to the northeast of the center of the city and is around .75 miles (1.2 km) away. There's no public transportation available to travel from the center of the city to the station but you can take a taxi there in around 2min and you can walk in around 13min. The station itself provides waiting rooms for buses as well as a ticket office and information office. There are also restrooms on_site as well as a couple of food choices located just outside the station.
Departure bus station: Foggia Stazione Ferroviaria. This is the main train station in Foggia although the Nodo Intermodale sits adjacent to this station so they are in roughly the same spot. As with that station, there is no public transportation to get you here but there is a taxi service that can make the trip. The station boasts things such as restrooms, ticket machines, and ticket counters, and you can find eating options just outside of the station.
Arrival bus station: Autostazione Lampugnano. With a location that is only around 4.7 miles (7.6 km) from the center of Milan, the station offers easy access to the center of the city on local bus routes number 27, 41, and 50, and there are buses about every 10mins that make the journey to the center of Milan throughout the day. Some things that travelers will find at the station include a couple of spots to grab something to eat or drink, a good_sized information board that gives details about bus travel, as well as public restrooms and plenty of seating.
Arrival bus station: Milan San Donato M3 Station. This bus station sits just about 5.7 miles (9.2 km) from the center of the lawn. You can get from the station to the city center on local bus number three that makes the journey in just about 12mins. Of the two stations in Milan, this is the much smaller one and offers simple amenities such as restrooms and seating for passengers. There is also a train service that makes stops at the station so this makes a great place to hop aboard the train after your trip to Milan by bus.
Which bus companies travel from Foggia to Milan?
The three companies that offer a bus from Foggia to Milan are MarinoBus, Itabus, and Ferrovie del Gorgano. MarinoBus offers two buses during the day with the first making stops in both of the stations in Milan and the other route requiring a transfer in Bologna and making stops at both stations in Milan as well. Ferrovie del Gargano operates one bus on this route that has a transfer in Lesina. Itabus has two departures that leave at either around 11:00 a.m. or 11:00 p.m. that offer direct service to the Autostazione Lampugnano in Milan.
MarinoBus buses from Foggia to Milan
This bus company offers some of the quickest trips on buses from Foggia to Milan as both their 9:30 p.m. departure and their 10:05 a.m. departure offer some of the quickest trips to Milan. Both of their trips make a stop first in Milan at the San Donato M3 station before continuing to the Autostazione Lampugnano. At around 9:30 p.m. there is a direct route to Milan whereas there at around 10:05 a.m departure requires one transfer.
Ferrovie del Gargano buses from Foggia to Milan
This provider offers one bus from Foggia to Milan that requires a transfer in the city of Lesina. This bus departs Foggia at around 8:30 p.m. and your travel time on this bus will be around 9h 45min with a very quick transfer in Lesina that is only about 5mins.
Itabus buses from Foggia to Milan
Itabus offers two departures roughly 12h apart every day. Their first bus will depart at around 11:45 a.m. and your travel time on this bus is around 12h 5min with direct service to Milan. Their second bus will depart at around 11:15 p.m. and offers a service to Milan in around 11h with the shorter travel time attributed to the fact that this is an overnight bus.
Traveling by bus is a sustainable journey
For those travelers concerned about the economic footprint they are leaving behind when they travel, taking a trip like this by bus is one of the most sustainable ways to travel. The simple economy of scale offered by bus travel means that several people traveling on one bus will have a much smaller environmental impact than all of those same people traveling on their own between Foggia and Milan. All of the companies that operate buses on this route have similar concerns about their environmental impact and are taking steps to address those concerns. One example of this is the fleet of buses offered by Itabus that operate with diesel engines that are some of the most efficient on the market for this type of vehicle.
Bus Foggia to Milan: Services on Board
MarinoBus offers one class of seating on their buses but even with that all of their seats are very comfortable lounge chairs that make the trip quite pleasurable. Passengers will find free Wi_Fi on the bus and they can bring aboard one carry_on bag plus store two more bags under the bus during their travels. Passengers can bring a bicycle on the bus and store it under the bus as they would any other piece of luggage. Pets can travel on these buses as well but they must be in an approved carrier and ride on the floor next to the passenger. Itabus generally offers two classes of seating yet all of their seating comes in the form of reclining seats that feature a built_in electric socket, light, and USB port. The buses offer free Wi_Fi as well as vending machines and toilets on the bus. When you travel on their buses you can bring a bike on the board for a fee and pets need a ride in a pet carrier inside of the bus. Some of the amenities you will find on Ferrovie del Gargano buses include items such as electric sockets, snack machines, toilets, as well as free Wi_Fi. You can bring your bicycle on board the bus but there is a fee that you pay when you board the bus to do so. There is also a fee to bring pets aboard the bus. All bus providers offer comparable services for passengers with disabilities with limited mobility. If there is a reason that these passengers cannot travel safely alone in a manner that is similar to all of the passengers, each of the providers will provide free transport for a companion to aid in travel.
How to find cheap bus tickets from Foggia to Milan?
A great way to save money on bus travel is the book as far in advance of your travel date as possible. This will allow you to search for any discounts offered by the bus route providers. Another way to save money is to be flexible with the dates and times you travel on once again this will let you search out the best rate for your trip. One final note is to try to stick to buses that are not direct since the more transfers you need to make along the way, the less he will generally pay for your bus route.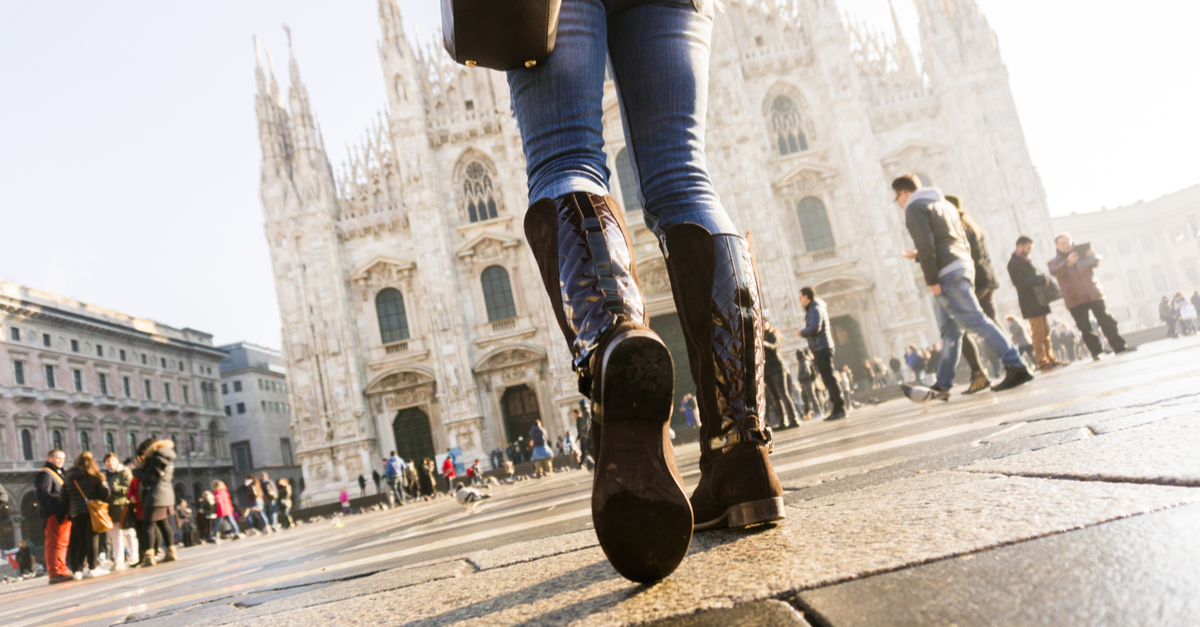 Milano Walking. Source: Shutterstock
To Milan by bus—travel tips
Any regular visitor to Italy will tell you that Milan is a city that you need to visit. This is a city that has a reputation of being quite wealthy and very stylish and offers a great blend of a romantic past with a modern and classic design. There is a virtually endless number of examples of amazing architecture that you will see in the city and the city is home to quite a few very well_known works of art. The food you find in Milan comes from the rich and varied landscape found in and around the city and the city is proud to be the home to several local favorites known the world over. Beyond all of that, Milan has a reputation as one of the fashion capitals of the world. Some things to see and do while you're in Milan include:
Milan Fashion Week
Sforzesco Castle
Galleria Virrorio Emanuele II
Duomo di Milano
Milan Food Week