Trains from Newark to New York
If you are traveling from Newark to New York by train, you will find that Amtrak is the main company operating trains on this route. They offer a variety of trains such as electric trains, diesel, and express trains. Amtrak trains are comfortable for travelers and can get up to speeds of 150 mph (241 km/h). Amtrak provides several trains plying the Newark to New York route with regularly spaced intervals for the whole day. If you are planning to travel from Newark to New York, you should conveniently find a train using the Omio app. The Omio app gives you the freedom to plan your trip to meet your needs best.
Booking the train from Newark to New York
There are several benefits of booking your Newark to New York trip using the Omio app. The most immediate is that Omio allows you to book your trip from the comfort of your home. The app also allows you to see the prices for various trains before booking, allowing you to choose the one that meets your budget. The prices from the Omio app are fair and affordable, especially if you are traveling on a budget.
The app even recommends cheaper options for travelers, which will help you save a few dollars. Using the Omio app, you can book tickets in advance, reducing time spent on booking or chances of unavailability of tickets and other hassles involved in booking trains the old-fashioned way.
Train companies in Newark
Amtrak is the main train company facilitating railway transport between Newark and New York. There are two main departure stations in Newark, Liberty International Airport and Newark, New Jersey - Penn Station. A train departing Newark for New York will complete its journey at New York Penn Station. In the Omio app, you will find cheap trains from Newark Penn Station to New York Penn Station.
Popular routes from Newark
Several Amtrak routes start from Newark, NJ Penn Station to many destinations across the country. The popular routes include the Acela Express, Amtrak Cascades, Carolinian, Crescent, Ethan Allen Express, City of New Orleans, and Missouri River Runner. Acela is the high-speed service by Amtrak that serves the Northeast Corridor (NEC). The train plies between Washington, D.C, through 16 intermediate stops to Boston.
Some notable stops on this route are Philadelphia, Providence, Baltimore, and New York. If you are traveling to the Pacific Northwest region, Washington and Oregon, you will use the Amtrak Cascades trains. The Carolinian takes you to Philadelphia, Baltimore, Alexandria, Washington, and Wilmington. The Missouri River Runner will take you to Kansas City, Warrensburg, Jefferson City, and Washington.
Arriving by train in New York
The trains from Newark to New York will stop at the New York Penn station. The station is just over a mile (1.1 km) away from the city center. New York, the city that never sleeps, has a vibrant nightlife ideal for travelers who wish to party. There are many sights to see, including Times Square, Central Park, the Rockefeller Centre, and The American Museum of Natural History.
For art lovers, you're welcome to the Metropolitan Museum of Art, the Museum of Modern Art, the Guggenheim, and many other galleries in the Lower East Side and Chelsea. You can also sample many of the international cuisines served in thousands of restaurants across the city, and if you love music and theatre, there's Madison Square, Brooklyn's Barclays Center, and the Beacon Theatre.
Amtrak
Amtrak is the National Passenger Railway Corporation endeavoring to offer safe, quality, and on-time passenger service. It boasts over 30 train routes that span throughout the United States as well as covering Canadian provinces. Their services are available in 46 states with over 500 destinations, ranging from cities to small towns and passing through some of the best scenery in the world. Among these destinations are Newark and New York, and by booking through Omio, you can conveniently get an Amtrak train to facilitate your trip.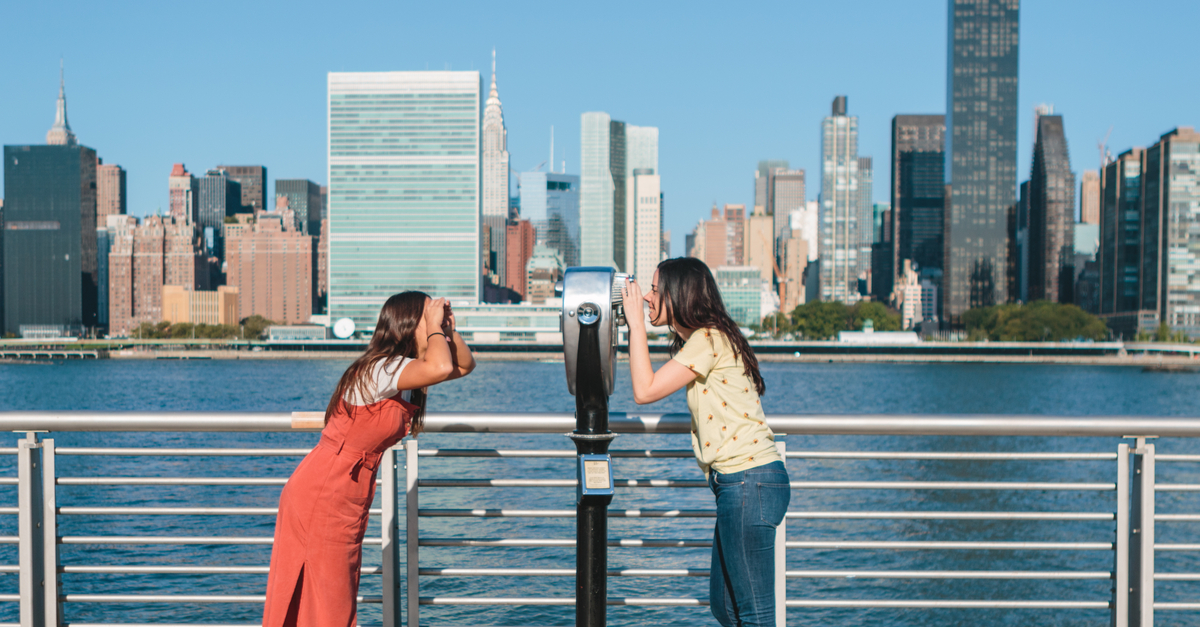 New York Friends. Source: Shutterstock
The main train station in Newark
The main train station in Newark is the Newark Penn Station, which is a hub for commuter trains. It is situated south of the Passaic River and a few minutes from the Newark Business District. The Newark Penn Station has free Wi-Fi for travelers to utilize while at the station. You can also access ATMs and payphones at the station. You can get a quick cup of coffee on the go at the available vending machines. You need to be at the station at least 45min before the departure time if you want to book baggage or need assistance booking a ticket. Alternatively, you can use the Omio app to book tickets wherever you are.
Popular Train journeys from Newark to New York
The Northeast Regional is a popular route serving from Boston to Newport News, Virginia, and is ideal if you want to get around the east coast. It has stops in all major cities. If you want to get from Boston to Washington, Acela will travel the route several times a day. Acela trains that southbound depart every 30min as from around 5:00 a.m. The Keystone route goes from New York to Harrisburg, Pennsylvania.
The major stops for this route are New York, Lancaster, Philadelphia, Newark, and New York City. Vermonter train travels daily and travels between Washington D.C and Vermont. They have one train in each direction daily with major stops in St. Albans, Montpelier, Brattleboro, New Haven, New York City, Newark, Baltimore, and Washington.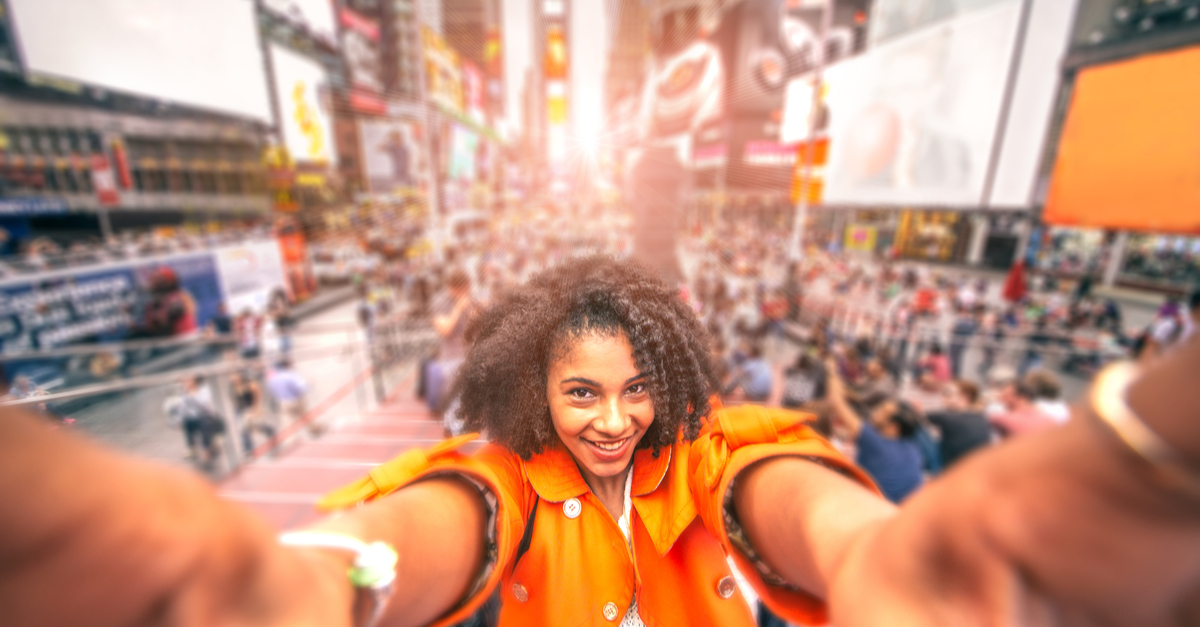 New York Selfie. Source: Shutterstock
Popular train journeys from Newark to other cities in USA
Amtrak also offers several routes to connect Newark to other parts of the country. The popular routes include Newark to Charlotte, Boston, Baltimore, Chicago, and Washington. This trip from Newark to Charlotte will take just over 13h, and the cheapest ticket is around $ 142 on Omio. The journey from Newark to Boston will take just around five hours, and you can find a cheap one-way ticket on Omio at around $ 106.
It will take you 4h and 30min to get from Newark to Washington at the cheapest ticket is around $ 61. A train trip from Newark to Chicago will last about 22h, and the tickets start from around $111. You will need just over 2h to get from Newark to Baltimore, and tickets are sold for around $67.
Good to know
Booking your Newark to New York train tickets in advance makes the cost considerably cheaper. For the best trips, be on the lookout for ticket sales a few months before your trip. Additionally, Amtrak Trains allow you to bring your bicycle on board. If you plan well, you will not experience challenges moving from the New York Penn Station when you arrive in New York. You can also bring your furry friend on board so long as it is in its carrier.
To New York by train - Travel tips
New York, or the big apple, is among the biggest cities in the United States. It is known for its diversity of cultures and its dynamic nature. It is also famed for having some of the best food cuisines from around the world. Make a point of sampling foods from all over the world while in New York. New York is also filled with iconic landmarks easily recognizable to visitors. Among all the landmarks, the Statue of Liberty is considered the number one tourist attraction in New York.
Some of the other notable landmarks you should not miss while in this city include Broadway, Little Italy and Chinatown, Brooklyn Bridge, and observation decks like Top of The Rock, High Line Observation Deck, and Empire State Building. You can also catch amazing views of the city from these decks. The towering New York skyscrapers are another sight that most people love to see. New York is made up of 5 boroughs: The Bronx, Manhattan, Queens, Brooklyn, and Staten Island, and you should consider visiting each for a taste of this city's diversity. When most people think of New York, they think Manhattan.
However, this city has so much more to offer. For instance, the Bronx is where the New York Botanical Garden and The Bronx Zoo are, both of which offer great sights and fun activities. And for those who love the night, New York has an array of some of the wildest dance clubs you will ever set foot in. All in all, there is something for everyone in this great metropolis, and booking a train ride from Newark to New York today on the Omio app is the smartest thing you can do.