Trains in Newark, NJ to Trenton
Trenton has been the capital city of New Jersey since 1790. Traveling from Newark, NJ to Trenton, NJ by train is adventurous because you can enjoy seeing amazing sceneries such as the breathtaking nature of the Delaware River. This distance of 47 miles (76 km) between the two cities is more reliable and convenient when using the Amtrak train service. Amtrak offers various services, including Keystone, Acela, Palmetto, and Pennsylvanian. The quickest train takes 29min while the slowest takes 45min to arrive at Trenton Transit Station. Amtrak is the primary train operator along this route and has well-scheduled departures that ensure you reach your destination on time.
Booking Your Train Ticket with Omio for Newark to Trenton
With Omio, traveling to Trenton from Newark has never been easy. Our team understands that making travel plans can be quite a hassle as you often have to compare a wide range of train tickets and the best routes. That is why we provide a reliable and hassle-free way to book your train ticket. We work in partnership with reputable train service companies to ensure you have a smooth trip from Newark to Trenton. From live updates to mobile tickets, the Omio app is the best deal when it comes to planning and keeping track of your train travel. We also walk the extra yard to make your travel the best with offers that are not easy to come by.
Train Companies in Newark to Trenton
Three train operators are servicing the Newark to Trento route. You can use Omio to help you identify the best train company to travel with. Out of the three companies, Amtrak offers the most reliable train transportation between the two cities. You can choose from the 35 trains departing from Newark to Trenton daily. Amtrak trains have an excellent reputation for giving passengers the best experience. They have wide seats, big windows, adequate storage capabilities, and plug-in power. You can contact Omio at least seven days before your travel date so we can help you book your train ticket on time.
Popular International Routes by Train with Omio
Omio simplifies the travel planning process so that you can save time and money. Besides the Newark to Trenton route, we also serve a wide range of international routes to suit all your needs. Whether you are planning a quick visit to the European capitals, a summer trip to Italy, or extend your vacation in New York City to include a trip to Boston, we got you covered. One of our most popular international routes is London to Brussels. We also serve the Rennes to Paris and Paris to London routes. Our experts have worked out each of the complicated bits, which means you have the time to plan the best part of your journey.
When Arriving by Train in Trenton from Newark
Once you arrive in Trenton from Newark, you shouldn't expect much of a difference in weather and culture since both cities are within the same state. The two cities experience almost the same weather conditions throughout the year. Residents in Trenton have a passion for pork rolls. They fancy the classic breakfast food so much that they host a Pork Roll Festival annually. Arriving by train in Trenton from Newark also allows you to experience the city's diversity. Trenton's population is very diverse, with 50% being African American, 35% Hispanic, and 36% Caucasian. This makes Trenton a city with a lot of cultures and great food from all over the world.
Train Provider in Newark to Trenton
There is a lot to see in Trenton, and traveling by train is ideal for getting to the city from Newark. Amtrak is the primary operator along this route. Amtrak North East Corridor offers eleven services, including Acela Express operating from Penn Station. The Cardinal Amtrak route traveling between New York and Chicago has beautiful scenery within the eastern USA, with incredible views of rivers, mountains, farmland, valleys, and rolling hills. The train follows several popular international train routes, including Acela, Adirondack, Amtrak Cascades, and Auto Train. The Amtrak Cascades route goes from Vancouver – Seattle – Portland – Eugene, while the Acela route goes from Boston – New York City – Washington, DC.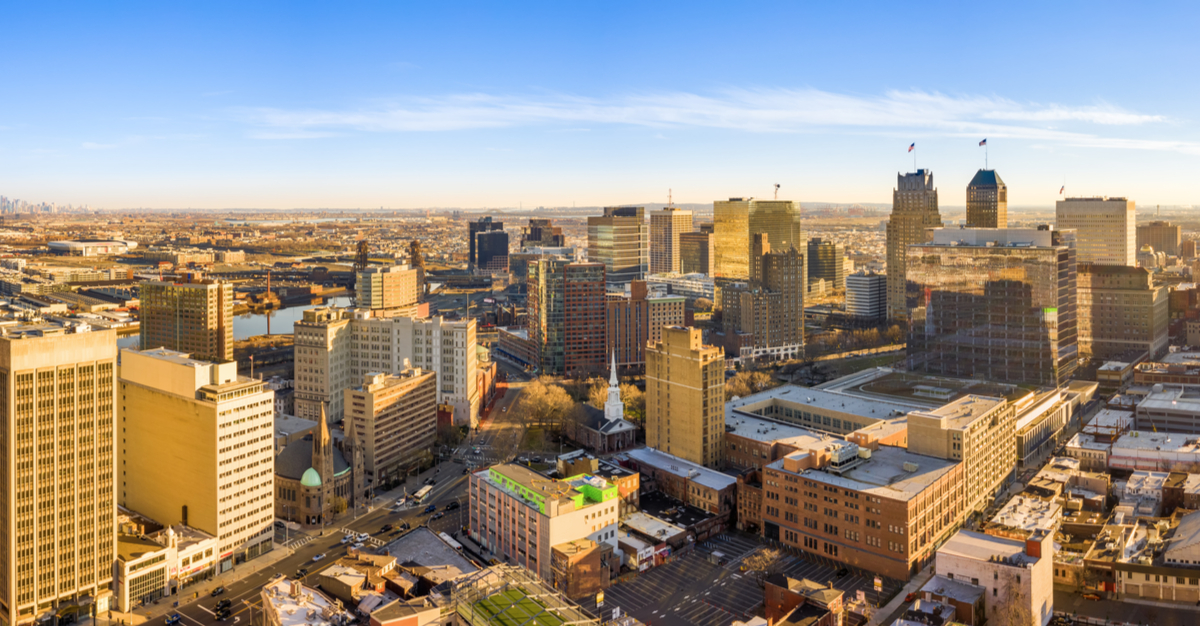 Newark Aerial. Source: Shutterstock
Main Train Stations in Newark to Trenton
New Jersey is home to six Amtrak train stations. When traveling from Newark to Trenton, you can expect to depart from Penn Station and arrive at Trenton Transit Center as your final destination. In Penn Station, you have easy access to amenities such as ticket sales offices, ATMs, and kiosks. The station is also wheelchair accessible and provides same-day parking. Trenton Transit Center is the main Trenton train station located at the southernmost stop in New Jersey. The train station offers you a host of services, including ticket machines, ticket services, and a wide range of dining options. The station now features a new office, retail space, air conditioning, escalator, and new lighting with the recent renovations.
Popular Journey in Newark to Trenton
With Omio, you can travel from Newark to other cities within the United States. Some of the popular destinations include New York City, Washington, DC, Buffalo, NY, Harrisburg, PA, Boston, New Haven, and more. Traveling by train from Newark, NJ, to New York City takes 24min, and the train ticket is $14. From Newark, NJ to Washington, DC by train is 3h 12min, and the price is $39. Traveling from Newark, NJ to Buffalo, NY takes 11h 43min, and the train ticket price is $84. Moving from Newark, NJ to Harrisburg, PA is 3h 17min, and the price is $58 while from Newark, NJ to Boston takes 5h 27min and the train price ticket is $39.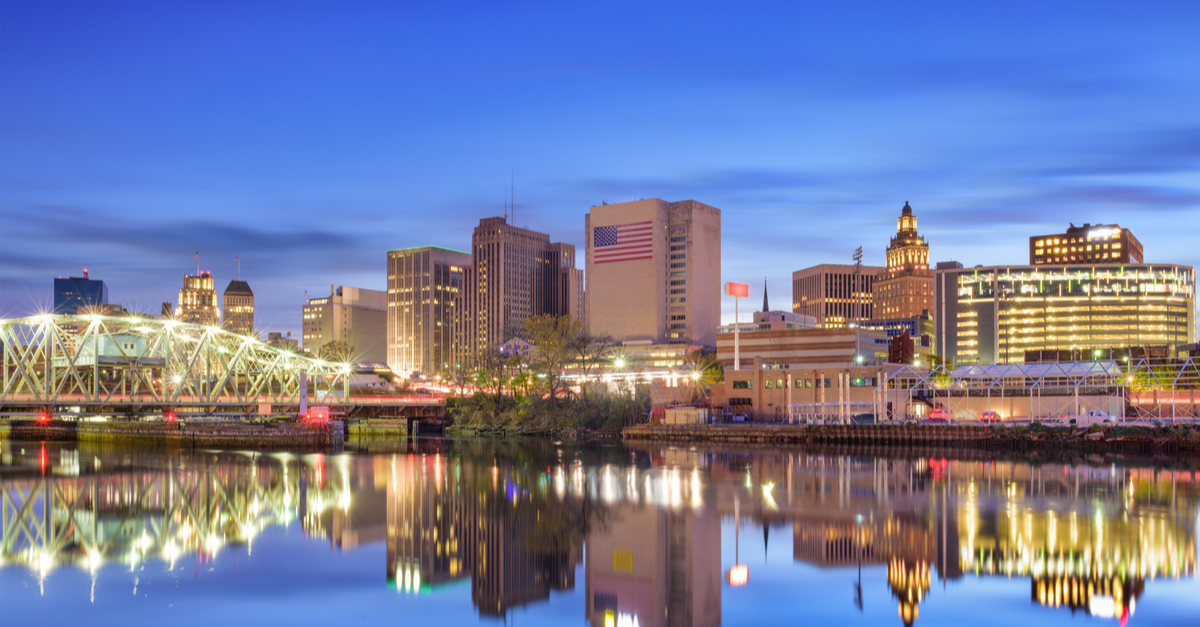 Newark Night Lights. Source: Shutterstock
Popular Train Routes from Newark to Trenton
Amtrak has more than 30 train routes across the United States and some in Canada. Amtrak travels to more than 500 destinations, giving you the excellent views that North America has to offer. Whether you are visiting big cities, smaller towns, or places you can only see by rail, Amtrak got you covered. One popular international route is London-Paris.
Good to Know
The train journey from Newark to Trenton can be less than an hour. Amtrak is the only national passenger train operating the journey between these cities. The company offers reliable transport and provides a relaxing and enjoyable journey where you don't have to worry about rush hour traffic. You should note that the company has different departure times, the train used, the train service route, and travel time between the two cities.
To Trenton by Train - Travel Tips
Trenton is a top-rated historic city that boasts of its older days and has an optimistic future. When in the city, you can visit the culmination of the notable American Revolution after George Washington's troops defeated England's army. This history is at the popular Battle Monument and the well-known Trentoniana Room within the City's public library. This city is also famous for art, archeology, and ethnography. There's a collection of over 12,000 works of fine art that you can always enjoy seeing whenever you visit this city. this art can help you understand the history of this city better.
Something else notable about Trenton is the wide range of eateries downtown and the Chambersburg that features food from Latin America. You can add that to Trenton's love for the Pork Roll, which climaxes in the significant Pork Roll Fiesta. In Trenton, NJ, you can never be bored because there are lots of things to do. You can have fun by having a cyber boat tour, participating in the Adventurous scavenger hunt game, and enjoying attractions such as SEA LIFE New Jersey at American Dream.
Other unique places include looking at the Pennsylvania bridge or have a fun night at several bars and clubs such as Tir na nOg and Championship Bar & Music Club. You can watch Hockey from professional teams such as Trenton Devils and Trenton Titans if you are a sports fan. Other professional sports teams that can keep you entertained are Princeton Italian-American Sportsman Club and Universal Fight League.