Trains from New Haven to New York
Trains from New Haven to New York are a fast and efficient way of traveling the two cities. Travelers won't have to worry about traffic or commuting from the station to the city center. A train ride gets you to the heart of New York, where you can easily go bout your activities. New York lies about 78 miles (125 km) from New Haven. The average train journey takes 2h 45min, and Amtrak operates train services. There are direct trains and connecting trains on this route.
New Haven to New York Train time: Daily departure
Daily, there are about 21trains that run from New Haven to New York. This leaves over a hundred train ride options for travelers to choose from weekly. The earliest daily train departs New Haven at 12:50 a.m. and arrives in New York, taking a total of 1h 44min. The last daily train departs New Haven at 9:06 p.m. and arrives at New York on 10:52 p.m. Weekends and holidays typically have more train rides than average days. Schedules may also vary on weeds and busier days.
How long is the journey by train from New Haven to New York?
On average, trains from New Haven to New York take 2h 45min. Direct trains are faster, and the fastest direct train takes 1h 38min. The slowest trains take up to 2h 45min with various stops along the route.
What are the departure and arrival stations for trains from New Haven to New York?
Departure train station: The departure train station for trains from New Haven to New York is the New Haven Connecticut Union Station. It lies on 50 Union Avenue. The station is an easy walk from the New Haven city center. Bus line 271 provides public transportation to the station. Amtrak, Metro-North, and Shore Line East stations have stops near the train station for travelers to get from their locations to the facility. New Haven Union Station features a waiting room, ATMs, Quik-Trak shops, payphones, ticket sale offices, and vending machines. Travelers that require luggage assistance can find shipping boxes, bike boxes, and ski bags for sale. The station also provides checked baggage services.
The station operates daily from 12:00 a.m. to 1:00 a.m. and 4:00 a.m to 11:59 p.m. The station caters to disabled passengers with TTY phones, accessible platforms, restrooms, water fountains, ticket office, waiting rooms, high platforms, and a courtesy wheelchair. If you drive to the station, you can fund long-term and short-term parking options. There is also a designated parking spot for reduced mobility passengers.
Arrival train station: Trains arrive at the New York Pennsylvania Station that lies at 351 West 31st Street. The station operates daily from 5:00 a.m. to 11:59 p.m. It features a waiting room and the Metropolitan Lounge for first-class and business class passengers. Other amenities at the station include Payphones, Quik- Trak shops, vending machines, ticket sales offices, and restrooms. There are also ATMs and Wi-Fi all over the facility for travelers' entertainment. If you need help with your luggage the station provides Bike boxes, shipping boxes and luggage assistance. There are also checked luggage services and storage facilities at the station. If you drive to the station, you will find long-term and short term parking options. The station caters for disabled passengers with TTY phones, wheelchair enabled platforms, restrooms, waiting rooms and tickets sales offices, there is a courtesy wheel chair and accessible water fountains in the station.
The station also provides a designated parking spot at the parking lot for reduced mobility passengers. The station is an easy walk to the city center but if you need to get to other areas of New York Amtrak, New Jersey Transit (NJT) and Long Island Railroad (LIRR) provide rain services. The station is also served by subway lines A, C, E, 1, 2 and 3.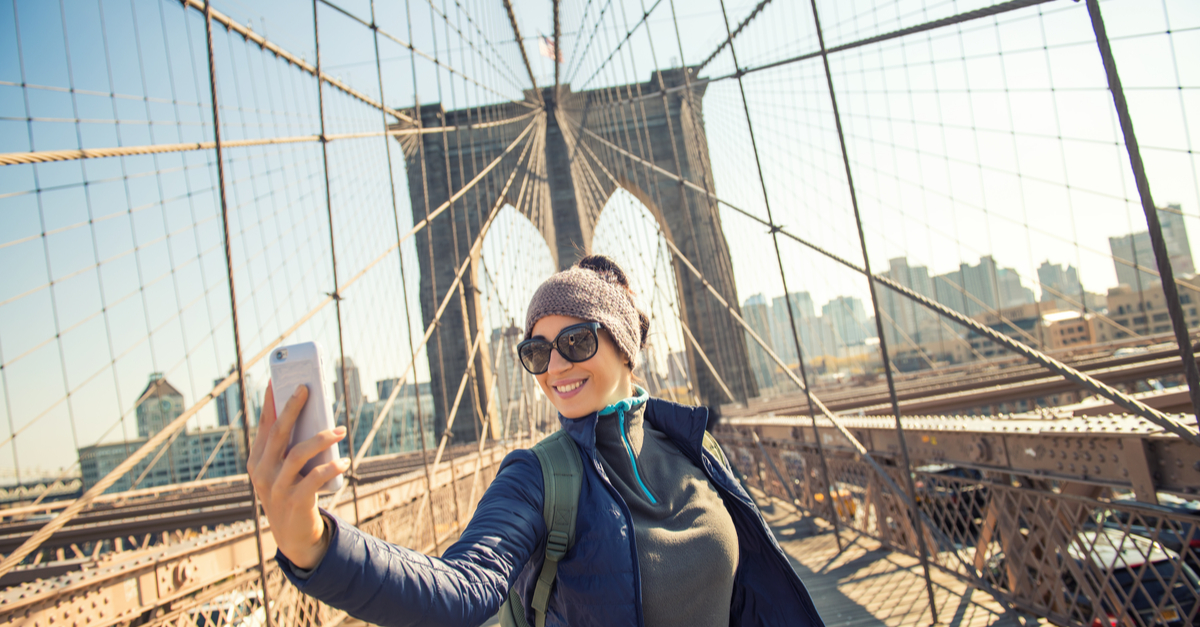 New York Brooklyn Bridge Tourist Selfie. Source: Shutterstock
Which train companies travel from New Haven to New York
The main provider for trains from New Haven to New York is Amtrak. Amtrak is the national railroad carrier for major train routes in the U.S. There are high speed train, regional trains and Intercity trains. Amtrak operates over 300 daily trains to more than 500 destinations in the county.
Amtrak Trains from New Haven to New York
Amtrak provides three types trains from New Haven to New York including Amtrak, Amtrak Acela, Amtrak Northeast Regional and Amtrak Vermonter. The Northeast Regional trains provide 10 daily trips and operate at 110 mph (177km/h). Amtrak Acela provides 5 daily trips from New Haven to New York and they operate at speed of 82mph (135km/h). Amtrak Vermonter provides one daily trip at a speed of 125mph (210km/h).
Train from New Haven to New York services on board
Amtrak provides several types of trains from New Haven to New York. First class seating is only available on Acela trains. Acela first class travelers get spacious one by two seating, conference tables with tow o four seating arrangements. All seats on first class trains have adjustable headrests, foot rests, lumbar support and AC outlets for you to charge your devices. They also get lounge access and at-seat mal services served by attendants. Other Amtrak trains only provide business class on board. Business class travelers get free drinks, separate seating areas, priority boarding and lounge access.
All trains have a luggage policy that limits each passenger to get two personal and two carry-on items. Personal items have to be under 25 lbs (12 kg) and measure less than 14 *11*7 inches. Carry-on bags have to be under 50 lbs (25 kg) and less than 28*22*11 inches,. Passengers a limited to four checked luggage with two pieces for free and two at a charge. Travelers can bring pets, small dogs and cats under 20 lbs (9 kg) combined with the weight of the carrier. They have to be fit in carriers to be stored under passengers' seats. Pets must be at least eight weeks old to travel.
You can also bring your bicycle on board. Each train has different bike storage services but ensures you store your bike in bike boxes to avoid damage. Amtrak trains have boarding devices like ramps and wheelchairs for customers in wheelchairs. They also provide wheelchair-enabled washrooms on bard and seats near washrooms for easy access. There are TTY phones and wider entrances for reduced mobility customers.
How to find cheaper train tickets from New Haven to New York
Travelers seeking cheaper train tickets from New Haven to New York can consider booking in advance. Ticket selling platforms normally release tickets a few weeks before the journey dates. The earlier you buy the ticket, the cheaper it's likely to cost. Flexibility is key when it comes to finding cheaper train tickets. If you are flexible with the travel dates, you can land cheaper train tickets instead of fixed schedules.
When finding cheaper train tickets, consider getting on trains with connecting services. Trains with stops often have cheaper train tickets than direct trains. So if you are not in a hurry to get to New York, consider getting journeys with stops. Keep an eye out for ticket selling platforms with discounts and promotion periods to land a cheaper deal. Also, Amtrak provides discounts for elderlies, students, and disabled passengers. If you fit in this category, you can land cheaper train tickets from New Haven to New York.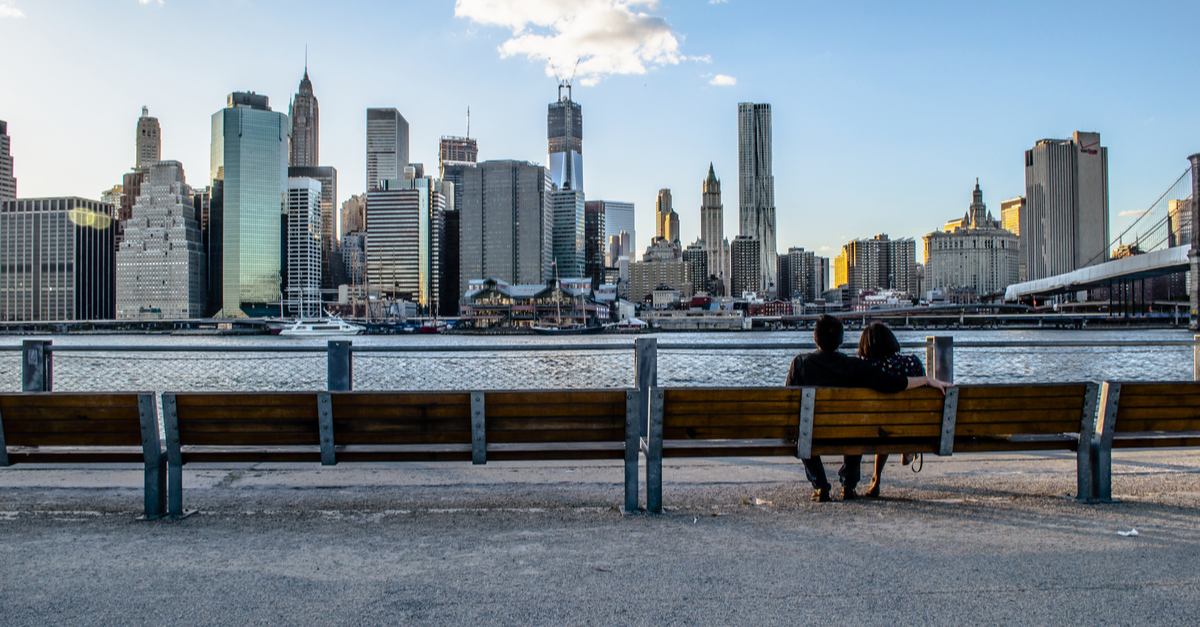 New York Couple Cityscape Bench. Source: Shutterstock
To New York by train – travel tips
New York is one of the greatest cities in the world. It boasts several Broadway shows, world-renowned attractions, a bustling art scene, and vibrant food concessions. This makes it an ideal destination for all travelers. During your visit to New York, be sure to visit the Statue of Liberty, America's most iconic sight. It features great views of Battery Park and Liberty Island. It also features the Ellis Island and the Immigration Museum. Families can enjoy boat rides, educational tours, and souvenir shopping at the attraction.
Nature lovers are spoilt for choices when it comes to natural attractions. Central Park is ideal for walks, runs, and picnics. It also provides a skating rink for its visitors. It also features the Central Park Zoo, Belvedere Castle, a lake, and strawberry fields. The high line is another ordeal destination for nature lovers, and it features a wide variety of plant and tree species. The park also features several art installations and a sitting area. Art lovers will love a visit to the Metropolitan Museum of Art that showcases several artworks spanning a period of 500 years. Its Met Fifth Avenue features collections of American decorative arts, costumes, Egyptian arts, and musical instruments. Broadway and the Theater District is another Ideal destination for art lovers as it encompasses theatre venues. You can catch a movie, a show, a live performance, or speeches at the facility.
The 9/11 memorial and museum provide the largest artificial waterfalls, polls, and bronze panels. Thrill-seekers can visit Brooklyn Bridge which provides views of Manhattan and the East River. Be sure to visit Empire State Building that provides great city views.
New York boasts competitive and diverse restaurants with dishes from all over the world. Mercado Little Spain is popular for its Spanish dishes like churros, Jamon, and paella. Teranga restaurant provides hearty African meals while Upland provides tasty Californian cuisine.