Trains to Chicago
Traveling to Chicago by train is fast and easy, thanks to the numerous infrastructure in place to facilitate this. Chicago has only one train station, the iconic Chicago Union Station, and it serves all trains coming into Chicago from various US cities. Chicago Union Station is located at 225 S Canal Street and is one of the most beautiful train stations in the US. The station has recently undergone some renovations, and there's a new ceiling in the Great Hall; the western façade has been repaired, and the restoration of Burlington Room is complete.
The station is a major transfer point for passenger trains, with many Amtrak trains arriving and departing from Union Station. You can get direct trains to major cities in the US from Chicago, with some of the most popular routes being New York, Baltimore, Washington DC, Los Angeles, Indianapolis, Portland, Philadelphia, New Orleans, St. Louis, Denver, and Seattle. Booking any train to or from Chicago Union Station using the Omio app is fast, easy, and convenient.
Amtrak trains to Chicago
Amtrak is the only train provider offering trains to Chicago Union Station. Amtrak trains to Chicago are famed for their comfortable travel conditions and many amenities offered onboard. Several regional and long-distance Amtrak trains operate through Chicago, heading to various cities across the US. The California Zephyr is the first, and it heads west from Chicago, cutting through the scenic Rocky Mountains and the Sierra Nevada headed to California.
The Capitol Limited is the other Amtrak train offering services between Washington DC and Chicago, passing through the Allegheny Mountains. The Cardinal also serves the east coast, going from New York to Chicago and through Washington DC three times a week. It is one of the most scenic routes, cutting through farmland, hills, valleys, rivers, and mountains. And if you're looking for a within-state train, the Carl Sandburg offers daily trips between Chicago and Quincy, IL.
The Empire Builder is another famous Amtrak route that departs from Chicago, heading to Seattle and Portland. This route takes you through bustling cities, Rocky Mountains, Great Plains, and much more. Anyone heading southwest will want to get on either the Southwest Chief or the Texas Eagle. The latter is the longest route in the US, connecting Chicago to Los Angeles and passing through the great state of Texas.
Main train stations in Chicago
Chicago Union Station is the main train station in Chicago, handling all arrivals and departures from Chicago. Union Station is just under a mile (1.1 km) from downtown Chicago, and you can easily get downtown using taxis, CTA buses, or commuter trains. The train station has just been recently renovated and now boasts of being one of the most beautiful train stations in the country. The newly renovated Union Station has a new ceiling in the Great Hall, the western façade has been renovated, and the Burlington Room is now fully restored. There's free Wi-Fi at the station, and a food court and retail stores are available on the mezzanine level.
Payphones, QuickTrak kiosks, elevators, vending machines, and a premium onsite lounge are also available at Union Station, Chicago. Checked baggage services and luggage storage are offered at the station, and you'll also find bike boxes, shipping boxes, and ski bags for sale. The station has also provided baggage carts, and the Red Caps are also present if you need baggage assistance. Union Station is wheelchair accessible, including the restrooms, ticket offices, platform, waiting room, water fountain, and payphones, and there's also a wheelchair lift provided. Another useful tip you should know is even-numbered tracks are on the south concourse while odd-numbered tracks are in the north concourse.
Also, you'll find the elevators at the Canal Street entrances at street level, but the tracks are much closer to the main entrance of Union Station.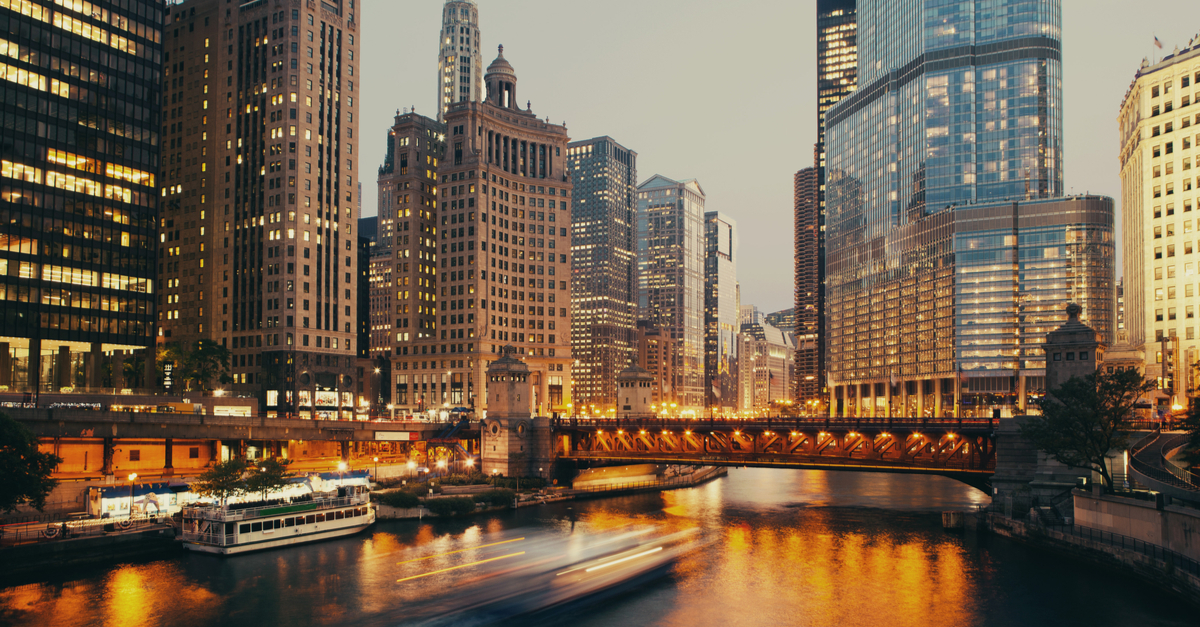 Chicago River Night. Source: Shutterstock
Onboard facilities: Trains to Chicago
Many trains pass through this city, and each train offers unique services on board, and here is what to expect if you're on any train to Chicago. Onboard trains to Chicago, you should expect large comfortable seats with a reclining feature, whether you're on coach, business, or first class. Each seat comes with an individual reading light, a power outlet, and a fold-down tray. All Amtrak trains to Chicago offer free Wi-Fi on board to keep you connected and entertained throughout your journey.
Moreover, most trains have a viewer car where you can enjoy the sights and sounds along the way. On the longer trips, various accommodations are offered, including roomettes, bedrooms, bedroom suites, family rooms, and accessible bedrooms. Luggage racks are also provided on the trains and bike racks for those traveling with their bicycles.
However, if you'll be having your bicycle, ensure you make a reservation before your trip since there's limited space. Meals and drinks are offered onboard, but those traveling in coach have to pay for their meals. First and business class passengers get complimentary snacks and drinks on most trips, and you'll find a market-style café onboard most Amtrak trains to Chicago. Pets below 20 pounds are welcome on most trains, and so are service and guide dogs. Trains to Chicago are wheelchair accessible, with reserved seats and accessible restrooms available onboard.
Train tickets to Chicago: Useful to know
You can book your Chicago train ticket using the Omio app, and it is fast and easy. Moreover, with the Omio app, you can store all your tickets in one account on your device. You can use either electronic or printed tickets on your train to Chicago. Ensure that you have your ticket with you since ticket checks are periodically completed on trains to Chicago.
If you book your ticket using the Omio app, you'll have it with you at all times, and it saves you from the hassle of printing it. All adult passengers and unaccompanied minors should have a government-issued photo ID when on a train to Chicago. Some valid forms of ID include passports, driver's licenses, or military IDs. The name on the ticket must match that on the ID, and in case you don't have a photo government-issued ID with you, you can use a secondary form of photo ID, but it must be alongside a government-issued document bearing your name. Use the Omio app to book your Chicago train ticket. It is fast and easy, and you can store all your tickets in one account.
To Chicago by train – Travel tips
You will have no trouble getting around Chicago, thanks to the extensive public transportation system in place. You'll have many options to choose from, including taxis, water taxis, private limos, bikes, trains, buses, and several others. The cheapest option is the "L" train operated by the Chicago Transit Authority (CTA). The CTA L train operates around 145 train stations and will easily connect you to downtown Chicago, Northside and Southside. The trains operate 24h a day, and the Blue Line will get you to O'Hare International Airport.
CTA also operates the 129 bus routes of Chicago, with services ending at around 2:00 a.m. and resuming shortly after, at 4:00 a.m. The high-speed Metra rail connects the suburbs to downtown Chicago and is a fast and easy way of getting to the city center. You can easily get taxis on the street, while Uber and Lyft can be hailed from their respective apps. Biking is a thing in Chicago, with over 200 miles of protected bike lanes, and cyclists can easily get around.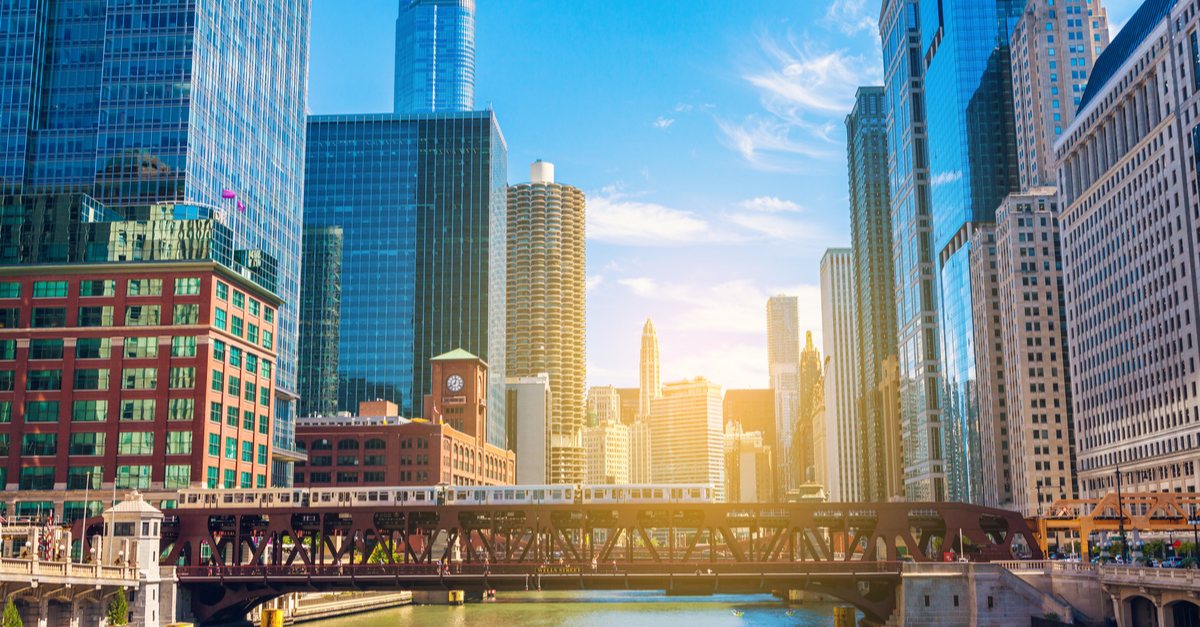 Chicago Train. Source: Shutterstock
To Chicago by train – Travel tips
There are many reasons to visit Chicago. The city has everything you'd want from a great city – great food, beautiful buildings, plenty of entertainment, and fascinating history. The city is also full of life, art, and culture, and the main reason why you need to book a train to Chicago. Skyscrapers are a big part of Chicago, and if you enjoy these magnificent structures, there are over 100 of them making up the Chicago skyline, some of which you can get on top for panoramic views of the city.
History and Chicago go hand in hand. The only problem, a good problem though, about visiting Chicago is that it has many world-class museums, and deciding the ones to visit might be difficult. So, here are the must-visit museums in Chicago - The Field Museum, Chicago History Museum, and the Museum of Science and Industry.
Whatever your taste, Chicago's vibrant art scene has something you'll enjoy. There are dozens of independent galleries showcasing contemporary art in Chicago, while the Art Institute of Chicago is another must-visit for art lovers. Finally, a visit to Chicago isn't complete without a taste of the famous stuffed deep-dish pizza, which you can enjoy at any of the many pizzerias in this city.