Flights from New York City to Paris
When traveling from New York City to Paris, there are many flight companies to choose from, including Air France, Swiss Air, Norwegian Air Shuttle, United Airlines, and American Airlines. However, Air France and Iberia are the most convenient. These flights travel a distance of 3619 miles (5837 km) and operate in Dublin, Montreal and Reykjavik. Operating types of flights from NYC to Paris are Boeing 777-300ER, Boeing 777-200, Airbus A330-900neo, and Airbus A330-300. Some flights fly direct to Paris, but others make stopovers for travelers to alight. After arriving in Paris, these flights land either at Paris Orly Airport or Paris Charles de Gaulle Airport.
Booking your flight ticket with Omio for New York City to Paris
Omio has made it easy to book tickets from Air France and Iberia. At Omio, we save you time and the stress you experience when booking tickets. All you need is our app to buy the ticket and send it directly to your phone. Hence, you don't have to worry about paperwork and long queues. We are trustworthy and offer you the cheapest options to choose and spend what's within your budget. Again, our customer service has 18 languages, so you select the language you understand best to avoid making mistakes. Be assured that you'll never regret booking your flight using the Omio app.
Flight companies in New York City to Paris
Though there are several flight companies, Air France and Iberia have partnered with Omio to make your booking experience and traveling more effortless and comfortable. During the weekdays, there are at least 7 to 13 direct flights every day. However, there are at least 14 direct flights during the weekends. Most direct trips are offered by American Airlines, Air France, Norwegian Air Shuttle, and United Airlines. However, Air France is more reliable because of the convenient services from Omio. All you need to do is contact or use the Omio app so that we save you the hassle of booking your flight at the last minute.
Popular international routes by flight from New York City to Paris
Apart from traveling from NYC to Paris, other international routes are New York City to London, New York City to Canada, Paris to London, and Barcelona to Madrid. Flying to international countries has many advantages over traveling by train or road because it's fast. After all, Omio has got you covered. Again, after alighting from your airport, there are regional connections, so you don't have to worry about reaching your destination. Not only does Omio book flights for you, but it also offers different flight tickets, including Business, Premium Economy, Economy Flex, Economy Standard, and Economy Light. Thus, despite the route you are traveling, you have many options to choose from, depending on your budget.
When arriving by flight in New York City to Paris
After arriving in Paris from New York City, you realize that these two cities are almost similar because of the unique features, art, and filmmaking. Unlike NYC, food is sacred in Paris because it's prepared using fresh ingredients, and people eat together with phones away from the table. If you love French cuisine, it should be your first meal. Once in Paris, you use euros, and life is cheaper than in New York City. The lifestyle is different because people in Paris take care of themselves because of life-work balance. Again, Paris is the center of culture and is recognized for fashion, cuisine, cinema, and art.
New York Colorful Balloons. Source: Shutterstock
Flight provider in New York City to Paris
There are several flight providers in New York City, but Air France makes the most trips. There are different classes when traveling in any flight type, including Economy Standard, Economy Light, Economy Flex, Business, and Premium Economy. Air France Serves several routes in the United States, including Chicago, Los Angeles, Boston, Miami, and Washington, DC. However, international routes are Canada, London, Barcelona, and Madrid. One of the routes is Montreal – Dublin – Reykjavik. Other flight providers include XL Airways, Primera Air, TAP Portugal, Iberia, and WOW Air. Some of these airlines follow different routes, but most stopovers are made in Montreal, Dublin, and Reykjavik.
Main airports in New York City to Paris
When making stopovers, the flight passes through several airports before landing in Paris. The main airports in Paris are Paris Orly Airport which is over 8 miles (12.9 km) from the center of the city, and Paris de Gaulle Airport, which is 14 miles (22.5 km) from central Paris. In addition, these flights can make stopovers in Montreal – Trudeau International Airport – boul. Romeo-Vachon N, Dorval, QC H4Y 1H1, Canada, Dublin Airport in Ireland, and Keflavik International Airport in Iceland. These airports have unique features and amenities, including mobile phone rental, baggage storage, restrooms, and hotel reservations. The mode of public transport from the city to the airport is a taxi or air train that helps you get to the airport quicker.
Popular Journey in New York City to Paris
Omio offers services to serve different routes to other cities in the United States, including Chicago, Los Angeles, Washington, DC, Miami, and Boston. The time to fly between New York City to Washington is 1h 25min, and the price is around $109. It takes 5h 28min to fly from NYC to Chicago, and the price is $106. New York City to Los Angeles takes about 11h 51min, and the average price is $220. The time from New York City to Miami is 3h 18min, and the price is $81, while from New York City to Boston is 1h 12min, and the price is $126.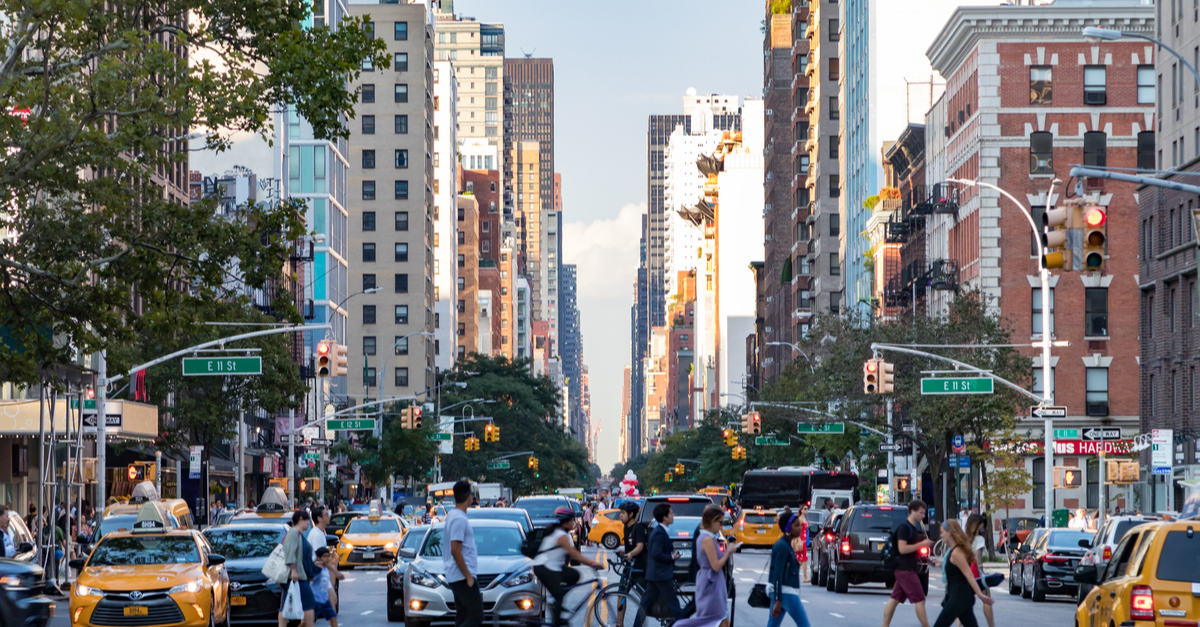 New York Crowded Street. Source: Shutterstock
Popular flight routes from New York City to Paris
Some international routes from New York City go to London and Canada. Flights departure from John F. Kennedy to London Heathrow Airport and Montreal-Pierre Elliot Trudeau International Airport.
Good to know
When booking stopover flights from NYC to Paris, you should be ready to take longer time traveling than the direct flights. However, direct flights take a shorter time. Though traveling by air is fast, it's expensive than traveling by road or train. Again, you don't enjoy scenic views on the ground, especially if you take a direct flight. But the advantage is that taking a flight is comfortable.
To Paris by flight – travel tips
Paris is a beautiful place to visit and get entertained. First, it is famous because of its beauty showcased by beautiful architecture and design. When in these landmarks, you'll notice lots of other travelers, including artists and bloggers. If you only see the Eiffel Tower online, you can see the fascinating sight during your trip to Paris. This tower has shimmering gold, and the eyes can never get tired of looking at it. To understand more about Paris' history, you can visit the Louvre Museum, which is the largest in the world.
Here, you can pose for pictures on the iconic pyramids and keep them for beautiful memories. If that isn't enough, you can learn more about history by visiting Arc De Triomphe, a national monument. If you enough energy, you can climb the 280 stairs and view the city when on the top of the massive arch. If you feel hungry, you have a variety of foods to eat. Some of the French classics include Bouillabaisse, French onion soup, and Beef Bourguignon. There are also a variety of desserts, including chocolate souffle, chocolate mousse, and caramel.
Finally, if you are a sports lover, you can enjoy rugby and football, spectator sports famous in the city. Again, you can swim in any of the 35 pools in the city. However, remember to buy an admission ticket and carry your swimming costume when visiting any pool. If you love biking and rollerblading, you should take advantage of the lovely landscape every Friday evening. Then, you can have fun by dancing Salsa, Tango, and Rock N' Roll on the Seine's banks.