Flights from New York to Dublin
To make the trans-Atlantic journey from New York City in the United States to Dublin, the capital of Ireland, passengers can select from an extensive number of flight options that depart every day. Typically, journeyers can find up to about 150 service options that will make the trip daily—totaling well over 1000 trips each week. These flights from New York to Dublin range dramatically in duration, with some short options taking around 6h 35min, with lengthier services taking about 31h 30min.
New York to Dublin flight time: daily departures
There are between 100 and 150 flights that depart for Dublin from New York City every day, which means there are around 1000 weekly flights available. Typically, these trans-Atlantic services aim to depart from North America in the evenings in order to get passengers to Ireland in the morning on the following day. However, each day, the first flight will depart roughly around 6:00 a.m. with the final route option departing around 11:30 p.m., with some hours affording travelers as many as 12 choices for their flight.
How long is the journey by flight from New York to Dublin?
The options that are available to travelers looking for a flight from New York to Dublin will include a handful of direct options, but an incredibly broad number of services that will include between one and two transfers. The transfers have a significant impact on the duration of the flight. Typically, direct options can run roughly around 6h 35min. However, flights with transfers can run from approximately 9h 35min up to about 31h 30min. The wide range is attributable to the departure time, as well as the layover locations and durations.
What are the departure and arrival airports for flights from New York to Dublin?
Departure airports:Dublin-bound planes that leave from New York will depart from John F. Kennedy International Airport (JFK), Newark Liberty International Airport (EWR) or LaGuardia Airport (LGA). From the city center, the airports are 17.7 miles (28.5 km), 12.6 miles (20.3 km) and 11.2 miles (18.1 km), respectively. Taxis and rideshares are available to all of the airports.
However, those preferring public transportation have many options. To get to JFK, the Jayride shuttle takes abiut 24min, the MTA Bus route X63 to Q10 takes about 1h 49min, the A line to the Howard Beach line on the subway takes about 52min, and the Port Jefferson to Jamaica line on the tram takes about 33min. To LGA, the Jayride shuttle takes 20min, the Q32 to Q70-Sbs buses will take about 1h 9min, and the F subway line to the Q70-Sbs bus takes about 36min.
Finally, to EWR, the Jayride shuttle takes 17min, the Red PATH trains that connect to the 62 bus can take about 22min, the Northeast Corridor train operated by NJ Transit connects with the AirTrain and takes about 23min, and the Northeast Regional Amtrak train takes about 22min. Each airport has shops, eateries, restrooms and waiting areas.
Arrival airport:All flights departing from New York will arrive at Dublin Airport (DUB). The airport is about 6.9 miles (11.1 km) from the center of the city; passengers can make this trip with a taxi or rideshare in about 27min. Alternatively, the line 747 shuttle can take about 30min or buses—like those provided by Transport for Ireland, Bus Eireann or Citylink—can take around 25min to 30min. At the airport there are shops, eateries, restrooms and waiting areas.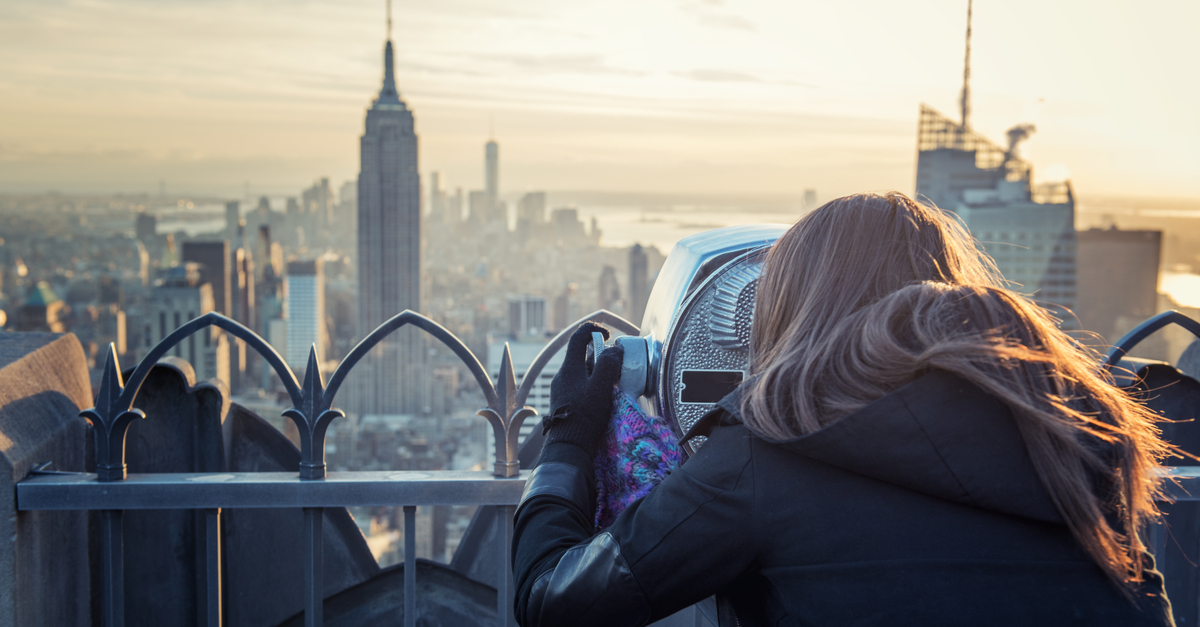 Manchester Flight. Source: Shutterstock
Which airlines travel from New York to Dublin?
There are a broad number of airlines that offer flights from New York to Dublin on a daily basis, including United Airlines, American Airlines, British Airways, KLM, Air Canada and Air France, among others. In many cases, multiple air carriers may coordinate to operate the route. However, American-based airlines tend to supply a majority of the route options.
What's more, the transfer location for each route is generally dictated by the air carrier; for example, flights that have a leg operated by British Airways may stop in London before completing the journey to Dublin. Likewise, flights operated by American Airlines may include a layover in Chicago, Illinois. Of all the air carriers that provide service, American Airlines and United Airlines offer the most options, with the latter offering the most direct options each week.
United Airlines flights from New York to Dublin
The United Airlines New York to Dublin routes are run daily and each day there are around 30 options from which to choose. This means there are more than 200 weekly options available. Typically, the first daily service is scheduled to depart around 6:25 a.m., while the last option leaves around 8:02 p.m. Flights will generally leave from either LaGuardia Airport (LGA) or from Newark Liberty International Airport (EWR) and there is typically at least one direct flight. However, all other United options will have one or two layovers. Because of this, flights range from about 6h 40min to around 30h 50min.
American Airlines flights from New York to Dublin
American Airlines New York to Dublin routes operate every day. Typically, travelers will have roughly 13 daily options, or around 90 weekly options. The first American Airlines flight will typically depart around 9:00 a.m., and the final one leaves around 10:40 p.m. A majority of the services leave from John F. Kennedy International Airport (JFK), but options will also leave from LaGuardia Airport (LGA) and Newark Liberty International Airport (EWR). Additionally, all of the routes will include at least one layover, oftentimes transferring to a British Airways service in London. These services range from about 12h 15min to about 20h 5min.
KLM flights from New York to Dublin
Each week, there are about 35 options for KLM New York to Dublin flights. This breaks down to about 5 daily options, all of which depart for John F. Kennedy International Airport (JFK). Usually, the first daily option will leave from New York around 6:30 p.m. and the final flight will leave around 10:00 p.m. KLM flights can be as quick as about 6h 45min for direct options, or as long as about 22h 45min for flights that include a layover. Typically, one-stop KLM options will land in Amsterdam before completing the journey.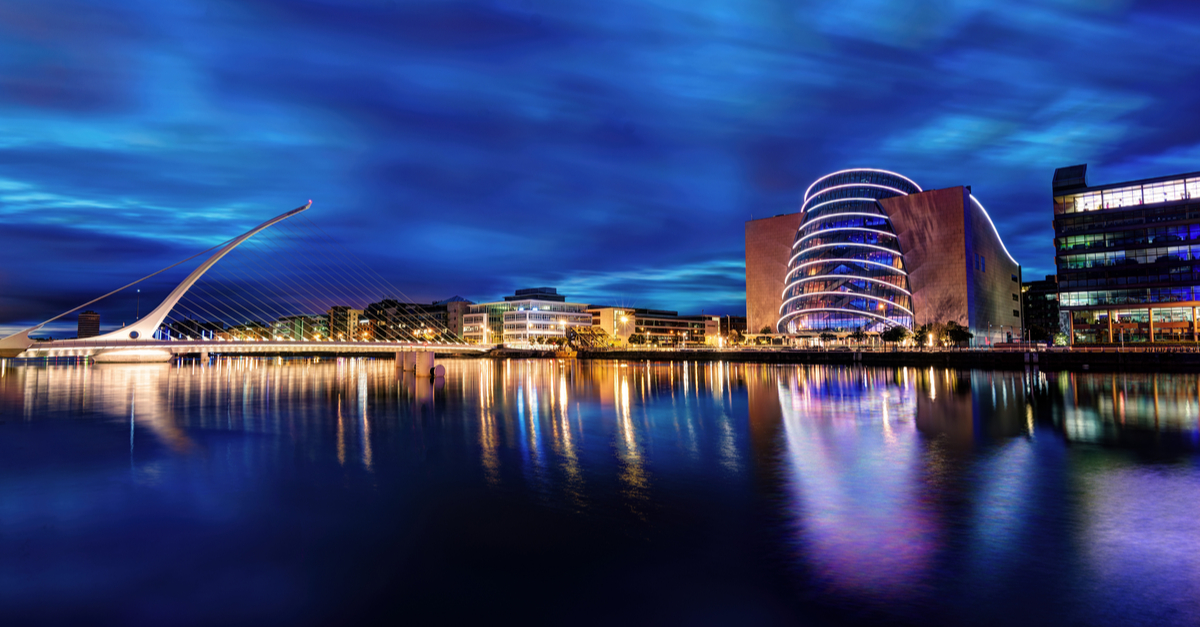 Manchester Flight. Source: Shutterstock
Flights New York to Dublin: Services on board
The availability of different ticket classes generally depends on which air carrier is the selected. For instance, travelers who have booked with American Airlines or United Airlines will have the opportunity to select a Light or Standard class fare. Alternatively, KLM only offers the Light fare. The ticket class typically dictates the luggage policy. Those who have a Light ticket class may bring one personal item weighing up to 4lbs (1.8 kg). Individuals with the Standard fare may add to that one checked bag weighing up to 50lbs (22.6 kg). With either, passengers can pay a fee for additional luggage at the airport. A fee is also charged for bicycles, which are considered special baggage. The pet policies for the various air carriers are also similar.
American, United and KLM allow cats and dogs that meet age, size and containment requirements to travel for a fee; however, international travel is restricted for dogs to some countries due to rabies. Passengers will need to confirm this in advance. The only exceptions are for passengers who are traveling with the aid of a service animal. Additional amenities that are available to those who have limited mobility include assistance getting on and off the plane, as well as support for cabin stewards while in the air.
How to find cheap plane tickets from New York to Dublin
There are a variety of ways that passengers can impact the cost of their ticket for a flight from New York to Dublin. Most importantly, travelers will want to ensure that they are booking as far in advance of their journey as possible, since surge prices come into effect in the days just before the flight departs
. What's more, those who have flexibility in their schedule may want to choose departures that leave at off peak travel hours, such as around midnight, or on less popular travel days like the middle of the week. Travelers are encouraged to review their eligibility for various discounts based on certain qualifications, such as those that may be given to the youngest members of a family. Flights with layovers are generally cheaper than direct options.
To Dublin by plane—travel tips
Dublin is an antiquated city rich with history and culture. While in the city, beer lovers will need to add the Guinness Storehouse to their list. The stout is iconic and the complex where it is held and brewed is annually one of the top tourist attractions. Situated at the core of the St. James' Gate Brewery, the site is where visitors can sample the staple stout or try some of the other concoctions. Shuttle up to the top floor to get impressive views of the city. For a slightly stiffer beverage, the Jameson Whiskey Distillery is also in Dublin—right on Bow Street.
Add a side of rock 'n' roll to the visit and make sure to book some time to peruse The Irish Rock 'N' Roll Museum. Exhibits here pay tribute to notable Irish acts, like Thin Lizzy and Rory Gallagher, as well as icons from other countries. The Wall of Fame pays homage to musical legends like U2 and Sinead O'Connor.
Also while in Dublin, don't skip the stunning Christ Church Cathedral. One of the city's oldest buildings, it has been the destination for pilgrimages nearly 1000 years.