Flights in Ireland
Flights are usually the preferred means of travel for long_distance journeys in and out of Ireland. This is because flights in Ireland are comfortable, affordable, fast, and safe. Aer Lingus is the leading air travel company in Ireland. Founded in the mid_1930s, this airline is one of the most well_talked_about air companies in Europe. This can be attributed to the fact that it has consistently offered elite transportation services since its founding. Currently, this airline's home base is Dublin Airport in Cloghran, County Dublin. In the past, Aer Lingus only offered domestic flights. However, it nowadays operates direct and connecting international flights to roughly 93 destinations spread across Asia, Europe, and North America.
Booking your flight ticket with Omio for Ireland
Our online booking platform, Omio, is one of the most highly regarded search and booking platforms. Since our founding, we've consistently assisted thousands of travelers in getting the cheap tickets they desire. If you choose to book your flight ticket with us, you can rest assured that we'll offer you great tickets at affordable rates. When booking flights with Omio, you'll enjoy access to variety, as we always have a wide range of tickets on sale.
Flight companies in Ireland
Five air travel companies operate in Ireland. They include Aer Lingus, Aer Arann Islands, CityJet, Ryanair, and Scandinavian Airlines Ireland. Aer Lingus is the national airline of Ireland. It operates a fleet of Airbus crafts. Ryanair is a low_cost Irish Airline. Time and again, it has been ranked as one of the best airlines in Europe. As such, it's unsurprising that it is the preferred airline for frequent travelers in Europe. Both Aer Lingus and Ryanair are international airlines. Like Ryanair and Aer Lingus, Scandinavian Airlines Ireland operates international flights from Ireland. An Irish subsidiary of Scandinavian Airlines, it currently operates flights to Copenhagen, Oslo, Salen, Stockholm, and London. Aer Arann Islands and CityJet are the two smallest airlines in Ireland. Even though they are smaller in comparison to the other three airlines that operate in the country, they are just as reliable. Hence, you can still count on flying smoothly with either.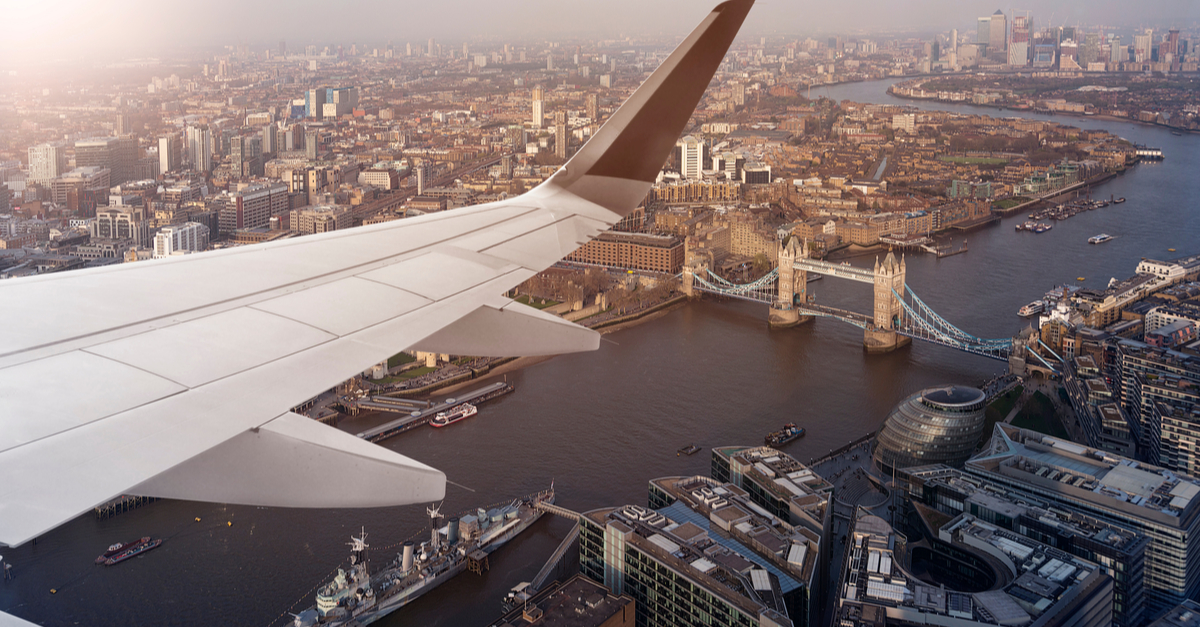 Companies Aerlingus Couple. Source: Shutterstock
Popular international routes by flight
Aer Lingus serves nearly 100 international routes. Some of the most notable ones include Dublin_New York, Dublin_Vienna, Dublin_Prague, Dublin_Milan, and Cork_New York. The Dublin_New York route is 3,169 miles (5,100 km) long. If you board one of the international flights by Aer Lingus that covers this route, your journey will last about 7h 50min. Every day, Aer Lingus has flights flying from Dublin to Vienna. To cover the 1,057 mile (1,701 km) long route, the flights normally take about 2h 50min. The Dublin_Prague route is one of the busiest routes that Aer Lingus serves. To cover the 903 miles (1,453 km) that separate Dublin and Prague, Aer Lingus flights normally take about 2h 30min. The Dublin_Milan route is 885 miles (1427 km) long, while the Cork to New York route is approximately 2,500 miles (4,023 km). To cover these routes, Aer Lingus flights normally take 2h 45min and 8h 20min, respectively.
When arriving by flight in Ireland
When you arrive by flight in Ireland, you should have your travel documents with you so as to avoid being denied entry into the country at the airport. If you're an American citizen and you intend to stay in the country for less than 90 days, all you need is your passport and proof that you have enough cash to sustain your stay in the country. However, if you plan to stay in the country for more than 90 days, you'll need a visa. When you arrive by flight in Ireland, you should also be aware that the eating habits in this country are a bit different from those in the US. In Ireland, you'll likely eat your lunch at around 2 p.m. while you'll eat supper at around 9 p.m., as most restaurants in Ireland usually serve lunch dishes from 1 p.m. to 2:30 p.m. and dinner dishes from 7:30 p.m. to 9:30 p.m.
Flight Provider in Ireland
Aer Lingus is the topmost flight provider in England. It is closely followed by Ryanair, CityJet, and Scandinavian Airlines Ireland. If you'd love to fly comfortably, you should travel aboard an Aer Lingus flight. This is because this company's flights feature superb amenities and fantastic flight attendants.
If you'd like to fly affordably, Ryanair is the airline for you. Given that its planes also boast superb amenities, you'll enjoy great value for your money aboard one. CityJet prides itself on having a fleet of incredibly fast flights. Hence, if you'd like to quickly fly to a given destination in Ireland, you should consider checking if Ryanair offers flights to your destination. Of all the flight providers in Ireland, Scandinavian Airlines is among the most eco_friendly. Thus, if you're a fan of sustainable air travel, this airline is the airline for you. Some of the popular routes in Ireland these airlines serve are the Dublin_Cork route, Dublin_Donegal route, Dublin_Knock route, and Dublin_Shannon route.
Main airports in Ireland
The main airports in Ireland are Cork International Airport, Donegal Airport, Dublin Airport, Kerry Airport, and Shannon Airport. Cork International Airport, located at Kinsale Road, Cork, is the second_largest airport in Ireland. Located south of Cork's city center, this airport boasts several eating and shopping facilities. It also boasts an ATM. Donegal Airport, situated in Braade, Carrickfinn, is another leading airport in Ireland. Popularly referred to as Carrickfinn Airport, this airport has been voted the world's most scenic landing site three times. At this airport, passengers have access to amenities like an expansive passenger lounge, clean, accessible washrooms, and food outlets. Dublin Airport, located in Collinstown, Dublin, is the largest airport in the country. It serves as the headquarters of Aer Lingus and Ryanair. Time and again, it's been voted as one of the best airports on the continent. This can be attributed to the fact that it features amenities like ramps, elevators, comfortable passenger lounges, superb eateries, and retail outlets. Kerry Airport, situated in Farranfore, Kerry, is one of the main airports in Ireland. In service since the 1960s, this airport is the one that serves the South_West region of Ireland.
Over the years, its amenities have been improved. Currently, it features accessible toilets, air_conditioned passenger lounges, and payphones in working condition. Shannon Airport, located in Shannon, County Clare, is the fifth busiest airport in Ireland. Home to the longest runway in the country, this airport has outstanding amenities like retail shops, restaurants, large waiting rooms, and public restrooms in good condition. It's worth noting that to get to any of these airports, you'll have to take a taxi. Since taxis in Ireland are cost_friendly, you need not worry about overspending if you board one.
Popular journeys in Ireland
There are quite a number of popular domestic routes in Ireland. Some of the notable ones include the Dublin to Donegal route, Shannon to Dublin route, Waterford to Galway route, Kerry to Dublin route, and the Dublin to Cork route. Flights that operate the Dublin to Donegal route cover the distance in about 45min. The tickets for these flights normally cost roughly $75 (€67). Flights that operate the Kerry to Dublin route usually take 55min to complete their journeys. The tickets for these flights usually cost around $23 (€20). Flights that operate the Waterford to Galway route, the Shannon to Dublin route, and the Dublin to Cork, usually take 5h 40min, 6h 05min, and 8h, respectively. They also cost around $157 (€139), $297 (€263), and $150 (€132), respectively.
Popular flight routes from Ireland
Just like there are many popular domestic routes in Ireland, there are several popular international routes from Ireland. The most popular international destinations from Ireland are London, Hamburg, Madrid, Frankfurt, and Amsterdam. The round trips for flights from Ireland to all these destinations cost about $68 (€60). To London, flights usually take about 1h 20min, while to Hamburg, flights normally take about 3h 50min. To Madrid, flights normally take about 2h 50min, while to Frankfurt, flights take roughly 2h. It's worth noting that to Amsterdam, flights from Ireland normally take about 1h 45min.
Good to Know
Booking with our online booking platform is pretty easy. All you have to do is input the route you're looking for and the date you intend to travel, and our search will show you your available options. Before leaving your place, kindly ensure that your airline supports mobile tickets. If it doesn't, you'll have to print out a physical ticket.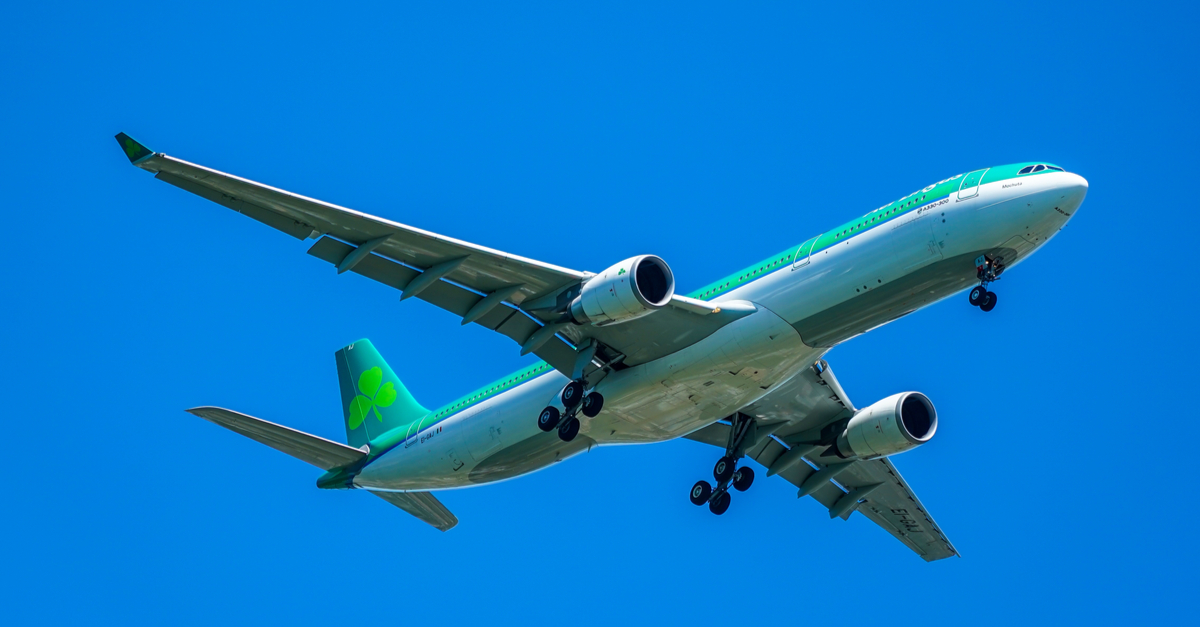 Companies Aerlingus Flight. Source: Shutterstock
To Ireland by flight—travel tips
Ireland is home to several amazing destinations. Hence, it is the perfect country to visit with your friends and family. If you love art and culture, some of the amazing destinations you can visit include Christ Church Cathedral, a medieval edifice with a crypt and safe, The Hugh Lane, a relatively small museum with elite impressionist works, the National Gallery of Ireland, a well_maintained museum that features Ireland's national collection, and the Irish Museum of Modern Art, a modern art gallery housed in a 17th_century hospital. If you're a history lover, some of the historical points of interest you can visit while in the country include Blarney Castle and Gardens, Rock of Ashel, King John's Castle, Trinity College Dublin, and Newgrange. While in Ireland, you can also visit:
The Little Museum of Dublin Dromberg Stone Circle National Library of Ireland Cliffs of Moher Killarney National Park Kylemore Abbey & Victorian Walled