Bus from Rome to San Severo
Traveling from Rome to San Severo by bus is easier and cheaper than other transit options. The buses cover a distance of about 149 miles (240 km) in approximately 4h 20min. The fastest bus takes around 4h 5min to arrive at San Severo. However, the time taken by the buses depends on various dates, weekends, holidays, and traffic conditions along the route.
Rome to San Severo Bus Time: Daily Departures
There are normally five buses operating along this route per day. Four of them are direct buses, so you don't have to worry about bus transfers at any time during your trip. The number of departures per day varies depending on the travel date. On the busiest travel dates, there are more than seven departures. The earliest bus from Rome to San Severo leaves at 5:30 am, while the last one leaves at 10:45 pm. It's advisable to use the Omio app to check on bus schedules along this route and book the best time to make your transit.
How long is the journey by bus from Rome to San Severo?
A journey by bus from Rome to San Severo covers a distance of 149 miles (240 km) in about 4h 20min. Of the five buses along this route, four travel direct making it easy to avoid journeys where you'll have to transfer buses along the way. Direct buses cover the distance in 4h 24min, with the fastest taking 3h 50min. The slowest buses often have a change or two along the route, thus taking about 5h 35min to arrive in San Severo. Luckily, you'll save a few pennies if you're on a tight budget.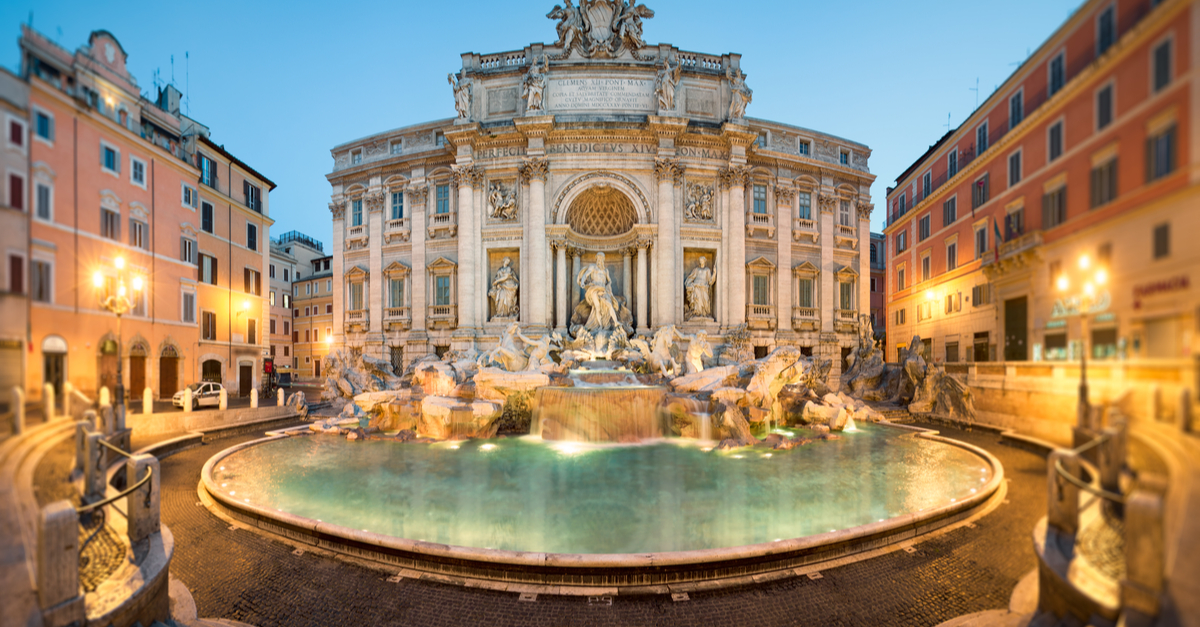 Rome Trevi Night. Source: Shutterstock
What are the departure and arrival stations for buses from Rome to San Severo?
Departure bus station: If you're taking the bus to San Severo from Rome, you can depart from one of the bus stations in Rome. These include Roma Ostiense and Roma, Termini, or Via Marsala. Termini is the most popular bus station for this route. It's conveniently located about 0.61 km (0.4 miles) from the city center, and most bust connecting the airports in Rome stop here. The station is also well connected as lines A and B of the metro stop here. Near the bus station, you can find an ATM, luggage storage, fast food outlets, washrooms, kiosks, parking, and hotels.
Arrival bus station: In San Severo, your bus is likely to stop at San Severo, Via G. Matteotti 120 or Piazza della Costituzione bus stations. San Severo, Via G. Matteotti 120 is located approximately 1 km (0.6 miles) from the city center.
Which bus companies travel from Rome to San Severo?
When taking a bus from Rome to San Severo, you can use Flixbusbuses from Rome to San Severo , Ferrovie del Gargano, BlablaCar, or Marino Autolinee for the safest way to arrive in San Severo. It's advisable to research all the bus companies along this route to compare their amenities and how convenient they are.
Bus Providers from Rome to San Severo
Flixbus is among the most popular bus providers along this route. The provider offers one of the most affordable wears to transit between the two cities. The provider's booking process is also straightforward and available in a wide range of languages. Better still, their cancellation policy is really easy, allowing you to cancel your ticket up to 15min before your trip. Ferrovie del Gargano buses from Rome to San Severoalso operates multiple buses along this route. The provider bases its services on the reliability and punctuality of their departure schedules. The buses take an average of 5h 2min to arrive at San Severo because they stop during the journey to allow passengers to relax.
Traveling by bus is a sustainable journey
When traveling by bus from Rome to San Severo, you need to make sustainable travel choices, and traveling by bus is one of the best options. Flixbus is an ideal option as it focuses on becoming 100% carbon neutral in the future. To achieve this, the provider is increasing the use of renewable energies, ensuring high environmental standards for the fleet, and improving energy efficiency in all operations.
Bus from Rome to San Severo: Services on Board
Each bus on the Flixbus fleet has plenty of luggage storage space. You're allowed to have one luggage bag per passenger. You should stow your carry_on bag under your seat or in the overhead compartment. Additional luggage costs you a fee depending on your booking method. You can book extra luggage online during the booking process, after the ticket purchase, or from the official ticket sellers. You can also bring your bike on board as most buses have a bike carrier. Unfortunately, pets are not allowed on board. If you are a disabled person, you can request to bring along someone to help you move around for free. href="// www.omio.com/buses/rome/san_severo_f6srt">buses from Rome to San Severo The standard luggage allowance for BlaBlaCar Bus is two free hand bags per passenger, where each piece should fit below or above your seat and one paid luggage per passenger. If you're traveling with your bike, it should be foldable and placed in a protective cover. Also, it should weigh less than 23 kg. Pets are not allowed onboard BlaBlaCar due to hygiene and safety reasons. However, service animals can travel for free after presenting an official medical certificate showing that their presence is required.
How to find cheap bus tickets from Rome to San Severo
If you're taking a bus from Rome to San Severo, you should focus on finding the best fares for your trip. Booking early is one of the ideal ways to secure the best fare on a seat with your ideal bus company. You can book at least seven days or a few weeks in advance to enjoy the best deals on major carriers. Traveling during off_peak times is also an ideal way to reduce your transportation costs. buses from Rome to San Severo This is because bus tickets tend to be cheaper during off_peak times. That means flexibility with your travel will do you a big favor. Further, expanding your search to multiple bus providers is an ideal way to land a good deal on your transit to San Severo. You can compare fares from different providers and choose one that allows you to score a better price.For more information you can check out the Omio Magazine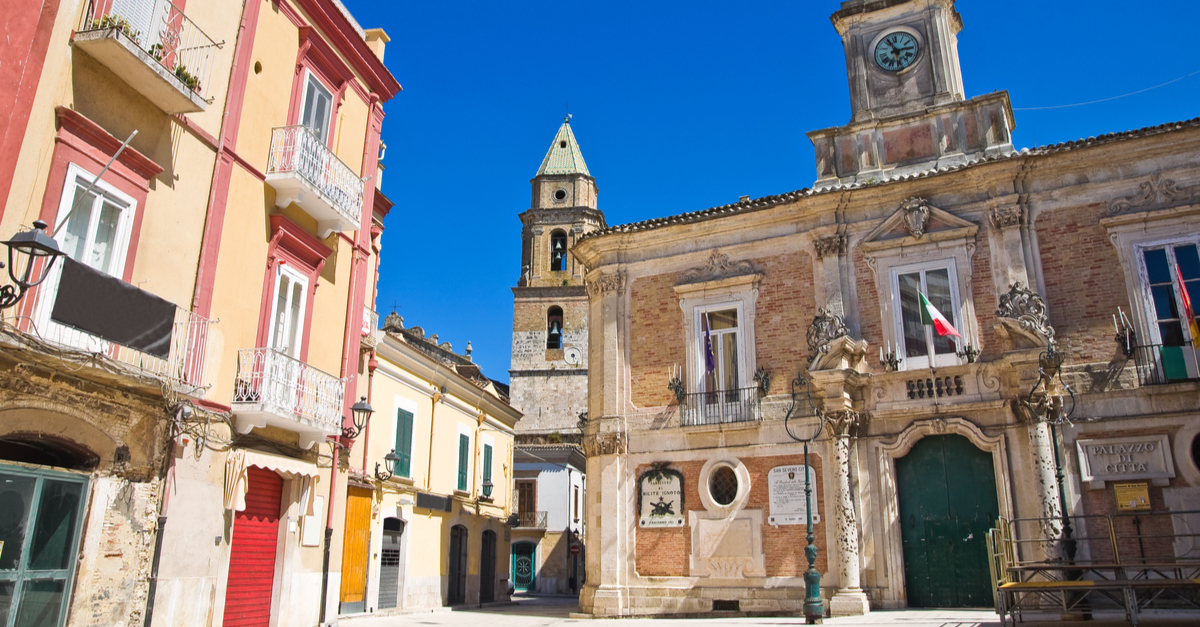 Sansevero Townhall. Source: Shutterstock
To San Severo by Bus: Travel Tips
San Severo is a small but beautiful upcoming tourist destination that's worth a visit. You might be surprised with some of the unique things to do and the places you can explore at the hidden destination. The city is at the forefront in the global production of wine and produces significant quantities of top_quality olives, grains, and grapes. You can explore classic wines that make San Severo a destination for wine drinkers across the world. You can also spare some time to visit some of the town's famous museums. For instance, the Civic Museum has everything you'll need to learn about the city's history. There are paintings in the art gallery preserved in a section dedicated to local artists. City Museum G. Fiorelli represents the Roman and medieval age history. It features 18th Century furniture and paintings used in the Neapolitan school. You can enjoy the best Italian cuisine accompanied by a glass of wine at:
Osteria A Casa Nostrs
La Fossa del Grano
Da Alfredo
Gladvis Pinsa Romana
Degustibus Risto & Wine
Art Cafe San Severo Bar & Grill