Bus from Naples to Udine
There's only 1 bus that plies the Naples_Udine route daily, completing the journey in an average of 12h 30min. However, you can get a bus to get you to this destination in north_eastern Italy in a shorter travel duration. The only bus that commutes buses from Naples to Udine involves transfers and is thus ideal for passengers who want to make some savings on their budget. The slowest connection last longer along the route before reaching Udine.
Naples to Udine Bus Time: Daily Departures
Normally, 1 bus operates the Naples_Udine route per day, with the trip lasting an average of 12h 30min, although a direct bus service will get you to Udine in a shorter duration. Buses that involve transfers during the service are the slowest and spend more time on the way before reaching Udine. On the upside, such connections come with low_cost tickets and are appropriate for those traveling on a budget and keen to save some money. Please note that bus departures and travel times may vary based on certain travel days, weekends, and holidays.
How long is the journey by bus from Naples to Udine?
A Naples to Udine coach takes an average of 12h 30min to cover the journey between the two destinations. However, if you're lucky with your booking, you might get a direct bus connection that arrives in Udine about 12h 00min after departing Naples. Buses that involve changes during the journey have more travel time before completing the journey. Since there's only one connection between these two cities, you only have one bus to travel with, and it usually leaves the terminal at around 5:45 p.m.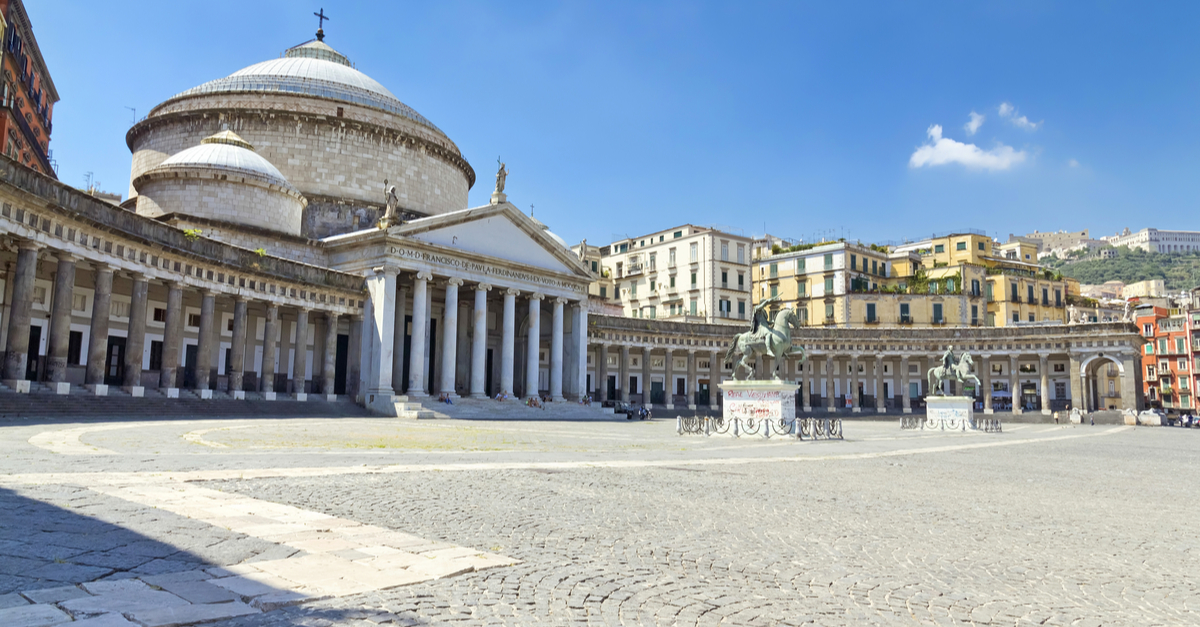 Naples Piazza Perspective. Source: Shutterstock
What is/are the departure and arrival stations for bus from Naples to Udine?
Departure bus station: Naples Centrale is the most popular departure terminal, with numerous bus companies such as MarinoBus offering connections on this route. The station sits about 1.8mi (2.9 km) from the city center of Naples and is close to excellent facilities like clean restrooms, free parking, airport shuttle services, and non_smoking rooms.
Arrival bus station:All buses commuting from Naples to Udine arrive at the Udine, Costantin gas station, located approximately 2.7mi (4.4 km) from downtown Udine. This bus station offers great amenities such as waiting bays, newspaper stands, a ticketing office, clean restrooms, cafes and shops, and non_smoking rooms.
Which bus companies travel from Naples to Udine?
MarinoBus provides most passenger transportation services between Naples and Udine, with 1 bus running between the two destinations per day. On average, the trip lasts around 12h 30min, although there are direct buses that can get you to Udine in about 12h 00min. Besides, slower buses take more than 12h 30min to cover the journey as they involve changes between Naples and Udine. Taking this option guarantees you cheaper tickets, thus saving a few coins on your budget. Normally, the single connection a day along this route departs Naples Centrale at around 5:45 p.m.
MarinoBus from Naples to Udine
MarinoBus runs most passenger transportation services from Naples to Udine, with 1 coach leaving Naples Centrale a day. On average, the bus takes approximately around 12 30min to commute from Naples to Udine, although a direct bus will get you there in less time. Passengers who book buses that make stops during the trip spend more than 12h 30min before arriving in Udine. The upside with such a connection is that you get affordable tickets, hence cutting some costs on your budget. Note that the travel times and departures from Naples to Udine can vary based on specific dates, the number of changes during the journey, weekends, and Mondays.
Traveling by bus is a sustainable journey
Buses travel is sustainable means of public transportation particularly when exploringEuropean destinationsas they consume significantly lower levels of fuel. Subsequently, they combust less energy than private cars and planes, thus releasing few greenhouse gases into the atmosphere. A typical two_adult car reduces carbon dioxide emissions by 10%. However, traveling by bus for the same distance reduces carbon dioxide emission by 30%.
Bus Naples to Udine: Services on Board
MarinoBus features modern fleets that offer standard services for all clients, making it the people's favorite means of transport from Naples to Udine. The reclining seats have armrests, and ample legroom, to provide flexibility to change postures and stretch your muscles. With free Wi_Fi, be sure to continue chatting with your friends and family, browse your current affairs from around the globe, or just stream your favorite film on your phone. Those who forgot to bring their music players have the hi_fi stereo and color TV for the much_needed entertainment from Naples to Udine. At the same time, the air conditioners provide a cool and refreshing ambiance coach to ensure you have a comfortable ride. The electric sockets keep your devices running until you arrive at your drop_off zone. You can board with carry_on luggage but have a limit of two pieces of extra luggage. MarinoBus management allows passengers to bring compressible bikes for free, but a full bike attracts a charge. Those with limited mobility enjoy wheelchair services when boarding and making transfers. Besides, passengers can bring their small pets like cats, dogs, and ferreters, provided their weight don't exceed 22lbs (10kg), and are constrained in carriers not exceeding 30x30x40cm in size. Visually impaired travelers should make early arrangements with the operator to bring their guide dogs if they have medical certificates.
How to find cheap bus tickets from Naples to Udine?
If you're travelingwith limited funds and desire to save some coins, its important you grasp a few tips on how to get cheap tickets. First, plan to book early, preferably 7 days before your scheduled departure date. Secondly, reserve slower buses that involve multiple transfers during the journey. The journey might be longer but is a sure way of cutting costs on your budget. Also, as you spend more time en route to Udine, you get more time to experience the magnificent attractions on the way. Finally, endeavor to travel during the off_peak season when few people are booking tickets.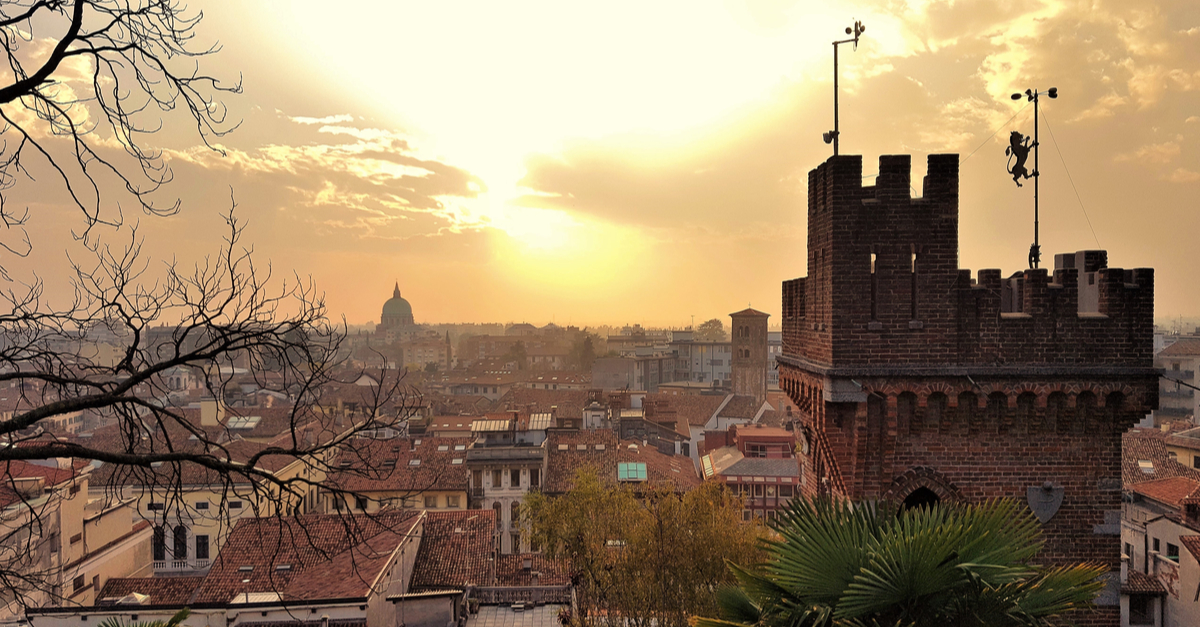 Udine Afternoon Panoramic. Source: Shutterstock
To Udine by bus—travel tips
Udine is famous for its ancient history defined by museums, palaces, and castles. A stop at the Udine Castle lets you delve into the area's rich heritage as you marvel at its central tower, a series of windows, and some stunning arches. Within this sanctuary is a museum with numerous artworks and artifacts from the city and the neighboring regions. The impressive Udine Cathedral should be next on your bucket list, particularly if you're on pilgrimage with your family. Stroll through this fabulous building and admire its beautiful carved wooden door, arched designs, and beautiful rose windows. Head to the Piazza Liberta and browse the numerous fountains, marble statues, and ornate monuments. A family picture at this spot will offer lasting memories of the vacation in this Italian city. As you explore this historic town, you won't overlook the gorgeous Giardin Grande with its perfectly manicured lawns and nearby fantastic cafes.
Other attractions at this destination include:
Liberty Bar
Chiesa di San Giacomo
Parco del Cormor
Museo Diocesano e Gallerie del Tiepolo
Piazza Matteotti