Bus from Benevento to Rome
When searching for buses from Benevento to Rome, you will find that there are three buses that make this trip daily. The route covers a distance of about 145 miles (234 km) and the trip will take around 3h to complete.
Benevento to Rome Bus Time: Daily Departures
Buses that make the trip to Rome from Benevento depart the city of Benevento three times a day. The first of the buses leave right before 11:00 a.m., the second leaves at around 1:15 p.m., and the final bus of the day will depart just before 8:00 p.m. All of the offerings on this route are direct buses so there will be no need to transfer to another bus during your trip.
How long is the journey by bus from Benevento to Rome?
The journey on buses from Benevento to Rome will cover a distance of around 145 miles (234 km) to the north through the heart of Italy. The trip takes around 3h to complete and it is a nice bonus that these buses are all direct so you do not need to worry about having to get off one bus and hop on to another one during the trip.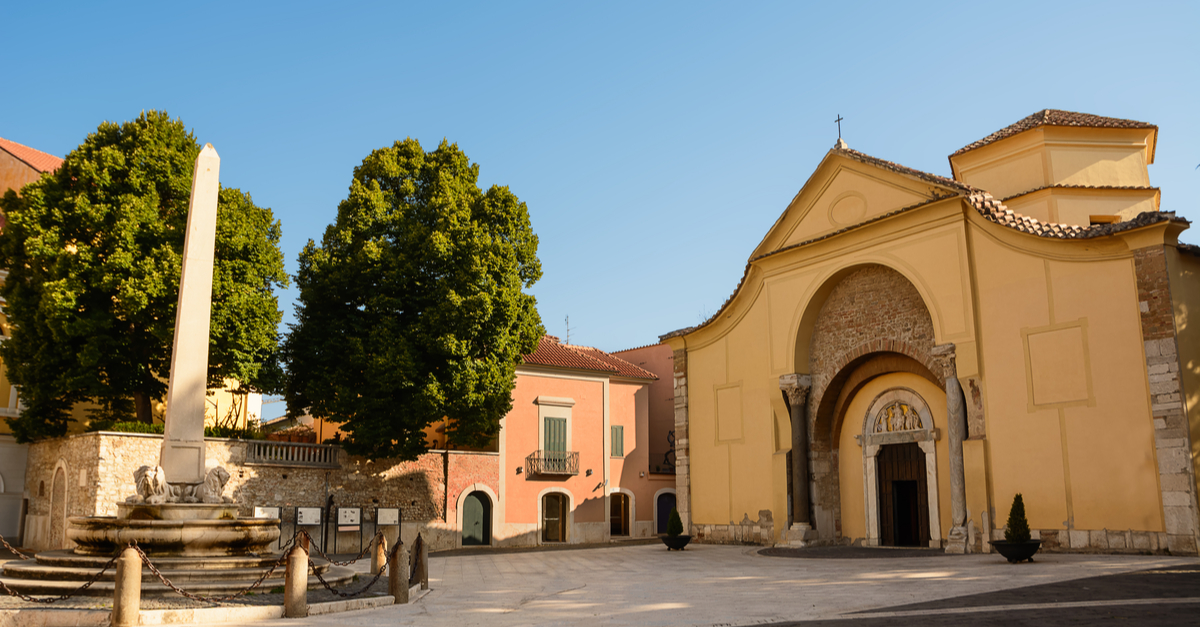 Benevento Church Stsophia. Source: Shutterstock
What is/are the departure and arrival stations for bus from Benevento to Rome?
Departure bus station: Benevento Piazzale Venanzio Vari. The Station has an amazingly convenient location just to the north of the center of town where you will find the Villa Comunale di Benevento that is a green space that marks the center of the city. The station sits just around 0.2 miles away (350 m) and so the best way to get to the station is simply to walk therein around 4min. If you need to drive you can do so in around 1min. The station is quite spacious and features a shaded area as well as a small bar as well as restrooms and seating areas.
Arrival bus station: Roma Autostazione Tiburtina. You will find the station just to the east of the center of Rome about 2.1 miles (3.5 km) away. One of the easiest ways to get from the station to the center of Rome after your Benevento to Rome bus is to take the light rail service on Trenitalia that makes the trip in around 8min. There is also a subway service on ATAC that also can make the trip in around 6min. One last option for public transportation is to travel on the bus provided by Cotral that can take you to Rome in around 5min. If you prefer to drive or take a taxi, the trip will take around 5min as well. This station is a major transportation hub for the city of Rome and offers both bus and train services. The station has plenty of seating, restrooms, lounges, plus quite a few options for both shopping and dining.
Which bus companies travel from Benevento to Rome?
All of the buses from Benevento to Rome that you will find on this route have Itabus as the operator. The buses that they operate on this route are all direct routes that make the journey in roughly 3h. They have one bus late in the morning, one in the early afternoon, and then one in the early evening hour. Because the journey is not too long, you will find that all of the trips take about the same amount of time no matter which part of the day they depart Benevento and arrive in Rome.
Itabus buses from Benevento to Rome
The offerings for buses to Rome from Benevento come from Itabus and they offer very convenient times spread throughout the day for the three buses that they offer on this route. Every bus on this route is a direct bus so there is no need to have to gather up your belongings and get off one bus and transfer to another one to make this trip. So whether you want a morning bus an afternoon bus or an evening bus there is one available for you.
Traveling by bus is a sustainable journey
If you are an environmentally conscious traveler, there may be no better way to travel long distances on the ground than in a bus. The very fact that so many people are traveling in one vehicle from place to place makes it a much more environmentally efficient way of traveling as opposed to all of those people making their own way. Itabus in particular is a very efficient way to travel because their fleet of diesel buses offers some of the lowest emissions you'll find for any bus company in this region of the world.
Bus Benevento to Rome: Services on Board
While all three of the buses on this route only offer one class of seating, do not let that fool you because all of the seats are quite comfortable seats that both recline and offer footrests to give you a very luxurious journey. The bus also offers free Wi_Fi and power outlets at most seats to make sure your electronic devices stay charged during the trip. In terms of your luggage, you can bring one carry_on bag aboard the bus and store it under the seat in front of you or in an overhead bin. You can also bring another bag that will travel under the bus and both of your bags can travel at no additional cost. You can also bring things such as bicycles and other sporting goods onto the bus although they may incur an additional fee. Pets can ride on the bus with you free of charge as well so long as they travel in a pet carrier and sit on the floor next to you on the bus. Itabus strives to make sure that all passengers with disabilities can travel in the same manner as any other passengers and if there's any issue with that the carrier will allow these passengers to bring a companion with them to travel free of charge to assist them in their travels.
How to find cheap bus tickets from Benevento to Rome?
If you are looking for a way to save some money on your bus travel on buses from Benevento to Rome one of the best ways you can do this is the book as far in advance as possible from your date of travel. When you do this you are giving yourself the best chance to find discounts offered by providers. Another good tip is to be flexible in your travel times. Spend some time researching different times and days of the week and stick to days that are in less demand to try to save some money. although all of the buses on this route are direct, you will often find that buses take a little bit longer to get to the destination can save you money on your bus fare.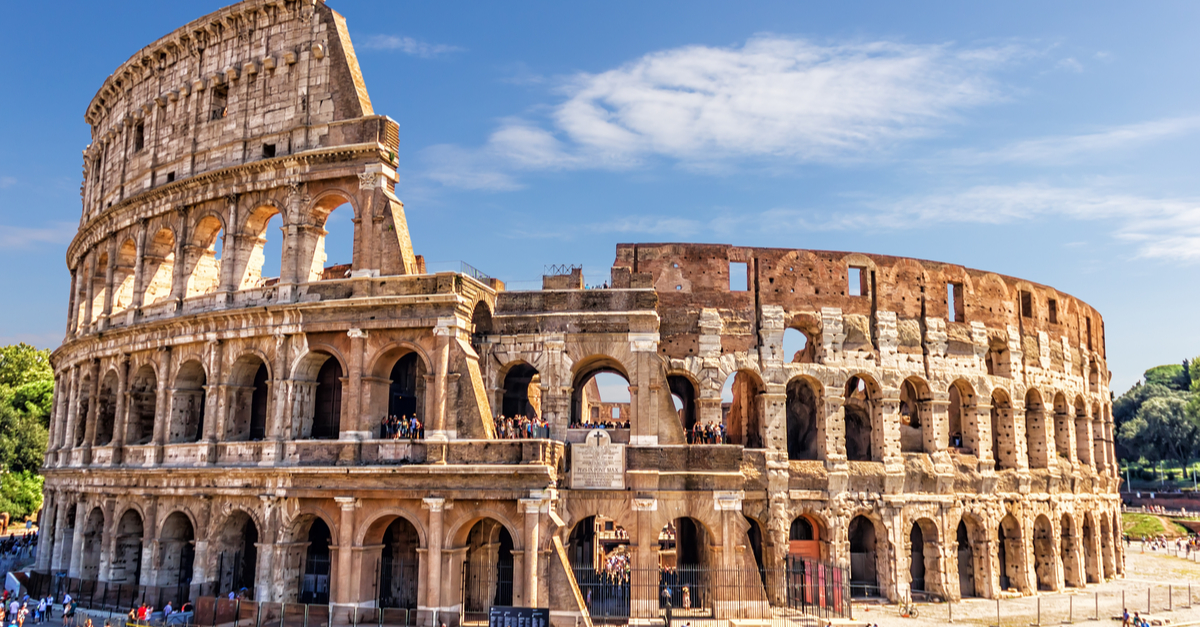 Rome Arena Day. Source: Shutterstock
To Rome by bus—travel tips
Rome is a city with a rich history and is a major capital of Europe and as such, it is a city that is quite popular with visitors. Visitors to Rome often feel like this is several cities in one because there is the ancient city of Rome that you still see today with sites such as the Colosseum and a variety of amphitheaters and historic artifacts. Beyond that, there is the grand city of Rome that encompasses several squares, churches, and fountains that most visitors would think of when thinking of a city like Rome. To top all that off, visitors will find many stylish and elegant bars, restaurants, boutiques, and signature hotels in the city. Some of the places a visitor needs to explore in Rome include:
Pantheon
Trevi Fountain
St. Peter's Basilica
Roman Forum
Vatican Museums
Sistine Chapel
Piazza Navona