Trains in London to Dublin
Traveling by rail between London and Dublin enables you to experience the stunning scenery between the two most visited cities in Europe. Since the Irish Sea separates the two countries hosting these cities, a journey by train requires a transfer at Holyhead before proceeding via a ferry to Dublin Port. You can depend on Avanti West Coast or Arriva to access Dublin from London via rail.
However, you can still evaluate the facilities offered by other available train companies that operate between the two cities before purchasing your train ticket. If you wish to travel to Dublin, use the Omio app to weigh the alternatives available to settle on the one that meets your preferences.
Booking the London to Dublin train ticket with Omio
Booking your London to Dublin train ticket with Omio enables you to enjoy various benefits and offers you traveling solutions for your trip. For instance, using the Omio apple is fast and accurate. You can search for tickets that fit your needs by simply filling a few required fields, including the departure city and the destination, travel date, and the number of people traveling.
You can evaluate the prices and alternatives available from the results before selecting an option that fits your preferences and pocket demands. Moreover, with Omio, you can book your tickets in advance at the comfort of your home, making your trip plans quicker and more convenient.
Train companies in London
Trains are an efficient means to travel between cities from London, with several companies operating both domestic and international routes. The quickest and most efficient train service provider from London to Dublin is Avanti West Coast. This company services around five train departures daily from London to Holyhead from your nearest Avanti West Coast station, enabling you to proceed to Dublin via the ferry. Arriva Trains Wales service, on the other hand, takes longer as it makes one or two changes at Crewe and Chester. Nevertheless, this company offers most train services, unlike Avanti West Coast, with a departure every three hours.
Popular international routes from London
Eurostar trains services the most popular international routes from the King's Cross St. Pancras London to other mainland European cities. These cities include Paris, Lille, and Brussels via the Channel Tunnel. Moreover, the train service features a new direct route from London to Amsterdam, which does not require a transfer in Brussels. If you plan a trip to other cities in Europe from London, you can book your tickets with the Omio app or website for cheap and convenient options.
Arriving by Train in Dublin
The ferry from Holyhead leaves you at Dublin Port, a few minutes from downtown Dublin. Getting around the city is pretty simple, with various options available, including Dublin Area Rapid Transit (DART), taxi, bus service, and car rentals. If you visit Dublin for a few days, you should opt for a Leap Visitors Card to achieve the best value across bus and rail options. The currency used in Dublin is the Euro, so you will need to change your money when traveling from London. Unlike many European museums that require you to pay near the nose, Dublin museums are free, great for exploring Irish history. In addition, Dublin is always buzzing with events and features a thrilling nightlife.
Avanti West Coast
Avanti West Coast, previously Virgin Trains, provides long-distance services from London Euston to major train stations throughout England, Wales, and Scotland. The train operating company links United Kingdom's six major cities, including Manchester, Liverpool, London, Edinburg, Birmingham, and Glasgow.
Moreover, the company offers high-speed services of up to 125 mph (201 km/h), which cut travel time, provides comfort and reliable service throughout the United Kingdom. Avanti West Coast's most popular route is the London Euston to Manchester route, which takes about 2h 6min. Other popular routes include Liverpool to London Euston and London Euston to Birmingham. Omio provides the most user-friendly and efficient platform for purchasing Avanti West Coast train tickets.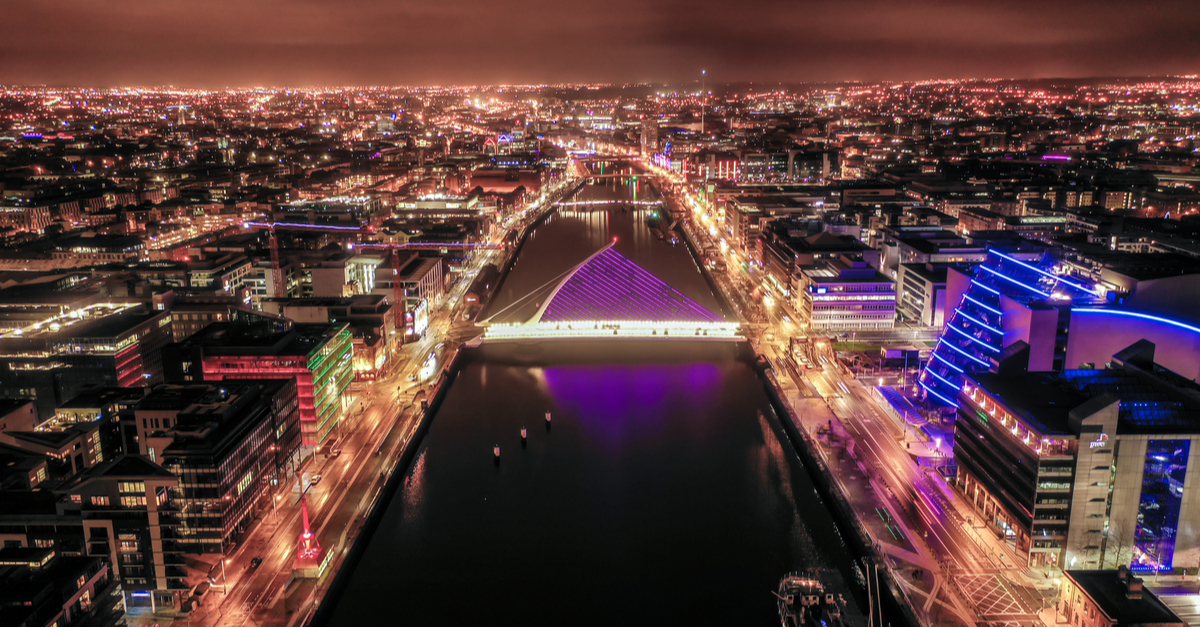 Dublin Aerial Sunrise. Source: Shutterstock
Main train stations in Dublin
Dublin Heuston and Dublin Connolly are the main train stations available in Dublin. Dublin Heuston is at St. Johns Road West Dublin 8, a few minutes from the city center. It is the largest train station in Dublin with routes to other cities in the southwest and west of Ireland. Available amenities at the train station include a luggage storage facility, Wi-Fi, ATM, dining options, toilets, and credit card facilities. On the other hand, Dublin Connolly is only 10min from the city's iconic Temple Bar and is the busiest of the two stations, connecting Dublin to the east coast of Ireland, Sligo, and Northern Ireland.
Popular train journeys from London to Dublin
Avanti West Coast offers direct train services from London Euston to Holyhead, and the journey takes around 3h 30min. However, the company also services frequent trips to Holyhead with regular stops at Crewe and Chester. From Holyhead, you can then connect to Dublin port via Irish ferries. Arriva Whales Train service also services the same route with changes at Crewe and Chester, but it services more train trips.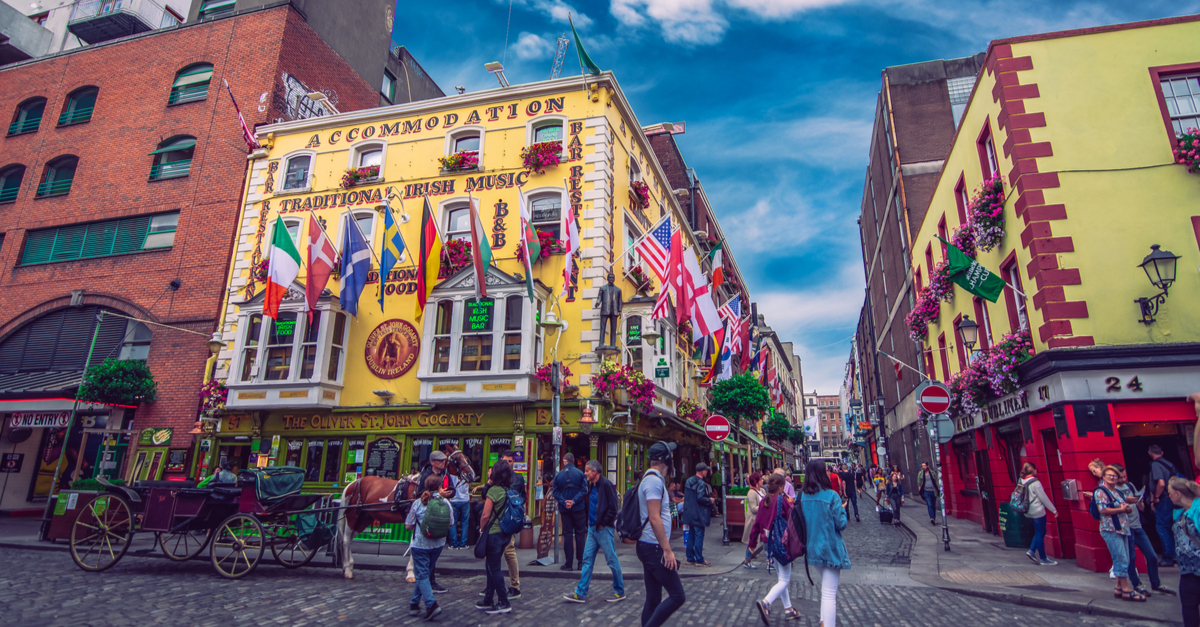 Dublin Tourists. Source: Shutterstock
Popular train journeys from London
Avanti West Coast operates various journeys from London to several destinations in the United Kingdom. The most popular journeys are to Manchester, Birmingham, Glasgow, and Liverpool. The trip from London to Manchester, 163 miles (262 km) away, takes around 2h 6min. London to Birmingham is on average 1h 22min. The London to Glasgow journey, 345 miles (556 km) away, takes 4h 29m on average. You will get a train ticket from London to Liverpool, 178 miles (287 km) away, and the trip takes around 2h 12min.
Good to Know
Omio makes booking train tickets from London to Dublin effortless. All you need to do is enter your desired route and date, and our search engine will return all accessible alternatives. You can then pick the result that fits your needs. Nevertheless, the first train from London to Dublin leaves at around 6:36 a.m., while the final train departs at around 11:30 p.m.
London to Dublin by train – travel trip
Dublin is around 286 miles (461 km) from London, and the journey takes 4h 6min. However, if you travel on holidays and weekends, the duration may vary. You need to connect through ferry service from Holyhead to get to the Dublin port, your final destination. There are several transportation options from the port to the city center and its environs. Dublin is a stunningly beautiful city. It is a medieval city with interesting living history and features historical buildings and landmarks, incredible street art, memorials, and a different narrative around every corner.
Dublin is worth visiting and has among the most amazing people. The 'Irish Welcome' saying is evident whenever you stroll down Dublin streets as you will meet very kind and among the nicest people in Europe. Besides, the city is full of spectacular attractions such as the Dublin Castle, the Guinness Storehouse, The Book of Kells, and several parks in the city.
You can also experience the traditional Irish live music played in many local pubs in Dublin. In addition, the food in Dublin will blow your mind. You can also enjoy Irish cuisines and non-Irish food served at different restaurants throughout the city. Not to forget the beautiful Dublin skies, boasting breathtaking colorful sunrises and sunsets despite the weather. A trip from London to Dublin is worth it, and you should consider one to discover Dublin's hidden gems.