Trains from Indianapolis to Chicago
The Amtrak train is the sole rail travel provider between Indianapolis and Chicago. There is one train that operates the route daily and takes 7h 30min. However, the Amtrak train company also provides high-speed trains three times a week; it takes a minimum of 4h 50min to arrive in Chicago. The trains have recliner seats that help you travel with luxury. The prices on the train vary depending on the seat of your choice. For instance, coach seats are the cheapest, while business seats, premium seats, and Flexi-coach seats are expensive. Indianapolis landscape is rich in a fulfilling landscape with fulfilling scenery. You will constantly smile as you view the beauty around you. A 5h ride will feel like a one-hour drive.
Booking your train ticket from Indianapolis to Chicago with Omio
Our website has simple click-on pages that will help you choose a ticket for your favorite train company. You only need to enter your destination town (Chicago), fill in your personal information as well as the class you wish to pay for. You can also download our mobile app and get your ticket at the tap of your phone. You can book your ticket at your convenience; we operate 24-hours a day and seven days a week. Our customer care services are always available in case of complications or voyage changes in your schedule. We give a 100% refund to your ticket if cancelled eight days before the departure date. The train takes off at 07:00 a.m. and arrives in Chicago at 1:00 p.m. Book with us and get the best tickets from Indianapolis to Chicago.
Train companies in Indianapolis
Amtrak is the only company that has trains running from Indianapolis to Chicago. It has high-speed trains and medium speed steam trains. The cardinal train company runs most of the intercity journeys in the US, offering affordable tickets to its customers. Book with Omio today, and enjoy intercity travels within the US with the comfortable Amtrak trains.
Popular train routes from Indiana to international countries
Amtrak once again has emerged as the leading train voyage provider for long-distance travel. It offers transportation from Indiana to Florida, Indianapolis to New York City, Indianapolis to Colorado, and Indianapolis to California. Book a train and enjoy the best train voyages for as low as $51. Check our prices here. Inter-state journeys are long and may take up to ten to 60h to the destination. That's why the trains are equipped with comfortable recliner seats, comfortable beds, and dining options. In a nutshell, the train will allow you to view the landscape's beauty, eat to your fill, and sleep when you feel tired.
When arriving in Indianapolis from Chicago
Chicago is a great place. If it's your first time visiting, there is nothing to worry about; people are friendly and accommodating. You will alight at Chicago union station, where you can choose to walk or use a bus for $2 only. The population comprises Native Americans, African-Americans, the Hispanic-Americans, Asian Americans, and European Americans. The country has foods from all cultures; you will find something in the menu that is from your native origin. The currency used in the US is the dollar. Get prepared to meet happy faces; most people will genuinely smile at you.
Train providers from Indianapolis to Chicago
Amtrak is a train company serving passengers throughout the US and also to nine cities in Canada. The train company founded in 1971 now operates over 500 destinations carrying thousands of passengers daily from town to town. The company is state-owned and run 95% through revenue, though it is run as a profit-generating organization.
It has its headquarters located in Washington DC. Its headquarters are meters away from the Union station. It owns over 600 miles of rail tracks and operates on other 132 miles (212 km) by other providers. It has trains ranging from diesel, electric and steam trains, having the highest speed train moving at 240 km/h.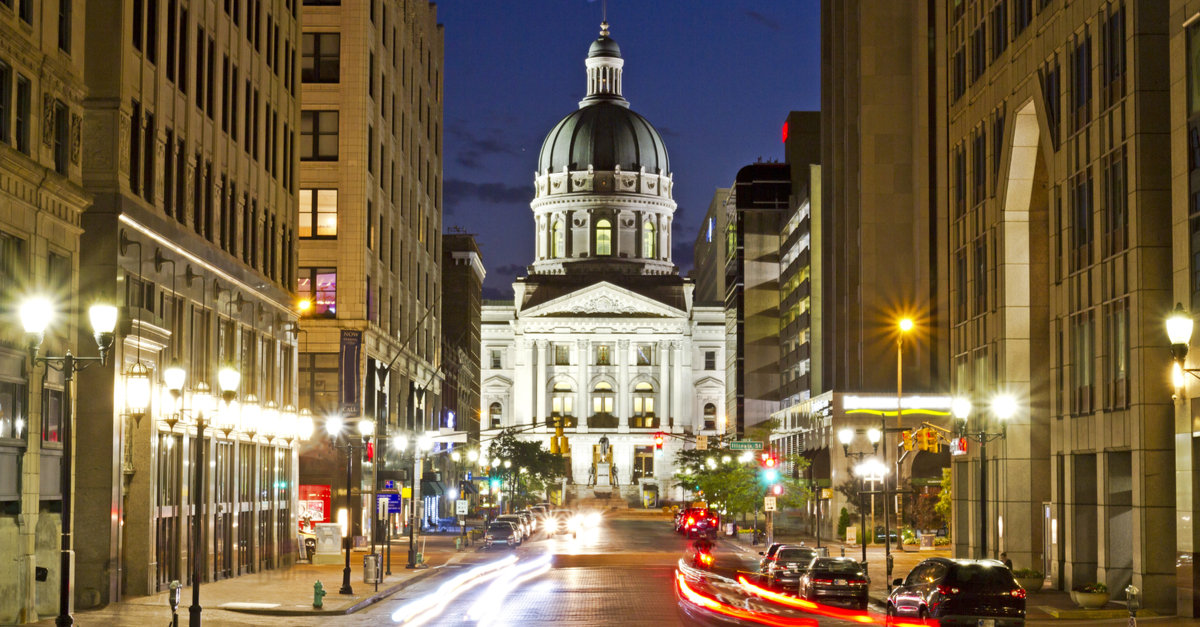 Indianapolis View. Source: Shutterstock
Main train stations in Indiana
The main train stations in Indiana are the Amtrak stations. The company has extensive coverage in Indiana, with more than ten train stations. Connersville, IN train station, offers you shelter from harsh weather. It is located at 1012 Eastern Avenue. Crawfordsville, IN train station, has a large waiting area with seats and cover. There is no need to be late; you can always have a seat, browse as you wait for your train.
Indianapolis, Indiana, the train station is one of the largest and busiest stations due to its location in the capital. It has payphones, swift-modern elevators, restrooms, has available parking services, and a classic-designed waiting area. It's located at 350 South Illinois Street.
The popular train journey from Indianapolis to Chicago
The cardinal route is the only route from Indianapolis to Chicago. It has vast scenery and naturally beautiful landscape running from south to west, via the mid-Atlantic, heartland and southeast. The journey provides its passengers with a lounge, sleeping cars and luggage services. You can make dinner reservations and also arrange a private dinner. Amtrak provides cushion seats with leg allowance and a recliner, making your voyage easy and relaxing.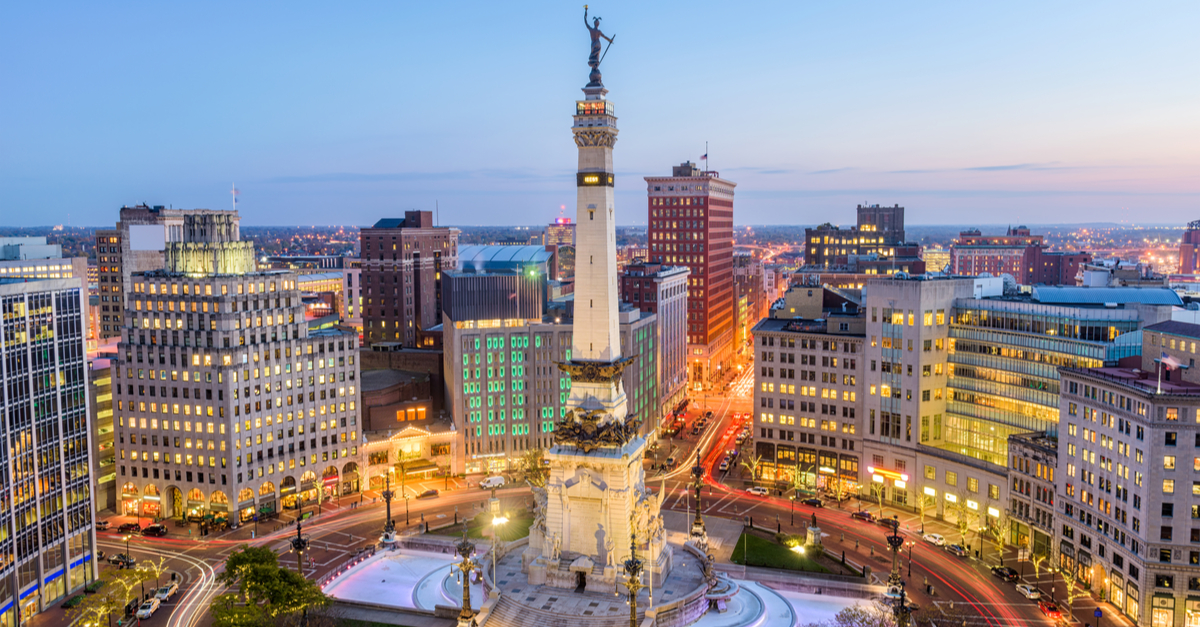 Indianapolis Skyline. Source: Shutterstock
Popular routes by train from Indianapolis
Currently, a train trip to Chicago from Indianapolis has one route only for Amtrak stations. However, Indiana has multiple train routes networking across the country. From Indianapolis, you can travel to New York, Florida, Atlanta, and Denver. Have your ticket today and travel to your favourite city. Omio will help you with the booking trouble.
Good to know
Before you travel via train, note some crucial quick points. First, research your journey. Beware of the distance you are likely to cover, and then decide on accommodation. Second, book your ticket earlier; don't wait when most people are booking. With train booking, you can do it two months before your trip. You can also cancel your trip for a refund in case something comes up. Third, arrive as early as one hour before the departure time, especially if you are traveling with your family and luggage. Finally, know your stop-offs on your journey. Know when safe to descend for a leg stretch; don't get off if you are not supposed to.
To Chicago by train—travel tips
You have already moved from Indianapolis, headed Chicago. Chicago is one of the social states in the USA. Chicago is known as the city of art. There are countless songs sang and composed in Chicago; visit some of the best places videoed in songs you love. There are tourists on the beach and in the town. You will meet people from all ranks of life.
The mouthwatering foods in restaurants will also boost your appetite to the fill. If sports are your thing, then make an effort and visit the Oracle Arena. The river view in Chicago captures the city's beauty. If you have never gone there, ensure you take a minute and enjoy the beautiful scenery. Your voyage from Indianapolis to Chicago is supposedly the best trip you will ever travel by train. So don't wait anymore; book a ticket with Omio and experience what you are missing. With a train trip to Chicago you will have an unforgettable experience.