new text
Buses from Detroit to Chicago
Chicago is among the largest US cities, and it's no surprise that multiple people journey to the city by bus daily. One popular route is Detroit buses to Chicago; on average 5-6 trips daily. The buses leave at a frequency of 2 trips during the morning hours and 3-4 rides in afternoons. Per our research, there's no hourly frequency for a trip by bus to Chicago from Detroit. You can expect the journey to last approximately 6-7h, and the trip is usually direct. However, you have the option of taking a connecting route and take about an extra hour and a half from one bus stop to the next once you arrive in Chicago.
How long is the journey by bus from Detroit to Chicago?
When journeying from Detroit by bus to Chicago, you can expect the trip to last between 6h 15min and 7h 05min on average. That travel time is for a direct connection to the city. However, depending on your end bus station, you might have to take a route that'll have you switch buses in Chicago and arrive at your destination after about 8h 45min.
How many buses are there from Detroit to Chicago?
About 5-6 buses leave Detroit for Chicago each day, usually two in the morning hours and 3-4 buses on afternoons. The number of bus trips for this route each week is around 38 trips. If you would like to travel with the first trip of the day, strive to get to the bus station before 9:00 a.m. when the first two morning buses depart. The last-minute timer can catch a bus ride at around 3.30 p.m. when the last bus leaves the departure bus station.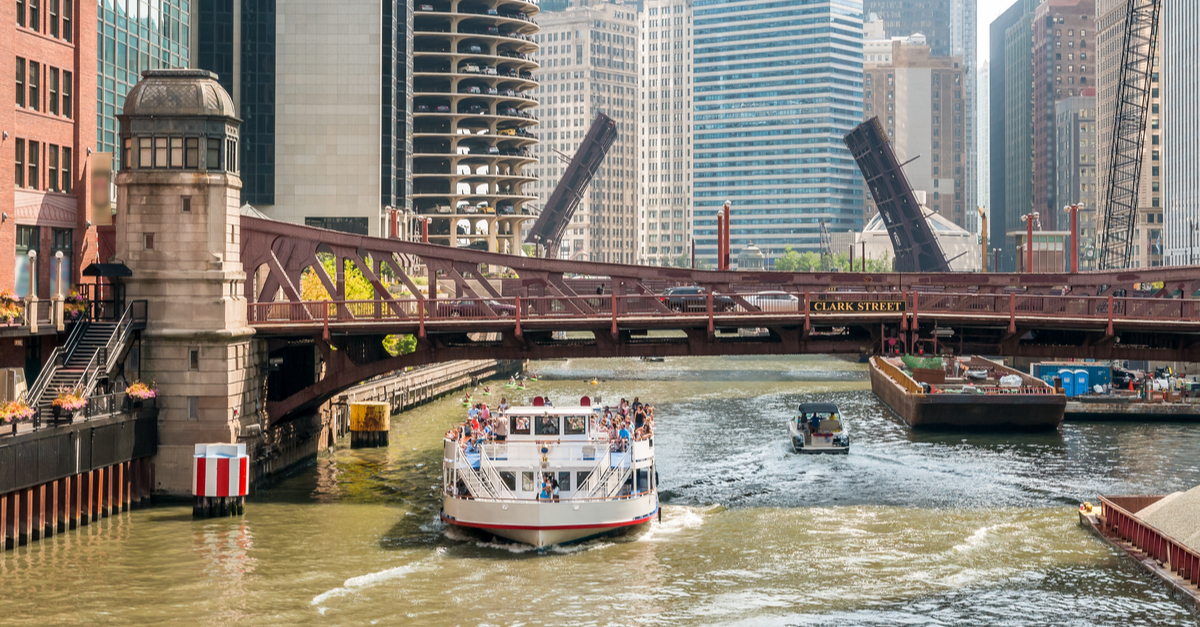 Chicago Boat Tour. Source: Shutterstock
What are the departure and arrival stations for buses from Detroit to Chicago?
Departure bus stations: Detroit Bus Station (Greyhound Terminal) and Detroit Amtrak are the origin bus stations for trips to Chicago from Detroit. Detroit Bus Station sits about 1.1 miles (1.8 km) from downtown Detroit, and the simplest way to get to the terminal is via taxi ride in about 5min or a short 15min walk. Detroit Amtrak lies roughly 4.5 miles (7.2 km) and a 10min taxi ride from central Detroit. It also has public transport connections such as QLine streetcars, SMART buses, and DDOT buses. The bus terminals are near restaurants, bars, supermarkets, shops, and bakeries.
Arrival bus station: Your bus trip to Chicago from Detroit can end at Chicago Greyhound Bus Station or Chicago 95th Red Line Station. Chicago Greyhound Bus Station is in proximity to downtown at 0.9 miles (1.4 km), a distance you can cover in approximately a short 20min walk. Public transportation that connects the bus station to downtown in about 10min is the Blue Line subway.
The bus terminal is near shops, hotels, bars, and supermarkets. Chicago 95th Red Line Station connects to Greyhound buses. The bus station will place you about 12.3 miles (19.8 km) from Central Chicago, and bus 115 can get you to downtown in roughly 16min. The bus stop is close to eateries, sports bars, and supermarkets.
Which bus companies travel from Detroit to Chicago?
The transport company Greyhound serves travelers looking to catch a bus to Chicago from Detroit. It's an intercity bus carrier that has been operational since 1914. The journey between the two cities is generally direct, so you shouldn't worry about switching buses on the way.
However, if you would like to end your trip at the 95th Red Line Station, you'll have to book a bus route that includes making a stop at Chicago Greyhound Bus Station and taking a connecting bus. A direct trip to Chicago's Greyhound terminal takes approximately 6-7h, while a connecting ride to the 95th Red Line Station can last closer to 9h.
Chicago Seaside. Source: Shutterstock
To Chicago by bus—travel tips
Nestled along the shores of the freshwater Lake Michigan, Chicago's a city full of fun things for you to explore. Culture enthusiasts can have a good time while touring the Art Institute of Chicago or Millennium Park. If you're a garden or plant lover, pass by Garfield Park Conservatory. Here, you'll step into a beautiful space full of colorful plant life and other indoor exhibits. Bloomingdale Trail is another place to make a stopover when in the city.
You can run, walk, or cycle across the trail while taking in the scenic garden environment with artistic pieces. In the same vein, tour the Chicago Lakefront Trail that'll give you a spectacular view of Lake Michigan's coast and the Chicago skyline. When in town with your little ones, the Lincoln Park Zoo should be on your list of stops. The park will have family-friendly amusements such as the festive Zoolights that conveniently take place during the holidays. Another reason to visit Chicago is its food culture. The city houses over 20 Michelin star restaurants, celebrity chefs, and former Top Chef contestants.
Even if your pocket doesn't allow fine dining, you can still savor Chicago's budget-friendly delicacies like hot dogs and deep-dish pizza. Your trip wouldn't be complete without a splash on a Chicago beach. With more than 26 miles (42 km) of shoreline, you'll have plenty of beach options to dive in the waves, walk on the sand, or even go boating.
Greyhound Denver to Chicago
Taking a Greyhound bus to Chicago from Denver will be on one of its intercity bus fleets. The bus coach company discharges about 5-6 buses each day on this route, and weekend voyages are as consistent as weekday trips. Morning trips tend to be lesser than afternoon ones, whereby two buses leave at around 9:00 a.m. while the others depart Denver at 3:20 p.m. or 3:30 p.m.
Bus Denver to Chicago is usually direct with no stops or layovers on the way. However, you'll find some routes that offer a bus switch from one of Chicago's bus stations to a nearby bus terminal. The switch usually occurs at Chicago Greyhound Station, where you'll spend about 1h 10min before journeying approximately 30min to 95th Red Line Station. A direct trip to Chicago Greyhound Bus Station takes roughly between 6h 15min and 7h 05min, while a connecting route to 95th Red Line Station usually lasts around 8h 45min.
Denver to Chicago Bus: Services on Board
Greyhound Bus transport company offers multiple onboard perks for travelers to enjoy the bus trip. Its buses feature free Wi-Fi connectivity for every passenger, onboard restrooms, extra legroom, personal power outlets, and comfy, reclining leather seats. Bus fares include economy, economy extra, and flexible. You can bring a maximum of three large suitcases to store under the bus and take on board one carry-on bag, which you can place on the overhead storage or under the front seat.
The first under-the-bus bag is free for all fare types, the second one is free for the flexible fare only, while the second and third bags attract a $20 fee each for all the other fare types. Weight restrictions are 25 lbs (11 kg) for a carry-on bag and 50 lbs (22.5 kg) for every under-the-bus baggage. Greyhound will count bicycles on board as oversized baggage, which will cost you around $30 plus tax, and you'll have to package your bike in a box.
You can't travel with your furry companion on a Greyhound bus unless it's a service animal. Greyhound lets disabled persons travel with service animals for free as long as you bring proper documentation and certifications. Other services for mobility-impaired persons include priority seating, luggage assistance, wheelchair-accessible seats, and help with boarding and getting off the bus.