Flight to Marseille
You can travel by flight to Marseille any time of the year to enjoy the heritage and wine that makes the city famous. Flights to Marseille from US cities will touch down in Marseille Provence Airport, the closest and only flight station receiving planes in the town. Marseille Provence Airport operates roughly 15 miles (25 km) from the Marseille city center. As an international aviation center, the airport receives flights from various cities, including US metropolitans.
As such, you can depart from Seattle, San Francisco, Washington DC, New York, and even southern US cities like Orlando and arrive at Marseille Provence Airport. Be advised that such journeys can take an estimated 10h to 19h. Further, you may not travel direct. You can come across maximums of two layovers. The stops are usually in renowned cities in Europe such as Madrid, Amsterdam, and Paris.
Air France to Marseille
Among the numerous flights from US cities to Marseille, Air France enables tens of daily departures. Established in 1933, Air France rose to be the flag carrier of the French republic. The airline is now a global air transit corporation with destinations all over the world. None of the Air France trips to Marseille are direct. However, you don't have to worry about buying tickets for different airlines if traveling via this carrier. Air France will leave a US airport and touch down in Marseille after some stopovers.
The common aviation facilities from where Air France departs are JFK International Airport, San Francisco International Airport, Hartsfield–Jackson Atlanta International Airport, and Chicago O'Hare International Airport. Your stop will usually be at Charles de Gaulle Airport in Paris. Afterward, you will arrive at Marseille Provence Airport.
KLM Airlines to Marseille
KLM Airlines also enables numerous daily departures from US cities to Marseille, France. The airline has its base in the Netherlands and started flying in 1919. If you make a flight to Marseille through KLM, anticipate stopping in Amsterdam, where the first layover occurs. From the changeover point, you have to board a different airline, such as Lufthansa, to get to Marseille. The US departure flight stations for KLM Airlines include La Guardia Airport, JFK International Airports, Dulles International Airport, Los Angeles International Airport, and San Francisco International Airport. However, you may find KLM flights from the West Coast being operated by Delta Airlines. After completing their trips, KLM planes find a destination in Marseille Provence Airport.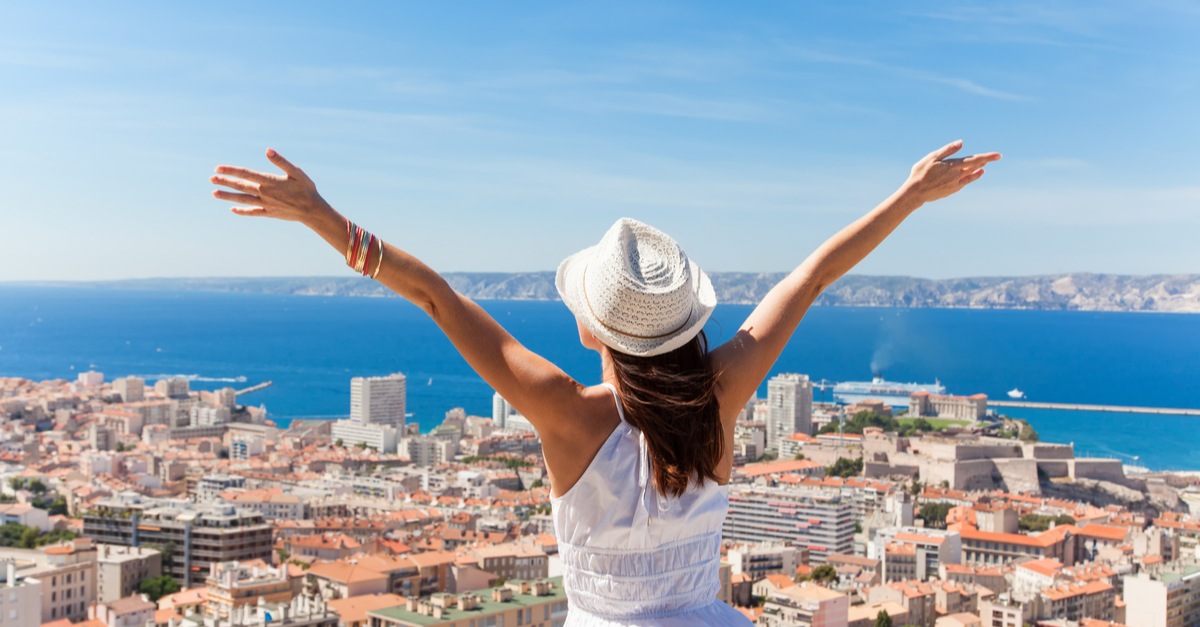 Marseille Overview. Source : Shutterstock
Main flight stations in Marseille
Approximately 15 miles (25 km) from Marseille city center, you will find Marseille Provence Airport. The terminal is the only airport servicing Marseille city. Due to its passenger traffic, including those who make a flight to Marseille, the terminal ranks as the fifth busiest France terminal. Some of the airport's facilities afforded passengers include shops, cafes, and restaurants where refreshments retail at affordable prices. You can also find luggage facilities onsite and sleeping halls that feature numerous power outlets for phone charging. To access the city center, you can board the shuttles stationed in the airport. They are affordable and require around 23min to get to central Marseille. The other transfer option is a taxi that takes a similar duration to the shuttle while traveling to downtown Marseille.
Onboard facilities Marseille
Whether you are flying aboard the Economy or Business classes in Air France, you can be sure to find various services that may make your flight enjoyable and memorable. The carrier allows you to bring devices like phones and tablets on the plane. Also, you can charge such devices using the numerous sockets present near seats. For a relatively small fee, you can access the in-flight Wi-Fi and remain online. If you would prefer to fly while enjoying a movie or show, you can access such content on the backseat portals that all passengers can access. All these services are accessible from a comfortable seat that fosters good elbow and legroom. Furthermore, you can order some complimentary beverages. Whether you are a fan of alcoholic or non-alcoholic drinks, Air France provides them at no cost.
On long flights, you can also access free meals. Air France further understands your need to travel with your pet. Thus, they allow a limited number of small pets in the cabin provided there are in carriages. Moreover, there is a service for disabled passengers. Call the airline at least 48h before the departure time to request disability assistance. In KLM Airlines, there is free Wi-Fi, meaning you can access your email for work-related causes during the flights to Marseille.
Furthermore, power outlets are available to enable both phone and laptop charging. Without an electronic device, you don't have to stay idle aboard KLM. The carrier offers a backseat TV that presents pleasurable content such as blockbuster movies. After enjoying the available shows, you can tuck yourself in using the blanket and pillow available for each seat. Depending on the travel time of the flights to Marseille, KLM may offer you food and snacks at zero charges. With every meal provided, you can order from a selection of free drinks, including alcoholic beverages, tea, and coffee.
If you have a pet that you need with you while flying, KLM may have no objections. However, your pet must remain in a carriage. Passengers with visual impairments or other disabilities can give KLM Cares a call to get assistance with mobility.
Flight tickets to Marseille: Useful to know
Tickets for persons who want to get to Marseille by flight are available a few weeks before departure time. You can consider buying them in advance through Omio to receive travel discounts. After getting your ticket confirmation electronically, carriers like Air France advise that prospective passengers print a hard copy of their tickets.
However, most airlines have no problem handing boarding passes in the presence of e-tickets. Thus, it is a great idea to examine the ticket printing requirement your airlines put forward. When boarding, it is mandatory that you provide an ID, especially for adults. You can benefit from having all your tickets in a central place, such as an Omio account. On Omio, buying flight tickets to Marseille is fast and easy, and it's possible to store all your tickets in your Omio account.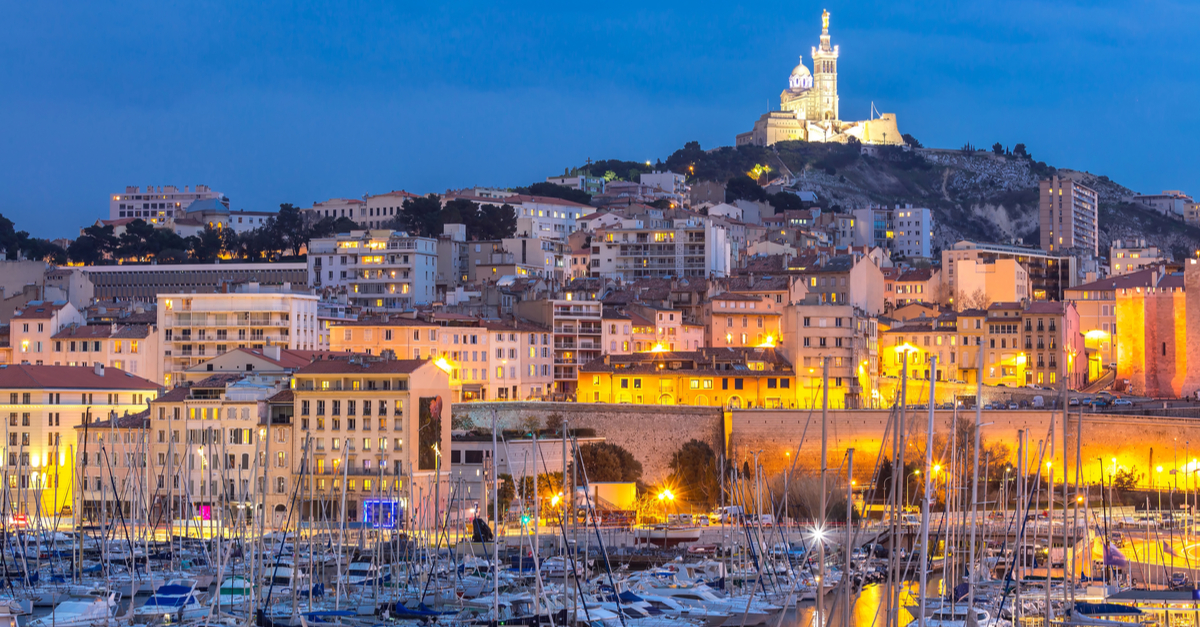 Marseille Night Marina. Source : Shutterstock
To Marseille by flight – travel tips
Besides being home to the largest port in France, Marseille provides a detailed story of the city's history and how the regions near the Mediterranean developed. For a chance to explore the progress of Marseille, visit MuCEM, a museum in the town. You will learn of ancient trade routes, foods, and even gods that contributed to making Marseille the city it is today. Public transport in Marseille is a blend of metro lines, trams, and buses. Metro lines 1 and 2 and the trams are a great way to get to various destinations in the city center. However, buses provide an excellent way to tour the neighborhoods of the city.
As a city that developed well in medieval times, Marseille will amaze you with a long list of heritage-rich attractions. First, get to Notre Dame de la Garde, Marseille's landmark, and climb up the structure for a mini-hike. At its top, you can take a breather while enjoying the view of the city below you. In the shorts and t-shirt weather, you can enjoy a boat ride on the tranquil Marseille waters at Les Calanques. Before winding up your tour, taste the stimulating aperitif at Pastis and Olives prior to gulping down a local dish.