Heathrow Airport can be slightly tricky to get to compared to other airports in London. That's because the airport is located on the very outskirts of the city on the east side. However, thanks to good transport links, getting there is much easier than you might think. In fact, you have several options at your disposal.
There are several methods available for this journey: buses, trains, driving, and the London Underground. Buses are connected by National Express services between terminals 2 and 3 and the connection point in the center is Victoria Coach Station. There are roughly 2-3 buses per hour and the total travel time is 35 to 60 minutes. The Heathrow Express train is your quickest option, connecting LHR and Paddington Station with a standard journey time of 15 minutes.
The London Underground is also a possibility, and this takes between 50 and 60 minutes on the Piccadilly Line. Finally, if you choose to drive or take a cab, it can take over an hour between the city center and Heathrow Airport.
It goes without saying that London is a pretty big place! But to get from Central London to Heathrow Airport, you're only talking about 15-20 miles (24-32 km). However, this distance can be covered quickly when going from Central London to Heathrow Airport. As detailed above, there are several transport options you may use. Each method has a different journey time, naturally.
Assuming you want to get there as quickly as possible, the Heathrow Express is undoubtedly the best bet. It has a journey time of around 38 minutes, which is a good 15-20 minutes quicker than the London Underground service. The Heathrow Express leaves from Paddington Station, which is connected by the underground to several Central London stops such as Kings Cross and St Pancras.
Driving (or taking a cab) is the slowest option available, as it can take over an hour, and you've got to deal with London City Center traffic.
Discover your Terminals in Heathrow Airport
Heathrow Airport has a total of 4 terminals: 2, 3, 4, and 5. Terminal 1 has been closed for a number of years. Each of these terminals in Heathrow Airport has complimentary Wi-Fi, toilets, and a selection of bars and restaurants for refreshments. As always, there are certain restaurants, cafes, and bars that can only be accessed once you've passed through security. This is also true for the airport lounges, boasting multiple options such as the Plaza Premium and Club Aspire lounges.
Different airlines operate from each of these four terminals, and your airline will determine where you must go and check in. But if you've got some spare time, you can easily use the free train service to hop between the terminals. In fact, this is the quickest and most convenient Heathrow Airport transfer between the four terminals - unless you want to walk between T2 and T3 (very close to each other).
Each of these terminals is also equipped with a lost luggage section, cash machines, and customer support desks.
More Services, Facilities: Things to Do During a Layover at Heathrow Airport
Given that there are many international flights from Heathrow Airport, there is a fair chance that layovers will involve many hours of waiting around. But that's where the additional services at this airport shine through. In terms of unique elements regarding the airport and things to do, customers have options such as spas, hotels (located close to arrivals), lounges, and even places to grab a quick haircut! How about that for making the most of your layover?
With that said, there is also good news for smokers. Heathrow Airport has several designated smoking areas. This means that you can still enjoy a cigarette or two before boarding your flight.
Can you Sleep at Heathrow Airport
Heathrow Airport has several 'in-airport' hotels. Terminal 3 is home to the Aerotel Hotel. Terminal 4 hosts the Hilton, and Terminal 5 has the Sofitel. These are all hotels that let you stay overnight, although alternative rest areas can also be found throughout the terminals.
Each of these hotels have multiple room options, as well. This means you can go ahead and book a single, double, or family room depending on your needs.
How Long it Takes to go from One Terminal to Another in Heathrow Airport
As you already know, Heathrow Airport has four terminals in operation. This actually makes it the largest airport in the United Kingdom. However, despite the scale of this airport, getting around the terminals is very easy. If you want to, you can use an underpass to get between T2 and T3, which is open at all hours. It only takes around 10 minutes to walk between these terminals.
As for connections between all terminals, it's better to take the free train services than to walk. You can grab a free ticket from numerous machines in all terminals, as long as you have your boarding pass handy. Alternatively, there are free bus shuttle services for passengers needing to switch terminals. Whichever option you use, the total journey time will not exceed 20 minutes.
How Long it Takes to go Through Security at Heathrow Airport
At Heathrow Airport, on average, travelers report a standard security time of between 30 and 45 minutes. This can fluctuate during times such as school holidays or winter breaks like Christmas, for example. For that reason, travelers are advised to arrive three hours before international flights. This should allow ample time for check-in and security to be completed.
Airlines and Destinations at Heathrow Airport
The top five destinations from this airport are New York, Dubai, Dublin, Amsterdam, and Hong Kong. Of course, flights to Heathrow Airport from these destinations also contribute to these statistics. This is true across the four operational terminals at the airport, although different airlines naturally have different 'hot spots'. For example, flights to JFK (New York) have been hugely favored by airlines such as British Airways, JetBlue, and Virgin Atlantic.
Destinations like Amsterdam are more popular with airlines like Aer Lingus, FlyBe, and EasyJet. It all depends on the length of the journey and what the airline's target market is.
The History of Heathrow Airport
Amazingly, Heathrow Airport first came to fruition almost 100 years ago – way back in 1929. The airport was built in an area known as the 'Hamlet of Heathrow'. Of course, the project was small back then. But thanks to government funding, the airport grew significantly following the end of WWII (1944). And in 1946, this larger airport opened for business and began accepting commercial flights. Since then, terminals have been added and major renovations have taken place to reveal the four terminal behemoth that we see today
What is the Heathrow Airport Code?
The shortcode for Heathrow Airport is LHR. So, when booking a flight or checking out transport links, you may often see these three letters presented. The code itself stands for London Heathrow Airport, and it will be shown as LHR on your boarding passes too!
Driving in and out of the City from Heathrow Airport
If you are taking one of the many flights to Heathrow Airport from any of the linked destinations, you may be wondering what you can do once you arrive. If you are interested, attractions like the London Eye, Houses of Parliament, and Buckingham Palace are all located within an hour of the airport! For any others, our travel magazine, 'The Window Seat' has all kinds of things to do in London that you may wish to check out.
This highlights another key benefit of heading into Heathrow Airport. The airport is well connected to London City Center, and once you arrive there the entire United Kingdom is your oyster. Domestic trains can take you to major cities such as Leeds and Manchester in less than 2.5 hours. You could even go further afield and take a train to Edinburgh in Scotland, which takes less than 4.5 hours.
But if you want to be very adventurous, you can even take a train to the continent from St Pancras International. Trains to Paris through the Eurostar tunnel take just over 2 hours, and this is a direct service.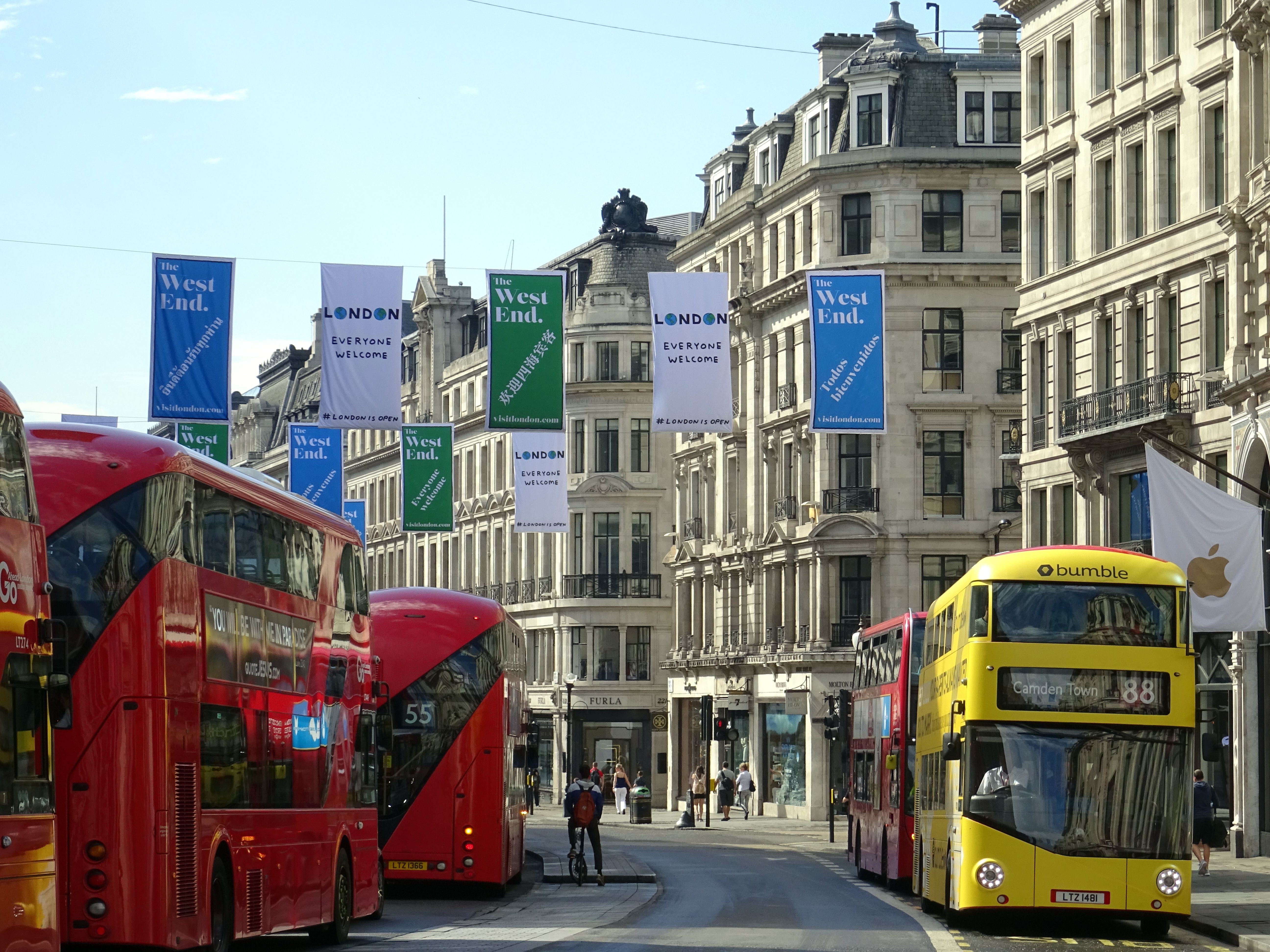 Two Yellow and Red Parked Bus Near the Stop Source:Pixels
Are there Other Airports in London?
To wrap this up, London is also home to several other airports. Specifically, the city is home to Gatwick Airport, London City Airport, Stansted Airport, Luton Airport, as well as Southend Airport. These can all be reached through main transport links.
Gatwick is located South of the city, and it is around 42 miles (68 km) from London Heathrow. London City Airport is in the center, approximately 26 miles (42 km) away. As for the other two, Stansted is 60 miles (90 km) away, North of the city. And finally, Luton Airport is 34 miles (55 km) from LHR.