Buses From Tampa-Florida to Orlando-Florida-Odile
If you're traveling from Tampa, FL to Orlando, FL by bus, your journey will take about 1h 40min/3h 30min to cover approximately 77 miles (124km). Usually, seven bus services are available each week although weekends and holidays may have different schedules, so it's important to confirm their availability in advance. You'll come across several bus stations in both cities-Tampa, FL, and Orlando.
Tampa, FL to Orlando,FL Bus Time: Daily Departures
Traveling to Orlando from Tampa by road is easy and timeless thanks to available bus services. The main buses on this route are FixBus US, Red Coach, and Greyhound, all committed to ensuring that you arrive in Orlando comfortably and safely. These bus services provide up to six intercity trips per day. This translates to about 42 trips per week although the weekend or holiday schedule may change a little bit.
The earliest bus leaves Tampa, FL, at 5:30 a.m. and the latest one departs around 6:30 p.m. Bear in mind that some buses operate direct routes from one city to another while others have stopovers or layovers. Ensure to make your trip as simple as possible by comparing and choosing the most convenient bus that suits your budget and travel style.
How Long is the Journey by Bus from Tampa, FL to Orlando, FL?
The average time that you can travel from Tampa to Orlando depends largely on the route and the bus company. However, you can take an average of 1h 40min on a direct bus, covering about 77 miles (124km) from Tampa to Orlando. The fastest bus can take less than 1h 30min between the two separate cities in Florida.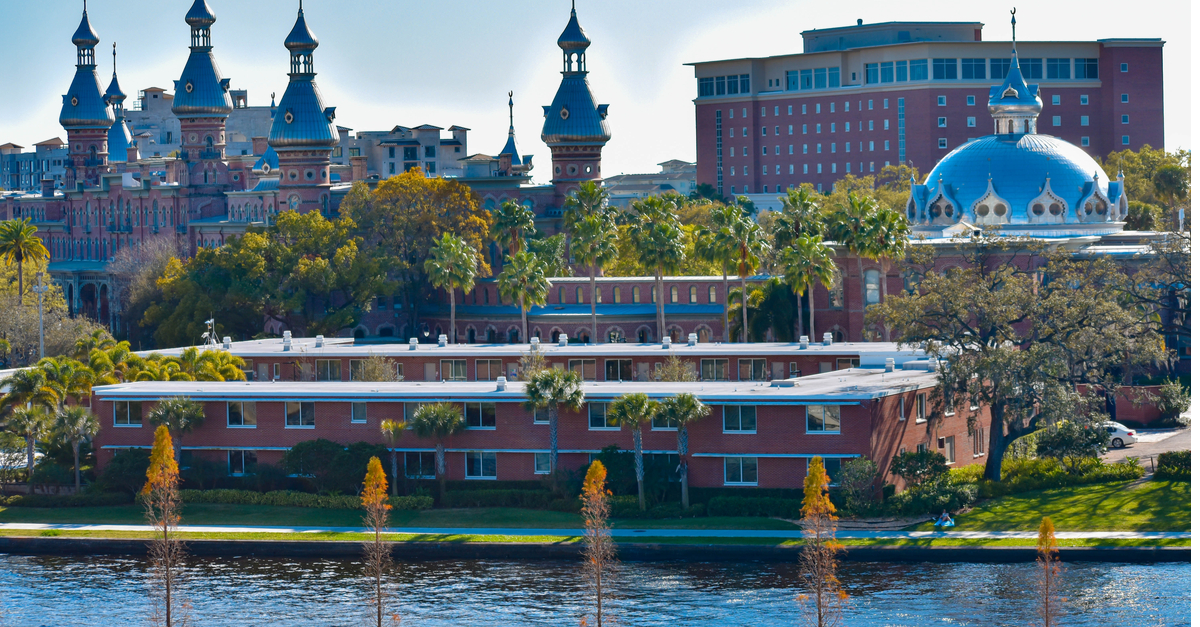 Tampa Florida Aerial View. Source: Shutterstock
What is/are the Departure and Arrival Stations for the Buses from Tampa, FL to Orlando, FL
Departure bus station: The two main departure bus stations are Greyhound Station and Marion Transit Center. Greyhound Station is located along 610 East Polk Street, which is a walking distance from downtown and about 0.7 miles (1.3 km) from the city center. You'll find lots of onsite vending machines for food and drinks. Rio Cafe is also situated within the station where you can enjoy Cuban food before catching the bus to Orlando. You will locate Marion Transit Center on 1211 North Marion Street, just 0.5 miles (0.8 km) from Downtown Tampa and 0.8 miles (1.28 km) from the city center. This bus station consists of two major structures: the main building housing the customer service area, office space, a patron lobby, and drivers' lounge; and a clock tower. Trellis-covered walkways provide access to buses and the canopy that shelters travelers against the sun and rain.
Arrival Bus Station:The arrival Bus Terminal in Orlando is situated at 555 North John Young Parkway. This is the exact location where you will find Greyhound Bus Station in Orlando, FL. The station is about 3 miles (4.83 km) from Downtown Orlando. SunRail Station is within a walking distance from Greyhound Station. Lynx public bus stop is nearby to conveniently drop arriving passengers off at Greyhound Bus Terminal. While at this arrival station, you can grab a quick bite from onsite vending machines or walk to one of several fast food joints to have your favorite dish.
Which Bus Companies Travel from Tampa, FL to Orlando, FL?
When traveling to Orlando from Tampa, you should consider your comfort and safety. Luckily, bus companies on this route will fulfill your wishes. These companies include Greyhound, FlixBus, and Redcoach. With Greyhound, you can expect more choices of buses thanks to its four scheduled daily trips between Tampa and Orlando. Furthermore, Greyhound offers affordable, safe, and reliable bus services in the United States. When it comes to FlixBus company, you should look forward to traveling from Tampa to Orlando in about 1h 32min, which is somehow faster than Greyhound buses. Plus, it provides at least three daily trips between the two cities at lower rates. RedCoach, however, helps you avoid long and congested routes when traveling from Tampa to Orlando. Check with each company to find out which one of them offers services that suit your travel needs before booking your ticket.
Greyhound Buses from Tampa, FL to Orlando FL
Greyhound Buses provide the most frequent services to passengers traveling from Tampa to Orlando with up to four trips per day. Each bus takes approximately 1h 50min from Downtown Tampa to Greyhound Bus Station in Orlando.
RedCouch Buses from Tampa, FL to Orlando,FL
If you want luxury while visiting Orlando from Tampa, you should consider RedCoach Buses. This service provider assures you ultimate comfort and utmost safety throughout your journey. Besides, RedCoach offers both one-way and round-trip rides between the two cities with flexible schedules.
Amtrak Buses from Tampa, FL to Orlando, FL
Amtrak buses travel from Tampa to Orlando twice daily and each bus takes about 2h 05min. Even though Amtrak does not provide direct buses to Orlando, you can rest assured that your journey will be a comfortable one.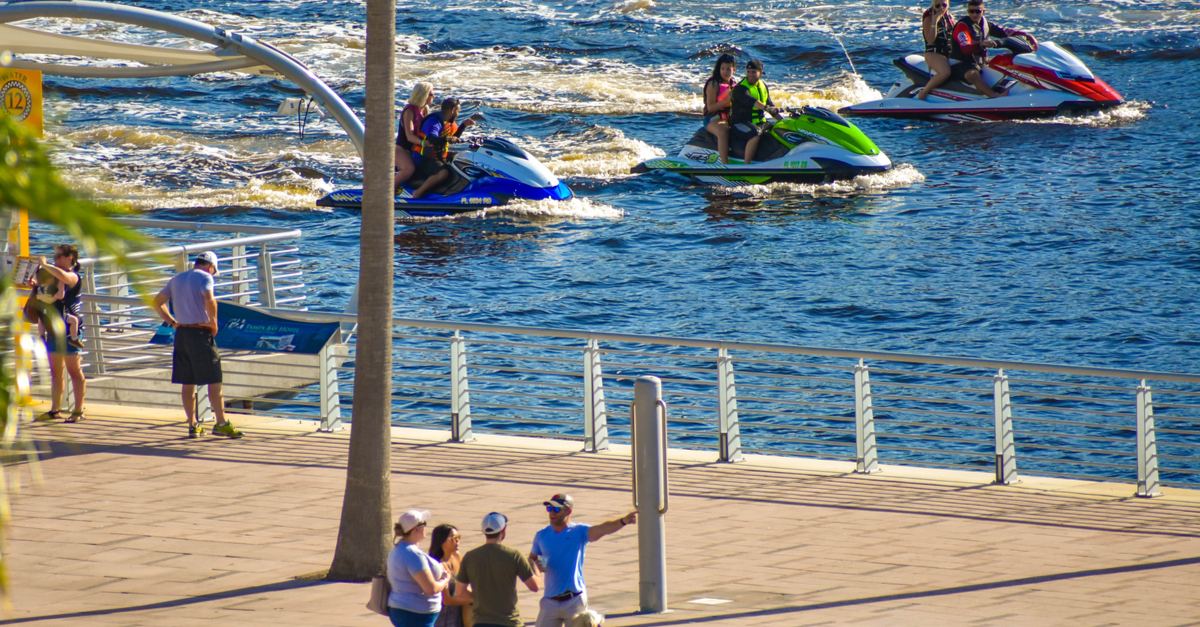 Tampa Folrida Bay. Source: Shutterstock
Bus from Tampa, FL to Orlando, FL:Services on Board
The bus route from Tampa to Orlando enjoys the services of about six intercity buses daily from various bus companies. These buses allow you to travel in luxury because they provide seats that recline to your desired angle with extra legroom for relaxation. Onboard entertainment and power outlet fixtures ensure that you never get bored throughout your journey. These intercity buses are fitted with camera feeds and tracking GPS to enhance the safety of their passengers. Bus service providers such as RedCoach offer convenient and affordable first-class buses to help you travel luxuriously.
There are also business class buses that feature oversized seats with lap trays to hold your valuables while on transit. At the press of a button, your seat will transform into a comfortable bed for you to rest. Most importantly, buses on this route allow you to get on board with two bags, each weighing approximately 50 lbs (22.7 kg). Pets are permitted on some buses but not others. In this case, you may travel with Amtrak business since they allow pets like cats and dogs up to 20 lbs (9.1 kg) on board. However, bus service providers such as Greyhound and RedCoach do not let passengers get on board with their pets or other animals. Bicycles are permitted on all three buses. Greyhound classifies bikes as oversize luggage while Amtrak allows you to secure your bike within the designed racks. RedCoach welcomes your bicycle on board provided that you stow it in appropriate packaging.
How to find Cheap Bus Tickets from Tampa, FL to Orlando, Fl
You can find a cheap ticket when traveling from Tampa to Orlando by booking in advance. Early booking helps you avoid traveling during rush hours. Also, it allows you to save money, especially if you are flexible with your travel dates. More often, the average bus ticket from Tampa to Orlando Florida will cost you more if you book on the day you travel than booking a few days earlier. Another way to get affordable tickets is to go for connecting buses or slower routes, which usually have fewer passengers.
Tampa, FL to Orlando, FL by Bus-Helpful Travel Tips
Whether you are traveling from Tampa to Orlando for business or pleasure, taking a bus will make your trip count. Once in Orlando, you will explore the city to discover its surroundings. Orlando is one of the top tourist destinations in the US where attractions such as Discovery Cove, Walt Disney World Resort, and Wizarding World of Harry Potter are found, As a global theme park, Orlando has a high-density of picturesque parks like LEGOLAND, SeaWorld, Gatorland, and many more. No wonder it is rated as the top destination for families.
Besides, the city is home to trendy neighborhoods with world-class shopping and dining joints. If you love nature, this destination is right for you since it features some of Florida's unique flora and fauna at Orlando Wetlands Park and Lake Eola Park downtown. You can also spend quality time at gorgeous beaches such as Cocoa Beach, New Smyrna Beach, or Canaveral National Seashore.