Buses from Miami to Orlando FL
The trip to Orlando by bus is 203 miles (328 km), and takes around 4h 20min. The slowest buses take 4h 30min and the travel usually has a stop between cities. All buses leaving from Miami, however, are a direct connection with no stops in between cities. A total of 3 buses departs from Miami per day, and all travel direct to the destination, so you'll never be delayed on your journey.
Miami to Orlando FL Bus Time: Daily Departures
The travel time from Miami to Orlando FL is 4h 20min, and Buses depart Miami 3 times per day. If you plan your trip accordingly, it's possible to get to Orlando in 4h 15min. The first bus leaves at 7:15 a.m. and the last bus at 7:00 p.m. All buses are a direct route with no stops to slow your arrival down.
How long is the journey by bus from Miami to Orlando FL?
The travel time from Miami to Orlando Fl is 4h 22min, and the longest train is 4h 30min. With the right timing, you could make your trip in 4h 15min. The total distance covered on the trip is 204 miles (328 km). Tickets from Miami to Orlando FL tend to change throughout a day, so checking schedules occasionally will help you avoid delays.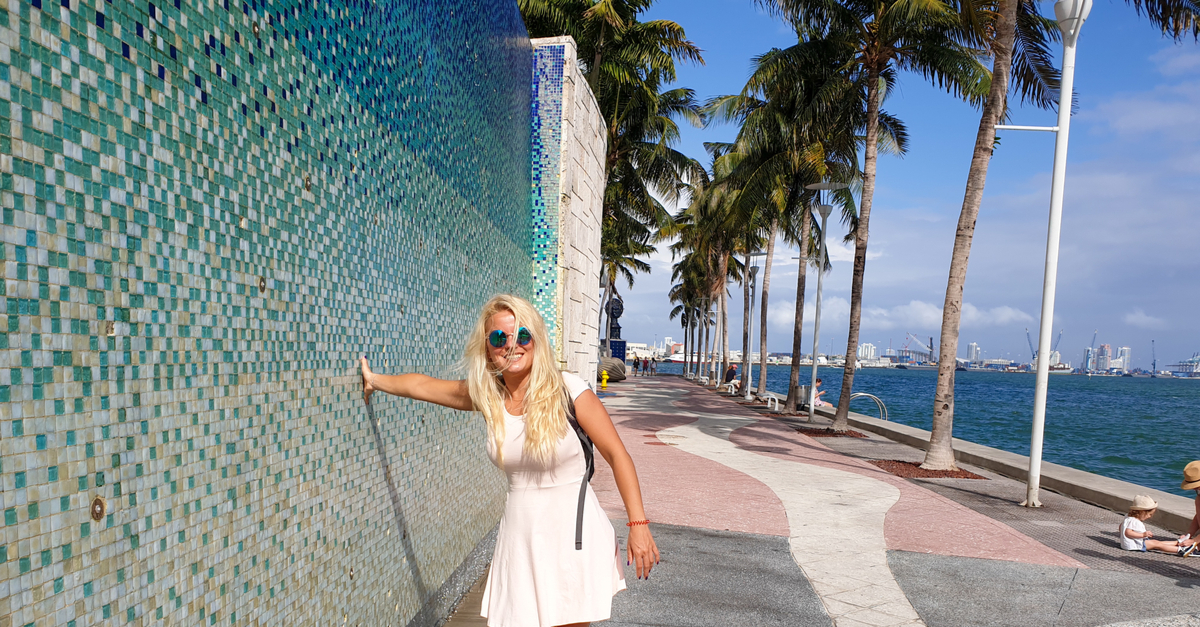 Miami Palms. Source: Shutterstock
What is/are the departure and arrival stations for buses from Miami to Orlando FL?
Departure bus station: Buses depart from Fort Lauderdale Amtrak Station in Fort Lauderdale, FL. The station is located approximately 39 miles (62 km) from Miami. You can take a taxi to the station, but make arrangements for plenty of travel time in the event there is abundant traffic. The station has power outlets to charge your devices, and dining is available so you can eat before you travel. There is a full staff to answer any travel-related questions.
Arrival bus station: The Greyhound Bus Station on N. John young PKWY in Orlando is where passengers will arrive from travel from Miami to Orlando FL. The area has many restaurants and it's easy to travel from the station as major routes are nearby. The station has power outlet to charge devices and bathroom facilities. Major theme parks and other entertainment venues are close by, and your best bet is to travel by taxi from the station. N. John Young PKWY is a major road that will take you all over the area quickly.
Which bus companies travel from Miami to Orlando FL?
Flixbus Miami to Orlando FL is the main bus provider for your journey to Orlando. While Flixbus is stationed in Europe, it's US service called Standard is for your trip to Orlando. Flixbus offers comfortable seating for a relaxing trip, and is equipped with handicapped grab bars and ramps for wheelchairs. There are designated storage areas for walkers and wheelchairs as well. There are many options when you book your Flixbus ticket, so check the schedule for upgrades like first class or priority seating on your trip. All Flixbus routes to Orlando are direct and require no stops along the way, so you won't be delayed on your journey.
Flixbus buses from Miami to Orlando FL
Flixbus is the major service provider for travel from Miami to Orlando FL. Flixbus offer plush, comfortable seats and clean, air-conditioned buses. The trip covers 204 miles (328 km) and the fastest bus is 5h 21min. There are 3 buses per day departing Miami, and all of the buses are a direct connection so there are no delays during your trip. Flixbus offer many choices when booking your trip, so check for the different ticket options like first class or other upgrades for your trip.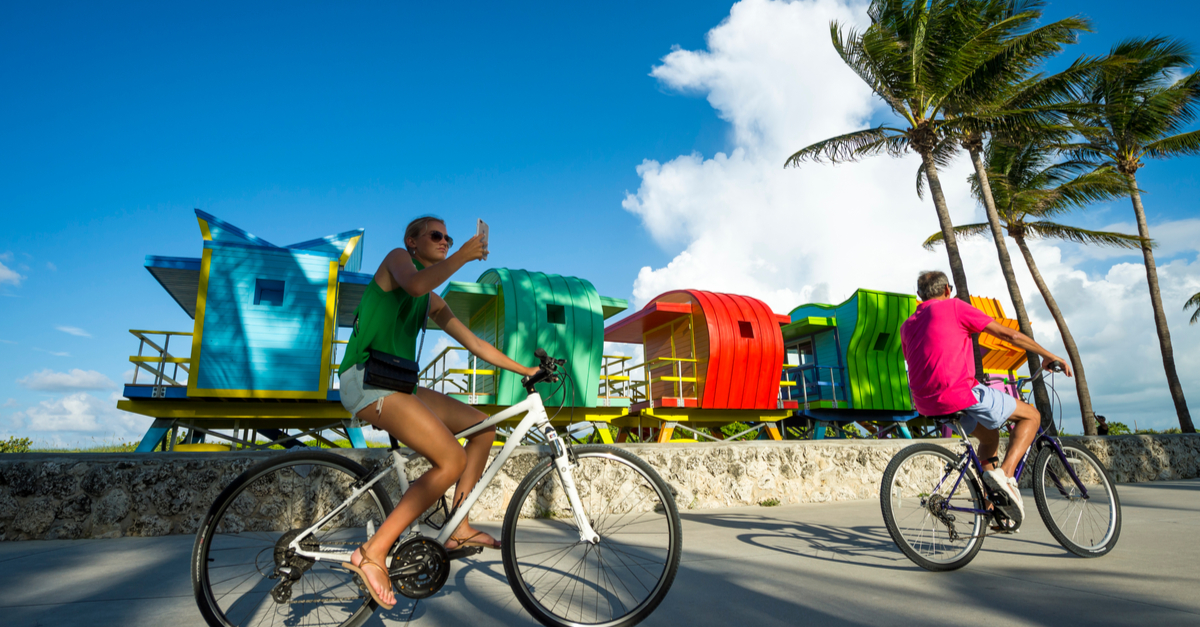 Miami Colours Bike. Source: Shutterstock
FlixBus Bus from Miami to Orlando FL: Services on Board
Flixbus travel from Miami to Orlando offers passengers many benefits for a great journey. The thick, comfortable seats allow you to adjust them to suit your needs. The clean, air-conditioned buses ride smoothly so you'll never feel the bumps. For disabled passengers, there are ramps and grab bars, and storage areas for walkers and wheelchairs. Luggage allowances are 2 pieces that can weigh up to 66 lbs (30 kg).
Luggage is held in the cargo hold free of charge, and this includes 1 piece of held luggage. There is free Wi-Fi and power outlet to charge your electronic devices. Pets are allowed if they weigh less then 11 lbs (5 kg), but they must remain with the owner at all times. Service dogs are allowed but also must stay with the owner for the duration of the trip, and owners must present a valid certificate that proves service dog status.
How to find cheap Bus tickets from Miami to Orlando FL?
For the cheapest way to get from Miami to Orlando, there are many options to try and save money. One way is to book a coach ticket which is often less than upgrades or tickets with first class. You can also choose longer bus routes, or ones that have stops between the cities. These tickets are often less than a regular ticket. Booking tickets early and with careful planning will also save you money. Many times, buying tickets on less busy routes will save you money. Perhaps the best tip is to be flexible with your travel dates. This takes more time and planning but in the long run you'll save a bunch on your trip to Orlando.
To Orlando FL by Bus—travel tips
Travel from Miami to Orlando FL is a fun way to vacation, but it helps to know roads and areas to help you get around once you arrive. From the bus station off N. John Young PKWY, it's an easy commute to any areas in Orlando, as the road connects to major highways and interstates. All the major theme parks like Universal City, Disney World, and Sea World are close together, and there are many restaurants and shopping on almost every street in the city. Before your trip, it's a good practice to research the area as there is so much more to see and do than just the well-known theme parks. For example, there are some great water parks like Volcano Bay and Discovery Cove.
Other lesser-known spots are Fun Spot America, Avatar Flight of Passage, and Icon Park. To save big on tickets, look for coupons and specials that often run throughout the year. You'd be surprised what you can save. Another good way to enjoy your trip is to attend the larger theme parks in less busy times. During the week, crowds are less likely to attend the most popular theme parks in the area. When it comes to booking hotels, there are major discounts available if you book longer stays. If you were to stay seven days, most hotels offer deep discounts for your stay, and they often include free breakfast and other perks. Theme parks, too, will run bargains like two days of fun for the price of one admission.
Another thing to keep in mind for your trip to Orlando are traffic schedules. Orlando is notorious for traffic jams, especially from theme parks along the I-4 corridor. After 2:00 p.m., traffic starts to congest, especially traffic going west towards Tampa. A good traffic app can help you miss the traffic congestion, and they will also give you the best back roads to take.