Bus from Gainesville to Orlando
Walt Disney World and Universal Orlando are some of the major attractions that make Orlando a popular US destination. Among the popular ways of getting from Gainesville to Orlando is by bus. Bus tickets to Orlando are cheap, and roads into the city are in good condition, making buses a reliable mode of transit. Orlando is 95 miles (154 km) from Gainesville, and the bus ride takes an average duration of about 2h. There are multiple departures from Gainesville every day, with up to seven daily buses departing the station for Orlando.
Gainesville to Orlando bus times: daily departures
There are around seven daily departures from the bus station in Gainesville. The departures are well-spaced throughout the day, from early morning to late at night, making it easy for you to find a convenient departure time. The first bus leaves the station at 6:40 a.m. and the last one at 11:15 p.m. These times are constant regardless of whether your journey is on a weekday or weekend.
How long is the journey by bus from Gainesville to Orlando?
The journey by bus to Orlando from Gainesville can be just under 2h to about 2h 40min. Your bus provider and departure and arrival stations are the determinants of the journey time. For example, RedCoach bus journeys to Orlando from Gainesville Station are faster. So if you want to save time on your trip, book a trip with RedCoach. Moreover, all buses leaving Gainesville for Orlando are direct buses, contributing to the short duration of your trip.
What are the departure and arrival stations for buses from Gainesville to Orlando?
Departure bus station: Gainesville buses to Orlando depart from two different bus stations. Frazier Rogers Hall and NE 23rd Avenue are RedCoach's and Greyhound's departing stations, respectively. Frazier Rogers Hall is along Museum Road, less than 3 miles (4.8 km) from downtown Gainesville. It is a popular Gainesville bus station with free Wi-Fi and waiting lounges. Greyhound Bus Station is located on NE 23rd Avenue, 2 miles (3.2 km) from downtown Gainesville. The station has clean restrooms and waiting benches.
Arrival bus station: Gainesville buses also have two arrival stations in Orlando, RedCoach Station and Greyhound Bus Station. The former is located along McCoy Road. It is about 9 miles (14.5 km) from Orlando's central business district and is accessible by taxi, bus, or train. RedCoach Station has a waiting room with air conditioning and clean restrooms. Greyhound Bus Station is along North John Young Parkway, less than 4 miles (6.4 km) from the central business district of Orlando and accessible by bus or a taxi.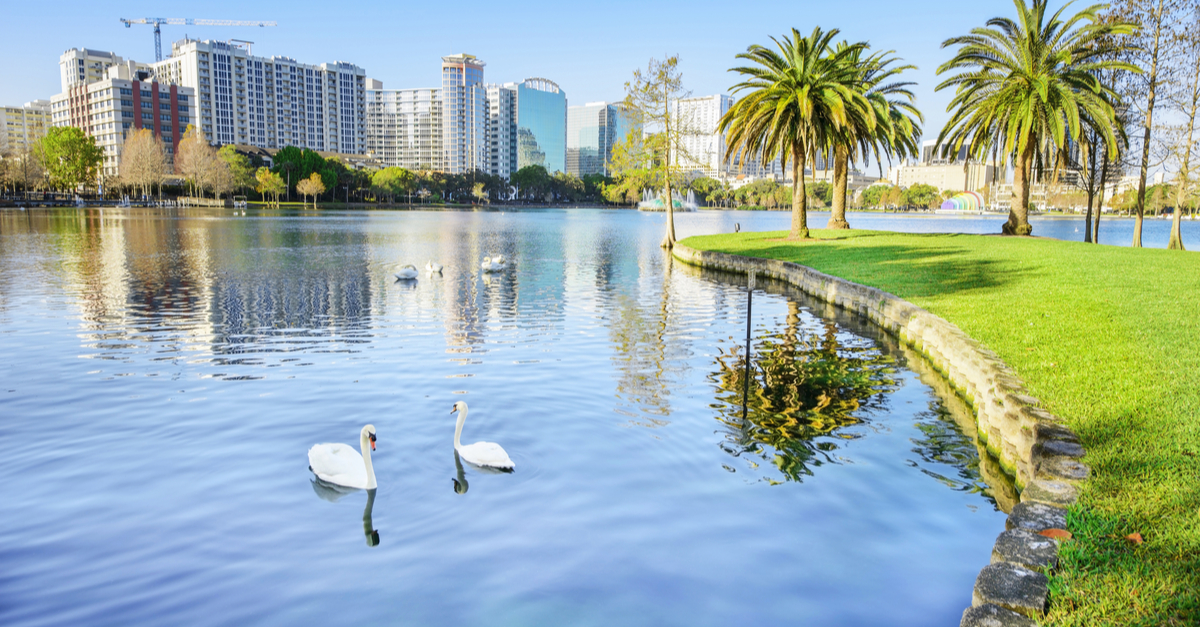 Orlando Park Lake Cityscape. Source: Shutterstock
Which bus companies travel from Gainesville to Orlando?
You can book a Gainesville to Orlando bus with bus companies like Greyhound and RedCoach. Both providers only offer direct bus journeys to Orlando, making your trip short and less exhausting. RedCoach has faster journeys than Greyhound, taking an average of about 2h. On the other hand, you will be on the road for about 2h 30min with Greyhound. There is also a disparity in the arrival and departure stations for these buses. Greyhound uses Greyhound Bus Station, Gainesville as its departure station, and Greyhound Bus Station, Orlando as the arrival station. Meanwhile, RedCoach Station, Orlando, and Frazier Rogers Hall are RedCoach's arrival and departure stations, respectively.
Greyhound buses from Gainesville to Orlando
Greyhound operates only direct buses from Gainesville to Orlando. There are up to four daily Greyhound buses for Orlando from Gainesville, both on weekends and weekdays. The duration of Greyhound journeys to Orlando is about 2h 30min. By booking Greyhound buses, you enjoy the benefit of cheaper bus tickets to Orlando. Your bus will depart from Greyhound Bus Station, Gainesville, and arrive at Greyhound Bus Station, Orlando. You can only book standard seats with Greyhound. These are reclining leather seats with extra legroom ensuring that you have a comfortable journey to Orlando.
RedCoach buses from Gainesville to Orlando
< a href="//www.omio.com/companies/buses/redcoach">RedCoach provides direct bus services from Gainesville to Orlando, with three buses departing from the station every day. The buses depart from Frazier Rogers Hall and arrive at RedCoach Station, Orlando. This journey takes about 2h. RedCoach only offers business class seats which feel more like first-class seats. The seats are wide and reclining, and air conditioning is available on board for your comfort. Onboard restrooms are also available and are clean.
Gainesville to Orlando: Services onboard
Greyhound only provides standard seats on its buses. The seats are more than comfortable, having extra legroom and a recline function. Your journey will be entertaining thanks to the free onboard Wi-Fi, and if your devices run low on battery, you have an outlet next to your seat. Disabled customers are welcome on board but need to inform the company 48h before traveling.
Moreover, the buses have wheelchair lifts and reserved seats for travelers in wheelchairs. You can only bring service animals on your trip; other pets are not allowed. You can only book business class seats with RedCoach. They are wide reclining seats, giving you maximum comfort. Onboard technologies like free Wi-Fi and air conditioning will further help you relax on the journey. You can bring a small carry-on bag and two checked bags of less than 50 lbs (22 kg) onboard. You can also bring your bicycle so long as it's stowed appropriately. Pets are not allowed, but there is room for service animals.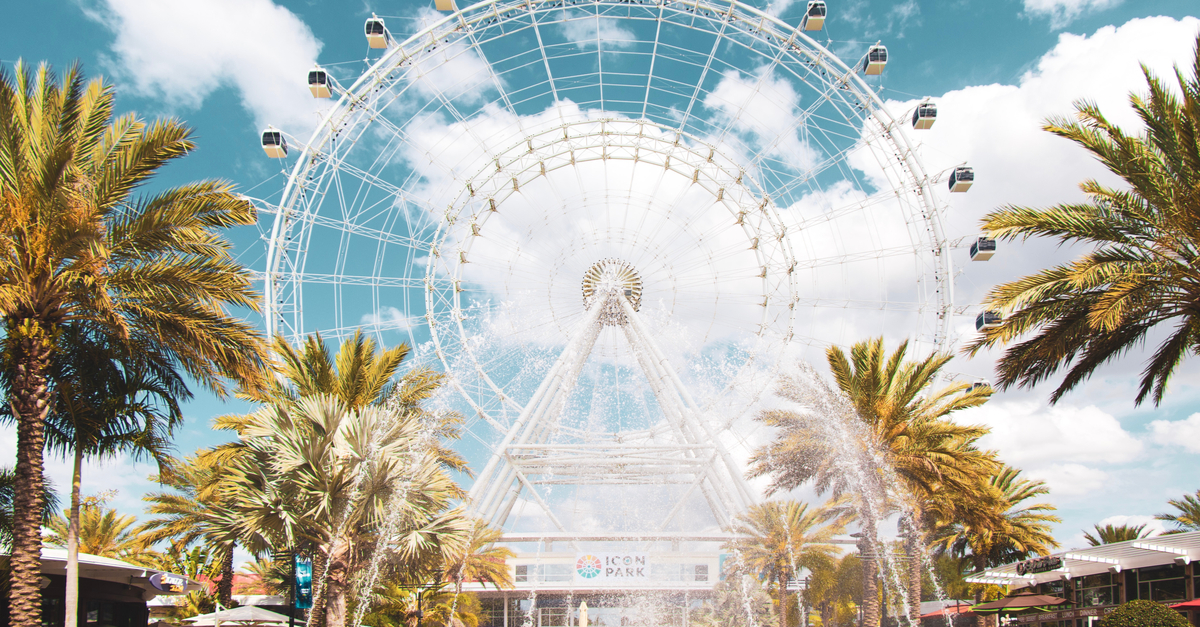 Orlando Eye Icon Park. Source: Shutterstock
How to find cheap bus tickets from Gainesville to Orlando
You can find cheap bus tickets to Orlando from Gainesville on Omio. You can book the tickets on your PC or download the app on your mobile. Omio is an official partner of Greyhound and RedCoach, and you can access tickets from both providers on Omio, compare the prices, and choose an option that best fits your budget. You can save money by booking slower buses to Orlando as these tend to be cheaper. You can also book your Orlando tickets in advance if you want to score cheap tickets since bus ticket prices spike towards the actual departure date. Lastly, have flexible travel dates. This way, you can choose to travel on days when ticket prices are low.
To Orlando by bus-travel tips
Orlando is home to several famous destinations like Walt Disney World and the many theme parks. It is an ideal attraction to tour with both friends and family since it has something for everyone. Orlando's Walt Disney World and SeaWorld are perfect for your family vacation's itinerary. The iconic Magic Kingdom will allow family bonding, and the huge Tree of Life at Animal Kingdom will provide the perfect background for family pictures.
If you're not visiting with the kids, the Kennedy Space Center Visitor Complex is another great place you should check out. The Orlando Science Center, Exotic Animal Experience, and Gatorland are other fascinating places in Orlando you should visit on your trip. Here you can explore the biology of the animal kingdom, from two-toed sloths to alligators.
Thrill-seekers should feel at home at Islands of Adventure, an epic theme park full of thrilling rides and rollercoasters. And after a long day of exploration, settle down to a great meal at Disney Springs and later make a stop at Orlando Brewing for a cold one.