Bus from Verona to Lecce
If you're planning on taking a trip to Lecce from Verona then you'll be happy to learn that there are frequent buses that ply the route. bus from Verona to Lecce On average, there are at least four buses that depart Verona for Lecce daily but this number can grow to about six or eight on peak days (weekends). The journey is about 13h 10min long when there are no transfers but it could extend up to 15h depending on the number of transfers.
Verona to Lecce Bus Time: Daily Departures
The daily departures for buses plying the Verona to Lecce bus depend on the day. Some days, especially those that only have four buses plying the route will have the earliest bus departing as late as around 09:30 a.m. while the latest one could be departing as late as 9:30 p.m. Other days, notably those with up to eight daily buses will have the earliest one departing at around 6:50 a.m. while the latest one leaves the station at 11:00 p.m.
How long is the journey by bus from Verona to Lecce?
Unfortunately, there aren't any buses from Verona to Lecce that don't require a transfer. All of them have at least one transfer in Bologna or Milan and that tends to extend the travel duration by about an hour. bus from Verona to Lecce Therefore, the shortest travel duration between the two cities is 12h 30min but this could extend to 15h depending on how long the transfer will be as well as the bus company.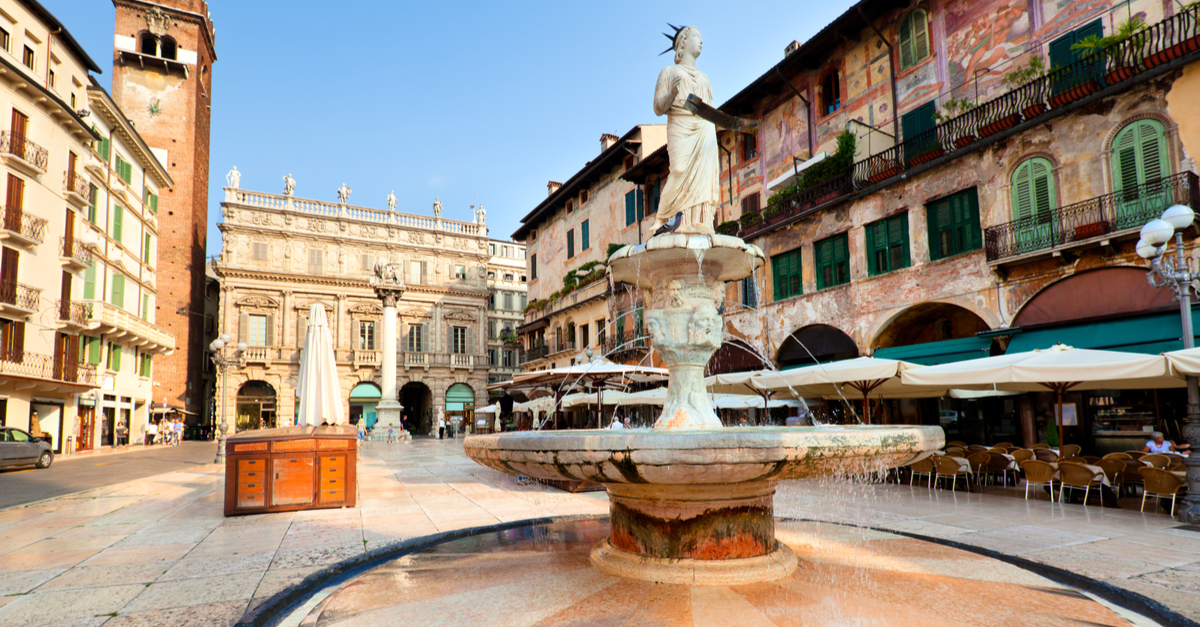 Verona Piazza Erbe. Source: Shutterstock
What is the departure and arrival station for buses from Verona to Lecce?
Departure bus station: All buses leaving Verona for Lecce use Porta Nuova as the departure bus station. It is about a mile (1.6km) from the city center and you can choose to walk or take a seven_minute train. Some of the available facilities include a ticket office, a few shops, and restrooms.
Arrival bus station: When you get to Lecce, you'll arrive at Piazza Carmelo Bene Station. It is just under 1.5 miles (2.4 km) from downtown Lecce and you can get there using the 108 train. The station has some decent facilities including a booking office as well as male and female restrooms.
Which bus companies travel from Verona to Lecce?
The two bus companies that offer travel from Verona to Lecce are MarinoBus and Flixbus. MarinoBus is the more consistent one of the two with two buses every day regardless of whether it is a holiday or weekend. Flixbus on the other hand does have daily buses, but the number ranges depending on what day it is with off_peak days having around two buses each while peak days can have up to six buses traveling between the two cities. It is worth pointing out that MarinoBus offers refunds for a 30% fee up until 48h before departure while Flixbus does refunds for free up to 30 days before departure with a fee being charged for changes made after that point.
Flixbus buses from Verona to Lecce
Flixbus is one of the biggest bus companies in Europe and America with their services ranging across some of Europe's most popular countries including the Czech Republic, Hungary, Switzerland, the Netherlands, Germany, France, Italy, and Croatia among others bus from Verona to Lecce. They provide at least two daily buses on low_demand days, with the peak seasons having as many as four or five daily buses. For buses from Verona to Lecce, they take about 12h 40min for journeys with zero transfers and about 13h 30min for journeys involving one transfer. The company also provides the option of high_speed buses which cut about one or two hours into your total travel time but you'll have to pay a higher price compared to the normal average.
Traveling by bus is a sustainable journey
With the rise in global temperatures and climate change being the latest worry to the human race, there is a need to significantly cut down carbon emissions, otherwise, we will not have a planet to call home. Traveling by bus provides one of the most sustainable ways to move around as there are far lower net carbon emissions compared to other means. Driving is the least sustainable as there would be more overall carbon emissions if everyone decided to drive to Lecce from Verona. With buses, more people can travel at once so the overall burden is shared leading to lower emissions per person.
Bus Verona to Lecce: Services on Board
MarinoBus is one of the most popular bus companies in Italy, having been in operation since 1957. The buses are equipped with wireless internet so you don't have to worry if you need the internet for your entertainment or to get some work done. Plus, they allow disabled passengers to tag along someone who can help them with mobility. Furthermore, pets are allowed on the bus as long as they are kept in a carrier and weigh under 10kg. As for the luggage policy, it is worth noting that you are only allowed one carry_on bag plus two additional bags both with an average weight of 12kg. In case you have special luggage, don't forget to include that as you purchase your tickets. There are also ramps and special wheelchair storage for passengers with mobility issues.
How to find cheap bus tickets from Verona to Lecce?
If you're looking for a few ways you can cut the overall cost of travel, you should probably try and be flexible with your travel dates. It is worth noting that ticket prices usually soar on weekends and holidays and this is down to the relative increase in demand on these dates. If possible, try to avoid peak travel days and you might get a good deal. Another way which you can get bus tickets at a lower price is by booking in advance. The closer the departure date is the higher ticket prices are so try to book your tickets weeks or even a month in advance to get some sweet deals. Finally, if you have the option of booking connecting buses, go for that one. More often than not, connecting buses tend to be cheaper than direct buses because these bus companies want to charge a premium for the convenience you get when traveling directly.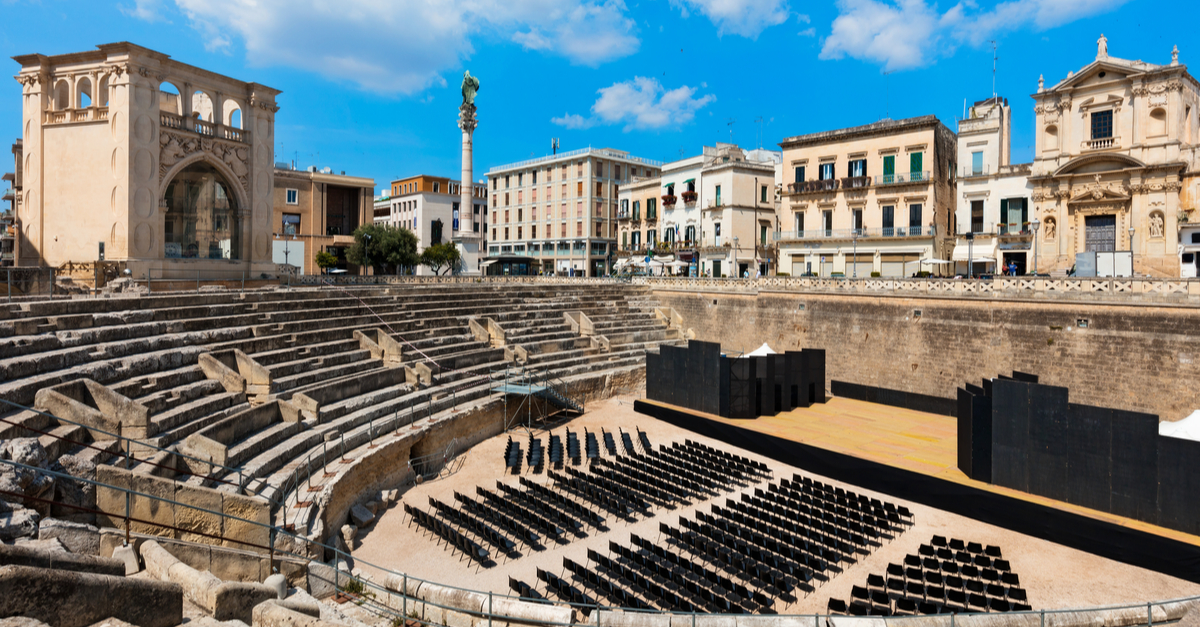 Lecce Theatre Concert. Source: Shutterstock
To Lecce by bus—travel tips
Lecce is well known for its rich history as well as an amazing arts and culture scene. There are plenty of reasons to visit this beautiful city, and if you love looking at various historic monuments and learning about the history behind these monuments you have a few more reasons. Below are some of the most attractive sites in Lecce that are definitely worth checking out;
Anfiteatro Romano di Lecce: Translating to Ancient Roman Ampitheatre of Lecce, this is a historic landmark in Lecce where the ancient Romans would hold events. The city offers guided tours of this monument so feel free to check it out once in the city.
Railway Museum of Puglia: Just like the name suggests, this is a museum that tells the story of the old railway system in Italy featuring some ancient trains.
MUST (Museo Storico Citta' di Lecce): This is an art museum that features amazing exhibits from some of the most celebrated artists in Italy. Ideal for any art lover and enthusiast.
Salento Wine Tour: If you love wine, this is the perfect opportunity to sample some of the best wines in the southern region of Italy.
Puerta Rudiae: This is an old town gate built in the 18th century. It leads to the old town where you will find lots of things to explore.