Bus to Miami
With its scenic beaches, rich local history, and delicious food, it's no surprise that Miami has become such a popular destination amongst travelers. You'll find that the city has several major bus stops, including Central Station at Miami Airport, which is one of the town's primary stations. As Miami is such a famous city, there are many domestic buses that ultimately arrive here. If you want to book a bus to Miami, there are many different cities that you can depart from, including Orlando, New York, and Tampa.
FlixBus to Miami
When you book a bus to Miami, you will notice that many of the journeys are operated by FlixBus. Founded in 2011, FlixBus is a German company that operates hundreds of daily buses and coaches throughout Europe. Customers can choose from trips that go to more than 2,500 different destinations in the world. Buses to Miami that are serviced by FlixBus will typically arrive at either Central Station at Miami Airport or the bus station at the North Beach Deauville Resort.
Greyhound to Miami
In addition to FlixBus, Greyhound also services many buses to Miami. Since it was created in the early 1900s, Greyhound has become one of the largest transport providers in the world, specializing in trips throughout North America. With this company, you can choose from trips to more than 3,500 different destinations. Similar to FlixBus, trips that are serviced by Greyhound will arrive at either Central Station at Miami Airport or the bus station at the North Beach Deauville Resort.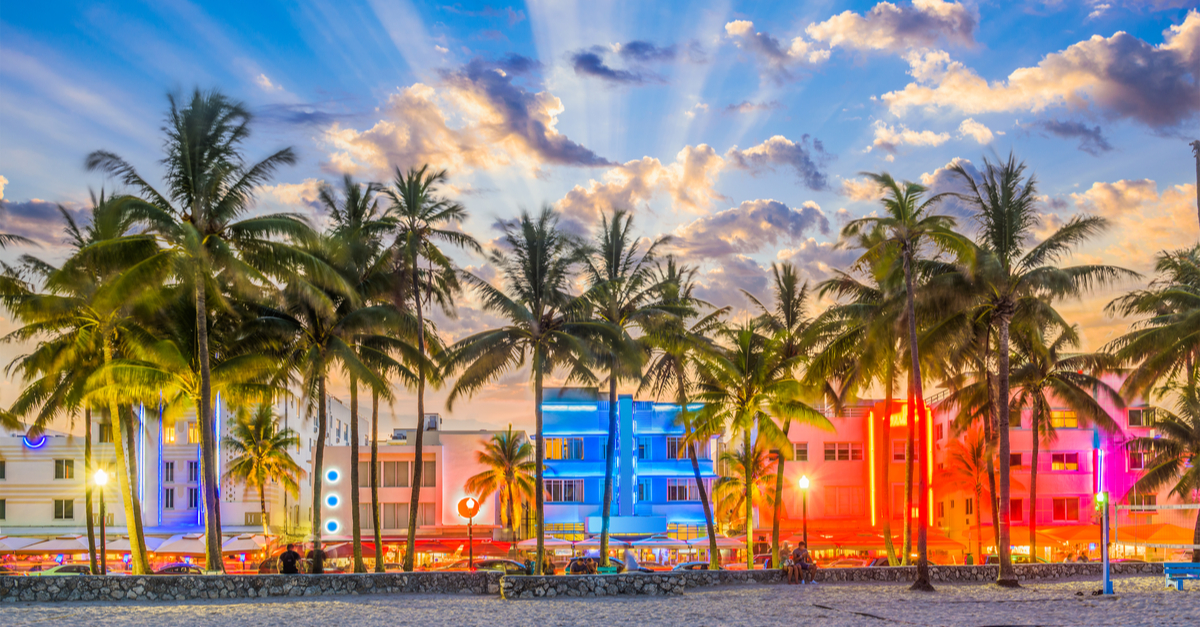 Miami Neon Lights. : Shutterstock
Main bus stations in Miami
Whether you're traveling with FlixBus or Greyhound to Miami, you will normally arrive at either Central Station at Miami Airport or the bus station at the North Beach Deauville Resort. Central Station at Miami Airport can be found approximately 10 miles (16 km) west of the city center. Those that would like to travel to the city center from this bus station can choose to drive, which will normally take you around 10 to 15min depending on what traffic conditions are like at the time.
You can also take public transport, such as a local Greyhound bus, and doing so will normally take you around 10min in total. The bus station at the North Beach Deauville Resort is around 13 miles (21 km) northeast of the city center. When you choose to drive between these two locations, the trip will take you around 20 to 25min. Public transportation is also an option for this journey, and you can grab local bus lines 9 and 119.
If you do this, you can expect the trip to take you around 55min to 1h. Both of these stations have a few different amenities that travelers are welcome to take advantage of, including access to public restrooms, free unlimited Wi-Fi, outlets for you to charge your portable electronic devices, and sitting areas that you can use to rest after a long day of traveling.
Onboard facilities Miami
When you travel with either FlixBus or Greyhound, you will have access to a selection of amenities during your trip. For example, most of the buses that are used by these companies have onboard restrooms for passengers to use. You will also be provided with a spacious and comfortable chair that reclines and has plenty of legroom. Overhead storage areas can be used for personal items and carry-ons, while the storage space underneath the bus is reserved for larger pieces of luggage, including bicycles and strollers. Your bus will typically be equipped with free Wi-Fi to help you stay connected during your voyage.
You will also normally have access to your own outlet to help keep your electronic devices charged for the duration of your trip. Some buses may sell light refreshments and snacks in case you become hungry before reaching your destination. With FlixBus, passengers can access the FLIXtainment Onboard Entertainment system, which provides travelers with a selection of television shows, movies, news programs, and games for free.
To access this system, simply connect your portable device of choice to the Wi-Fi connection on the bus, and then go to the official FlixBus website. Greyhound has its own entertainment system as well, and the process for accessing it is the same. With Greyhound's portal, you will also have access to movies, television shows, and games.
Bus tickets to Miami: useful to know
Both FlixBus and Greyhound have a few different options for how you can present your ticket to the driver before boarding your bus to Miami. In general, you will receive your ticket via email once you have officially completed your reservation. You can also choose to print out a physical copy of your ticket and have your driver scan its barcode when boarding.
Otherwise, you have the option of keeping your ticket in a digital format, and simply have your driver scan the barcode from your phone. Whether you choose to use a digital or physical ticket, keep in mind that you will have to show an official piece of identification that has the same name that was used for your reservation.
There are a few different documents that will be accepted for this, including government-issued driver's licenses and passports. Booking bus reservations through Omio is a simple and straightforward process that will take you no time at all. With our user-friendly online platform, you can even store all of your reservations directly in your customer account.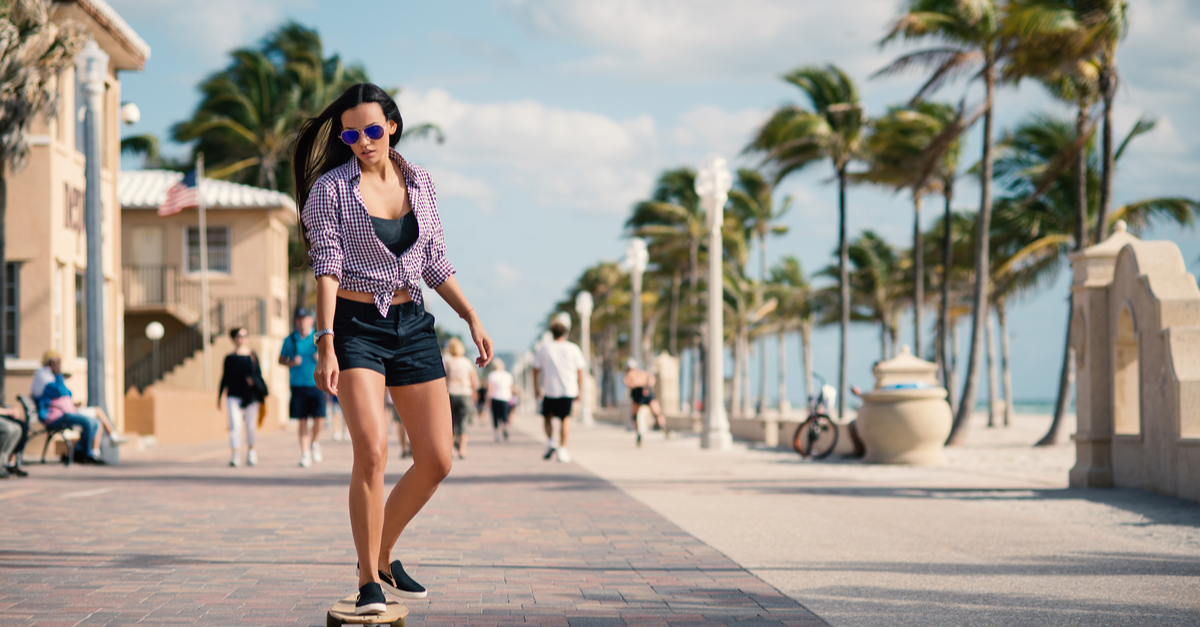 Miami Skating. : Shutterstock
To Miami by bus - travel tips
There are many reasons why so many people travel to Miami, whether it be for work or leisure. Between the interesting museums that are in the city, the beautiful beaches, and the vibrant nightlife, there is always something fun and exciting to do.
When staying in the city, you can depend on public transportation to travel to all of the main attractions and move between neighborhoods. Miami's public transportation system is affordable and convenient, and it consists of a local bus and the Metrorail. If you want to make sure that you are as close as possible to a few different transport stops, consider staying somewhere in the city center.
No matter what your interests are, you can find a variety of attractions to visit and things to do in Miami. If you're a fan of architecture, make sure to take a walk down Ocean Drive, a famous street that is lined with art deco-style buildings. You can also go to the Vizcaya Museum & Gardens, which is the former villa of James Deering and offers both self and guided tours for guests.
To do some shopping during your stay in Miami, go to the Bayside Marketplace, a two-story open-air shopping center that is in downtown and has a selection of large chain stores and local boutiques. Art enthusiasts won't want to miss out on the chance to go to the Pérez Art Museum Miami, which is filled with a variety of contemporary pieces.
Spend some time by the ocean by going to the South Pointe Park Pier, a 17-acre county urban park that has a variety of seafront restaurants and nice beaches. When visiting the area with your family, it's always nice to pay a visit to the Miami Children's Museum, as it has a variety of educational and interactive exhibits that are sure to keep the little ones entertained during your trip.