Trains from Miami To Orlando
It is very convenient to travel from Miami to Orlando via train. The distance between the two cities is about 205 miles (330 km). The average time to take on a train journey from Miami to Orlando is around 6h and 28min but could take a shorter or a little longer. The time the journey takes depends on the speed of the train. If you take a faster train, it might take only 5h and 11min.
Miami to Orlando Train time: Daily Departures
There are two trains scheduled to travel from Miami to Orlando every day and up to 14 trains in a week. The first train is estimated to leave at around 8:10 a.m. and arrive at around 1:21 p.m., taking approximately 5h 11min. The second and final train of the day is estimated to leave at 11:50 a.m. and arrive at 7:16 p.m., taking approximately 7h 26min. The faster train leaves for the first trip, and the slower train leaves for the second and final trip. If the first train is not convenient for you, you can book the second train that leaves mid-morning hours.
How long is the journey by train from Miami to Orlando
The length of the journey between Miami and Orlando depends on the speed of the train, and the distance between the two cities is 205 miles (330km). Using the faster train, you can spend around 5h and 11min on the journey. With the slower train, you can take around 7h 26min. Depending on desired arrival time or how long you wish to take, you can book the first (faster) or the second (Slower) train.
What is the departure and arrival stations for trains from Miami to Orlando?
Departure train station: When you book your train online, you will go to the Miami train station to get your train for departure. The train station is around 6.2 miles (10km) from the city center of Miami. You can use public transport using a bus to travel to the station, which will take around 13min to get there. You can also opt to use a personal vehicle to travel to the train station. The train station has a large waiting room and other amenities such as restrooms available for all passengers to use.
Arrival train station:From Miami, the train arrives and stops at the Orlando train station in Orlando. The stretch from the Orlando station to the city center is approximately 12.4 miles (20 km) You can use public transport such as a bus from the Orlando station to the city center and other preferred destinations. The Orlando station has restrooms, bag storage, checked baggage service, and free daily and overnight parking that is available to all passengers. These amenities are specially meant for the passengers, and you can access and use them when at the station.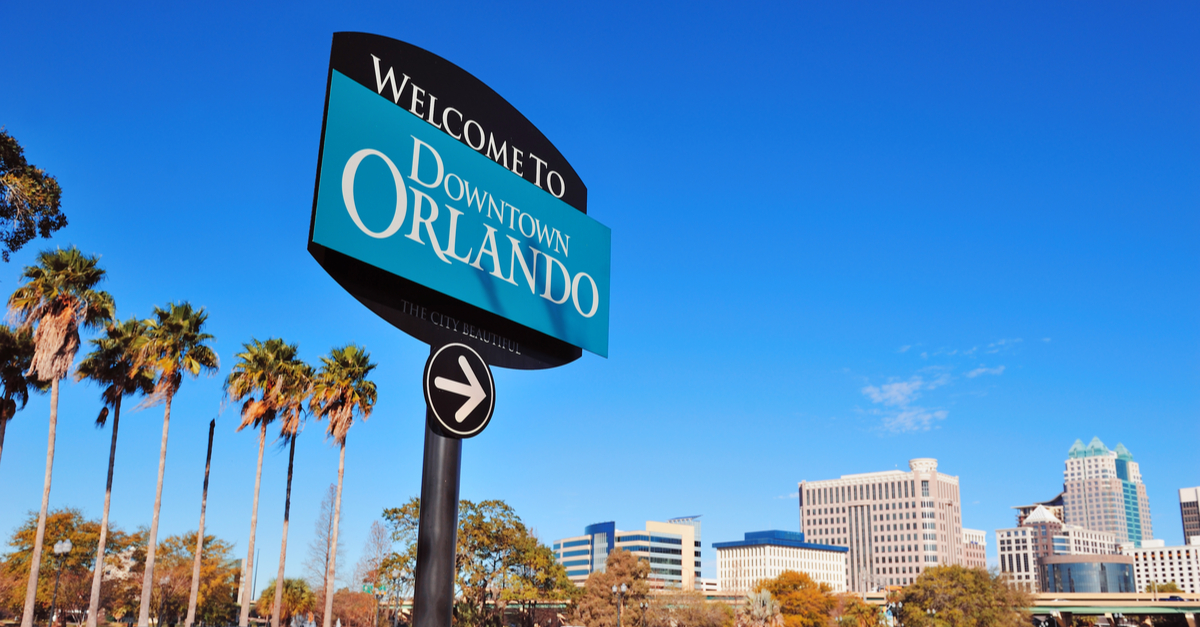 Orlando Welcome Sign. Source: Shutterstock
Which train companies travel from Miami to Orlando?
There is only one train company that operates from Miami to Orlando. Amtrak train company facilitates all these travels between the two cities. They operate two trains on this route; 98 silver stars and 92 silver meteors. 98 silver star is the fastest train that leaves early, followed by 92 silver meteor that leaves second and has a lower speed. Both trains are the cheapest and are direct without any transfers along the route. Once you board the train, you will alight when you arrive at the Orlando train station.
Amtrak trains from Miami to Orlando
Amtrak operates only two trains on this route in a day. Both trains are direct trains with zero transfers. The first train leaves in the morning and the second train leaves during the midmorning. The first train is faster and high speed and takes 5h 11min. The second train takes 7h 26min.
Train Miami to Orlando: Services on Board
There is a variety of dining services that are offered on this train from Miami to Orlando. Meals that cater for your special dietary needs are also provided for you. If you have any personal medication that you need to take, you can bring it on board and self-administer it when required throughout the journey. Depending on the train you board, you can also get private accommodation if you intend to get some privacy. The train provides some comfortable reclining seats that give the comfort you need for the journey.
You also get individual reading lights and power outlets you can use to charge your devices. There is enough room in the train to store small luggage but with a limitation in terms of size and weight. There is Wi-Fi on board that you Can use to entertain yourself or use it for work through your journey. You can also travel with your cat or dog as long as it weighs less than 20 pounds. The seats are comfortable and wide reclining seats that provide you with all the comfort you require. The cabins also have power systems to plug in your devices for charging to acquire the best experience ever. Comfort is an assurance for you when you use any of these trains.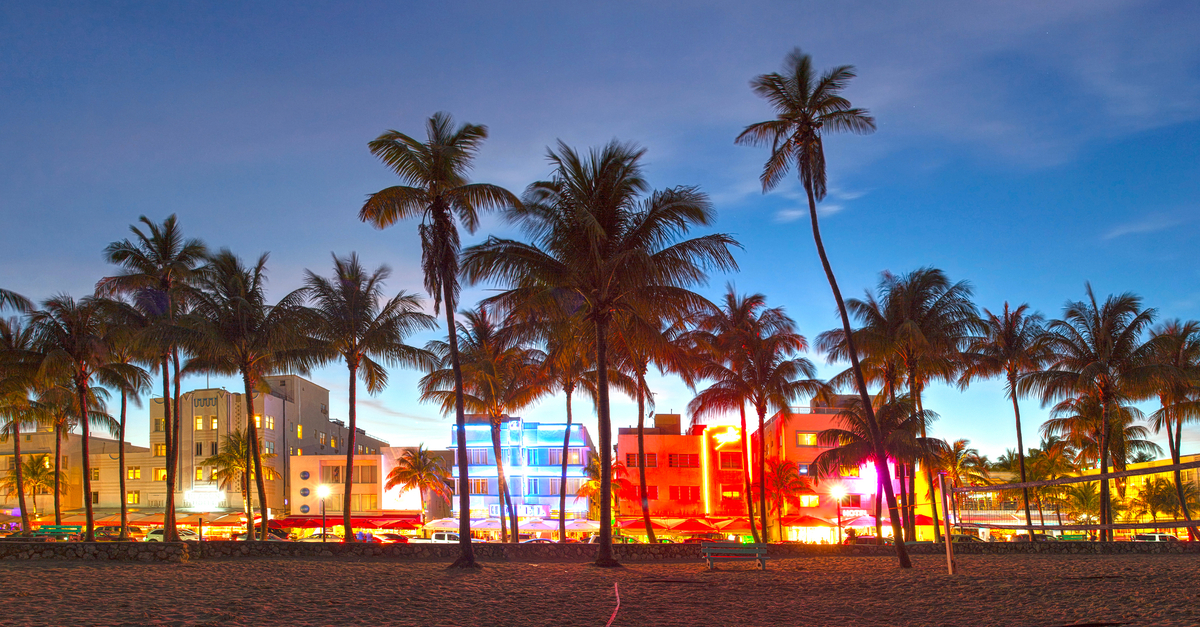 Miami Beach Sunset. Source: Shutterstock
How to find cheap train tickets from Miami to Orlando
Τhe best way to secure cheap tickets is to book your advance tickets before the prices or demand increase. The booking services for a ticket are open months earlier, and therefore you can book your travel ticket as early as possible. Booking tickets, the last minute may find all tickets fully booked and for several following days. Ensure that you look at the website to see the days of the week that offer cheaper tickets.
You can also try to be flexible with your travel dates to secure the best-priced tickets. There is a return policy but only applies up to 25% of the total amount of the ticket. For a full refund to happen, it must be at least eight days before the day of departure. Both slower and faster trains charge the same amount of money and you can book any for the same amount.
To Orlando by train-Travel tips
Orlando gives many reasons to travel there and uncover the many adventures it holds. The train could be a good alternative for transport because it is relatively cheap and comfortable to travel. Orlando is best known for Disney world and universal and gives people a reason to travel and visit the home of Disney. Apart from this, Orlando has much more to offer that gives you a reason to visit.
Orlando has many world-class theme parks such as the island of adventure, Walt Disney World and sea world, which offer the best holiday fun. Orlando is perfect for visiting with family, a group of friends, or even alone to enjoy all it offers. Exciting new attractions arise every year and always give people a reason to return, giving you a reason to travel and visit Orlando.
Shopping in Orlando is incredible and holds two outlet malls and other shopping centers that you can visit to do all your shopping. You are spoilt of options in this city, and you will get more than you even require. There are hundreds of dining options in Orlando that serve tantalizing cuisines, leaving you torn on options. You can visit the beautiful city to sample the various restaurants to enjoy Italian, French, Asia and even American cuisines.
The nightlife is also lively and exciting, and if you are a party freak, you could enjoy experiencing party life in Orlando. You will have many reasons to change scenery and travel to visit Orlando to enjoy all the goodness it offers. Orlando is where you would want to book a train ticket to visit for one reason or the other.