About Edinburgh
Often referred to as the 'Athens of the North' Edinburgh is a heady blend of impressive architecture and landmarks like Edinburgh Castle, St. Giles Cathedral and Holyrood Palace sit alongside green spaces, parks and gardens. The leafy Georgian terraces of the New Town with their upmarket boutiques are worlds away from the cobbled alleys of the Grassmarket with its iconic tenements. Scotland's capital is a city of contrasts where excellent shopping and entertainment facilities and traditional Scots bonhomie go hand in hand.
Quick Guide to Edinburgh
| | | |
| --- | --- | --- |
| | Must Know | Traveling from London? Book your tickets early to save a couple of dollars on transport. |
| | Must See | New to the festival? Check out popular acts like comedy trio Foil Arm and Hogs, Scotland-loved duo Burnistoun, and last year's nominee for the best newcomer act - James Acaster! |
| | Must Do | Make sure to catch the sights outside of the Edinburgh Fringe festival epicenter as museums and attractions are particularly empty at this time. |
| | Must Eat | Try a Hot Roast Roll at Oink! Located in the Old Town, trying pulled pork, haggis and apple sauce served in freshly made rolls might be the highlight of your trip. |
| | Did You Know | At Edinburgh Fringe 2015 there were 50,459 performances of 3,314 shows in 313 venues, making it the largest arts festival in the world! |
How to Travel from London to Edinburgh
You can travel to Edinburgh from London via three modes, including trains, buses, or flights. The trains operate daily and take between roughly 4h 20min and 5h 35min to complete their course. Buses run between the two towns every day except on Saturdays, with durations from around 9h 10min to 17h 45min.
Finally, air travels take anywhere from approximately 1h 15min to 1h 30min, offering one of the most efficient daily options per week. Travelers love to visit Edinburgh since the town incorporates charming architecture with scenic landscapes that inspire creativity, relaxation, and wonder.
What is the Cheapest Way to Get from London to Edinburgh
National Express offers the cheapest way to get from London to Edinburgh. The most affordable ride leaves at night and requires a change at Birmingham Coach Station. This Edinburgh travel course takes around 17h 45min total travel duration, with waiting time during transfer of about 4h 40min.
It is typically the last ride daily from Sunday to Friday, setting off from the Victoria Coach Station and arriving at the Elder Street Station in Edinburgh. Besides this, it is generally advisable to check other money-saving options such as booking in advance. You can also get cheap tickets from London to Edinburgh by being flexible with the travel dates or selecting slower journeys or connecting trains. Moreover, the different companies incorporate various discounts for children and groups.
What is the Fastest Way to Travel from London to Edinburgh
London airports generally recommend you check-in around two hours before your departure when flying to United Kingdom destinations. You can travel to Edinburgh in about 1h 15min via flight, making it the fastest means of reaching the Scottish city.
Using this option, you can comfortably complete your Edinburgh travel in approximately 3h 15min, including the check-in time. easyJet is the company offering this non-stop service, operating every day, including weekends and public holidays. You can board the efficient easyJet airlines and enjoy an efficient ride from London Luton Airport to Edinburgh. Notably, you can also get this fast option at the London Stansted Airport.
Find the best tickets from London to Edinburgh and book with Omio
Omio is a platform that enables you to compare and book all transportation modes from London to Edinburgh, leading you to select the best option for your needs.
It offers many companies to choose from, with all travel options viewable at a glance, including round-trip and one-way tickets. You can also get booking and customer services in your language, suiting travelers of various backgrounds. Additionally, you receive tickets from London to Edinburgh directly on your phone for enhanced convenience. For more information, you can visit Omio magazine to learn valuable tips to aid you in discovering how to travel.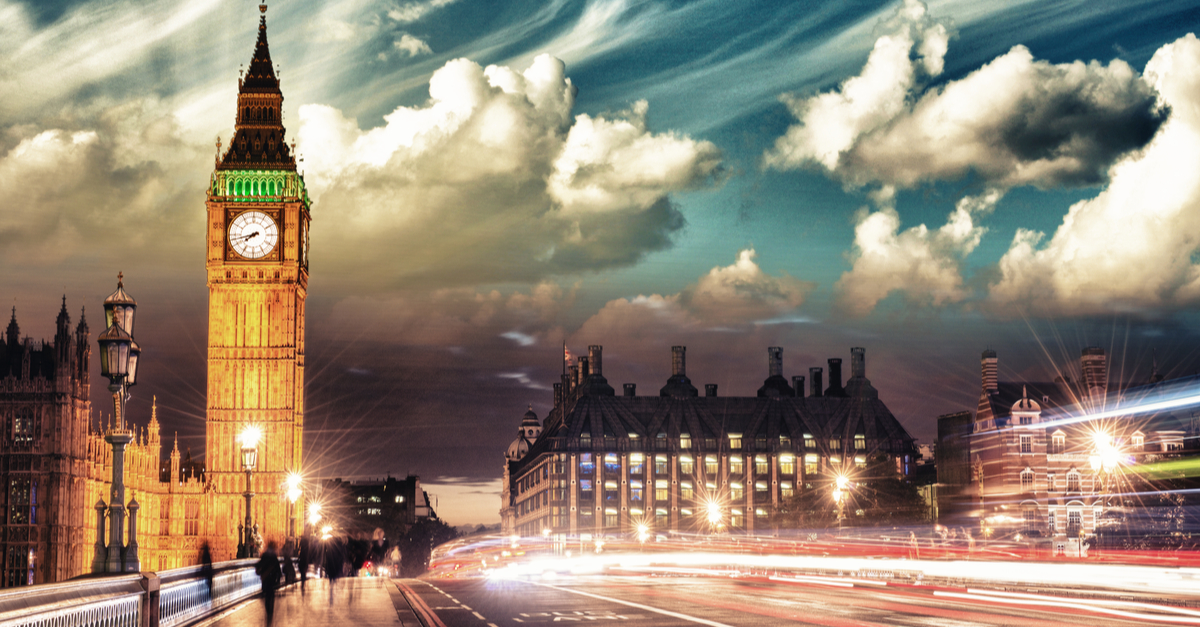 London Beautiful. Source: Shutterstock
Trains from London to Edinburgh
Trains combine comfort and convenience to ensure you can travel efficiently to Edinburgh from London while simultaneously appreciating the beautiful landscape of rolling hills. Nature lovers can enjoy the surrounding views that are not readily available when journeying via flights.
The trains' convenient travel time also makes it a suitable option for travelers who want a shorter and more relaxing voyage not offered by buses. London North Eastern Railway (LNER), Avanti West Coach and Crosscountry are the companies that service the trains every day.
LNER presents non-stop trains that give you the most efficient railway option when moving from London to Edinburgh by train. This provider also delivers the fastest journeying time of about 4h 20min. CrossCountry has a change at Derby, creating an extended voyage of around 10h 51min.
The Avanti West Coach journey requires two transfers at Northampton and Crewe, offering durations that reach up to 9h 43min. The departure locations are the London Kings Cross, London Euston, and London St Pancras Stations. Your arrival point is the Edinburgh Waverley Station, where you can take a taxi or bus to the central city.
Train travel from London to Edinburgh with LNER
LNER operates from the accessible London Kings Cross Station to Edinburgh, making it more comfortable for locals and first-time travelers. The company's rides are available every hour throughout most of the day to ensure you can go to Edinburgh with ease in the morning or afternoon hours, depending on your schedule and preference.
Buses from London to Edinburgh
Megabus and National Express are the two companies that allow you to travel from London to Edinburgh by bus. You can conveniently find their services every day except Saturdays. They also operate this route on national holidays, offering flexibility for different travelers.
National Express offers some cheap tickets from London to Edinburgh and provides the last daily rides. These final two departures incorporate a transfer at Glasgow and Birmingham, respectively, creating the most extended durations per day.
Nonetheless, it also presents the fastest London to Edinburgh travel time with several non-stop services to suit passengers with emergencies or busy schedules. Megabus delivers the second-fastest buses that take around 9h 20min.
Besides, it is the only provider for a morning voyage, meeting daytime travelers' preferences. You can begin your voyage from the Victoria Coach Station and alight at the Elder Street Station. Upon arrival, you can connect to central Edinburgh using a tram, shuttle, or night bus.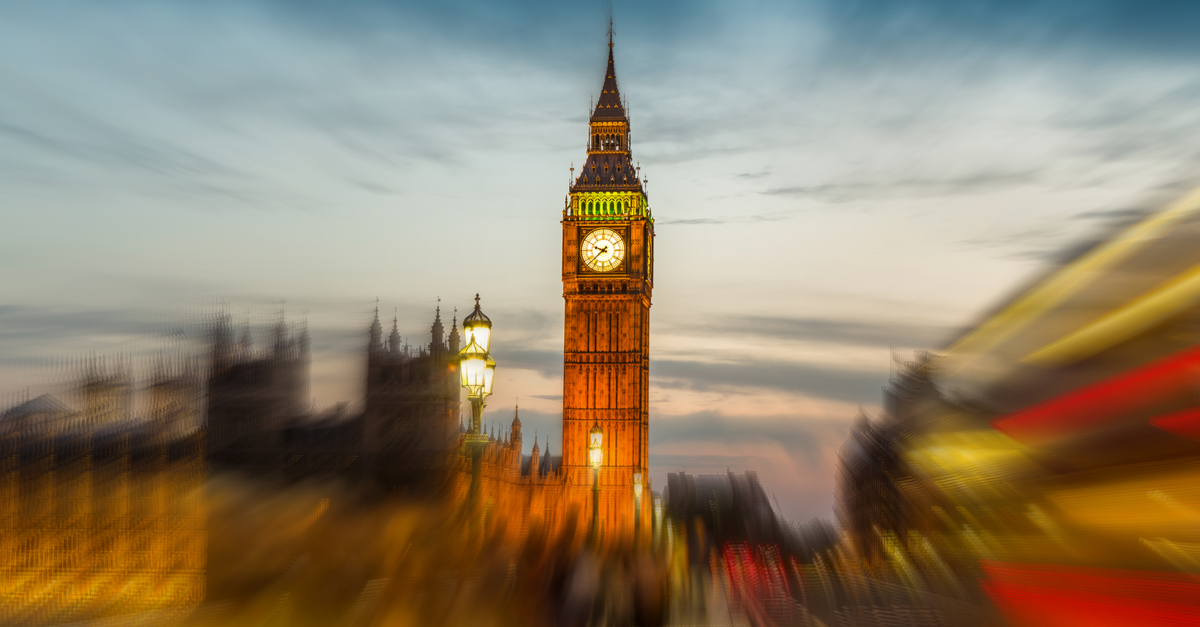 London Big Ben. Source: Shutterstock
Traveling by bus from London to Edinburgh with National Express
National Express London to Edinburgh departs from the Victoria Coach Station daily, providing some of the fastest durations along this route. The company also includes night trips with a long stopover in Birmingham, conveniently allowing you to tour the city before reaching Edinburgh.
Flights from London to Edinburgh
easyJet and British Airways are the providers servicing flights between these two cities. The former has airlines flying daily and offers the cheapest and fastest travel time from London to Edinburgh. British Airways only operates along this course during weekends and sets off from the Heathrow Airport. You can travel from London to Edinburgh from the Gatwick, Luton, Stansted and Heathrow Airports. Your flight lands at the Edinburgh Airport, where you can board a bus, tram, or taxi to reach the town's center.
Flying from London to Edinburgh with easyJet
easyJet mainly operates from three airports, Luton, Stansted, and Gatwick, enhancing convenience for travelers from different London regions. This company provides the fastest and second fastest durations to suit your needs when dealing with a tight itinerary.
To Edinburgh by train/bus/flight – travel tips
Edinburgh is one of the United Kingdom's loveliest regions, famous for its festivals such as the annual Edinburgh Fringe, the largest arts festival globally. You can visit Scotland's iconic landmark, the Edinburgh Castle, where you can see the Scottish National War Memorial and Museum, Crown Jewels' collection, and hear the Half Mon Battery's well-known one o'clock salute. The Royal Mile enables you to stroll between the Castle and the Palace of Holyroodhouse, taking in the churches, townhouses, and historic landmarks lining the path.
You can partake in a unique dining experience at The Table, a 10-seater restaurant with a single chef preparing innovative modern European meals. A trip to the Purslane Restaurant allows you to have some country food menus and seafood options in a relaxed townhouse setting. Active travelers can go to the Edinburgh International Climbing Arena, Europe's biggest indoor climbing center, designed with a gym and bouldering room.
Top Experiences in Edinburgh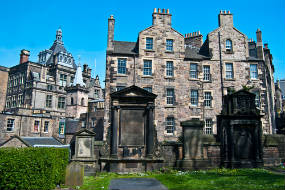 Edinburgh Grayfriars Graveyard. Source: Shutterstock
Greyfriars Graveyard
Known to supernatural-fanatics as the world's most ghost infested graveyard. The majority of these spooky tales originate from the middle ages, but if you're looking for something different to do there are plenty of companies that offer tours of this graveyard.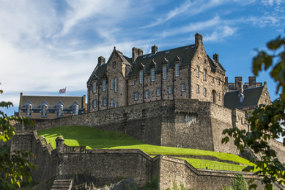 Edinburgh Caste. Source: Shutterstock
Edinburgh Castle
A prominent feature of the city, Edinburgh Castle is home to Scotland's crown jewels. We recommend taking the time to check the castle out, learn about its millennia long history and enjoy the view from the top!