Trains from Albany to New York
Trains from Albany to New York are an efficient way of traveling the route. Train rides gets you in the middle of New York City Center so that you won't have to commute from arrival stations to the city. Albany lies 135 miles (217 km) from New York City center. Daily there are about 10 trains that travel this distance taking an average of 2h 40 min.
Albany to New York Train time: Daily departure
Every day, ten trains depart Albany for New York this means that weekly, there are more than 70 train rides for travelers to choose from. The earliest train departs Albany at 11:10 a.m. while the last train departs Albany at 11:23 pm. Schedules vary depending on the day of the week and holidays. Check Omio platform for all available schedules to get the most convenient schedule for yourself.
How long is the journey by train from Albany to New York?
The average duration for trains from Albany to New York is 2h 40min but the fastest trains take 2h 28min. All train son this route provide direct services and the slowest train takes a few minutes more than the average train.
What are the departure and arrival stations for trains from Albany to New York?
Departure train station: The departure train station for the trains from Albany to New York is Albany Rensselaer. It lies in 525 East Street. It provides a station building and a waiting room where travelers can await services. The station operates daily from 5:00 a.m. to 11:59 p.m. Amenities at Albany Rensselaer include restrooms, pay phones, Quik-Trak kiosks, tickets sale office and vending machines.
If you need help with your luggage, Albany Rensselaer features ski bags for sale, luggage storage services, shipping boxes for sale and checked baggage services. The station caters for reduced mobility passengers with accessible platforms, restrooms, tickets offices, waiting rooms, water fountains and high platforms. It also provides a courtesy wheelchair and wheelchair lifts. Drivers can find a parking spot with overnight and same-day parking options. You can get to the station with bus lines 114 and 214.
Arrival train station: Trains from Albany to New York arrive at the Pennsylvania train station that lies at 351 West 31st street. It operates daily from 5:00 a.m to 11:59 p.m. The station features a waiting room where travelers can await their next rides. It also features a Metropolitan Lounge for first class and business class travelers. Facilities available at the train station include washrooms, payphones, Quik-Trak kiosk and vending machines. The station also provides free Wi-Fi for travelers' entertainment as well as ATMs. Travelers that need assistance with their luggage will find luggage storage facilities and checked luggage services at the station. Drivers can access long term and parking options at the facility.
Pennsylvania station features facilities for reduced mobility travelers. There are TTY phones, accessible restrooms, waiting rooms, ticket sales office and water fountains. The station provides a courtesy wheelchair and wheelchair lifts for reduced mobility travelers. There is also a designated spot at the parking lot for reduced mobility travelers. The station features several transport options for travelers visiting other parts of New York. Travelers can take the subway with lines A, C, E, 1, 2 and 3 waiting at the station. Amtrak, New Jersey Transit and Long Island Railroad provides buses and train rides from the station to other destinations.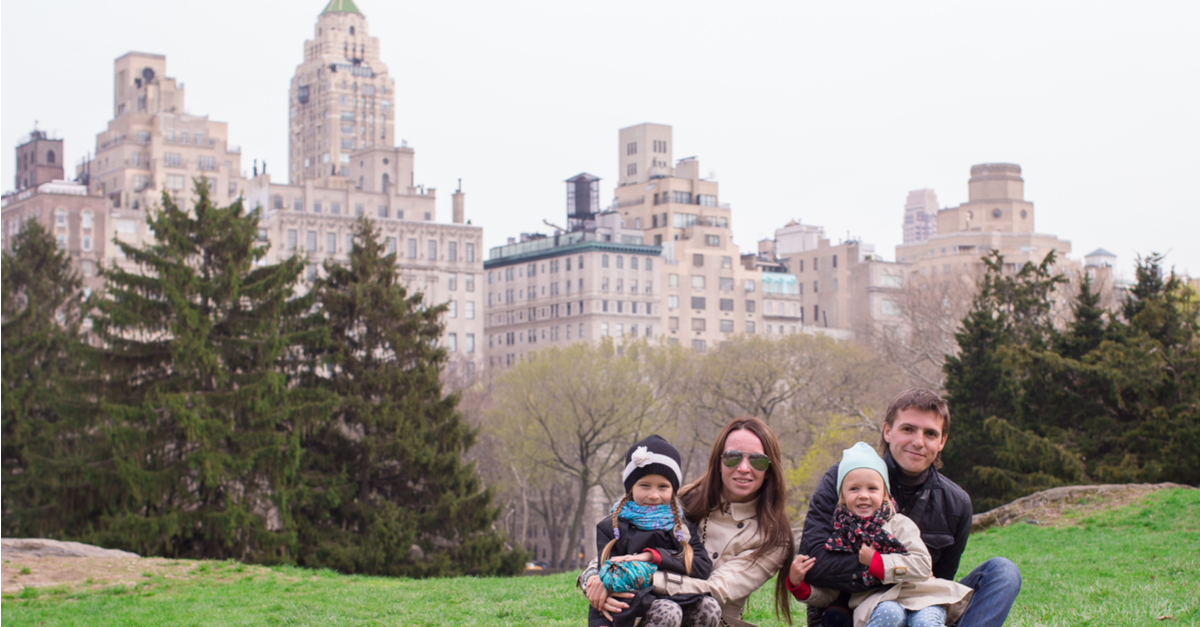 New York Family Central Park. Source: Shutterstock
Which train companies travel from Albany to New York
Amtrak is the main provider for trains from Albany to New York. Amtrak is the national railroad provider for all major routes in the United States. It has high speed, intercity and regional trains that provide rides to all the States of America. The company provides daily 300 trains to more than 500 destinations.
Amtrak Trains from Albany to New York
Amtrak provides four types of train from Albany to New York. They include Amtrak Empire Service trains, Allen Express, Lakeshore and Male leaf trains. Amtrak Empire services provides the most services with about seven daily trains. Their maximum speed of 79mph (127km/h) Amtrak Ethan Allen trains provide on daily trains and operate up to a speed of 110 mph (180km/h). Amtrak Lakeshore Limited services operate one daily train on the route at a maximum speed of 110mph (177km/h) Finally, Amtrak Maple leaf services operate one daily train that runs at a speed pf 125-150mph (201-241km/h).
Train from Albany to New York services on board
Amtrak provides the Amtrak Empire train services from Albany to New York. These trains provide business class and regular class types of seating. Business class travelers get priority boarding, more luggage allowance, complimentary snacks and beverages on board. Business class travelers also get personal power charging outlets, more legroom and comfortable wider seats. Al trains feature an onboard café with various selection of meals and beverages.
Trains from Albany to New Yok have a luggage limit for all standard passengers. Each passenger can bring on board two personal items and two personal items. Personal items have a limit of 25 lbs (12 kg) and have to be smaller than 14*11*7 inches. Carry on luggage must be less than 50 lbs (25 kg) and measure less than 28*22*11 inches. Passengers can bring pets on board provided they are small cats and dogs. Dogs have to be at least ten weeks old and must be fitted in the carrier. The pets and the carriers weight combined must be less than 20 lbs (9 kg). Carriers have to be fitted under travelers' seats while traveling. Passengers can bring two checked items of luggage for free. They can also bring additional two items of checked luggage at a fee. Travelers can also bring bikes on board.
Train s feature different storage facilities so ensure you store your buke in bike boxes sold at select train stations trains rim Albany to New Yok are well equipped for reduced mobility travelers. They provide ramps, wider entrances and enabled washrooms for easy use by disabled persons. Trains also provide TTY phone and seat near washrooms for easy use by reduced mobility travelers.
How to find cheaper train tickets from Albany to New York
If you are looking for cheaper train tickets from Albany to New Yok consider booking tickets in advance. Tickets are often released a few months before their travel dates if you buy the tickets in advance its likely to cost cheaper as opposed to last minute. For cheaper train tickets, flexibility is key. If you are flexible with your travel dates, you are more likely to score cheaper train tickets as opposed to fixed schedules.
Trains with stops often have cheaper train tickets than trains with direct services. If time is not a factor, consider getting on trains with stops for cheaper train tickets. Check for ticket selling platforms discount and promotion period to land cheaper train tickets. Also, Amtrak provides discounts for elderlies, students and disabled passengers. If you fit in this category, you can land cheaper train tickets from Albany to New York.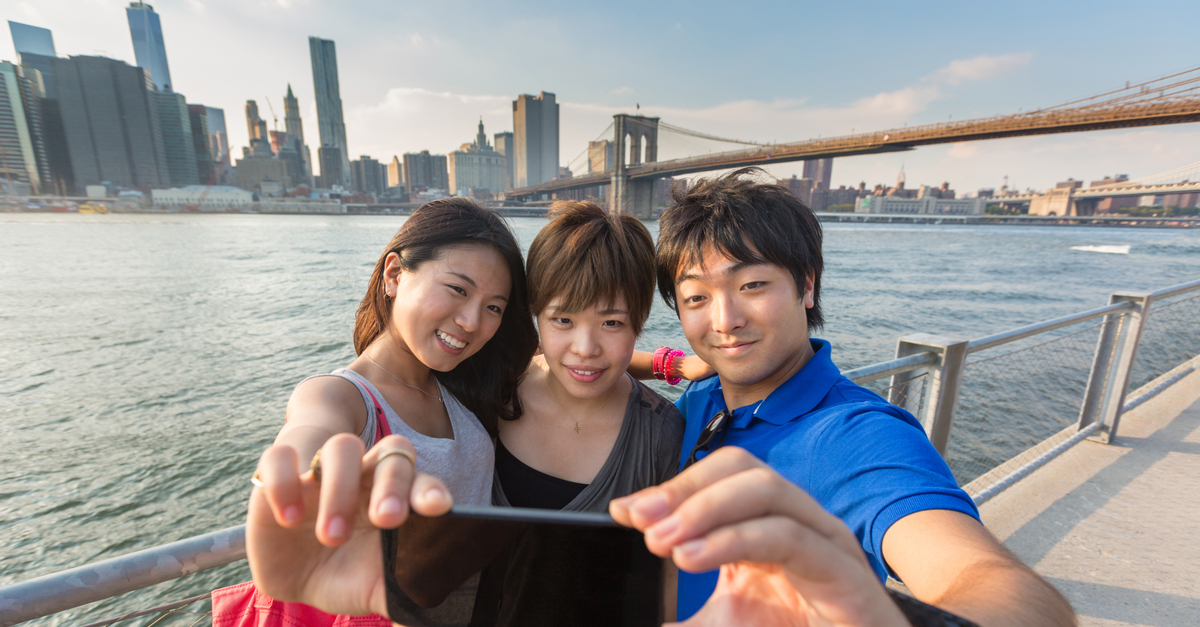 New York Tourists Cityscape Bridge Selfie. Source: Shutterstock
To New York by train – travel tips
New York houses some of the most iconic attractions in the United States like the Empire State Building and the Statue of Liberty. It also features a wide range of cultural, natural and thrilling attractions ideal for any traveler.
Thrill seekers can visit Edge Observation Deck which features an outdoor terrace that takes you 65 feet into the sky. Thrill seekers can enjoy panoramic city views of New York's skyline and enjoy walks on the glass floor that towers 1,100 feet high. Thrills seekers will also love a visit to Little Island that floats on the Hudson River above the Chelsea Shoreline. The park also offers a rich landscape decorated with rolling hills, walking paths and lawns. It also features a 700- seat amphitheater for year-round performances.
Queens County Farm Museum is an ideal location for nature lovers. It features 47 acres of farmed site with barnyard animals like sheep, ponies and goats. There is an amazing maize maze where children can have fun. Nature lovers will love a tour to Central Park. It provides several; winding trails, streams and rock where visitors can enjoy walks, picnics or hikes.
Art lovers can visit the Metropolitan Museum of Art that features prehistoric Egyptian artifacts. It also features anthropological exhibits of musical instruments, costumes, weapons and armor. Art and charm lovers can also explore the Brooklyn Museum that lies on the edge of Prospect Park. It features feminists' pieces, works by popular impressionists and Egyptian Art. It also has Early American Art, period rooms and innovative art collections.
During your visit to New York be sure to visit Times Square which provides New Year's Eve celebrates annually. Rockefeller Center is a vast entertainment and shopping complex ideal for avid shoppers and entertainment lovers. It features an Art Deco skyscraper that provides awesome views over Manhattan. It also features a deck where you can get window and outdoor viewing spaces that provide spectacular views. It also features an outdoor skating rink where you can enjoy skating and roller blading.
Shoppers will also love visiting the Fifth Avenue, a premier shopping area with flagship stores by top designers. New York not only boasts major attractions but a diverse culinary scene. Buvette provides hear meals like gigot d'agneau , chocolate mousse and a vast wine collection. Bread & Salt provides on of the best pizza restaurants in the United States while Jua boasts excellent Korean Fare. Miss Ada features great whipped ricotta in outdoor and indoor dining options.