Trains Washington to Baltimore
Amtrak trains and the local district commuter trains, Marc are the main trains operating the Washington-Baltimore route, making a minimum of 20 trips in a day. Amtrak operates four distinct train classifications between Washington, D.C., and Baltimore. These are the Northeast Regional, Acela, Palmetto, and Vermonter, with Acela being the fastest. Northeast Regional has the most departures per day, with 18, followed by close neighbor Acela, which has 16 departures per day. The journey from Washington, Dc to Baltimore will take 35min, with the fastest train taking 29min. The route is appropriate for students commuting daily to the Baltimore University. The direct train route will help you get to your destination in time. Saturday is the busiest day; hence you might want to gavel on the least busy day, on Sunday.
Booking your train ticket with Omio for Washington
Omio is a ticket company working hand in hand with major train providers globally. It is exciting to plan a trip; however, ticket booking may prove hectic and time-consuming. With Omio as your booking partner, you need not worry. Omio will provide any information regarding your travel and help you book the best ticket. Omio provides all available options and different prices to choose from. All you need is to visit the Omio website and proceed with your booking. Omio also provides a mobile booking application on your phone. All you need is to download the app, book your ticket at the tap of your phone.
Train companies in Washington
There are two major train companies offering passenger services from Washington to Baltimore: Armtek and the Marc. Amtrak is the country's largest passenger train operator as it covers over 22,000 miles (35,000 km) in 46 states and Canada. Generally, passengers must select between first, business, and sleeper class tickets. One of the most well-known train rides is the Coast Starlight, which runs between Seattle and Los Angeles. The Maryland Transit Administration provides commuter trains, Marc, operating within the Washington-Baltimore metropolitan region. They operate on three railway lines, making up to 16 trips in a day.
Popular international routes from Washington
From Washington dc, the Wild West train route will take you through series of cities such as Idaho, Montana, Minnesota, Illinois, Dakota, and Vancouver to Seattle or Portland. The route has one of the most scenic views, including the Glacier national park and mountains with snow tops. Amtrak train's empire builder provides services through the route, and it has steeper cars, dining options, and comfortable recliner seats with cushions and leg allowance.
The West Coast route, facilitated by the California Zephyr, passes through several tunnels surfacing to the Colorado rookies as the train meanders through its route. The next view is the Sierra Nevada Mountains as you near your destination in San Francisco. And finally, the straight coast route exposes you to the Californian coastline along the Pacific Ocean, temperate forests, valleys Mount Shasta, Mount Hood, and Mount Rainer. The trains move from Seattle and Los Angeles to Poland and Sacramento. Amtrak has the route as it's the most scenic of all travels in the U.S.
When arriving by train Baltimore
On completing your 30min journey, you will arrive at the Baltimore Penn Station. You can access the city center by bus, taxi, or you can choose to walk. You will find people in Baltimore warm and accommodating, with the majority being African Americans. The town has cultural diversity as it has more than seven cultural communities. You can also visit restaurants and hotels (as per your tour guide) for a bite if you arrive hungrily: the food is delicious.
Train Provider from Washington to Baltimore
Amtrak operates four distinct train classifications between Washington, D.C., and Baltimore. These are the Northeast Regional, Acela, Palmetto, and Vermonter, with Acela being the fastest. Northeast Regional has the most departures per day, with 18, followed by close neighbor Acela, which has 16 departures per day. Amtrak serves 46 states and 500 cities, including Chicago, Boston, New York, and Washington. Every day, the company operates approximately 300 services, with each train featuring amenities such as air conditioning, ample luggage allowance, and seat reservations. Additionally, they operate Amtrak Canada, which provides service to major cities such as Calgary, Montreal, and Quebec.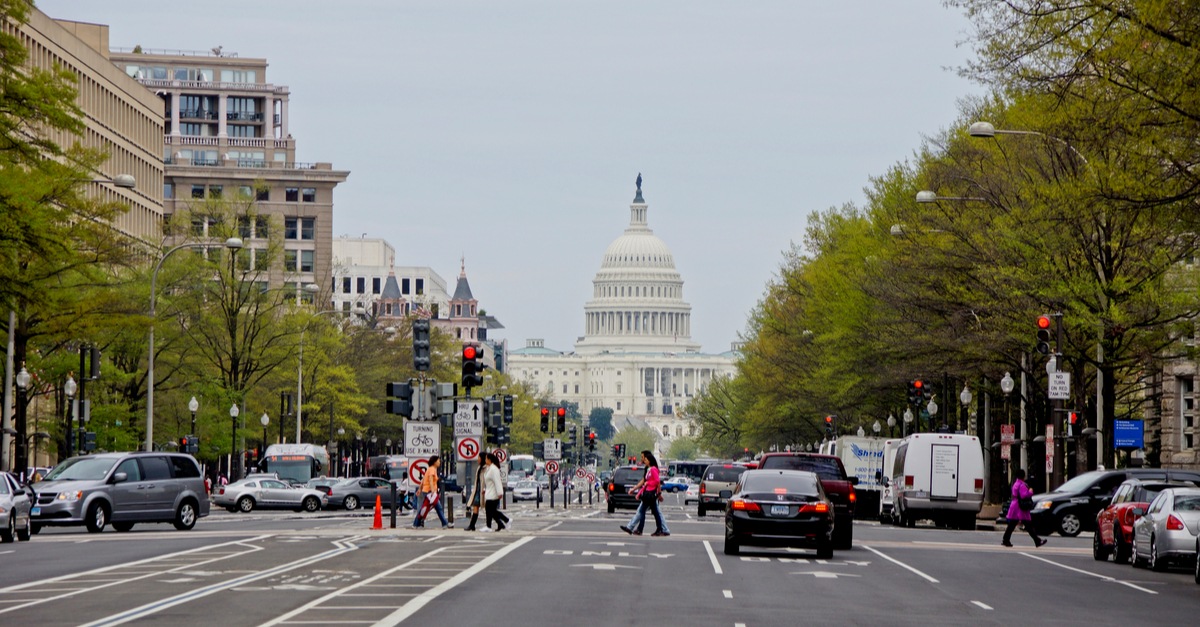 Washington Stret Lights. Source: Shutterstock
Main train stations Washington
The Washington Union Station is the main departing station to Baltimore. It receives passengers from all parts of the U.S. and some Canadian cities. The Washington union station, at 50 Massachusetts Ave NE, Washington, DC 20002, United States. You can leave your luggage at the station at a fee as you explore the city center. However, the city has over 90 stations on six lines traveling to other cities.
Popular routes from Washington to Baltimore
There are three major rail routes from Washington to Baltimore, the Baltimore and Ohio R.R., Pennsylvania R.R., and W.B. electric R.R. The three routes have almost similar scenery except for the W.B. electric R.R., which travels to Annapolis. The Amtrak Acela, using the red line (Pennsylvania R.R.), is the fastest and can take 29min to Baltimore.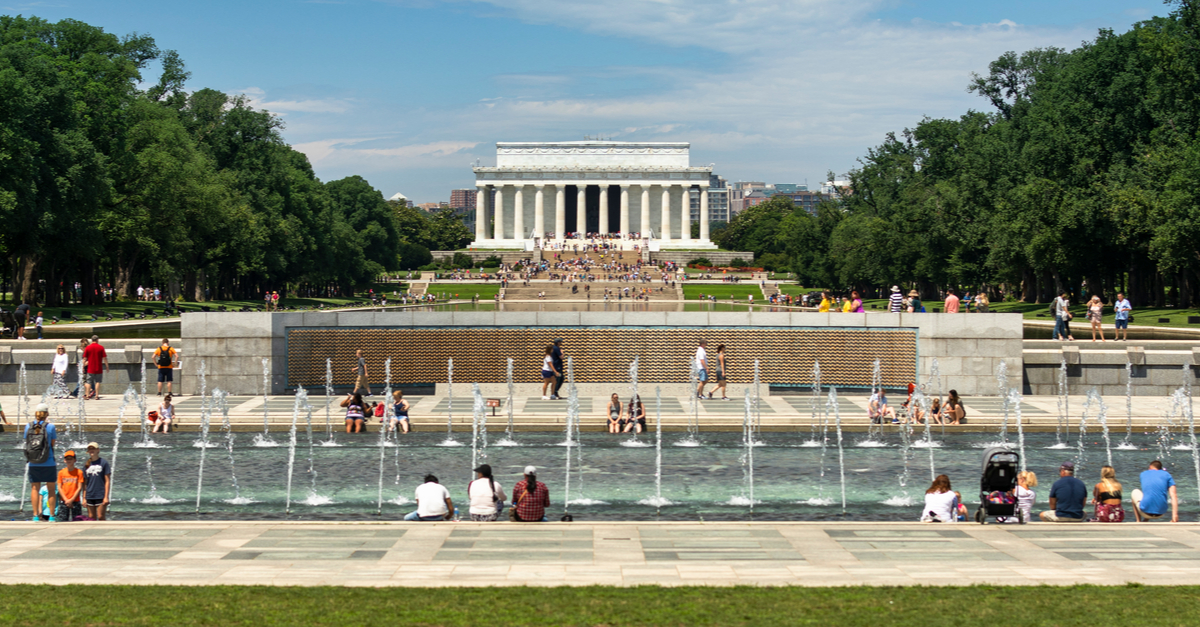 Washington Summer Time. Source: Shutterstock
Popular train routes from Washington to other cities
Amtrak provides long-distance intercity travel. Some major intercity travels include Washington DC to Seattle for an approximate ticket amount of $179, Washington to New York City for as low as $57. Other popular routes are Washington to Philadelphia, Washington to Florida, Washington to Chicago, Washington to Boston, Washington to California, and Washington to Richmond, Va. Visit the Omio website and book one popular route. Find out why some of the routes are popular tourist ravels; Begin your adventure.
Good to Know
As you plan to travel by train, plan earlier to purchase your ticket: a last-minute booking might disappoint you. After booking your ticket, ensure to have your printed copy or have your Omio train ticket on your device. Finally, if Baltimore is a new city, you can get the Omio guide to help you travel within the city. It will help you find the best restaurants, landmarks, and tourist attraction points. Baltimore has people from all walks of life and wouldn't be wise to ask strangers for direction, especially with its relatively high crime rate. Omio is a nutshell for all your travel needs, book with Omio today for the best services.
To Baltimore by train-travel
You will find Baltimore a fascinating city. It is known for its historical record in 1814 after refusing surrender to British forces; visit Fort McHenry National Monument and Historic Shrine to learn more about the 25-hour non-surrender victory. Baltimore has a crucial seaport located on the Patapsco River estuary.
If you have a special eye for art, then you can visit the Baltimore Museum of arts and witness some of the most amusing artwork in human history. Other interesting places you may love are the national aquarium, fells point, welters art museum, and Sagamore Spirit Distillery.
If you love seal food or you'd like to try some, Baltimore is your place. There are Crab cakes, Oysters, and other delicious foods in most restaurants. Riding cruises is a common activity in Baltimore. You can also choose to dine or have lunch in them. The experience as you float on water is beautiful.