Trains from Virginia Beach to New York
You can ride a train from Virginia Beach to New York in approximately 10h, allowing you to unwind in comfort while appreciating New York's skyline and the welcoming scenic Virginia landscape. Amtrak operates the trains from Virginia Beach via regular services that access different cities. You can get various train styles in Virginia Beach, ranging from standard coaches to long-distance models integrated with sleeping areas, a lounge car, and Wi-Fi. Notably, the voyages from Virginia Beach begin via Amtrak Thruway buses before requiring you to change to an Amtrak train at Norfolk or Newport News Stations.
Booking your train ticket with Omio from Virgina Beach to New York
You can easily organize your itinerary and book a ticket using Omio when traveling from Virginia Beach to New York by train. First, enter your trip information on the website, including your arrival station, departure point, and expected travel date. The resulting page shows the available trains for your selected date, enabling you to pick your preferred departure time. In addition, the website features the train types available to ensure you can choose between a slower and faster voyage. You will receive your ticket upon completing your purchase directly on your phone for added convenience.
Train companies from Virginia Beach to New York
Amtrak is the leading operator for trains in Virginia Beach, including the trains from Virginia Beach to New York. It utilizes Northeast Regional to service this course, enabling you to board the company's most used train type without concerns about how far Virginia is from New York. You can find efficient Northeast Regional rides in the early morning and mid-morning departures to meet your needs when dealing with a tight schedule.
Popular routes by train
Amtrak operates the trains in Virginia Beach and offers various models to service different regions around the country. Amtrak's most popular train type is Northeast Regional, which runs along Northeast Corridor, including Boston, Providence, Springfield, Baltimore, Hartford, and Washington. You can also board this service to other regions around Virginia, such as Richmond, Roanoke, Norfolk, and Newport News. Long-distance travelers can start their journey via Northeast Regional and connect to other train models like Silver Star that rides to Fayetteville or Silver Meteor that goes to Miami via Richmond.
When arriving by train in New York
Your journey from Virginia Beach to New York via train ends at Penn Station, where you can connect to central New York by shuttle within approximately 6min. The station incorporates free Wi-Fi connectivity, restrooms, checked bag service, luggage storage rooms, and a premium lounge. You can also find lactation rooms and a food court, enhancing your needs when arriving with family and children. Notably, most New Yorkers have dinner between around 8:00 p.m. and 10:00 p.m. However, most restaurants generally operate between approximately 4:00 p.m. and 11:00 p.m.
Train Provider in Virginia Beach
Amtrak provides popular services around the country, with stopovers and arrival stations in significant stations in major cities. For instance, if you ever wonder how far Virginia is from New York, this company answers this question by including trains from Virginia Beach to New York in its operations. You can get different Amtrak train types operating to various regions from Virginia Beach like standard Northeast Regional, long-distance Star Silver, and Star Meteor. These train models have onboard amenities such as Wi-Fi, lounge, and sleeper cars. The busy trains in Virginia Beach run along several popular routes, including Virginia Beach to Boston, Virginia Beach to Washington D.C., and Virginia Beach to Philadelphia.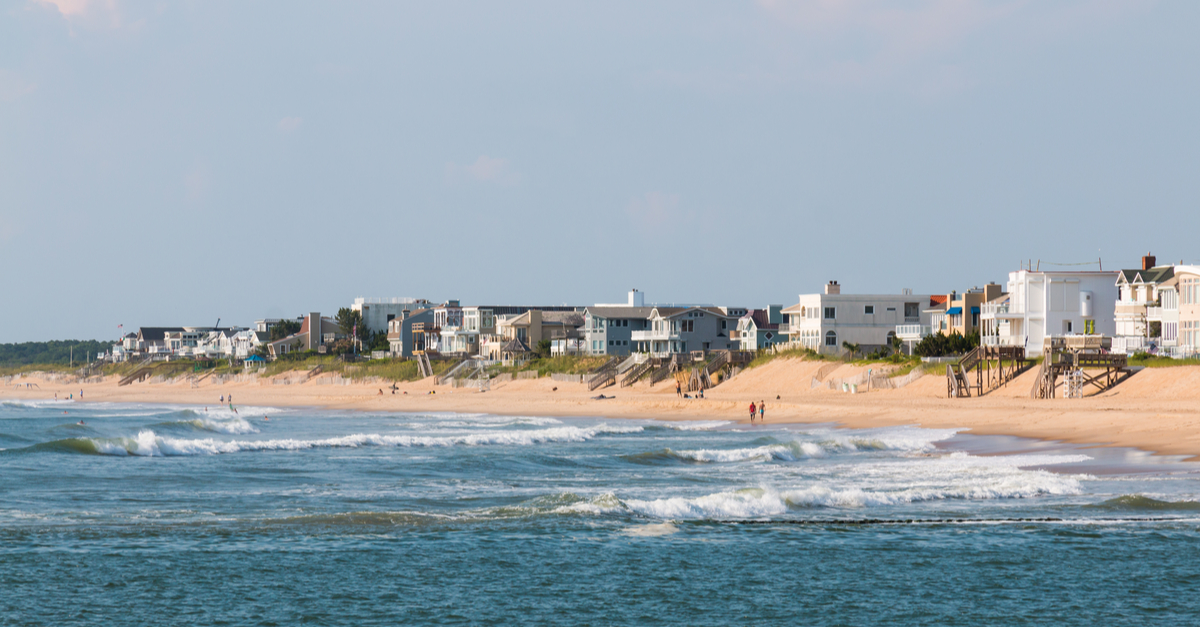 Virgin Beach Houses. Source: Shutterstock
Main train stations in Virginia Beach
Pacific Avenue/19th Street is one of the primary stations in Virginia Beach and is reachable by bus from central town in around 10min. It is close to restaurants, parking lots, a gas station, and a convenience store, allowing you to stroll shortly, shop, and dine before your set departure time. You can also get trains at Norfolk Station at Harbor Park, 280 Park Avenue, in Norfolk, which you can access from Virginia Beach via shuttle and train within approximately 49min.
It has a waiting room, payphones, restrooms, ticket sales office, and vending machines. Another station around Virginia Beach is Newtown Road Station between Curlew Drive and S Newtown Road, which you can access from the city center via bus in about 21min. This station is within walking distance to a parking lot, convenience store, pharmacy, bus stations, and restaurants.
Popular journey from Virginia Beach to New York
Amtrak mainly runs the route between these two cities via regular Northeast Regional train models. You can board the earliest morning train from Virginia Beach to New York via 84 Northeast Regional and complete your journey within about 9h 18min, with tickets beginning from around $184. Notably, this first departure is also the fastest daily ride on weekdays.
The 94 Northeast Regional train also offers shorter duration of about 9h 22min. It charges about $153 per seat. You can also get the only afternoon service from Virginia Beach via 66 Northeast Regional that lasts around 10h 55min and costs about $108 per ticket. Despite how far Virginia is from New York, 88 Northeast Regional provides the fastest weekend service that enables you to travel to New York in around 9h 31min for a weekend trip, with fare beginning from approximately $184.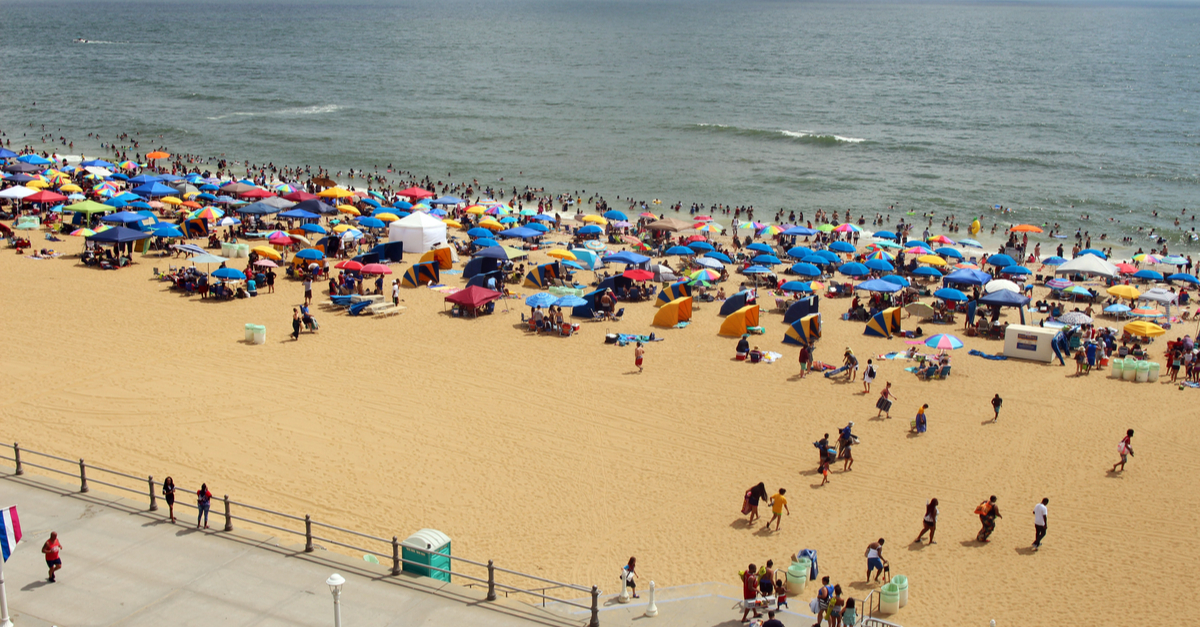 Virgin Beach Swimmer. Source: Shutterstock
Popular train routes from Virginia Beach
You can expand your itinerary by finding some of the most popular routes from Virginia Beach to neighboring and distant cities. Virginia Beach to Philadelphia takes approximately 7h 51min, with tickets charging from about $49. You can go to Boston from Virginia Beach between around 13h 54min and 16h 58min, with fare starting from about $68.
Tickets begin from approximately $42 when journeying from Virginia Beach to Baltimore, taking about 7h 47min. Another well-liked voyage goes to Washington D.C. from Virginia Beach that lasts around 5h 28min, with tickets starting from about $35. You can also enjoy a more extended journey by traveling from Virginia Beach to Miami. It takes anywhere between around 27h 39min and 36h 43min, with the fare beginning from approximately $218.
Good to Know
New York is the world's most linguistically diverse city, with residents and visitors speaking over 800 languages. This feature makes it an attractive destination for various travelers since you can comfortably make inquiries in your preferred language for accurate information.
To New York by train – travel tips
New York City is a hub for numerous tourist attractions to interest locals and visitors alike. The One World Observatory sits more than 100 stories above the city's iconic streets, allowing you to take in impressive views. This venue provides passed canapés, American fare, and premium cocktails to add fine dining during an exciting sightseeing opportunity.
You can go to the High Line, a public park featuring food vendors and multiple thought-provoking artworks. The park also has a garden where you can look at different flowers and plant species during a relaxing stroll. A tour of Central Park enables you to experience the area in style, including peddling, walking, or riding a carriage. Traveling during winter enhances your fun because you can skate and glide across the park's Wollman Rink. You can enjoy nature at this location and access other attractions within its borders, such as the Central Park Zoo, the Belvedere Castle, the Lake, and the Strawberry Fields.
Your itinerary can include the Empire State Building, the most well-known landmark building in New York that stands 381 meters high with 102 stories. You can go to the two observatory decks and enjoy lovely sceneries of the town, including neighboring regions like Connecticut, New Jersey, Massachusetts, and Pennsylvania, on clear days. New York offers numerous eateries that you can visit with friends or family, such as Keens Steakhouse or the Barbetta that serves Northern Italian delicacies.