Trains from Trenton to New York City
When it comes to train Trenton, NY, Amtrak is the rail transport company that will serve your voyage. It's the country's National Railroad Passenger Corporation that delivers medium to long-distance intercity train service. Amtrak routes include long-haul service as the National Network, short-haul service outside the Northeast Corridor (NEC), and short-haul service on the Northeast Corridor.
The Trenton-New York route falls on the Northeast Corridor service, with the popular trains being the Northeast Regional and the high-speed Acela Express. Amtrak offers frequent train services that directly connect passengers journeying from Trenton to New York. When looking to travel on this voyage, book through the Omio website or app that let you conveniently plan your trip per your requirements.
Booking your train ticket with Omio from Trenton to New York City
When you choose to book your train ticket to New York City from Trenton through Omio, you'll accrue several benefits. First off, you can conveniently use the Omio app to make a reservation from whichever location you are. Another advantage is that the app displays various train journeys and prices for the day, giving you the freedom to select a pocket-friendly company or trip.
With Omio, you can book or request customer service in your language of choice. It's also possible to get mobile tickets, meaning that you'll not have to print your ticket. The Omio magazine is another useful travel tool you can access via the booking platform.
Train companies in Trenton
The primary train company that operates trains from Trenton to New York is Amtrak. Your train journey from Trenton to New York is likely to begin at Trenton Transit Center, Trenton's central commuter train station. When you get to New York from Trenton by train, your trip will end at Penn Station that lies 3.5 miles (5.6 km) away from central New York. Book through the Omio booking platform, and you'll have a surfeit of affordable options for train tickets from Trenton to New York City. You'll find frequent direct Amtrak trains between the two cities every day of the week, with departure times varying from early morning to late night.
Popular routes by train from Trenton
There are multiple popular train voyages from Trenton to other parts of the United States. The common routes include the high-speed Acela Express, Northeast Regional, and Keystone Service. Acela Express is Amtrak's high-speed service that plies the Northeast Corridor route where the Trenton-New York journey lies.
It runs between Washington DC and Boston, and there are about 16 stops in between, including New York City, Baltimore, Philadelphia, and Providence. The Northeast Regional is a rail service that journeys through the Northeastern and Mid-Atlantic U.S., usually between Boston, Washington D.C., and Massachusetts through New York City. The Keystone Service provides regional train services between Pennsylvania and Philadelphia, with some trains continuing on the Northeast Corridor towards New York.
Arriving by train in New York City
Train Trenton NY is likely to stop at Penn Station, New York City. The train station sits 3.5 miles (5.6 km) away from the New York city center. With a varied ethnic population, NYC has an extensive culture that incorporates immigrants' traditions. From theaters to art to music to dance, there's so much to explore.
Some top attractions include the Rockefeller Center, the Metropolitan Museum of Art (the Met), Broadway, and Radio City Music Hall. While there's plenty of sightseeing and activities to do in New York, don't forget to add food to your itinerary. You're going to get a food adventure in the Empire City if you sample the locals' favorite, including falafel, bagels, and pastrami.
Amtrak
Amtrak is a railroad service that ferries passengers across 46 U.S. states and three Canadian provinces. It serves over 500 destinations, offering more than 300 daily trains that traverse through some of the most scenic lands. Popular train rides serve people journeying between Trenton and New York. The trip falls on the Northeast Corridor (NEC), where Amtrak utilizes the Acela Express and the Northeast Regional trains.
This route connects Boston and Washington D.C., with stops in New York City, Philadelphia, Providence, and Baltimore. Other than the NEC, other common train journeys include Amtrak's short-haul service in California. Another popular corridor is the Empire Corridor, with routes between New York City and Niagara Falls through Buffalo and Albany. With Omio, you can seamlessly find and book an Amtrak train that journeys to your specific destination.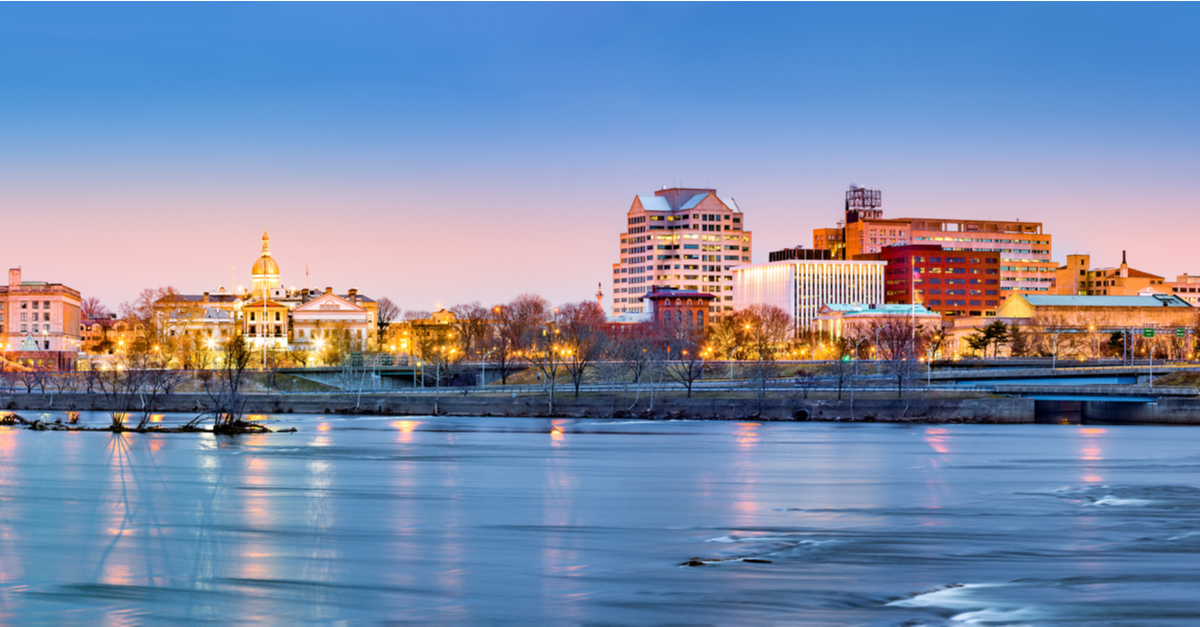 Trenton Aerial. Source: Shutterstock
The Main train station in Trenton
Trenton Transit Center is Trenton's primary hub for passenger trains. The train station lies at the city center and is easily accessible from any location in downtown Trenton. It hosts bus terminals for local New Jersey routes, for example, Capital Connection buses. You'll access shops and restaurants onsite where you can do some last-minute shopping or have a meal before your train departs.
Other station facilities include restrooms, an elevator, payphones, parking spaces, and ticket machines. It'll be best to get to Trenton Train Station 30min before your scheduled train departure time, or at least 45min earlier if you plan to purchase your ticket at the station.
Popular train journeys from Trenton to New York City
One popular route for trains serving the Trenton-New York route is the Acela Express and the Northeast Regional Service. These trains ferry travelers between Boston and Washington D.C., with stops in cities such as Trenton, New York City, Providence, Philadelphia, and Baltimore. Another popular route is the Keystone Service that journeys between Pennsylvania and Philadelphia, with some trains extending along the Northeast Corridor through Trenton to New York City.
The Vermonter passenger train is a route that runs between Washington D.C. and Vermont through Trenton and New York City. Another train that passes between the two cities is the Pennsylvanian which travels through the Appalachian Mountains, Pennsylvania, Philadelphia, and New Jersey's Trenton to New York. The Carolinian is yet another train type that stops at Trenton on its way to New York from North Carolina.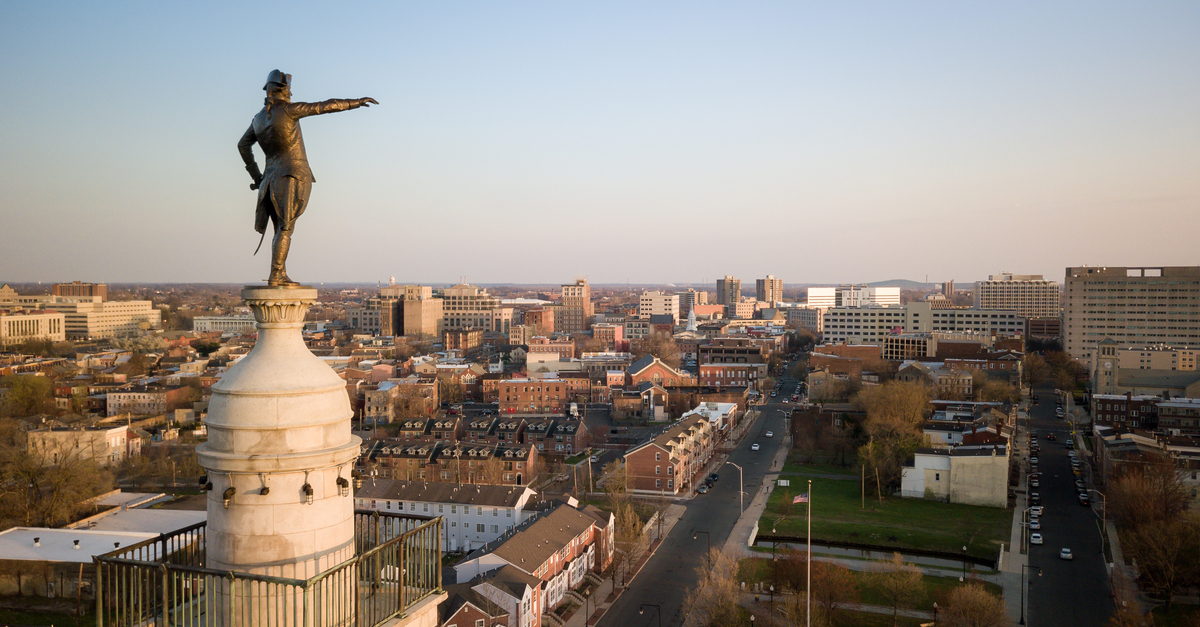 Trenton Monument. Source: Shutterstock
Popular train routes from Trenton to other cities in the U.S.
It's possible to find train rides from Trenton to other cities in the country, with common routes including trains from Trenton to New Haven, Boston, Providence, Baltimore, and Washington. A train ride between Trenton and New Haven can last around 3-4h, with the cheapest train ticket on Omio being $77. The journey time from Trenton to Boston is about 5-6h, with train tickets starting from roughly $126.
For trains from Trenton to Providence, rides can last approximately 4-5h and cost around $147. The train ride from Trenton to Baltimore can last just under 2h, and tickets start from roughly $91. It'll take about 2h 30min to get from Trenton to Washington D.C., and you can find train tickets for about $108.
Good to Know
If you wish to travel with your cat or dog on board train Trenton, NY, you can do so, provided it's in a pet carrier. Multiple Amtrak trains also let you bring your bicycle on board. The high-speed Acela train will get you to your destination in the shortest possible train time, i.e., approximately 51min., if time is of essence to you. However, have in mind that such rides are usually the most expensive. For a more affordable trip, consider train routes like the Northeast Regional, which may extend your journey time to about 1h 15min.
To New York by train—travel tips
NYC has an exceedingly powerful draw—like a moth follows a flame. One reason to get on train Trenton NY is to catch a show on Broadway. From traditional shows to magnificent musicals to unusual shows like magic, a Broadway show is likely to appeal to the harshest theatre critic. New York's food culture is something you wouldn't want to miss out on when in town.
The city has among the best restaurants worldwide that serve French, Chinese, Italian, or American cuisine. You can also sample street food like tacos and hot dogs that form a big part of NYC's lifestyle and culture. A trip to this iconic city will enable you to tour famous art galleries and museums, including the Guggenheim and the American Museum of Natural History. When in NYC, you'll find out why many people tend to look up. The skyscrapers that hover over you as you walk by are beautiful sights you won't miss out on.
The city is also the center of the television and film world globally, and you'll love it if entertainment is your thing—you can tour NBC or be lucky enough and bump into a famous film or tv star on the street. A trip to The Big Apple will be incomplete without touring its iconic landmarks, including the Empire State Building, the Brooklyn Bridge, and Grand Central Terminal.