Trains from Springfield to Chicago
Springfield, Illinois, is known as home to many famous icons, among them President Abraham Lincoln. Also called the "Queen City of the Ozarks," the city has been an agricultural center ever since the 20th century. The distance from Springfield to Chicago, the home of fantastic architecture, sports, and Chicago style hotdogs- is approximately 202 miles (325 kilometers). The journey by train from Springfield to Chicago is fast, comfortable, and efficient as the trains are operated by Amtrak. The journey has direct connections with no transfers or stops along the way. Traveling between the two cities by train is faster than taking a bus, as it takes approximately 3 hours, 28 minutes to complete the journey. There is a frequency of five trains per day departing Springfield for Chicago.
The train journey from Springfield to Chicago lets travelers enjoy the beautiful scenery between the two cities. Amtrak is the sole train providing company from Springfield to Chicago. Amtrak facilitates the journey from Springfield to Chicago through several types of trains. They include express trains, long-distance trains with sleeping areas or roomettes, electric trains and diesel trains. Amtrak Lincoln Service train is the fastest train on this route and the most costly option. Travelers looking for train rides from Springfield to Chicago can use the Omio website to find the ideal train for their needs.
Booking the Springfield to Chicago Train with Omio
Booking your ticket from Springfield to Chicago with Omio offers you several benefits. Omio gives you a chance to compare different transport options from bus tickets, shuttle tickets, to air tickets. To book your train ticket, feed your travel details of the time, date and destination of your train trip on the Omio website. Omio will provide all the details available, including departure and arrival times, prices and train types.
Users can choose the train they prefer depending on their budget. As soon as you provide the information and select the train ride, you will receive your ticket for Sprongfield to Chicago on the website.
Train companies from Springfield to Chicago
The leading train company operating the Springfield to Chicago train route is the Amtrak train company. It operates through all cities in the U.S., helping travel in both regional and intercity long travels. It owns most of the train terminus in the 46 U.S. states.
Popular international routes from Springfield
To Toronto, Canada, Springfield is one of the longest international routes crossing the border to the Canadian city. The journey takes two days, arriving at the Toronto Union station. The Amtrak Maple Leaf facilitates travel with its accommodation amenities as well as coffee and dining options. With Omio you can check all the possibilities to embark on this route by train that will be quite an adventure.
Arriving by train in Chicago
You will arrive at the Chicago union station. You can then hire a bike, board a bus, taxi, or a shuttle to the city center. People in Chicago love games and gambling, don't be surprised to run into few people carrying a basketball. You can move about the city and visit some of the major attraction points in the city.
Amtrak
Amtrak Is the sole train service provider in the Springfield Chicago route, seduced for a minimum of four trains in a day. It serves the whole of the U.S. and nine Canadian cities. It manages to stop at over 500 stations in a day, ferrying thousands of people. It has high-speed electric trains, medium-speed trains, and slow trains. Their modern trains have Wi-Fi, lounge, air conditioning, dining options, and recliner seats with leg allowance.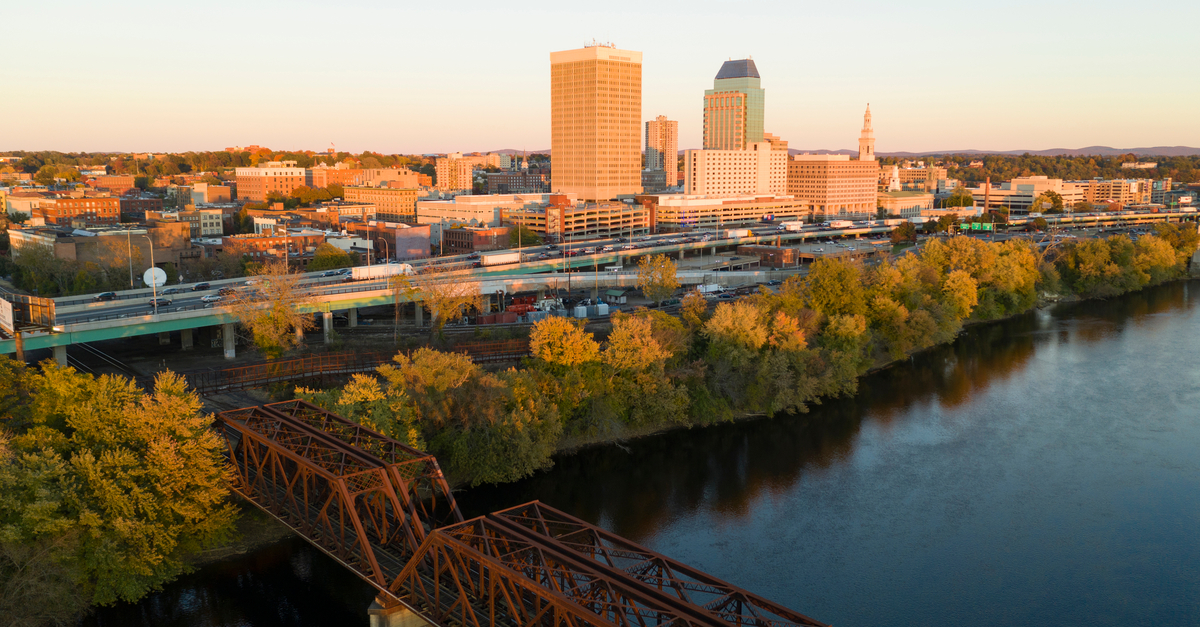 Springfield Sunrise. Source: Shutterstock
Main train stations from Springfield to Chicago
In Springfield, the train station for your travel to Chicago is the Springfield station, located at Cupar KY15 5RT, United Kingdom. It has plenty of amenities for passengers as they wait for their trains, such as Payphones, Ticket machines, Bike storage space, Elevators, Toilets, and Wi-Fi. The arrival station is the Chicago union station, one of the busiest train stations in the U.S. and among the top five Amtrak stations. It is located at 225 South Canal Street and is estimated to cover a region equivalent to ten or more blocks.
The number of trips per day varies. However, during regular days, Amtrak provides three trips from Springfield to Chicago. It also provides accessible Wi-Fi, bag storage at a fee, bag checking services, a metropolitan lounge, and restrooms. During holidays, weekends, and events, the number of trips by train may increase or reduce. Therefore, you should always confirm ticket availability with Omio early before you plan on your journey.
Popular train journey from Springfield to Chicago
The Lincoln service route running from Chicago to St. Louis facilitates transport from Springfield to Chicago. Amtrak's fast-speed rail takes about 5h 20min costing about $24. The Texas eagle also uses the route for more extended travels to connect to its main rail. It costs about $24 and takes about 3h 40min.The route has terrific nature views from the train.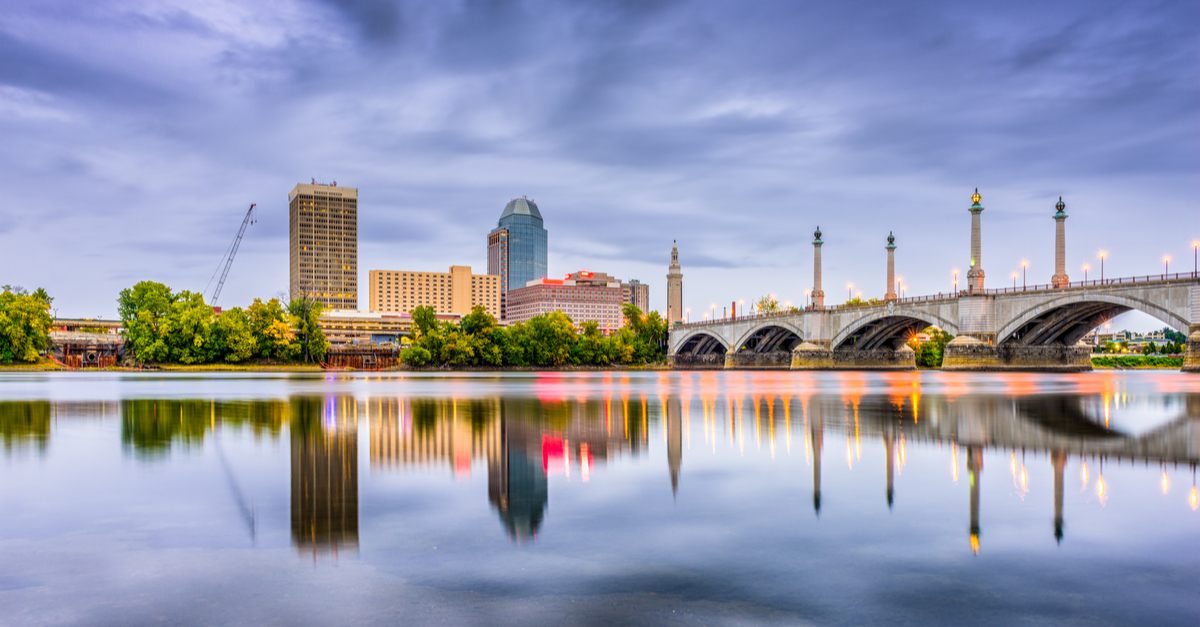 Springfield Waterfront. Source: Shutterstock
Popular train routes from Springfield to other cities
Springfield has several intercity journeys; the most popular trips are from San Diego, CA to San Luis Obispo, CA, a distance of 280 miles (450 km) that takes 8h 17min for $68. New Orleans, LA to Los Angeles, CA, 268 miles (431 km) takes 25h 23min for $299. New York, NY to Montreal, QC, a distance of 392 miles (613 km) takes 14h 47min for $72. Chicago, IL to Portland, OR, a distance of 1754 miles (2824 km) for 60h at a ticket price of $153 and Pittsburgh, PA to New York, NY, a distance of 37 miles (603 km), taking 9h 20min for $122.
You can add some of the popular journeys to your travel bucket. Most routes are long-distance travel, allowing you to pass through several states and cities in the U.S. Using train; it's possible to travel almost all states using two or three routes.
Good to know
Amtrak will make your trip one to remember. First, it's a no-stop journey. You will board your train at the Springfield station and secure a cozy seat where you can view breathtaking sceneries. Second, the onboard food services will not let you stay hungry; you can always have some food as you travel.
Third, if you need some alone time, there are quiet spaces on the train away from the noise. Importantly, arrive at the train station earlier than the expected departure time, at least 30min earlier. Fourth, always carry your travel guide in a new town, or at least have a copy on your phone and ensure your phone is fully charged. In any travel, expect weather changes, or better yet, study the weather forecast of the place you are visiting. Finally, gather information from friends on affordable and convenient restaurants.
To Chicago by train –travel tips
People visit Chicago for thousands of reasons; however, you might want some tips on the best places you should not miss if you are a tourist. Chicago is located along the calm waters of Lake Michigan, giving the view of the city as a reflection on the lake. Your walk and busks along the sandy beaches will make your summer visits to Chicago worthwhile.
Beside the lake runs an evergreen park where most tourists cool off after numerous visits. The city has hundreds of eateries and restaurants with over 500 foods to choose from. Don't be surprised to find a better version of your favorite foods there. If you fancy sports, Chicago will blow your mind with their fierce American football, baseball, and basketball sports.
Also, be ready for dozens of unmatched architecture that will wow you as you walk in the core of Chicago city. And, of course, don't leave your camera behind; you will need to store some memories in Chicago. Finally, avoid street gamblers, they are present in almost all cities, playing coordinated tricks, and you may end up losing a lot of money.