Train to Salisbury
Salisbury is a quaint parish town located in the southwestern Wiltshire region of England which offers a single station known simply as the Salisbury Railway Station. Trains arrive from many larger cities across the country at Salisbury train station throughout the day, such as from Exeter to the southwest, Cardiff to the west, and Bristol to the north. Trains also arrive throughout the day from London (Waterloo Station) to the east. Salisbury may be one of England's smaller towns, but it certainly can boast of being well connected!
Great Western Railways to Salisbury
Great Western Railways provides trains to Salisbury from north and western points of origin such as Bristol (Temple Meads Station) or the Bath train station. Trains from Bristol to Salisbury run most days of the week, making the 50-mile (81 km) direct journey southeast in around 1h. Trains from Bath to Salisbury train station also run directly, generally making the trip in just under 1h.
Further to the west, trains to Salisbury are also available on Great Western Railways departing from Cardiff (Central Station) in Wales. These trains generally make the direct 96-mile (155 km) journey to Salisbury train station in around 2h or so. Exeter (St. David's Station) has trains to Salisbury on most days of the week as well which connect through Westbury, making the 100-mile (161 km) trip east in approximately 2h.
South Western Railways to Salisbury
South Western Railways trains are available for the trip to Salisbury train station from many points of origin in the country, including from London's Waterloo Station where trains leave throughout the day, sometimes more than once per hour, for the 88-mile (142 km) journey southwest.
These trips are generally offered without connections along the way and last around 1h 30min. South Western Railways also offers trains to Salisbury from further east, such as from Brighton Railway Station on the southeast coast of the country. These trains make the 87-mile (140 km) journey west in about 2h 30min, generally including a connection at Clapham Junction along the way.
Cross Country Trains to Salisbury
For trips originating in the north, trains to Salisbury are offered by Cross Country which travels on most days of the week from Birmingham New Street Station and makes the 123-mile (198 km) journey in about 3h 30min, typically connecting at Bristol Temple Meads along the way. Cross Country also offers trains to Salisbury from Oxford's rail station which connect through Basingstoke and arrive in about 2h.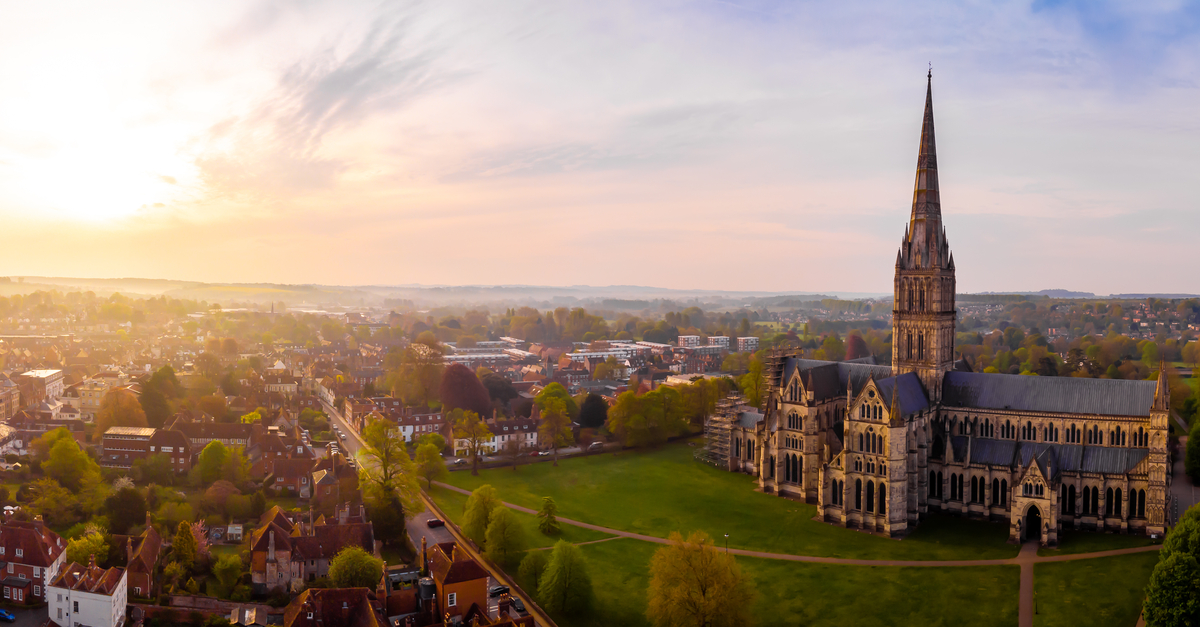 Salisbury Sunset : Shutterstock
Main train station in Salisbury
Salisbury's train station is located just to the west of the city center on South Western Road. This station is easily accessed by taxi or on foot from the city center.
Services at the Salisbury train station include public restrooms (including a baby changing station in the restroom on Platform 4) and a ticketing office. There is also a bicycle storage facility and a large parking lot available for passenger use. The entire station utilizes step-free access to better accommodate those passengers with reduced mobility.
Onboard facilities Salisbury
Passengers traveling by train to Salisbury can expect relatively consistent onboard facilities during their journey. For example, Great Western Railways, South Western Trains, and Cross Country all offer free WiFi on their train to Salisbury as well as a choice of booking First Class seating for the trip. Great Western Railways and South Western Trains permit bicycles to be brought on board, although South Western Trains requires that the bikes be foldable. Both carriers require prior reservation of bike space on routes to Salisbury, with Great Western Railways providing spaces for bikes on Carriage B.
South Western Trains and Great Western Railways permit up to two small pets to be brought on board, provided dogs be kept on leashes and cats be kept in their travel cases. Great Western Railways provides its guests with a food trolley for food and drink, while South Western Trains offers catering services on its Salisbury route. Cross Country offers two free spaces for bicycles on its trains, requiring all others to be folded.
A special service on Cross Country's Voyager trains is the option to sit in the "quiet car" where passengers may work quietly using the free WiFi or simply enjoy their journey in peace. Special accommodations are offered on all carriers to Salisbury for those passengers requiring additional assistance due to reduced mobility.
Train tickets to Salisbury: useful to know
Great Western Railways, South Western Trains, and Cross Country each offer their passengers to Salisbury train station the option of printed or electronic tickets, regardless of point of origin in the country. Tickets can be purchased for single-use or as seasonal passes.
As a general rule, it is advised that travelers within the United Kingdom carry a government-issued photo-ID, such as a driver's license or a passport, as some railways staff may require passengers to prove their identity when presenting their tickets. Wherever your train travels may take you, Omio makes it quick and easy to buy your train tickets, and now it's even possible to store all of your electronic tickets in your online Omio account!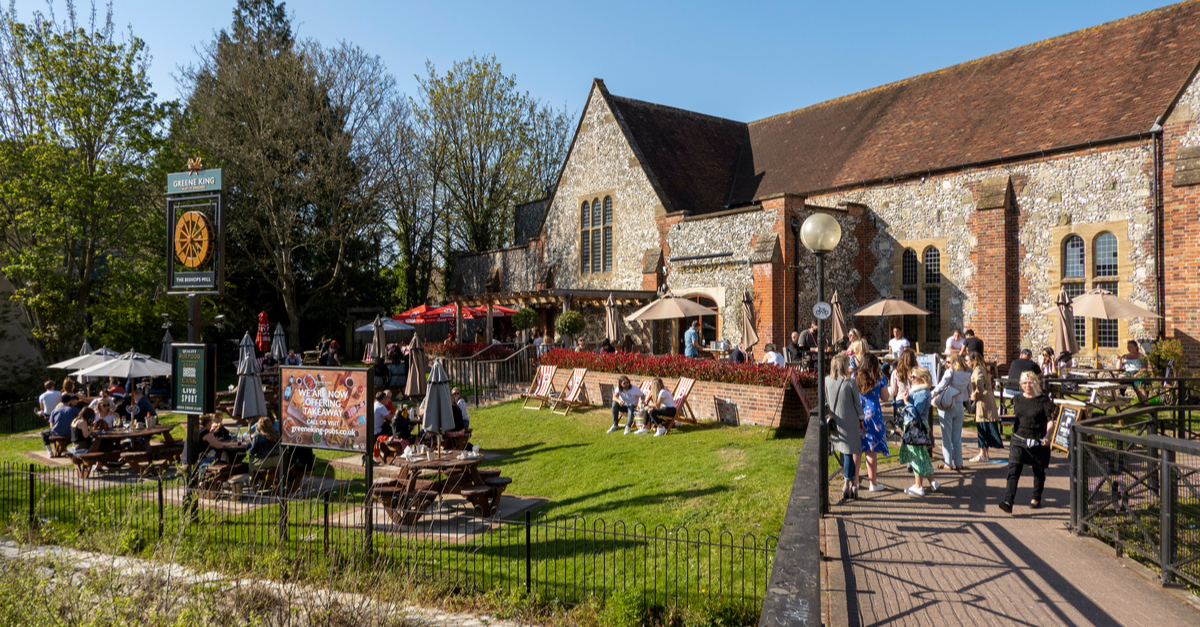 Salisbury People : Shutterstock
To Salisbury by train: travel tips
Visitors to the lovely parish town of Salisbury in south Wiltshire will be swept away by the majestic beauty of the Salisbury Cathedral where an original 12th-century copy of the Magna Carta is on display and where one can set their watch by the cathedral's 14th-century clock, recognized as the world's oldest functioning mechanical timepiece!
After touring the cathedral, don't forget to explore the nearby Salisbury Museum where a wealth of archaeological artifacts are on public display, including ceramics and a collection of Turner watercolors. The best part about visiting these sites is that Salisbury features a number of convenient walking and biking tours within the city, as well as an efficient bus system based around the central train station, so tourists can safely and easily explore all that Salisbury has to offer without worrying about traffic or parking!
Salisbury draws visitors from around the world to admire its museums and wonder at its simple beauty, but perhaps the most powerful draw to the area is the nearby Stonehenge monument!
This world-famous site is highly rated by visitors and is certainly worth making the journey to see. A mysterious ring of giant stones believed to be thousands of years old, the site hosts annual events such as midsummer and midwinter observations by cultural enthusiasts and continuing archeological explorations. After taking in all that Stonehenge has to offer, why not explore some of Salisbury's more recent past by wandering the famed Salisbury Market Place? Located near the city center, this charming district is sure to steal your heart while also offering souvenirs that will bring a smile to everyone on your list.
Salisbury is an unassuming town situated along the railways between east and west England and may be easy to miss as one travels, but by taking a day or two to stop and explore this little town with a big history, you will be sure to rediscover just what makes this country so very special while also rediscovering the personal stories that helped shape the rest of the world in the forms of ancient monuments and pivotal, world-changing political agreements.