Train to Reading
Located in Southern England at the confluence of the Thames and Kennet Rivers, the town of Reading, Berkshire is a major commercial center with close proximity to London. It evolved into its current status as a large center for manufacturing during the 19th century, thanks to the establishment of the Great Western Railway.
It remains a critical hub for train travel in the region, with the primary train station being Reading railway station. This station serves a number of large domestic and international rail lines. The Great Western Main Line, Guildford-Newcastle line, Reading-Newcastle line, Bournemouth-Manchester line, North Downs Line, Night Riviera line, Reading-Taunton line, Reading-Basingstoke line, Waterloo-Reading line, Pattington-Reading line, and the future Elizabeth line use Reading railway station as one of their primary stops.
You can travel to Reading via train from major international locations such as Paris, Berlin, or Amsterdam thanks to the Channel Tunnel (or Chunnel) that allows trains to cross the English Channel.
Great Western Railway to Reading
The main company operating train to Reading is Great Western Railway (GWR). Though it shares a name with the 19th-century company that significantly contributed to the growth of Reading, this railway company was founded in 1996 and manages nearly 200 stations throughout the United Kingdom. GWR trains use Reading rail station as their primary stop, with some rail lines using it as their terminal station.
The largest line serviced by Great Western Railway is the Great Western Main Line, running from London Paddington to Bristol Temple Meads with a stop in Reading at Reading railway station. Other lines operated by GWR and running through Reading are the North Downs Line from Reading to Redhill, the Night Riviera line from London Paddington to Penzance, the Reading to Taunton line, and the Reading to Basingstoke line.
CrossCountry to Reading
You can also ride train to Reading through CrossCountry, which operates three lines that stop in Reading at Reading railway station. The Bournemouth or Southampton to Manchester line stops in Reading before continuing to Oxford. The Guildford-Newcastle line stops in Reading before continuing to either Guildford or Oxford. The Reading-Newcastle line either departs or arrives at Reading railway station, with the next station being Oxford. All of these lines are entirely operated by CrossCountry.
South Western Railway to Reading
Another British railway company that operates train to Reading is South Western Railway (SWR). This company stops in Reading at Reading railway station, but primarily serves western Surrey, Dorset, and Hampshire. You can also ride South Western Railway to London, Wiltshire, Somerset, Devon, and Berkshire. SWR operates the Waterloo to Reading electric rail line that has Reading railway station as its terminal station.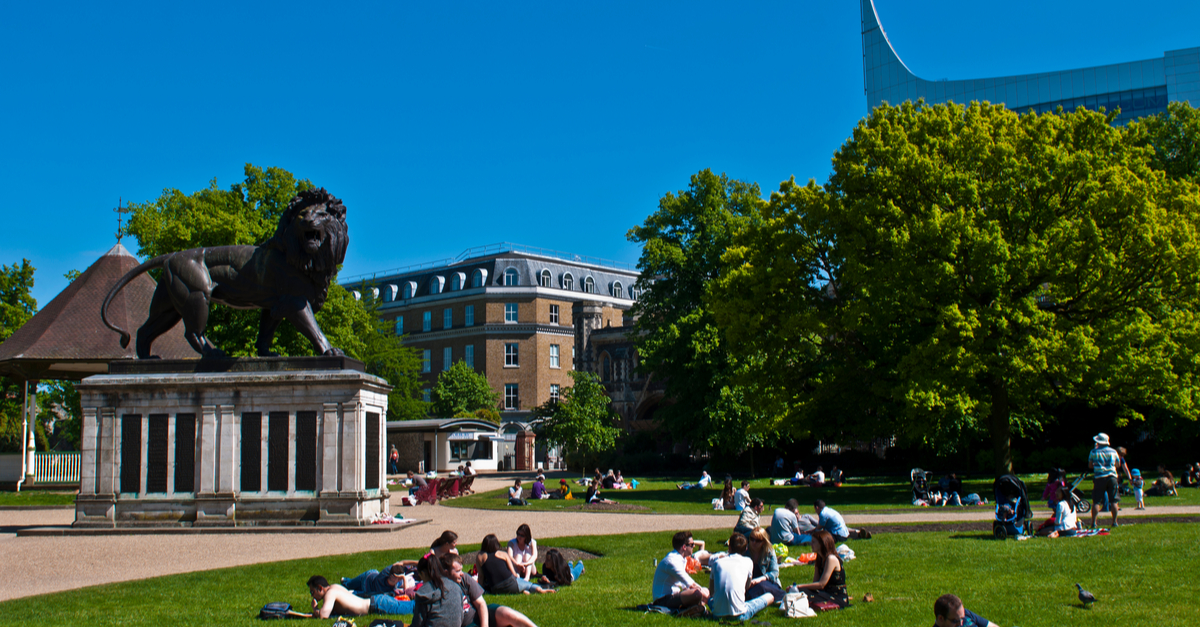 Reading People : Shutterstock
Main train stations in Reading
The primary train station in Reading is Reading railway station. It is located on the northern end of the city centre near the Thames River. Nearly four million passengers change trains at this station on an annual basis, with fifteen platforms at the station to serve ten rail lines. The four train companies operating trains through this station are Great Western Railway, CrossCountry, South Western Railway, and TfL Rail.
The lines stopping at this station are the Great Western Main Line, Guildford-Newcastle line, Reading-Newcastle line, Bournemouth-Manchester line, North Downs Line, Night Riviera line, Reading-Taunton line, Reading-Basingstoke line, Waterloo-Reading line, Pattington-Reading line.
Upon completion of the Elizabeth Line, which is part of the CrossRail project, it will stop at Reading rail station on its journey from Abbey Wood and Shenfield to London Heathrow Airport and Reading. Other stations in Reading are Reading West rail station, Tilehurst rail station and Earley rail station, though these only serve lines that stay within the Reading city limits.
Onboard facilities Reading
The onboard facilities you experience will vary depending on the company you ride with and the length of your journey. For the longest journeys, specifically overnight travel on the Great Western Railways Night Riviera line, you will essentially be staying in a hotel with wheels. You can choose from private sleeper compartments and twin sleeper compartments with personal sinks.
There are restrooms on either end of all the coaches. Even if you are taking a short, local journey, you can expect standard amenities on board such as restrooms, electrical sockets, wireless internet, and refreshments available for purchase.
Train tickets to Reading: useful to know
When traveling to Reading by train, you have flexible options to fit your travel style. You can choose to purchase single ride tickets in advance, or multi-use railcards. For any tickets you purchase, you can decide between using a mobile ticket that can be scanned electronically on your phone, or a physical copy of your ticket that you can print at home or pick up at the station.>/p>
There are four types of tickets available for purchase: Advance, Off-Peak, Super Off-Peak, and Anytime. Advance tickets are reserved in advance for specific trains and routes. Off-Peak tickets require a selected date of departure but flexible return dates on any off-peak service within one month. Super Off-Peak tickets are similar, but even less expensive and generally available on London trains or weekends.
Anytime tickets offer complete flexibility with your travel. No matter where you choose to go, or how you choose to get there, the most convenient option is to purchase your tickets through Omio and store them in your Omio profile for safe keeping.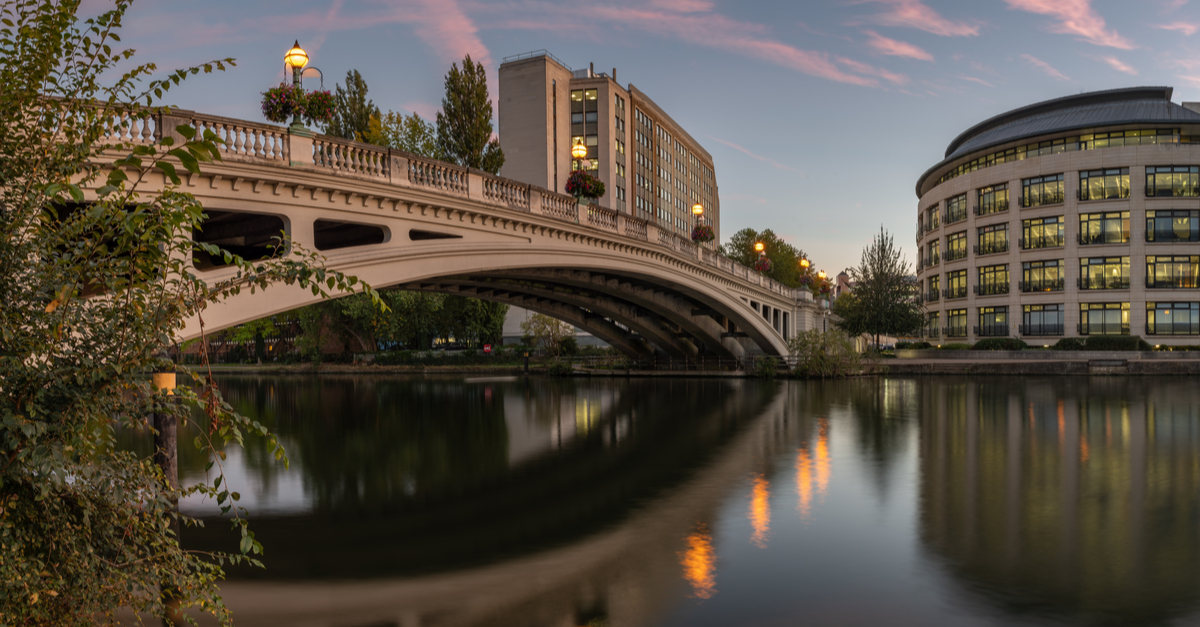 Reading Bridge : Shutterstock
To Reading by train—travel tips
Once you arrive at Reading rail station, you can make your way around town using several public transit options. One of the most popular and convenient options is riding the bus with Reading Transport Limited, also known as Reading Buses. You can also ride the train throughout Reading, with stops at the smaller local stations of Reading West rail station, Tilehurst rail station and Earley rail station. No matter how you choose to get around, you deserve a chance to relax in Basildon Park. For fans of the TV show and movie Downton Abbey or Pride and the Prejudice film, you might even recognize a few of the common backdrops from scenes filmed here.
Even if you prefer to read instead, this is a beautiful park with historical connections that will make for a relaxing day. If parks are your thing, this is the city for you. Make some time for a visit to some of the other well-known parks of Reading, such as Wellington Country Park and Beale Park.
With evidence of this town dating back as far as the 8th century, it goes without saying that Reading is full of historic landmarks and buildings that are just waiting for you to explore. Visit the Silchester Roman City Walls and Amphitheatre for a chance to see some of the best-preserved Roman wall defenses that are still standing today.
You can also explore the remains of an amphitheater and a 12th-century church. The Reading Museum is packed with historic artifacts and educational exhibits so you can truly appreciate your time in this ancient city. The Reading Abbey ruins are certainly worth a visit, a royal monastery that was originally built in 1121 by King Henry I and is well-preserved by experts today. Before you leave, stop by an authentic English pub for some fish and chips to complete your Reading experience.