How to Travel from London to Salisbury?
The London-Salisbury route is an easy day trip you can make by bus or onboard a train. About 80 miles (129 km) separates these two cities, but that shouldn't deter you from making the trip, as ground transportation will get you to your destination within no time.
Your journey time can vary anywhere between 1h 20min and 5h 30min per the mode of transportation you select. You can travel from London to Salisbury any day since buses and trains serve the route daily. Salisbury is a popular destination due to its famous Cathedral. Travelers often journey from England's Capital to the Wiltshire city to admire the oldest working clock globally, Britain's tallest spire, and an original copy of the Magna Carta.
What is the Cheapest Way To Get From London to Salisbury?
If you're on a budget, you'll find that the cheapest way to get from London to Salisbury is by taking a bus. Options involve selecting between direct trips and routes that require a change, with the latter having more affordable tickets. Buses leaving London for Salisbury usually depart from Victoria Coach Station, and they may take about 2h 50min (for direct trips) or approximately 5h 25min (transfer routes) before arriving at Salisbury's Millstream Coach Park.
The National Express bus company serves travelers looking to reach Salisbury from London, offering an average of three bus rides every day. The first ride of the day usually leaves at around 8:00 a.m., while the last one can leave at approximately 10:00 p.m. Some ways of spending the least money on your trip include booking in advance, adding discount cards on your ticket (whether senior, student, or travel pass), comparing round-trip and one-way ticket prices, and exhibiting flexible traveling dates.
What is the Fastest Way to Travel from London to Salisbury?
If you're thinking about how to get to Salisbury from London in the fastest possible time, your best bet is by train. The South Western Railway offers commuter services from London Waterloo and London Paddington to Salisbury railway station.
Trains usually depart at an average of two trains every hour, with the first daily train departing at around 6:35 a.m. and the last train of the day leaving at approximately 11:40 p.m. Multiple trains running this route are direct and take a journey time of roughly 1h 23min. It's also possible to get rides that require a train switch, with the average trip time closer to 2h.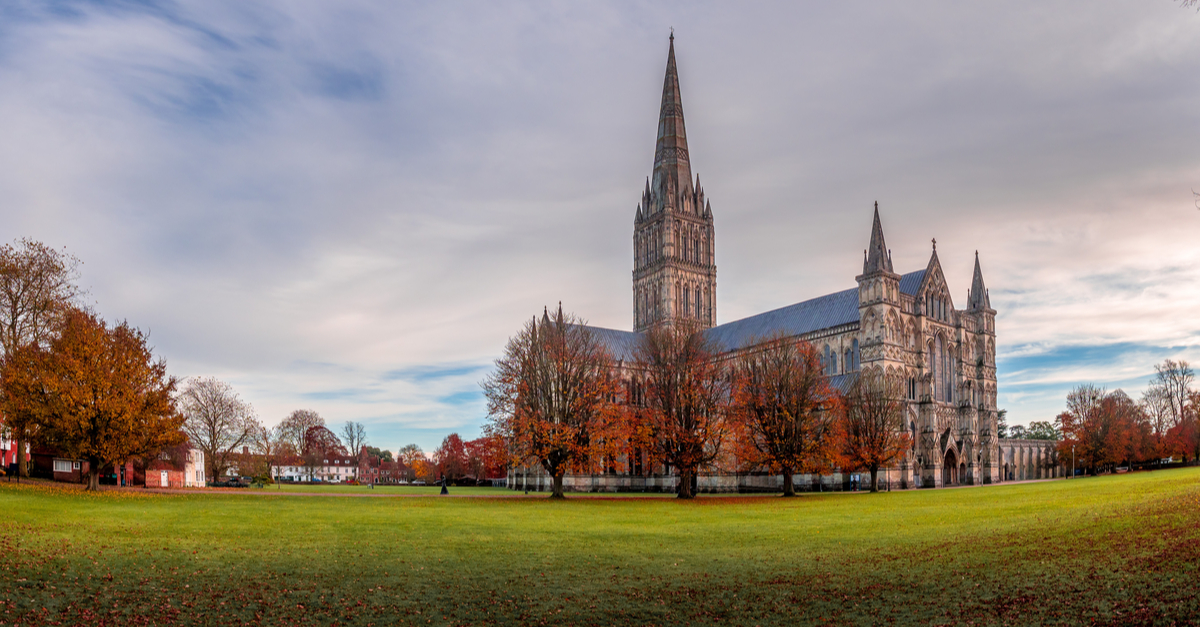 Salisbury Cathedral. Source: Shutterstock
Find the best tickets from London to Salisbury and book with Omio
Finding the best deals for tickets from London to Salisbury is simple with Omio. Our booking app and website showcases various possible travel modes between cities and lets you select the option that suits you. You can compare the travel options present at a glance and book a ticket with convenience.
With Omio, you won't have to worry about your language as customer care and booking services are available in multiple languages. Our platform also provides mobile tickets once you make your reservation, meaning that all you'll need for your travel is your smartphone (no hustle of printing tickets). While at it, check out our Omio magazine and get helpful tips that'll make your travel seamless.
Trains from London to Salisbury
A train ride from London to Salisbury is a safe, convenient, and efficient transport mode between the two cities when compared to other means. Train rides can benefit business travelers who can enjoy amenities such as ample working spaces and quiet areas. Leisure travelers can also love the spectacular views aboard trains.
When traveling by train on this route, you're likely to board the South Western Railway. Luckily, the company offers about two train rides every hour, seven days a week, so you'll have plenty of options for your trip and not worry about how to get to Salisbury. While most of the rides are direct hence require no train change, you'll still find routes requiring train transfers.
London Waterloo and London Paddington are the possible origin train stations for this trip, and the arrival location is likely to be Salisbury railway station. You'll be within the city center vicinity and have immediate contact with the city's public transportation once you get to Salisbury.
Train travel from London to Salisbury with South Western Railway
The South Western Railway is the sole train company that services commuter transport between London and Salisbury. It usually uses the Central London terminus station at London Waterloo for departures, but some rides can originate at London Paddington, with the end terminus being Salisbury railway station.
Note that trips from London Waterloo give you the freedom to select between direct and connecting routes, but rides from London Paddington almost always involve a train transfer. The travel time from London to Salisbury on a direct train is roughly 1h 20min, but you should expect the time to rocket closer to 2h if you travel via a connecting route. Onboard amenities include first-class service and free Wi-Fi, and entertainment. South Western Railway strives to make traveling simple for pregnant women, whereby expectant mums experience a smooth journey via the help pack for mums to be.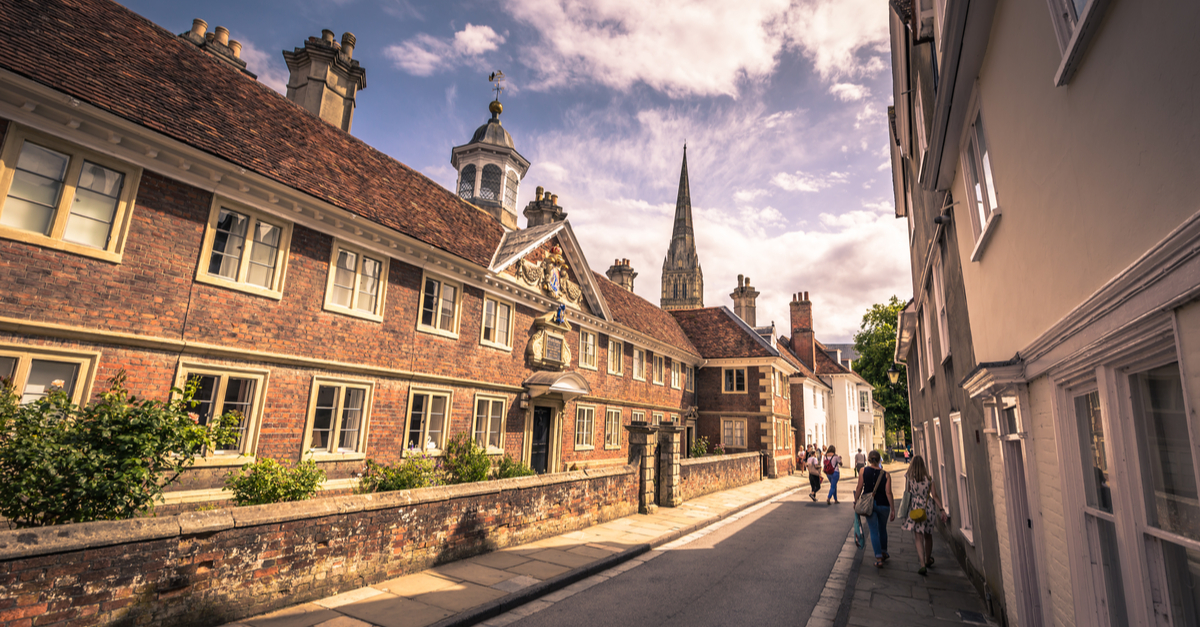 Salisbury Tourists. Source: Shutterstock
Buses from London to Salisbury
A bus ride is a cheap way to travel from London to Salisbury. National Express public bus transport company offers trips for this route. Daily bus connections are available, but you'll find just about three trips only each day scattered at dawn, mid-day, and dusk.
The first train ride is usually a connecting trip that'll have you change buses at Bristol, Bus & Coach Station, while the other two rides are ordinarily direct. London, Victoria Coach Station and Salisbury, Millstream Coach Park are the origin and arrival bus stations. The bus station in Salisbury will place you within the city center upon arrival, so you'll be a walking distance away from various downtown locations.
Traveling by bus from London to Salisbury with National Express
National Express is the only public bus company that that'll enable you to get from London to Salisbury. It usually departs from London's Victoria Coach Station and ends the trip at Millstream Coach Park in Salisbury.
You can select between a connecting train ride that goes on a long journey or a direct route with a shorter trip time. Connecting journeys can last about 5h 25min, while direct trips can take a journey time of approximately 2h 50min or 2h 55min. National Express allows you to make a seat reservation for the bus's first five rows at a small extra fee.
To Salisbury by train/bus—travel tips
Salisbury is a destination that'll appeal to a history lover as it has multiple historical artifacts and ancient burial grounds. The famous Stonehenge in the city will let you into the mystery behind the megalithic stone structure that's more than 3,000 years old. A trip to Salisbury will be incomplete without touring Salisbury Cathedral, the focal point for most visitors.
Since the 13th century, the colossal structure houses tombs of various historical figures like kings, queens, and bishops. History geeks will also love setting their eyes on one of the original four copies of the Magna Carta at the church. After touring the Cathedral, a walk by the Cathedral Close will be therapeutic.
The land surrounding Salisbury Cathedral hosts various historic houses and museums, and you'll also get breathtaking views of River Aron and ancient walls. The market square is another top sight to visit, where you can purchase anything from fresh food to vintage watches. Don't leave town without touring Old Sarum, the site of Salisbury's predecessor. Sitting on a hill, "Old Salisbury" is the perfect place to picnic while gazing at the historical wonders.