Τrains from Peoria to Chicago
Trains from Peoria to Chicago consist of two Amtrak passenger rail lines, the "Illinois Zephyr" and "Carl Sandburg." These trains operate Monday through Friday. The journey takes around 4h 51min. The lack of a rigid schedule allows you to sit back and relax while enjoying the beautiful views the train has to offer. Although these trains run all week long, the Chicago to Peoria trains only depart every other day. The Amtrak station in Peoria has located four blocks from the train depot.
Peoria to Chicago Train Time: Daily departures
Amtrak operates a total of four round trip trains between the cities. The trains cover 128 miles (206 km) from Peoria to Chicago, with the first train leaving at around 7.00 a.m. and the last train departing at around 11:15 p.m.
How long is the journey by train from Peoria to Chicago?
The journey from Peoria to Chicago by train takes approximately 3h 25min with the fastest Amtrak train while it takes 4h 51min including layovers. The train ride is often a good way to unwind after a long day of business meetings. Trains from Peoria to Chicago are full of scenic views, and Amtrak is still the only company in the US to offer a glass dome car for passengers to explore and take photos of the landscape.
What are the departure and arrival stations for trains from Peoria to Chicago?
Departure train station: Amtrak's Peoria station is at 101 W. Lake Street, just north of Interstate 74 and west of the Rock Island District Metra station. It is about eight miles (13 km) west of downtown Peoria and is considered within the city's western suburbs. There are two waiting rooms, one for each track. There is also a designated accessible waiting area that features an electrical outlet for recharging wheelchairs or battery packs for other medical equipment.
Arrival train station: The train arrives at Union Station in Chicago, Illinois, about 1 mile from the city center. Union Station has historic architecture and a shopping mall with 26 retail establishments, including restaurants and clothing stores. The station has two waiting rooms for passengers with daily tickets and another for monthly and yearly pass holders. There is also a large waiting room for passengers on trains arriving with no seat reservation.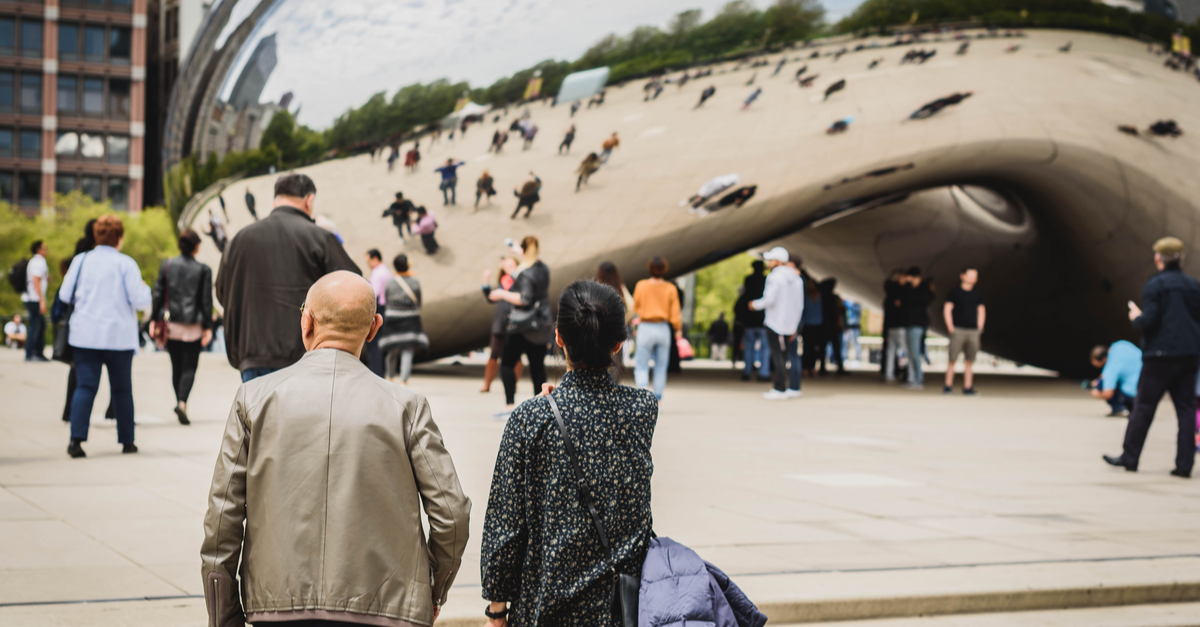 Chicago People. Source: Shutterstock
Which train companies travel from Peoria to Chicago?
Amtrak and Metra are both commuter rail systems that provide transportation between Peoria and Chicago. Metra primarily serves the Chicago metropolitan area. They provide service between Peoria and Chicago on two different lines: the Union Pacific North Line and the Rock Island District Line. It has relatively cheaper ticket prices but takes longer to get to Chicago. Metra operates every day except on the weekends.
For busy commuters who have a schedule to keep, Metra's trains might be a better option. Amtrak offers service between Peoria and Chicago on two different trains: the Carl Sandburg and the Lincoln Service. Each train may go through different stops to Chicago and sometimes even travel to other cities. You will be charged slightly higher ticket prices than Metra but will have the advantage of quickly reaching your destination. Amtrak's limited weekday schedule is supplemented by additional service on weekends.
Amtrak trains from Peoria to Chicago
Trains from Peoria run twice daily in each direction during weekdays, but only once on weekends. They make the trip in about 4h, but passengers can get from Peoria to Chicago even faster by taking a high-speed rail. The long-distance trains stop at many different stations along their route, including Mattoon and Galesburg. These are good for sightseeing purposes but have relatively low speeds because they have to stop so often. The high-speed trains do not stop as often because they are fast. An example is Blue Water, which runs between Michigan and Illinois. The trains can be crowded on weekends, so be sure to arrive early if you need a seat.
Metra trains from Peoria to Chicago
Metra trains are available daily. Most departures are direct, but some require an additional transfer. There are restrooms on board the train with varying hours of availability. The travel time between these two cities is roughly 4h 22min while it takes 3h 40min with direct trains. Depending on the time of day, there are four to twelve departures per day. All Metra trains are accessible to people with disabilities, while some do have free wi-fi on board.Train services offered by Metra trains from Peoria to Chicago are only long-distance trains.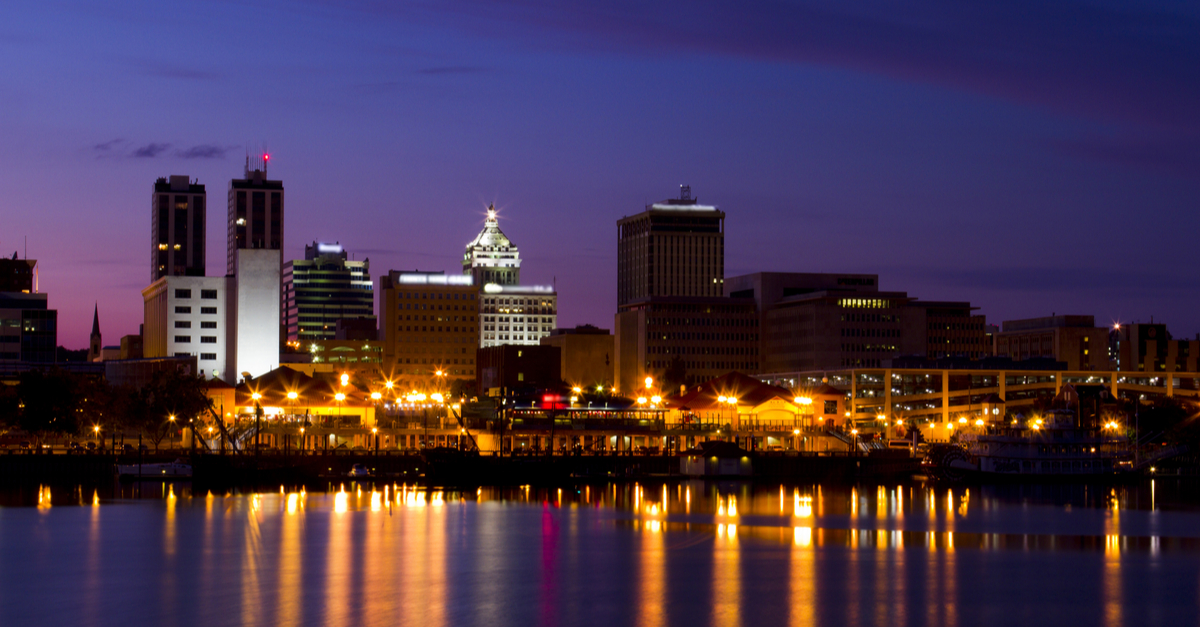 Peoria Night Riverfront. Source: Shutterstock
Train Peoria to Chicago: Services on board
There are three classes of service available on Amtrak trains from Peoria to Chicago. All three classes have different amenities that you should consider when choosing the right class for your needs. The coach class comes equipped with comfortable seats, overhead reading lights, and a small screen displaying entertainment options in front of each seat.
Passengers can enjoy their snacks and refreshments in the coach class, but food options are limited. Passengers have access to a small concession area located at the front of the train with other food and beverage options for purchase. The business class is a step up from the coach class, offering more comfortable seating, complimentary beverages, and a dedicated attendant to serve customers in this section. Passengers have the option to stay in their seats, recline them, and adjust the footrests. This seating area is also more spacious than in coach class.
Additionally, there is a complimentary meal service offered for passengers seated in this section of the train. The sleeper class has an assortment of amenities that set it apart from other classes of service. Two features available only in the sleeper class include access to a full-sized restroom and sleeping accommodations with comfortable bedding provided. A continental breakfast, access to snacks throughout the day, coffee/tea service, and an evening snack are all offered for passengers seated in this train section.
How to find cheap train tickets from Peoria to Chicago
Train tickets from Peoria to Chicago should be affordable. However, if you don't keep your eyes open, they can become costly. The best way to find discounts on train tickets from Peoria to Chicago is by booking your trip at least 21 days in advance. This allows you to stay flexible and enjoy other travel opportunities that come up. Another way to save money on train tickets from Peoria to Chicago is by purchasing a round trip ticket instead of a one-way ticket. This way, if your plans change, you have a one-way ticket to use at your convenience. If you plan on traveling often, monthly passes are available for half the price of a regular ticket.
To Chicago by train travel tips
Chicago is one of the most historic and beautiful cities in the United States. Many sights from the historic Water Tower Place, the John Hancock Building, or Willis Tower. Visitors can explore the Lincoln Park Zoo, beautiful parks and gardens, world-class museums, and so much more.
During your visit to Chicago, you must also check out two of America's finest art galleries; the Art Institute of Chicago and The Museum of Contemporary Art. Nightlife is not to be missed either, with some legendary bars like The Green Mill jazz club found on Broadway Avenue located amongst the upscale entertainment district of the city.
Food lovers will adore the huge array of restaurants offering a range of delicious cuisines. You will find some of the best authentic Chicago-style hot dogs in Windy City's most iconic restaurants, with many celebrity chefs hailing from the city.
Visitors to Chicago in the summer should visit Grant Park, a wonderful place to see the skyline up close and experience great music and entertainment at the outdoor festivals. In the wintertime, visitors can experience one of Chicago's great ice-skating rinks. You can also take boat rides down the Chicago.