Trains from Omaha to Chicago
The journey by train from Omaha, Nebraska to Chicago, Illinois is a scenic 9.5h ride over the rolling grasslands and farmlands. The single daily train departs Omaha in the early morning hours and arrives in Chicago in the mid-afternoon, giving you time to relax and enjoy the city before heading off to dinner. Passengers can enjoy the journey aboard the comfortable, two-level train that has an upper lever sightseer lounge with tall windows for optimal viewing of the passing scenery.
Omaha to Chicago Train Time: Daily Departures
One train from Omaha to Chicago departs every day at about 5:14 a.m., arriving at Chicago's Union Station at about 2:50 p.m. The schedule is the same every day, including weekends and holidays. This journey is one part of Amtrak's California Zephyr line, which travels between Chicago and San Francisco.
How long is the journey by train from Omaha to Chicago?
The journey by train from Omaha to Chicago takes just over 9.5h, usually clocking in at about 9h 36min. There are eight stops between Omaha and Chicago (five stops in Iowa and three in Illinois), but you don't need to change trains along the way.
What are the departure and arrival stations for trains from Omaha to Chicago?
Departure train station:Trains from Omaha to Chicago depart from the Omaha train station located at 1003 South 9th Street, which is located about a mile southeast of Omaha City Hall. It takes about 17min to get from City Hall to the station using the #13 Metro bus. This bus will drop you off a few blocks west of the station at the 13th St and Pacific St bus stop.
The Omaha station is a stand-alone station building where you'll find a waiting room, ticket counters, restrooms, vending machines, and both same-day and overnight parking. Checked baggage service is available here, and there are baggage carts and station staff available to help you with your bags. If you need packing supplies such as a bike box or ski bag, you can purchase them at the station. The station is fully accessible for people with mobility impairments.
Arrival train station: Omaha to Chicago trains arrive at Chicago's Union Station. Union Station is served by Amtrak plus six of the region's Metra commuter rail lines. The Blue Line of Chicago's subway system, known as the "L", stops about two blocks south of Union Station at Clinton Station, and several city and intercity bus lines stop at the Union Station Transit Center, which is adjacent to the train station. Union Station is located just across the river from Chicago's downtown area called The Loop. It takes about 11min to get to across this neighborhood from the station using the #7 or #126 bus.
Union Station is a large, fully accessible train station complete with shopping and dining options, meeting and event spaces, ticket counters and Quik-Trak kiosks, free WiFi, a lactation suite, vending machines, restrooms, ATMs, and the Amtrak Metropolitan Lounge. Checked baggage service is available at the station, as well as Red Caps baggage assistance and luggage storage.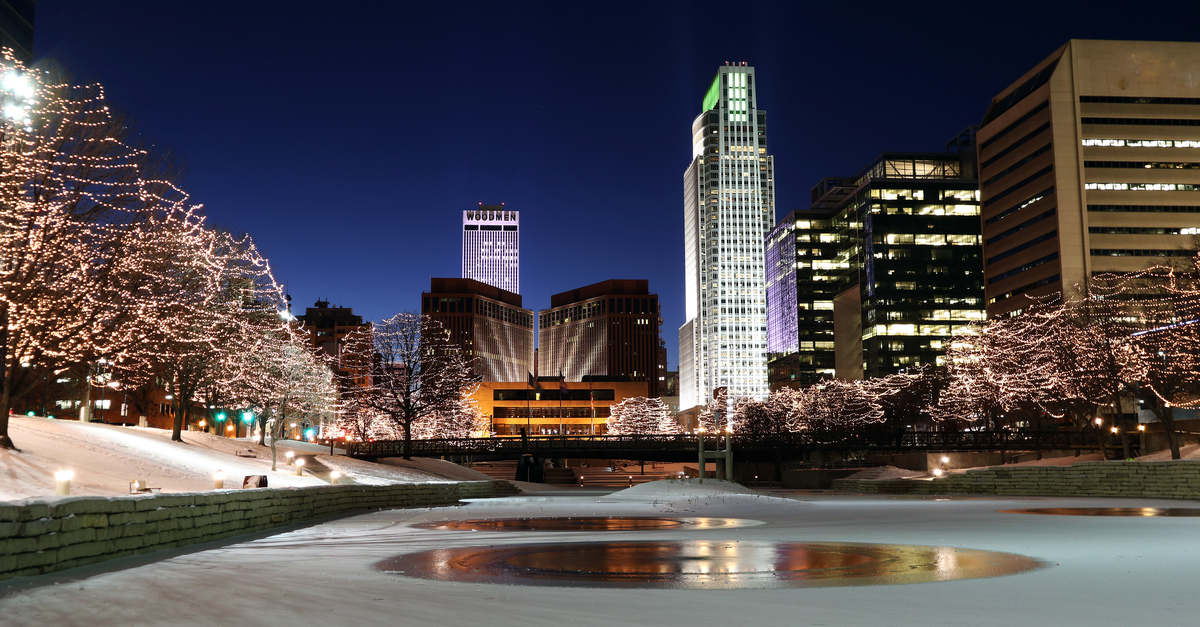 Omaha Downtown Night. Source: Shutterstock
Which train companies travel from Omaha to Chicago?
Amtrak is the train company that travels from Omaha to Chicago. The Amtrak line that travels between these cities is called the California Zephyr. The Zephyr runs between Chicago and San Francisco, traveling through Sacramento, Reno, Salt Lake City, and Denver before crossing the plains of Nebraska and then to Omaha, ultimately arriving in Chicago.
Amtrak trains from Omaha to Chicago
Amtrak offers one daily train from Omaha to Chicago, which is part of the California Zephyr line that runs from San Francisco to Chicago. This train departs from Omaha at about 5:14 a.m. daily, including weekends and holidays. The train takes about 9.5 to reach its destination with no transfers on the way, stopping at only eight other stations before arriving in Chicago.
The California Zephyr line uses the company's long-distance Superliner trains.
Superliners generally service the company's routes west of the Mississippi. The cars have two levels of coach seating, plus each train has sleeper cars and a sightseer lounge car with a grab-and-go café downstairs and an observation lounge upstairs that features floor-to-ceiling windows. In addition to the snacks, beverages, and sandwiches available for purchase in café, there is a traditional meal service in the dining car.
Trains from Omaha to Chicago: Services on Board
Trains from Omaha to Chicago are equipped with roomy, reclining seats that have lots of leg room. There is no WiFi on the trains on this route, but there are outlets at each seat so you can enjoy previously downloaded material on their devices during the trip. Each passenger can bring up to two personal items, two carry-on bags, and two checked luggage items on the train for free.
In addition, you can bring up to two additional checked luggage items for an additional fee. On this route, there is trainside checked bicycle service, which means that your bike will be stored on a bike rack in the baggage car. There is an additional fee for this service. Although small pets are welcome aboard most Amtrak trains, the total trip must be less than 7h. Because this trip lasts over 9h, Fluffy or Fido will have to stay home. This rule does not apply to service animals, who are welcome to travel with their human on any Amtrak train. Amtrak trains are fully accessible for passengers with disabilities.
If you need to make special arrangements for your trip, it is recommended you reserve accessible seating before your trip and contact Amtrak directly before traveling to ensure the train staff will be ready to meet your needs.
How to find cheap train tickets from Omaha to Chicago?
If you're looking for cheap train tickets from Omaha to Chicago, you'll have the best luck if you can book your tickets in advance. Amtrak tickets can be purchased as early as 11 months before your planned travel date. Traveling on off-peak days may also save you some money. Don't forget to see if you qualify for discounts or promotional fares. Common discounts include reduced fares for children aged 12 years and younger, seniors over age 65, passengers with disabilities, military personnel, and students.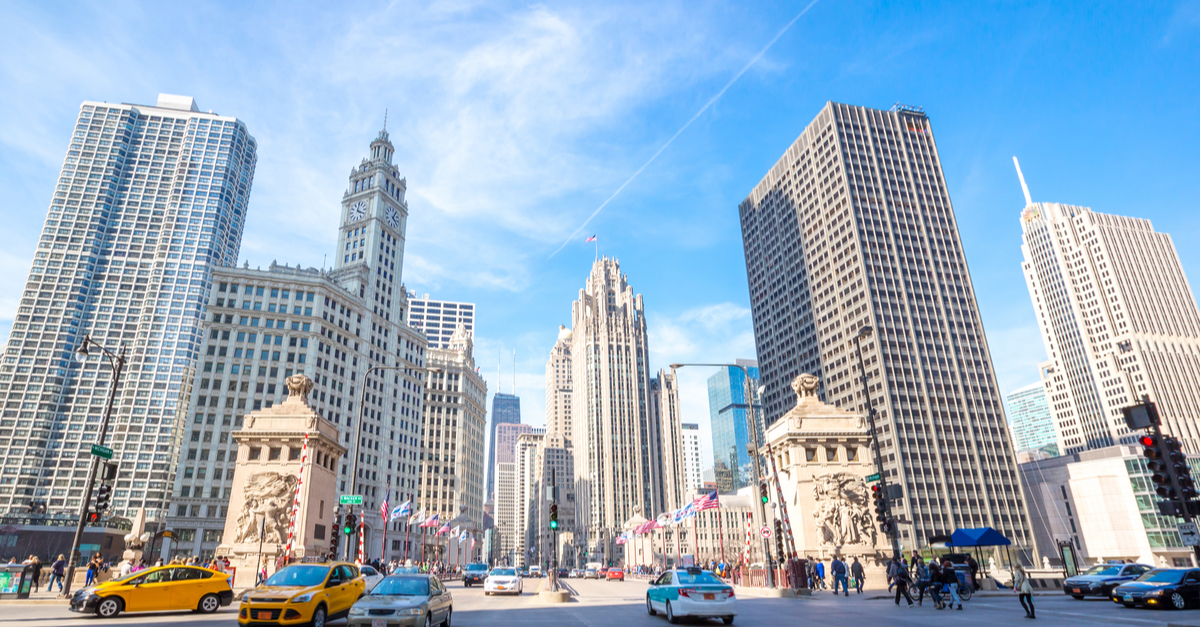 Chicago Downtown. Source: Shutterstock
To Chicago by train—travel tips
Chicago's skyscrapers were the inspiration for the comic-book Metropolis, and you can capture amazing skyline views from the observation areas of many of the city's tallest buildings. Thrill-seekers should check out the views from The Ledge, a glass-bottomed observation deck near the top of the Willis Tower, and TILT, a glass lookout that tilts from the 360 Chicago observation deck, about 1,000 feet above the ground. Both of these buildings also house museums highlighting the city's history and culture.
The city also offers several world-class museums that are closer to street level, such as the Field Museum showcasing natural history, the Art Institute of Chicago, and the Museum of Contemporary Photography. Kids of all ages will enjoy exploring the Adler Planetarium and the Shedd Aquarium. The eastern edge of the city borders Lake Michigan, where you'll find many lakeside parks such as Grant Park and Lincoln Park. You can even spend a day at the beach – North Avenue Beach and Ohio Street Beach are just two of the beaches that are great for sunbathing and water sports.
When it's time to eat, don't forget to sample one of the city's legendary deep-dish pizzas or an Italian beef sandwich. The city is also known for its hot dogs, which come loaded with mustard, relish, onions, tomatoes, kosher pickle spears, and celery salt, all in a steamed poppy-seed bun.