Trains from Lafayette to Chicago
Trains from Lafayette to Chicago are an amazing way of traveling between the two cities. The journey by train provides travelers with unforgettable views of the South East natural scenery. Passengers on trains get views of the rolling horse county, Shenandoah Valley, the Blue Ridge, and wild white water rives of West Virginia.
A train ride gets you in the middle of Chicago, where you can easily get to your preferred destination. Trains from Lafayette to Chicago take 3h, but the fastest train can take 2h 57min, covering 108 miles (174 km). Amtrak is the sole provider for trains from Lafayette to Chicago.
Lafayette to Chicago Train time: Daily departure
One daily train departs from Lafayette to Chicago. This means that weekly travelers have over five options to choose from and select the ideal train for them. Weekends and holidays tend to have more bus rides than regular days. The earliest train departs at 7: 00 a.m. and arrives at Chicago at 10:00 a.m. taking about 3h. For days that provides more than one train, the latest train departs Lafayette at 7:00 p.m. and arrives at Chicago at 10:00 p.m.
How long is the journey by train from Lafayette to Chicago?
On average, trains from Lafayette to Chicago take 3h. Most trains on the Lafayette -Chicago route provide direct trains. The fastest train can cover the distance in 2h 57min while the slowest train takes 3h 18min.
What are the departure and arrival stations for trains from Lafayette to Chicago?
Departure train station: The departure train station for trains from Lafayette to Chicago is the Lafayette Amtrak Station. It lies at 200 North Second Street. It operates daily from 6:00 a.m. to 8:00 a.m. and 8:00 p.m.to 10:30 p.m. The station features a few amenities, including payphones, Quik-Trak kiosks, and vending machines. The facility is wheelchair accessible and provides a wheelchair elevator, enabled washrooms, accessible waiting rooms, platforms, and water fountains. There is also a wheelchair lift that lets reduced mobility passengers navigate the station. It also features a parking lot and a designated parking spot for reduced mobility passengers. Travelers can get taxis to and from the station or drive themselves to the station from their locations.
Arrival train station: Trains arrive at the Chicago Union Station. It is popular for its great hall, and it sits at 225 South Canal Street. The train station operates daily from 5:00 a.m. to 11:59 p.m. Facilities at the train station include Quik-Trak shops, tickets sales offices, vending machines, ATMs, and payphones. It also features a Metropolitan Lounge for first-class and business-class travelers. If you need help with luggage, the station features ski bags for sale, bag storage facilities, and shipping boxes for dale. The station also has a lactation suite for nursing mothers. Reduced mobility passengers will find TTY payphones, accessible platforms, restrooms, ticket office, waiting room, a courtesy wheelchair, and wheelchair lifts. The station provides long-term and short-term parking options for travelers driving to the station. Travelers can get CTA blue lines to Clinton or orange, Pink Brown, and Quincy's purple lines. Bus routes 7, 60, 124, 125, 126, 151, 156, and 157 stop near the station. Amtrak and Metra also provide drop-offs and pick-up services to and from the station.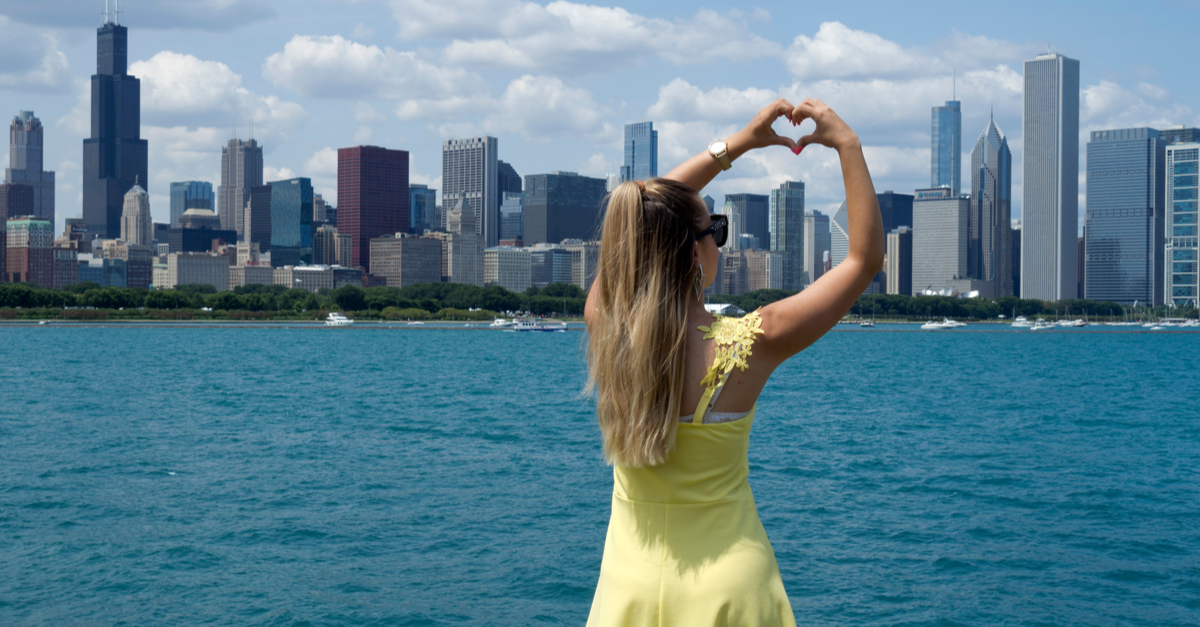 Chicago Tourist Cityscape Love. Source: Shutterstock
Which train companies travel from Lafayette to Chicago
The main provider for trains from Lafayette to Chicago is Amtrak. Amtrak provides one daily train from Lafayette to Chicago. Amtrak is the national train carrier for train routes in major cities of the United States. Amtrak has high sped intercity trains and lower-speed trains. They operate over 300 trains daily with more than 500 destinations in the U.S.
Amtrak Trains from Lafayette to Chicago
Amtrak provides trains from Lafayette to Chicago on the Cardinal Amtrak trains. These trains operate services between New York and Chicago through Washington Dc. These trains provide breathtaking views of the Southeast's stunning scenery. Amtrak Cardinal Trains are low-speed trains that operate averagely at 49mph (79km/h).
Train from Lafayette to Chicago services on board
Amtrak Cardinal Trains pass through the most scenic routes in the United States. Even though they do not have first-class seating, they have business class seating which typically costs more than the regular seating. Privileges that come with business class saying include more spacious leather seats, complimentary beverages, Wi-Fi access. Business-class travelers can also get complimentary access to Metropolitan Lounge in Chicago Union Station. The regular seating (coach class) features ample legroom and wide seats.
Amtrak Cardinal Trains feature sleeper cars, and passengers can reserve them in advance to get great views and privacy. Sleeper lounges passengers get flexible dining where they can eat their meals in the lounge or their rooms. Amtrak Cardinal trains have a generous carry-on policy where each passenger can bring two 29 inches items and two personal items that have to be less than 50 lbs (23 kg). Coach cars provide luggage storage racks above seats and luggage racks at the end of each car. Coach and sleeper car passengers can get meals, snacks, and beverages at the café car. There are onboard washrooms and payphones. Passengers can get free Wi-Fi, but there are a few dead spots along the route.
Pets are allowed on board, provided they fit in carriers under the passengers' seats. Pets have to be at least ten weeks old. Bicycles are allowed on board as checked service. We recommend checking them in bike boxes to avoid any damage to the bike. Amtrak provides discounts for disabled passengers. Reduced mobility passengers can make reservations earlier if they require extra services and bring along service animals on board. Trains are wheelchair enabled with wider entrances, enabled washrooms, and TTY phones on board for easy use.
How to find cheap train tickets from Lafayette to Chicago
Travelers looking for cheaper tickets can save money in several ways. Consider booking in advance to save more money. Train ticket providers often release tickets a few months before their travel dates. Tickets cost cheaper the earlier you buy them.
Also, consider being flexible with travel dates. If you have fixed dates, you can land a cheaper ticket a few days before or after the travel date. When you are flexible, you can easily land cheaper tickets. When getting train tickets, trains with connecting services have lower prices than direct journeys. If you are not in a hurry, consider getting trains with stops along the journey. Finally, keep an eye out on various ticket selling platforms that often have discounts and promotion periods. You might land a cheaper train ticket deal than average.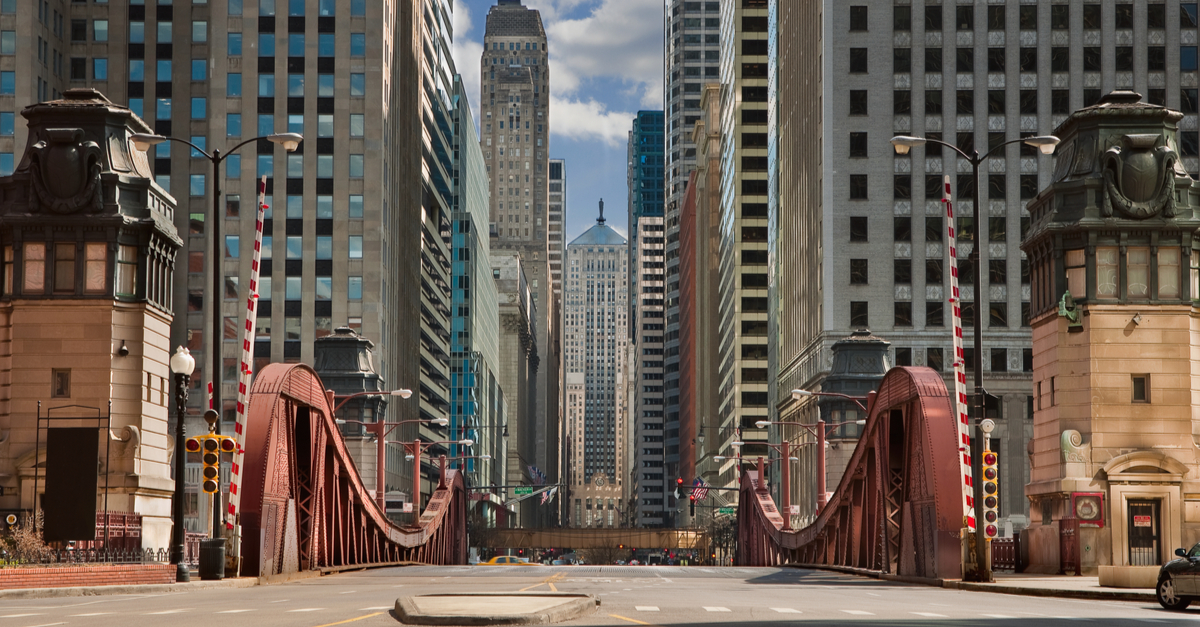 Chicago La Salle Street. Source: Shutterstock
To Chicago by train – travel tips
Chicago, the windy city, lies on the shores of Lake Michigan. It is popular for its vibrant art scene, excellent shopping, cultural attraction, and unique architecture. This makes it an ideal destination for all types of visitors. If you love art, you will fancy a visit to the Art Institute of Chicago. The world-class museum features numerous artworks, including paintings, sculptures, photography, drawings, and decorative arts.
Art lovers will also love visiting the iconic Chicago Theatre that showcases various concerts, plays, standup comedy, and sporting events. It boasts a cavernous auditorium and a neo-baroque interior that gives a rich ambiance to its visitors. Soak in some history at the Field Museum of Natural History that showcases biological and anthropological artworks. It provides geology, botany, and zoology specimens from Ancient Egypt and South America. Oriental Institute Museum displays antiquities from ancient Egypt, Iraq, Turkey, and Nubia. It also showcases permanent exhibits from the Mesopotamian Gallery and Egyptian Galleries.
Nature and outdoor lovers can visit Lincoln Park, which features a conservatory and a zoo. It features a large greenspace with beaches, fields, jogging paths, and biking trails. Shedd Aquarium features aquatic species from all regions of the world. If you visit the aquarium with children, they can enjoy interactive displays with sea stars and Stingray. Lincoln Park Zoo is another ideal destination for nature lovers, and it features several animals, including seals, penguins, and otters.
Families will love a visit to Navy Pier, an amusement area and shipping facility, with several gardens, attractions, venues, parks, and food concessions. There is a 3D IMAX theater where you can catch a movie or, even better, the Chicago Festival in August. Thrill-seekers can ride the 150ft Ferris wheel or historic carousels in the park. Be sure to visit Millennial Park in downtown Chicago that features a Cloud Gate that reflects the sky and surrounding buildings. It also features the Crown Fountain and Lurie Garden.
Chicago also boasts a diverse culinary scene with fares from all over the globe. Boka restaurant provides indoor dining with a variety of casual meals like burgers. Parachute restaurants s popular for their Korean American dishes, wine, beer, and cocktails. Demera features Ethiopian dishes like Messob platters, house-made honey wine, or tej. Treat your taste buds to Maple and Ash wagyu beef carpaccio topped with king crab, truffle, and supreme caviar during your visit to Chicago.