Trains from Chicago to Seattle
There are several options available to travelers who are looking to make the train journey to Seattle, Washington in the Pacific Northwest each day of the week. The weekly schedule for trains from Chicago to Seattle will typically have a little more than 30 options, many of which will include a transfer. Taking transfers into consideration, the train routes can take anywhere from just over 46h to just over 104h to complete the journey of 2043 miles (3288 km).
Chicago to Seattle train time: daily departures
There are more than 30 trains that provide travelers with service from Chicago, Illinois to Seattle, Washington each week. The schedule is fairly consistent from day-to-day, with between four and five services operating the route on a daily basis. Depending on the day of the week, the first train departs from Chicago around either 1:45 p.m. or 2:00 p.m. However, the final daily train will always depart from Chicago at the same time: approximately 2:50 p.m. Trains depart roughly every 15min to 30min during operating hours.
How long is the journey by train from Chicago to Seattle?
The duration of the journey by train from Chicago to Seattle can vary greatly. The quickest trips can take roughly around 46h 10min while the lengthiest options will generally run around 104h 11min. Some other train options may operate around 79h 56min. This wide discrepancy in run time is attributed to the duration and location of the transfer. Transfers at Union Station in Los Angeles, California extends the length of the trip the most significantly.
What are the departure and arrivals stations for trains from Chicago to Seattle?
Departure train station:All trains that leave Chicago for Seattle will depart from Chicago's Union Station. The station sits approximately .7 miles (1.1 km) from the city center. This short distance is walkable in about 11min. Alternatively, there are taxis and rideshare options available, which take around 4min. The 151 bus line operated by Chicago Transit (CTA) also covers the route and can take about 5min. At Union Station there are dining options, restrooms and ticket counters.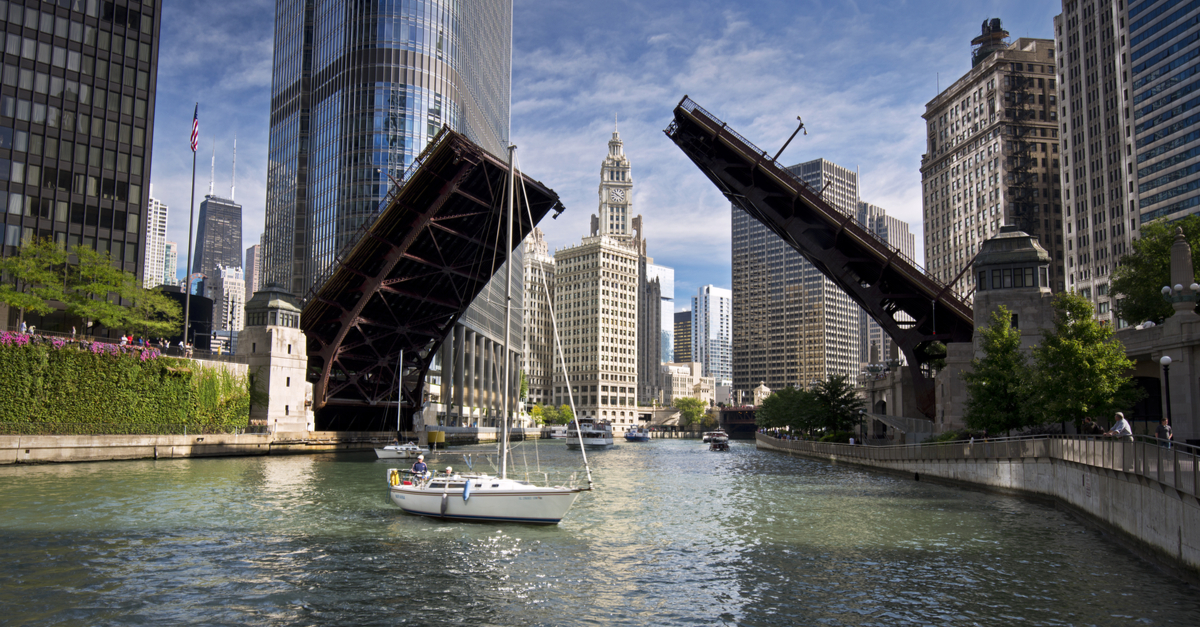 Chicago Bridge Opening. Source: Shutterstock
Arrival train station:All Seattle-bound trains originating in Chicago will arrive at King Street Station. To get to the city center from the station, travelers can walk the roughly 1 mile (1.6 km) distance, which will take about 15min. Otherwise, taxis and rideshares are available and can take around 6min. The buses that are operated by Sound Transit—such as the 1, 36 and 594, among others—can take roughly 2min each. At King Street Station there are ATMs, restrooms, vending machines and ticket counters.
Which train companies travel from Chicago to Seattle?
There is only one train company that provides passengers with service options that will take them from Chicago to Seattle: Amtrak. The Amtrak Chicago to Seattle services run the route at a variety of durations, giving passengers a number of options from which to choose.
What's more, the variety of options is available every day of the week; however, a vast majority of those services will include a single transfer and they all depart within a roughly 1h window of time. Another factor that travelers will want to consider when selecting the specific train journey is the train type that will be making the trip—these may be either long-distance or passenger trains.
Amtrak trains from Chicago to Seattle
Amtrak Chicago to Seattle train routes operate all seven days of the week. Each day, there are between four and five scheduled departures and the first train of the day will leave Chicago at either 1:45 p.m. or at 2:00 p.m. The final departure each day typically leaves around 2:50 p.m. A vast majority of the options will include at least one layover, which stops in either Los Angeles or Sacramento, both of which are in California, or Spokane in Washington. All trains leave from Chicago's Union Station and arrive at Seattle's King Street Station. They will run between roughly 46h 10min and 104h 11min with passenger or long-distance trains.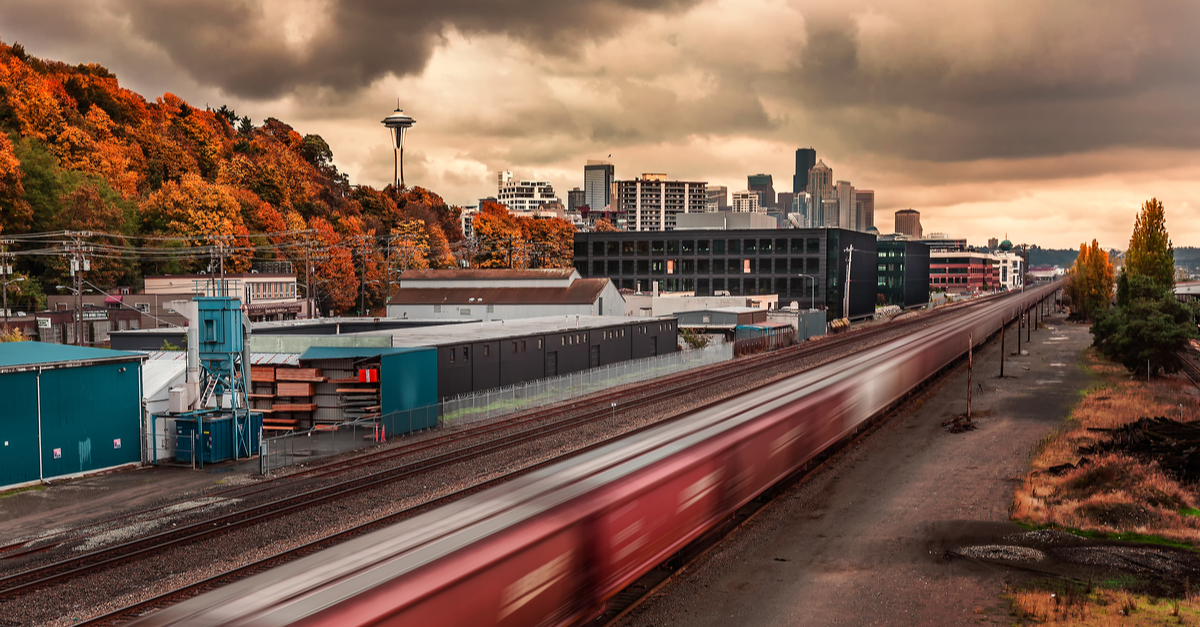 Seattle Train. Source: Shutterstock
Train Chicago to Seattle: Services on board
Depending on the specific route that is selected, passengers will be able to secure either a Coach Reserved ticket class or a Business Class seat. With routes that are run by two different train types, passengers may select a mixed ticket. Regardless of ticket class, Amtrak has generous luggage policies: travelers can bring along two personal items—each weighing up to roughly 25lbs (11kg)—and two carry-on items—each weighing no more than around 50lbs (23kg). Those who are traveling with a bicycle can take advantage of the checked-bike service operated on the Amtrak Chicago to Seattle routes; the service is available for a small fee.
Due to the duration of the routes, Amtrak's pet policy does not allow for travelers to bring a pet onboard, since the routes are longer than seven hours. The only exception is with trained service animals that are traveling in a support capacity. Travelers with reduced mobility will also have access to specific seating areas that will need to be reserved in advance, as well as accessible restrooms and aid with getting on and off the train.
How to find cheap train tickets from Chicago to Seattle
Passengers will have the opportunity to affect the cost of their ticket in a number of ways. First and foremost, journeyers who know their travel plans in advance will want to purchase their train ticket as soon as they can, since there is surge pricing on tickets that are purchased on the day of travel—and, in many cases, even in the days leading up to the travel date.
Additionally, if there is flexibility for travel dates, then travelers will want to opt for weekdays versus weekends, which tend to be pricier. Another factor that impacts cost is the train route's transfer location—Amtrak Chicago to Seattle trains that stop in California, which are also the first and last routes scheduled each day, tend to be more costly. Travelers will want to check for their eligibility for discounts afforded to various demographics, such as children, senior citizens and the military, for example.
To Seattle by train—travel tips
Travelers who are headed to Seattle from Chicago by train will have plenty of time along the journey to develop an itinerary for the visit. Some can't miss places to add to the trip agenda include Pike's Place Market, which is known to be one of the longest operating public markets in the country. Here, visitors can find local produce as well as hand-crafted artisanal pieces.
For a lively indoor experience, the Museum of Pop Culture is a must-see. Paul Allen, a co-founder of Microsoft, founded the museum that is dedicated to this rich segment of contemporary history. The exhibitions here change, but some focus on popular bands, like Nirvana and Pearl Jam, while others will showcase things like the evolution of electric guitars, science fiction or horror in film.
The observation deck of the iconic Space Needle also warrants a visit. Built for the World's Fair in the mid-twentieth century, the platform allows people to glimpse unparalleled views of the city—and beyond. For a high octane educational experience, the Museum of Flight is also a can't miss. It is considered the largest air and space museum to operate privately in the entire world.