Trains from Eugene to Seattle
Taking the train from Eugene to Seattle is a journey as easy as it is scenic. Trains depart from the Eugene station every day of the week, beginning as early as about 5:30 a.m. There are approximately five departures to choose from each day, mostly in the morning, with the final train leaving for the King Street station in Seattle at about 4:40 p.m. You can expect your train to make the direct 283 mile (455 km) journey north in about 6h 20min to 7h 30min, depending on travel speed.
Eugene to Seattle Train Time: Daily Departures
Omio makes selecting a train convenient by displaying the available departures for each day. For your train from Eugene to Seattle there are five departures available each day of the week. These departures begin as early as 5:30 a.m. and continue throughout the day, sometimes with more than one train leaving per hour. The final train from Eugene to Seattle departs at about 4:40 p.m. With at about 35 departures making the journey to Seattle each week, you are certain to find one which fits your schedule perfectly.
How long is the journey by train from Eugene to Seattle?
Your total travel time by train from Eugene to Seattle will vary somewhat depending on the specific speed at which your train makes the journey. For example, if you take the first train of the day, departing Eugene at about 5:30 a.m., you can expect to arrive in Seattle around 6h 20min later. However, another train leaving closer to 12:30 p.m. will take a little longer, arriving in Seattle about 7h 20min later. All trains between these cities travel directly, so you won't have connections adding time along the way.
What are the departure and arrival stations for trains from Eugene to Seattle?
Departure train station:The Eugene Amtrak station, located on Willamette Street, is right about 6 miles (about 10 km) from the city center. It can easily be reached by taking city bus 81. Expect your ride to last about 50min and you will only pay a small fare. The station features a sales office, Quick Trak kiosk, and public restrooms. Bike boxes and shipping boxes are offered for sale, and paid on-site parking is available. Public areas are handicap accessible.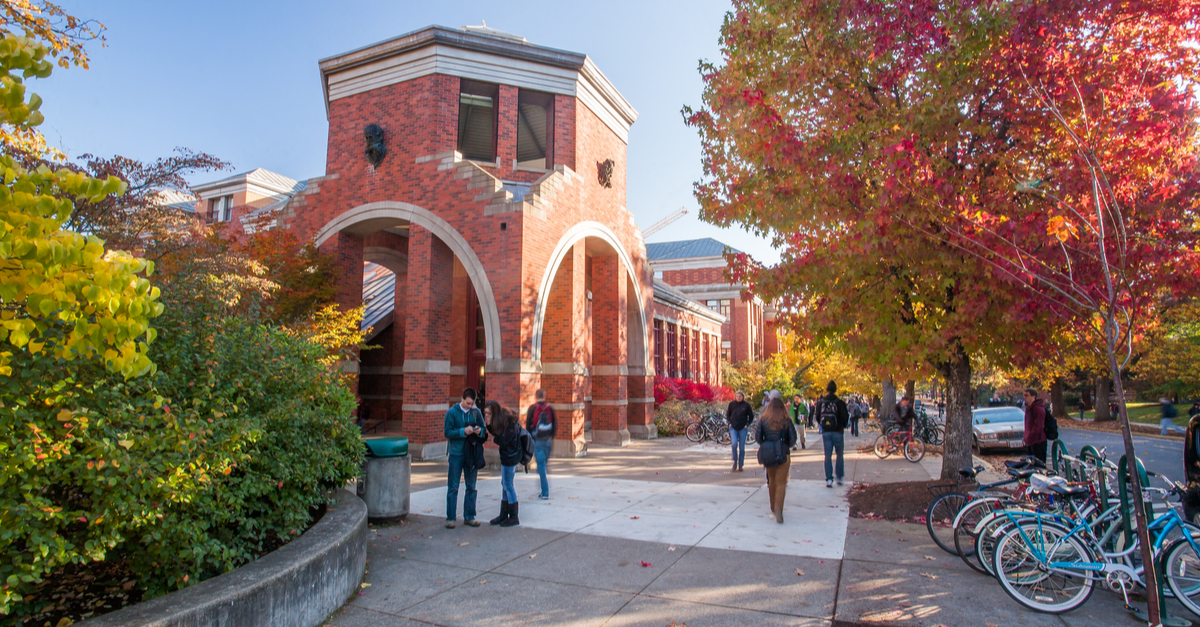 Eugene People Campus. Source: Shutterstock
Arrival train station:Seattle's King Street Amtrak station, located on South Jackson Street, is just over a mile (1.6 km) from the city center. To get downtown, you can ride city buses 522, 150, or 101, each taking about 13 min. Taxis are also available outside. The station features a sales office in addition to a Quick Trak kiosk. There are public restrooms and vending machines available for passenger comfort, and paid baggage storage is offered if your turnaround in the city will be brief. Baggage assistance is provided by station staff.
Which train companies travel from Eugene to Seattle?
As is the case, generally speaking, across the United States, the sole provider of passenger railway service from Eugene to Seattle is Amtrak. Amtrak provides daily nonstop service between these cities on either its international Cascades route trains or on one of its national long-distance Starlight Coast route trains.
Amtrak trains from Eugene to Seattle
Amtrak passenger rail service between Eugene and Seattle is offered each day, with about five trains making the journey north every day of the week. This service is offered on either the national, higher-speed Cascades route trains or on the long-distance national Starlight Coast route trains. Whichever train you choose to book, your train ride between Eugene and Seattle will be a direct one, so you won't have to worry about any connections along the way. Baggage assistance on these trains is a service provided by Amtrak station staff at both the Eugene and the Seattle King Street stations.
Train Eugene to Seattle: Services on Board
Amtrak's Cascades trains from Eugene to Seattle offer both coach and business class seating options. Both classes include Café Service dining. Business class tickets include seating in a dedicated train car as well as extra room and complimentary non-alcoholic drinks. On Cascades trains passengers may bring up to two checked bags weighing no more than 50lbs (23 kg) each.
Pets are also permitted, at an additional fee, but must not weigh more than 20lbs (9kg), which includes their travel carrier. Note that pets are not permitted on the Canadian portion of the Cascade train routes. Bicycles weighing no more than 50lbs (23 kg) may be checked trainside. Both coach and business class seating is also available on Coach Starlight trains with the same amenities as described above. The same pet and baggage rules also apply, although Coach Starlight trains also include a sightseer lounge car.
Bicycles may be checked onto these trains as an item of luggage (with the same weight restriction) or placed into a bike box for a separate fee. Bike boxes are sold at both stations for an additional fee. All Amtrak trains are handicap accessible for passengers with reduced mobility, as required by the Americans With Disabilities Act. Amtrak welcomes registered service animals (such as seeing eye dogs, etc.) on board all of its trains without restriction or added fee.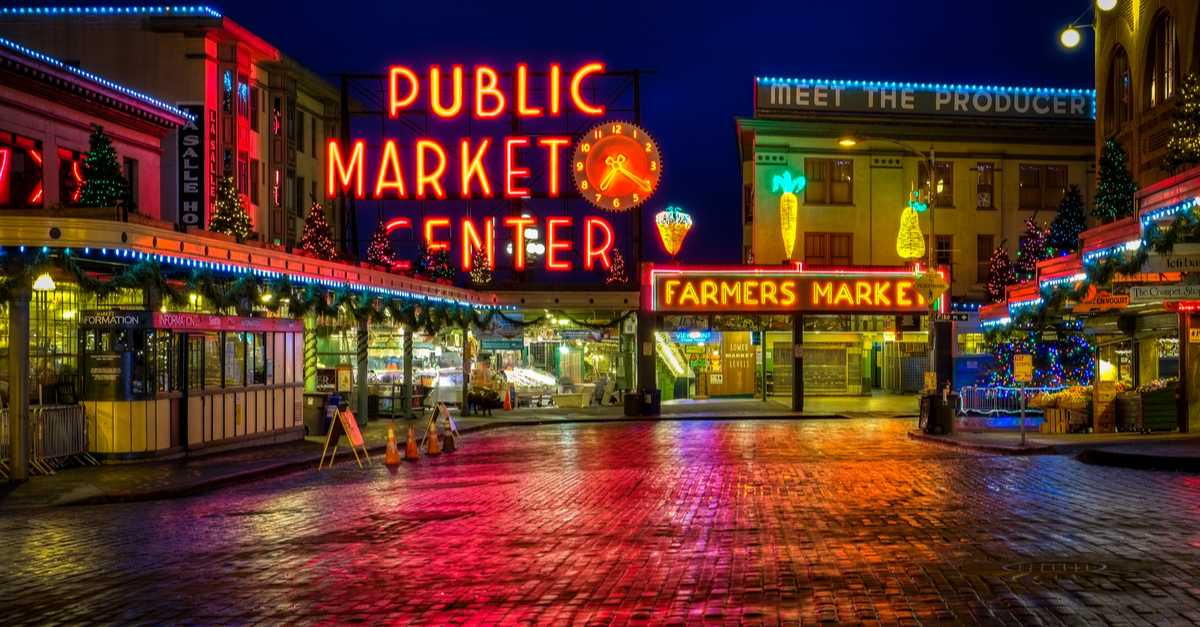 Seattle Public Market. Source: Shutterstock
How to find cheap train tickets from Eugene to Seattle?
Finding cheap train tickets for your journey from Eugene to Seattle is easier than you might think when you remember to follow these basic principles. To begin with, it's always a good idea to book your tickets in advance. This not only allows time for any necessary changes to be made, it also allows you to lock in lower fares before the trains fill up.
Secondly, it is important to consider all of your options when booking your ticket. Sometimes fares can vary in price just by choosing a different departure time or even by leaving one day earlier or later.
Thirdly, remember to relax and enjoy the ride. You may be surprised to notice how much money can be saved by selecting those trains which travel a little slower or, if available, include connections along the way. Remember to keep these tips in mind, and your budget will be sure to enjoy the adventure as much as you will.
To Seattle by train: travel tips
Seattle is a vibrant and diverse city which lies on the majestic Pacific coastline of Washington State. Upon your arrival you will be set to experience all this city has to offer from the moment you step out of the station. For example, within a short distance of the station lies the Seattle Aquarium, including its famous Underwater Dome with panoramic views of Puget Sound's undersea species. Another nearby attraction is the Seattle Paramount Theater where guests can catch famous productions like Hamilton or Jesus Christ, Superstar.
If you're willing to travel a bit farther from the station, you can visit landmarks like the iconic Seattle Space Needle, and observation deck providing unforgettable views of the city from 605 feet (184 m) in the air. Whether you choose to loose yourself in the artwork of the Discovery Sculpture Park or indulge in a bowl of clam chowder at Pike Market, the opportunities for adventure in Seattle are endless.