Flight to Bordeaux
When traveling by flight to Bordeaux, you'll find that the city has just about three major flight stations that serve air passengers. The closest airport to the city is Bordeaux-Mérignac Airport (BOD), which lies about 7.5 miles (12 km) from downtown Bordeaux. You can get to the city from the airport and vice versa via Jet Bus shuttles, car rental, or taxi. Other alternative destination airports include Bergerac Dordogne Perigord Airport (EGC), 73 miles (117 km) from the city, and La Rochelle Airport (LRH), 121 miles (195 km) from central Bordeaux. Bordeaux's airports link domestic and international travelers to main cities such as Paris, London, and Amsterdam.
Air France to Bordeaux
Air France normally links Bordeaux to Paris airports. Your flight to Bordeaux from Paris can originate from flight stations such as Paris Charles de Gaulle Airport (CDG) and Paris Orly Airport (ORY). The main endpoint on your journey to Bordeaux by flight will be Bordeaux-Mérignac Airport (BOD). A nonstop flight on this voyage can get you to your destination in under 2h, while a flight with a layover can last up to 5h 45min. Travelers from London can also board a flight to Bordeaux aboard Air France. On this voyage, the origin airport will be London Heathrow Airport (LHR), and the destination airport will be Bordeaux-Mérignac Airport (BOD). Flights can last between 3-25h, depending on the presence of layovers.
KLM Royal Dutch Airlines to Bordeaux
KLM Royal Dutch Airlines flies from cities such as London and Amsterdam. When traveling to Bordeaux by flight from London, your origin airport will be London Heathrow Airport (LHR) or London City Airport (LCY). The journey can last anywhere between 16-24h, and you can expect between one or two layovers. When you travel by flight to Bordeaux from Amsterdam, your journey can begin at Amsterdam Airport Schiphol (AMS) or Dusseldorf Airport (DUS). Your destination airport will be Bordeaux-Mérignac Airport (BOD), regardless of the origin flight station. KLM flights to Bordeaux from Amsterdam can last anywhere between 1h and 28h 15min.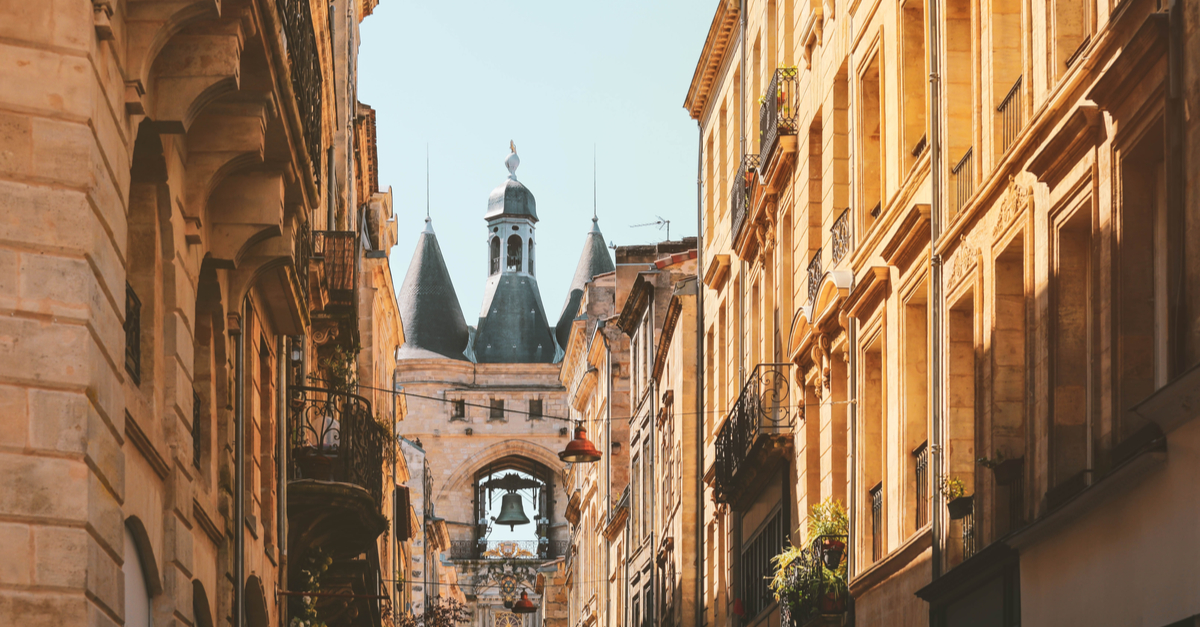 Bordeaux Old City. : Shutterstock
Main flight stations in Bordeaux
Bordeaux-Mérignac Airport (BOD) is the main international airport for your flight to Bordeaux, lying at roughly 7.5 miles (12 km) from the city center in south-western France. It's the closest airport to the city center, making it a busy stop for air pathway travelers getting into or out of Bordeaux. The airport has three passenger buildings, namely Terminal A for international flights, Terminal B with two levels solely for Air France flights between Paris and Bordeaux, and Terminal Billi for low-cost carriers. You can access the airport by road through the A630 autoroute and get to the city in a car ride, with a journey time of roughly between 30-40min. Bordeaux-Mérignac Airport (BOD) has facilities such as restaurants, bars, shops, ATMs, car rentals, and vending machines for snacks and drinks, making traveling easy. You can also utilize Wi-Fi at the airport for free for the first two hours.
Onboard facilities Bordeaux
When traveling aboard Air France, you'll get in-flight amenities on first, business, or economy class tickets. You can rest on comfortable and adjustable leather seats available in business and first-class cabins. The cabin crew can provide a feather pillow and fleece blanket for you to have a comfortable rest. The airline also offers a meal service or snack; you can savor various beverages and hot pastries and meals. It's your right to bring aboard two checked pieces of luggage, two handpieces of baggage, and an accessory on your flight trip. Air France has free Wi-Fi on most of its planes, and you can access free entertainment such as music, tv shows, and movies.
When it comes to KLM Royal Dutch Airlines, you can choose between business and economy class tickets. Some seats feature more legroom for your comfort, and others have in-seat power to keep your electronics on at all times. If you choose a KLM flight, you'll get to enjoy beverages, snacks, special meals per request, or Asian cuisines on select flights.
Whenever you see the Wi-Fi logo onboard a KLM flight, you can access internet connectivity as soon as you sit, and inflight entertainment includes music, documentaries, and box office hits. KLM generally allows two check-in baggage, two-hand baggage, and one accessory, although the number can vary according to the flight.
Flight tickets to Bordeaux: useful to know
Air France allows you to use an electronic ticket (e-ticket or mobile ticket), which lets you travel after your purchase records electronically. Ensure that you use your credit card or one for a family member with your surname as the company doesn't accept third-party payments when booking. You must submit your identification card, whether Flying Blue card, passport, or credit card, per the information you submitted during booking. If you booked for a family member, they should bring a personal identifier you specified at the time of booking. You will have to bring along an itinerary receipt (sent via fax or email) during check-in at your departure airport.
KLM Royal Dutch Airlines lets you use an electronic ticket that you'll receive in your email or My Booking. You might have to print your boarding pass, which you can do at the airport at self-service kiosks, at check-in desks, or at home (some airports don't accept boarding passes that you print at home). Buying flight tickets to Bordeaux on Omio is fast and easy, and it's possible to store all your tickets in your Omio account.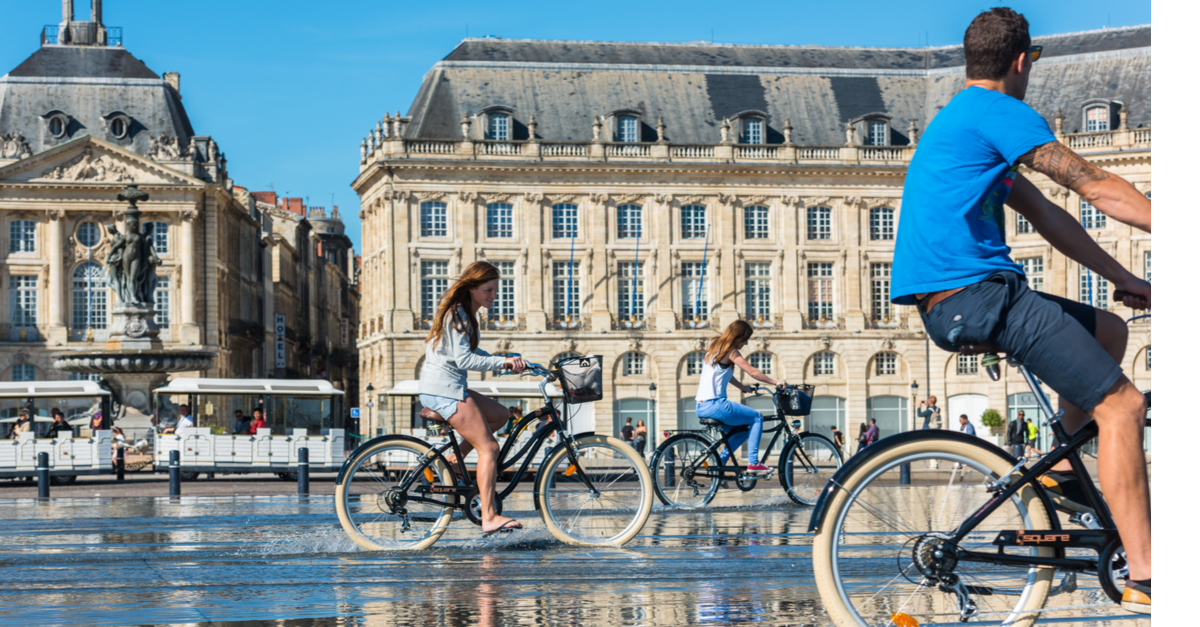 Bordeaux Bikes. : Shutterstock
To Bordeaux by flight—travel tips
Bordeaux is a unique city that's just as famous as the French wine that goes by the same name. Once known as France's wine industry capital, a trip to this city wouldn't be complete without sampling the various wine bars in shops or touring the vineyards that make the drink which makes the city known far and wide. You can get to indulge in a wine-tasting evening that's easy to find, or if you're lucky enough, partake in the special wine-walking tours within the city that some companies operate.
While in town, why not dine in at the La Brasserie Bordelaise and sample a glass of wine from one of the 700 different wine collections – ensure that you check out the impressive wine cellar on your way out. Bordeaux also has an entire museum, La Cite du Vin, that showcases wine. The exhibits engage everyone willing to have an interactive wine session, from the casual drinker to the wine expert. Your visit to the wine museum will end with your taste buds savoring wine at the scenic wine bar.
During your stay in Bordeaux, you can get around via an urban bus, cab, or tramway system. It'll be worth your while to get yourself a Bordeaux Découverte card from the city's tourist office and secure unlimited travel on trams and buses for multiple days.
Bordeaux has over the years amassed stunning architecture, having a collection of old and new structures that give visitors a taste of the old and new world. Whether it's taking in the alluring Grand Theatre de Bordeaux or the captivating Place de la Bourse, visiting Bordeaux will be worthwhile. The city is also a great destination for the art lover, with attractions such as the Museum of Decorative Arts and Design with contemporary pieces and 15th-century designs.
Bordeaux is also a food haven, thanks to the presence of top-notch chefs who've set up restaurants like the InterContinental Bordeaux - Le Grand Hotel, right at the city center. If your wallet doesn't allow you to sample food at a Michelin star restaurant, you can always get Caneles and taste the city's specialty pastries. Another interesting sight to see is the Miroir d'Eau (water mirror), the largest reflecting pool in the world where you'll get to walk and splash around the massive artwork.
Bordeaux is home to the tallest and the longest vertical lift bridge in Europe, Pont Jacques Chaban-Delmas. You might get lucky and see the bridge in action as it lifts to let tall ships pass under it, a phenomenon that occurs only 120 times each year. The structure also lights up at night, bringing about a striking look.